Daymé Arocena is one of Cuban jazz's newest and freshest voices. At only 24 years old, she's already a singer of staggering range as well as a songwriter, composer, arranger and band leader whose music easily flows between Afro-Cuban ritual chants to classic jazz. Her style parallels that of Nina Simone, Aretha Franklin, La Lupe, Celia Cruz, and even Freddy (one of Cuba's greatest undiscovered singers of the 1950s), but she has is every bit her own artist. Nueva Era, her debut album is a jewel worth being played on a loop. One Takes, her newest EP, is a collection of crafty spins on different covers like Peven Everett's "Stuck", a funky and delirious version just in time for your summer BBQ playlists. Classically trained, she grew up playing music everywhere from Havana street corners to jazz clubs. As a faithful devotee of Santería (a merging of Yoruba deities and Christian saints), her head is typically covered with a turban and she dresses in white; her personality is just as striking as her style. When we met to chat at a Brooklyn coffee shop shortly after her first performance in New York City, I was bewitched by her disarming candor, confidence and gusty laugh. We chatted about music, love, body image, fears, future, womanhood, and how to keep it clean, body and soul.
Nueva Era, the name of your first album harmonizes well with this new era Cuba is going through in this historical moment. What does 'the change' mean for a young Cuban artist?
Cuba is a talented country, full of talented people with bright ideas. Cubans are innovators by nature, but we have been secluded and isolated from the rest of the world for many decades. There's also something beautiful about that, in the sense that it has made us a remarkably pure culture. But this is a different era, and the time has arrived for Cubans to learn how the rest of the world works. Like Obama said in his speech at Teatro Nacional during his visit in Havana: "los cubanos se las inventan en el aire." We are like magicians. We have made cars work for fifty years out of nothing at all. We reinvent life every single day in order to eat and to withstand the quotidian struggles, which aren't few, and we do it with a smile because above all, we celebrate life to the fullest. So what do I want from this new change happening right now? I want freedom, information, and visibility. I want to be able to exchange ideas with the rest of the world, nourish mentally and emotionally from other cultures and vice versa.
How do you define your music?
It's hard to say, I myself don't know. What I enjoy most, both inside the studio and in my free time, is jazz. My music is frank. That's one way I can describe it, and that means anything can happen. When la musa shows up, I welcome her and take whatever she's offering: pop, jazz, Afro-Cuban chants, filin… I take it all and give it my all.
You're an inspiration for young women aspiring to become the next jazz phenomenon. How do you find your own space in an industry still dominated mostly by men?
My father always told me that if I wanted to understand men, I better think like them. That means to think less, and I don't mean that in a negative way. On the contrary, women worry too much about everything, and just as in life, on stage that can make you a bit stiff. Men jam away in life and on stage. If a guy wants to ask a girl out, he just does. If the girl says no, he asks someone else. Women are not like that, we have to be extra sure about everything, and sometimes we don't try something new because we're too frightened to fail. I try to mimic that impetuous behavior men display and bring it into my performances, taking more risks and worrying less about the outcome.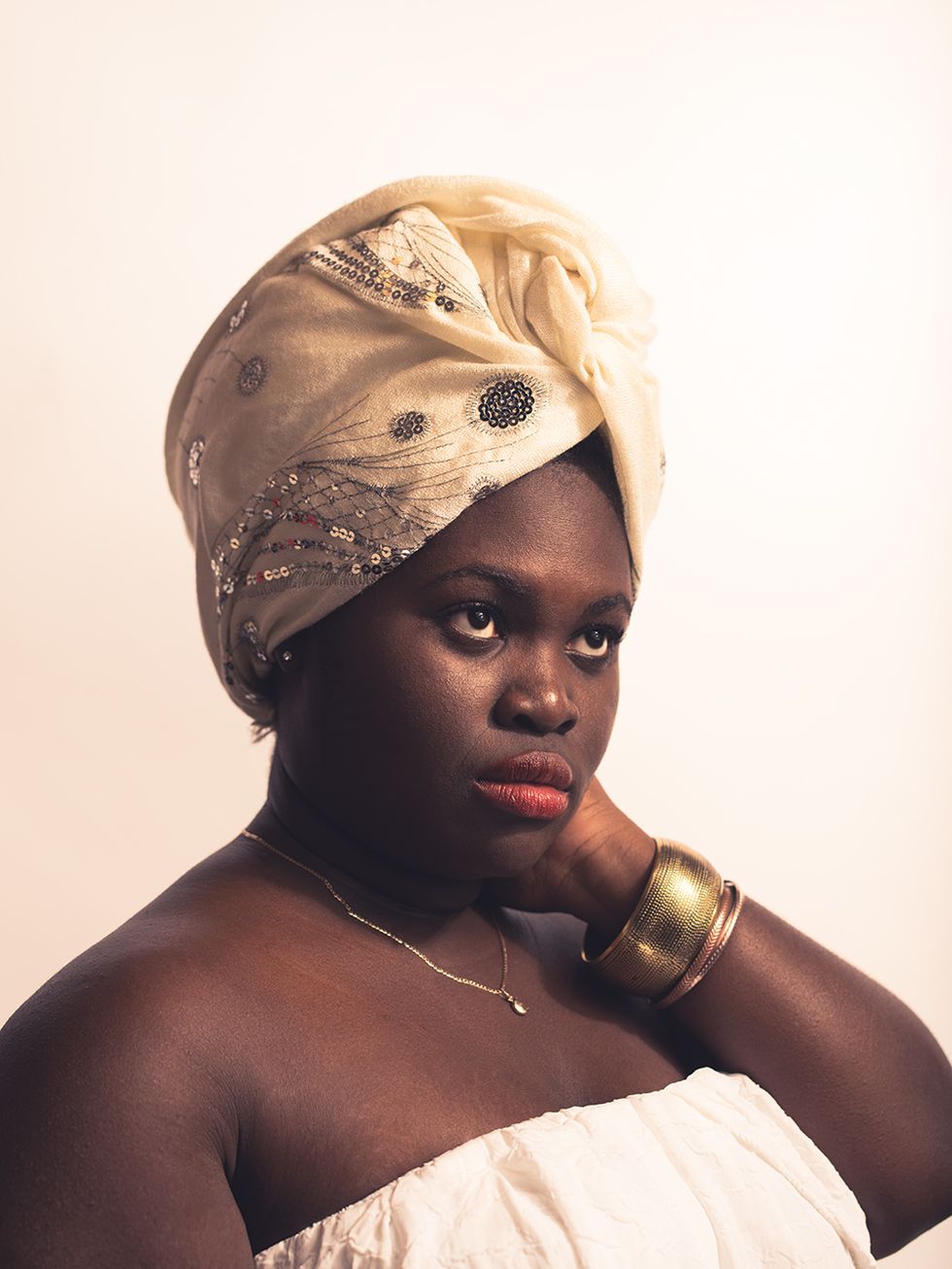 Your songs are very personal, feminine, and multicultural. They tell the stories of your upbringing, heartbreaks, and even religious beliefs. What is your creative process like?

I take my own failures, successes, happiness, and sadness and turn them into music. "Madres", the first song in the Nueva Era album is meant to be a prayer for my two spiritual mothers, Oshún and Yemayá, who are also mothers to the rivers and the seas. It's essentially about mothers and daughters in the world and the strength we need from each other. "Dust", for example, is about an experience I had once in Canada. I grew up in Havana showering two to three times daily in the summer and still do. If you've ever been there in the summer, you know what I'm talking about. We clean the house meticulously on the weekend, and during the week, we sweep the floors and dust the furniture. Well, it turns out that there are other cultures that shower two to three times a week and clean the house once a month if that. I've stayed in such a house, full of dust everywhere. So yes, you can say I'm a little obsessed with keeping it clean, body and soul.
You say you're the daughter of Oshún and Yemayá, two of the main deities of the Yoruba religion. What exactly does that mean?
My head is definitely Yemayá, practical, yet nourishing and forgiving, but very protective of those I love. My body however is one hundred percent Oshún. She is the orisha of love, beauty, femininity, and sensuality. Her body is voluptuous and it carries joy just like mine. I wasn't always fond of my body. I used to be ashamed of how I looked, how short I am, about my skin color. As a result, my spirit was crushed and my presence on stage was tarnished by my own judgment. That's in the past now. I have mastered the art of not just loving but adoring myself. As women, we must understand who we are and what we're made of, accept what nature has given us, and be comfortable with our sexuality. Nobody can resist that.
When you're performing, how do you cope with the unexpected?
If I'm ever distracted during a show by a personal trouble, when I go home after, I feel guilty and despise myself for not giving my very best. But yes, it has happened that an ex-boyfriend appears out of nowhere in the middle of a show when you least expect it. ¡Ay, mamá! There's nowhere to go. The only thing I can do is to take advantage of that energy and infuse it into the performance. Anything can happen on stage. Another example is, and I've never told this to anyone, not even my manager, my whole life I have suffered from severe migraines. I've gotten migraines while on stage and that's scary. Everything about singing live, from the intensity of the lights, the loud sounds, all the eyes on me, and the efforts my body makes in order to sing, conspires directly against a migraine making it even worst. But my fans are my life. They come to hear me sing and without them, I'm doomed. If I ever get a severe case of migraine while I'm performing, please-please-please God (referring to Olofi from the Yoruba pantheon) let me finish the show then I can drop dead. I don't care what happens after.
What women serve as role models for you?
My grandmother. She has a beautiful voice, and although she's not a professional singer, she knows by heart every bolero ever written. Sometimes I invite her to come on stage with me and that's it, she steals the show. She's funny, confident, enjoys life to the fullest, and has always encouraged me to dream big. I'm in love with that woman.
Where do you see yourself in five years?
Right now, I feel like I'm walking on a tight rope. Every step has to be precise, and if I can make it to the other side, then I can have anything I've ever wanted. One misstep, though, and it's all over. Every day I study music during the little time off I get. I always strive to get better, push myself harder. When I'm done crossing the tight rope, what I want is for my name to be a reference for people and for young women trying to succeed in this business. Everybody wants to win Grammys, have a fancy house, but the thing I want most is to be unique, to become the best version of myself, and for people to admire me for what I do, for my craft and the legacy I hope to leave behind.
Photos courtesy of Daymé Arocena
You May Also Like