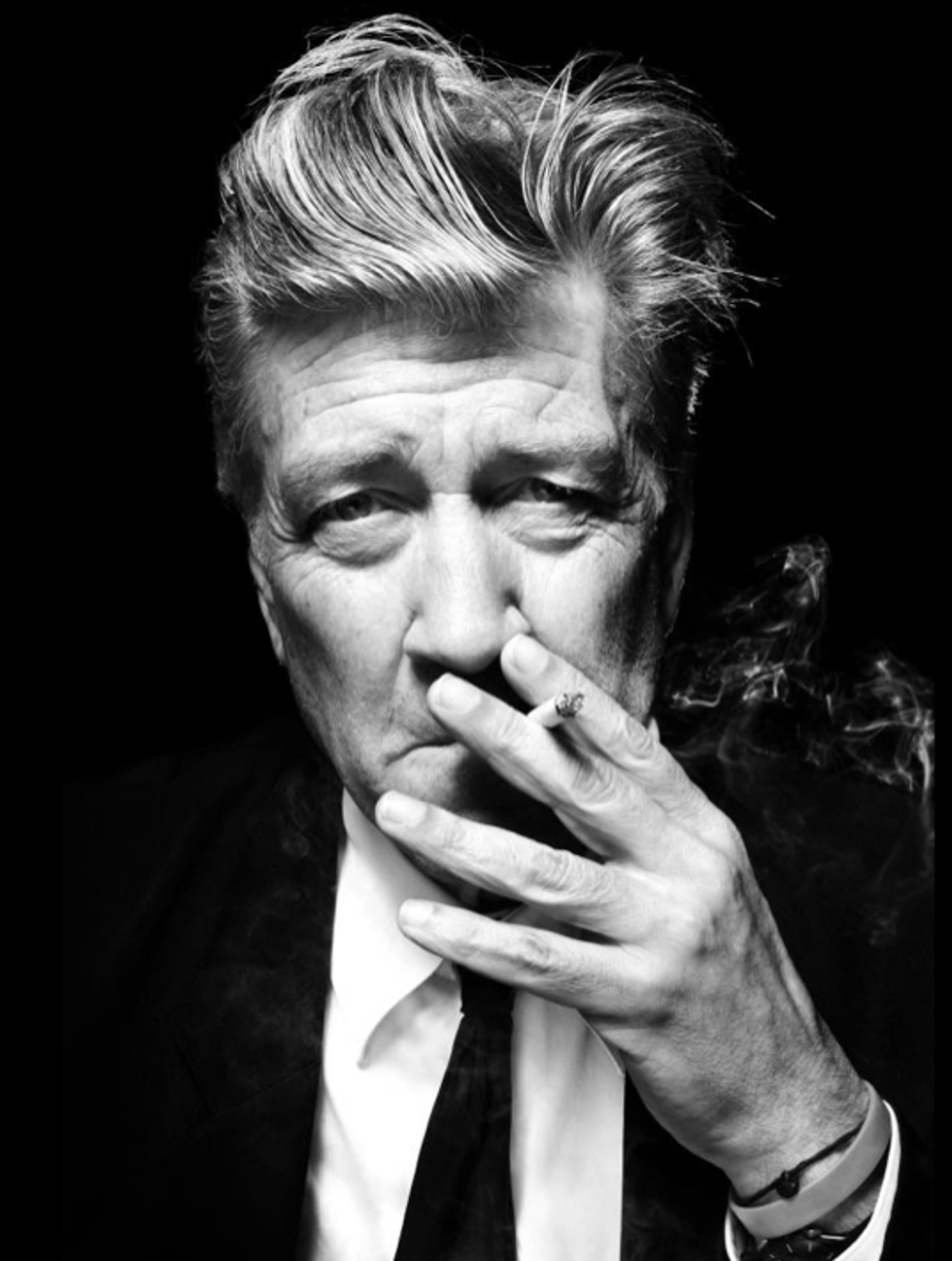 Le Grand Fooding Crush Paris-L.A.
starts today, a giant outdoor picnic in front of The Geffen Contemporary at MOCA. After four years in New York, Le Fooding is making its Los Angeles debut, celebrating the city's cultural link with Paris. In addition to big time DJs and street artists like Shepard Fairey, there will be food from superstar chefs from both cities. From L.A. there's Nancy Silverton (Mozza) and
Paper 2013 Beautiful Person
Ludo Lefebvre (Trois Mec), among others, and from Paris, Grégory Marchand (Frenchie) and Sven Chartier (Saturne). And then there's the participation of filmmaker
David Lynch
, whose coffee line,
David Lynch Signature Cup Organic Coffee
, was served at the fest's kickoff dinner last night. He also made a "FoodTrack" to be played at the two-night event and spoke to us about it by phone yesterday afternoon.
I read that you drink up to 20 cups of coffee a day.
I don't think it's quite that many. Ten or twelve, maybe.
How many ounces?
They're big cups.
Do you only drink coffee made from your beans?
Yes, ma'am. I love it. I've always loved coffee. It's smooth and has a great flavor and does the trick.

What's the trick?
It enhances the flow of ideas.
Do you suffer any ill effects from drinking so much coffee?
David Lynch coffee is smooth, not acidic, so it just affects you in a good way. If you have acidic coffee it's a whole nightmare. Coffee is a big love in the category of big love. 
What else is in your category of big love?
(laughs, doesn't answer)
Do you think you'd ever open a coffee bar?
I don't think so but you never say never. There is some good news on the horizon but I can't talk about it. So far you can only get it through Java Distribution or I believe through
DavidLynch.com
.
Your good news has to do with coffee?
Yes.
How did you get involved in Le Fooding?
I don't know how that came about.
You're doing the 'Foodtrack' -- what is that?
They asked me to create a track list of my favorite songs for their event. I have a sound studio and Big Dean Hurley is the engineer. Dean is always adding songs to a list of favorite things so we had it pretty much ready. We sent them the big list. They picked about forty tracks they want to play for the event.
Do the songs have something to do with food?
That's not the idea, no. It's just some of my favorites.
For example?
"Only the Lonely," Roy Orbison, "That's All Right, Mama," Elvis Presley, "The Locomotion," Little Eva, "Sad Song," Au Revoir Simone, which is three girls from Brooklyn.
I haven't heard of them.
They're fantastic. They got their name from a Pee-wee Herman movie. At the end of the movie he's watching the girl go away and he says, 'Au revoir, Simone' and she says, 'Au revoir, Pee-wee.'
Did Big Dean Hurley introduce you to them?
No. I have a book called
Catching the Big Fish: Meditation, Consciousness, and Creativity
and I was at a bookstore in New York City -- they had an event where I talked about the book and had a band play at the same time and it was Au Revoir Simone. I became a great fan of their music. On the track we've also got "Cowboys" by Portishead, "Extreme Ways," Moby, "Tracks of My Tears," Smokey Robinson....
What are your favorite foods?
I have many favorite foods. Let's see, I like Chinese chicken salad. I had one last night and this sauce is what does it. It's unreal, it's so good. I don't know what's in it. There are crunchy kind of noodle things and it's a flavor and physical sensation dancing in the sauce. You go right to heaven.
Where did you get it?
I got it from
Joan's on Third
. You've got to try their Chinese chicken salad.
Do you cook?
No. I learned how to make quinoa, which they say is a very good protein. From Dino De Laurentiis I learned how to cook rigatoni with tomato sauce.
Do you like French food?
I like French-style chicken with mashed potatoes and green beans. People are down on foie gras but I love it. I like Bordeaux red wine and so many of the French cheeses. French butter is unbelievable, it's so beautiful. And I love the bread in France. I always say with the French everything they do is an art form.
Have you ever had a scene in one of your movies featuring French food?
I don't think so, but there was a scene in
Twin Peaks
where Jerry Horne brought back a baguette from Paris to his brother Benjamin Horne and it brought back memories of a girl they both knew.
Food can do that, call up memories.
Oh, yes.
Will you be at Le Fooding this weekend?
No, I'm not going to be able to attend but they said that's okay. I'll be there in spirit with the music and coffee.
Can you tell me what you'll be doing this weekend instead?
I can't talk about that.
Le Grand Fooding Crush Paris-L.A. is April 26-27, 2013, at The Geffen Contemporary at MOCA, Los Angeles.
Photo by Chris Saunders / Celebrity Pictures