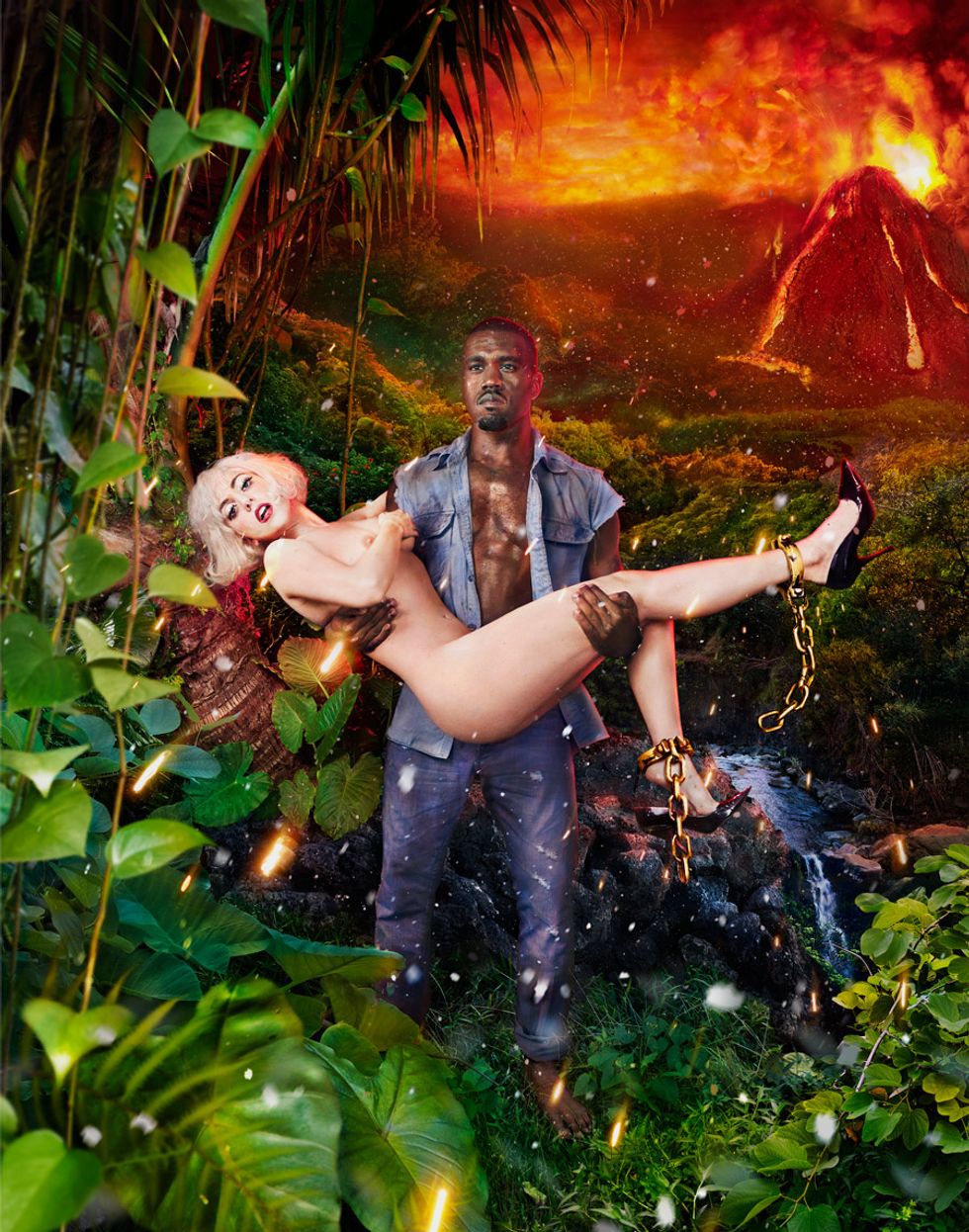 Kanye West and Lady Gaga: Fame Monster
© David LaChapelle
Close your eyes and imagine what David LaChapelle's Los Angeles studio looks like, and it will probably be a close approximation to the real thing. On a recent Friday, the 54-year-old photographer was running around with his team, putting the final touches on a set made of enough pink and red bouquets to fill a botanical garden. In another room, a faithful recreation of the Goodbye Yellow Brick Road album cover had been built for an upcoming Elton John shoot.
Though LaChapelle once swore off the celebrity-driven commercial work that had made him a household name, he's dipping his toe back in once again with his first books in 11 years, the two-volume project Lost + Found, Part I and Good News, Part II, out now. Featuring a mix of portraits old and new, along with never- before-seen (non-celeb) projects from the 1980s, the new books will no doubt further solidify LaChapelle's reputation as one of our most boisterous, energetic visual artists, through his continued exploration of celebrity, power, religion and sexuality. Ahead, LaChapelle chats about the new books, life, politics and working with Tupac.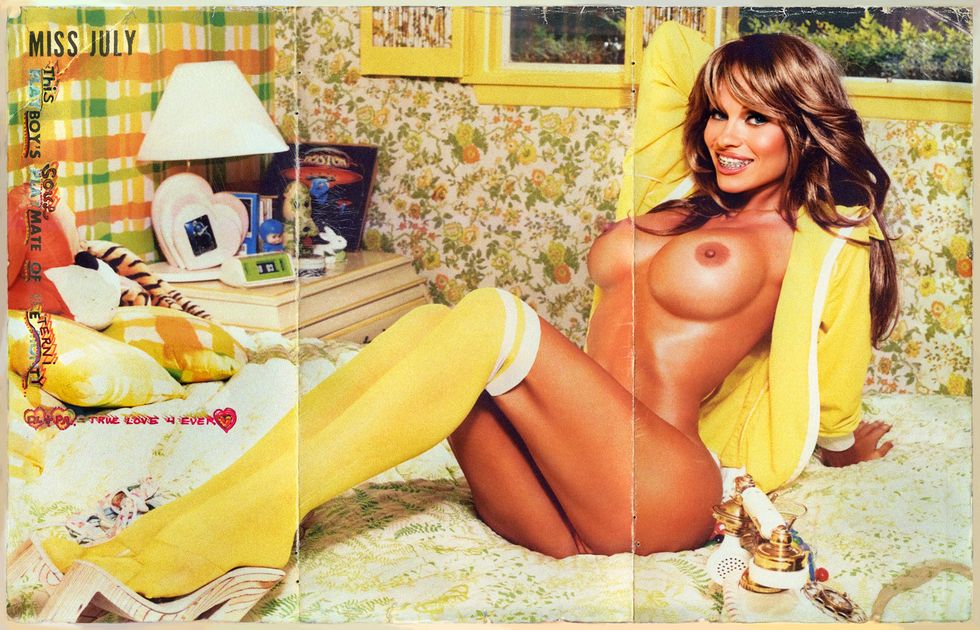 © David LaChapelle
How did these two books come together?
I knew when I did the first book in '96 that there would be a series. I was going to do one book, but then the interns were archiving and they saw all these pictures from the '80s that I had done. They were just tripping out on these photos. I never really considered them. I just thought they were kind of student work. But looking at them through their eyes, I started to fall in love with them again.
You quit celebrity work in 2006, moved to Maui and eventually started doing non-commercial gallery work. Was that freeing?
Oh god, I was super happy. Because I did it at my own pace. At first I didn't want to see another celebrity in my life. But my friend was doing makeup for Lady Gaga and was like, "You've got to come see this girl." One night, I was here in L.A., I was like, "Alright," and I went out to this gay club in West Hollywood. Lady Gaga was there performing. I went back and met her and she was so cool -- and she really wanted me to shoot her. We became friends, and she came to Hawaii and spent a lot of time out there. When she called to do her first Rolling Stone cover, I was like, "Fuck it, yeah." That's what got me back into it. If I feel like doing something, I do it. It wasn't, I am only doing fine art now. I was like, you know, fucking loosen up.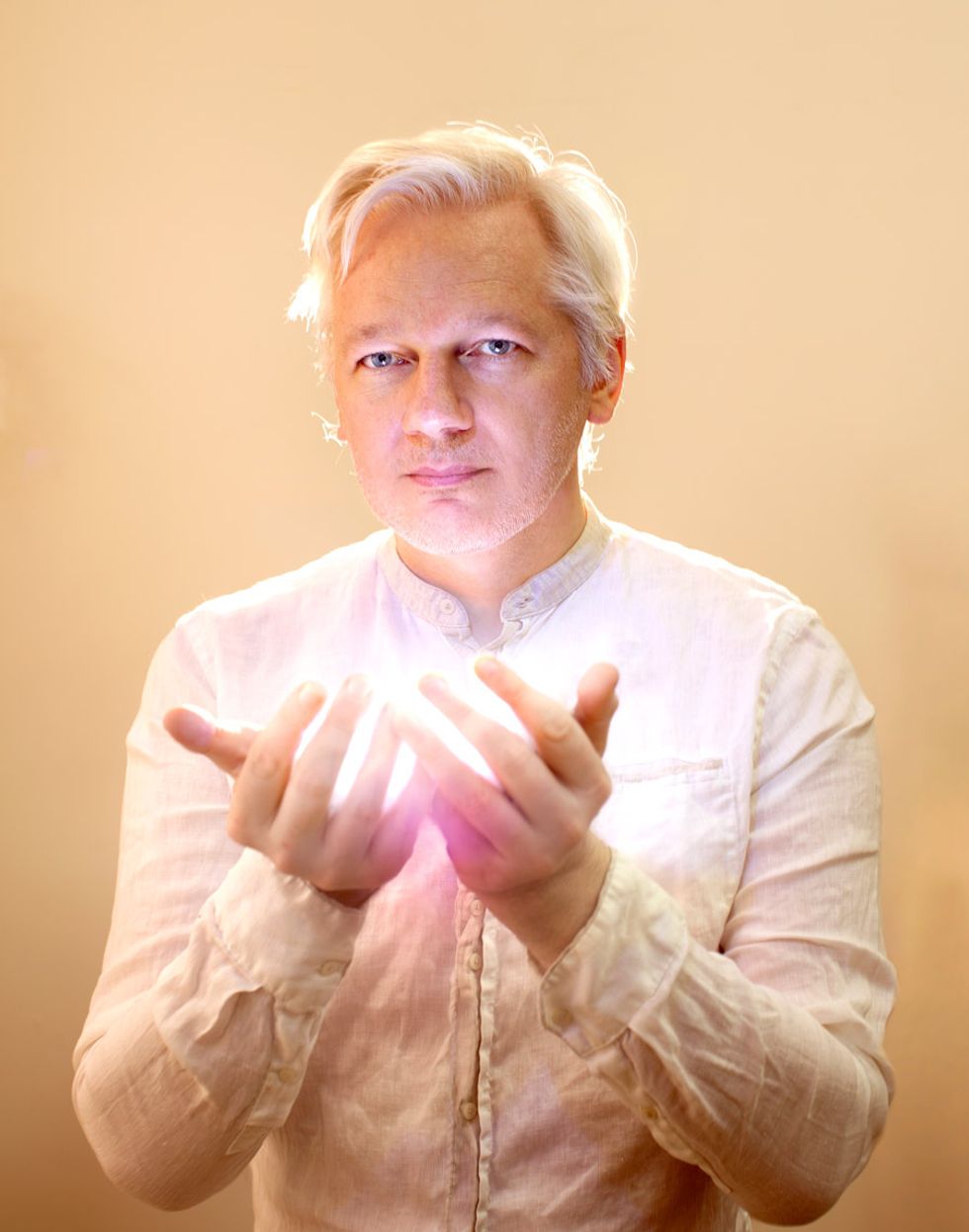 Let's talk about some of the new pictures in these books. How did the Julian Assange portrait come about?
Through this very exotic woman... [whispers] It was Pamela Anderson. They are friends with benefits. I was in London. She's like, "I am with Julian." We went and got all this tequila, and there was so much conversation. He's so fucking fascinating. We're all talking after the shoot and we started drinking. We just got so completely wasted. I had the worst hangover. But we got great photos.
It's interesting if you juxtapose that image with the photos of the broken wax figure politicians.
[The wax figures were] from the Dublin Museum -- my friend brought me; it had been vandalized. They had smashed everything except for the Last Supper and Princess Diana. They kind of wailed on everyone else, especially politicians. I had to be very clear in the titles, because people thought that I made them and smashed them. I was like, "Oh no. They were found." I wouldn't do that.
The Caitlyn Jenner title from the 2014 photo, LGBT MAGA, was interesting...
[Smiles] It was a typo.

Keeping Up With the Kardashians
It wasn't a typo.
It wasn't a typo. The day I shot [the Kardashian Christmas card], no one was talking to Bruce, and they didn't want him in the photo. They didn't want any men in the photo. So the first meeting we discussed, no children. I really had to learn everything about them... No one from the show got to see the set before it was done. Their ideas were terrible. Like, Nightmare Before Christmas. I was like, well that would be Tim Burton. It would not be me. You can call Tim. I love Tim Burton, but I'm not him. But they were cool. No producer came to the shoot. Everyone was nice to me. But, you know, my first time ever at Studio 54, I was 14 and it was a party for Can't Stop the Music. We get in, me and my boyfriend. And Bruce Jenner was the star of the movie. He was a huge hero. We got right into the VIP area. I couldn't believe it. I think they let us in because we were such a novelty -- we were so young. So I called the producers and I said, "I really want Bruce in the shot. Is there any way we can make that happen?" Because when I grew up he was the Olympian, and I thought he was a really important person in the world. The producers were like, "Yeah. We will call him and we'll see." So he was invited, but the family was not talking to him so at the house, it was very awkward. He walks by and they didn't even acknowledge him. I was talking to him a lot... But yes, LGBT MAGA, I mean, we have to have a sense of humor. But it wasn't a dig. And then he wore that [MAGA] hat [laughs].
Would you ever photograph Trump?
I would not, and I will tell you why. He has a weird significance in my life -- and it's really ugly. There was all this hysteria about him getting the Republican nomination, and I started getting this memory. It goes back to '84. I was in my apartment on 3rd Street and I had a premonition that my boyfriend was going to die. And sure enough, the next spring, he did die [from AIDS]. When he did, there was this GQ in my apartment, and I ripped it up and [threw it] across the room. I totally forgot about this memory, and as this election started coming, I kept seeing Trump's picture. I was like, wait a minute. I Googled 1984 covers of GQ, and what was on the cover the month my boyfriend died? Donald Trump. At that time, the world was coming to an end for me. My boyfriend had just died from this strange fucking thing that nobody knew about, I couldn't tell anyone about it and I threw that magazine across that room. I didn't know who he was, but that smug face -- like, I don't want to look at this guy. So I can't. It's brought a lot back -- him being president -- because I associate it with that time, and you just see the unraveling of your country. You're seeing the decimation of this office that once meant something important and profound.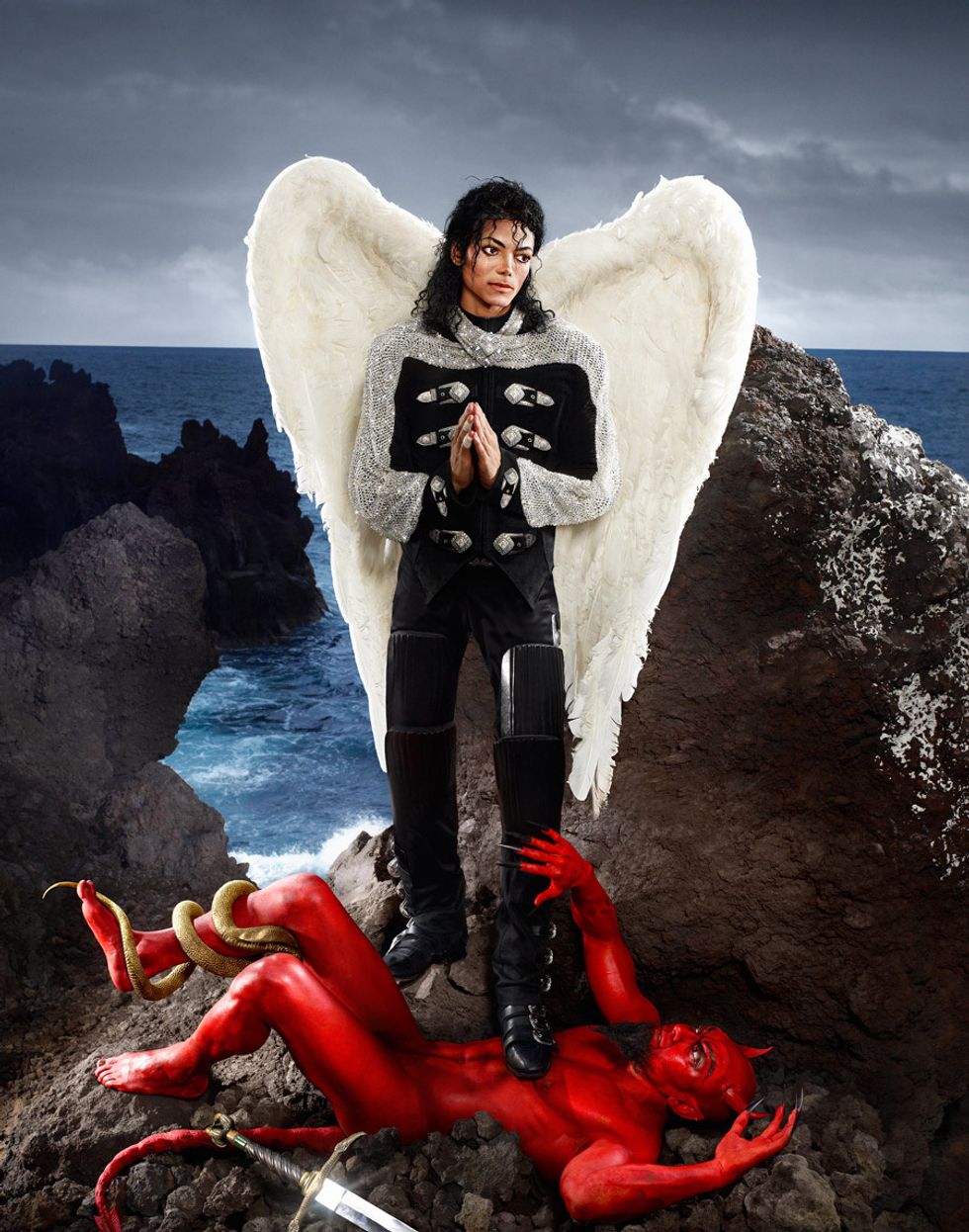 Archangel Michael: "And No Message Could Have Been Any Clearer"

In Good News, there's a number of Jackson family portraits. Why was it important to include Michael and Janet?
Michael is a big, important figure to me. I put him on the level of Michelangelo, William Blake, The Beatles. There was no musical equivalent for the time. Michael had something that touched everybody. He was magical.
Early on in your career, you became a pretty divisive figure because of your work...
I still am.
How were you able to handle it?
I think high school prepared me for a lot of that. People said so much shit to me growing up that I grew thick skin. Of course you want people to get what you're doing. But I had a friend who got a really bad review in Newsweek on his artwork. I asked, "Are you ok?" And he's like, "Oh you know, it will fuck up breakfast, but I won't let it fuck up lunch."
When you started getting more editorial work early on, was it difficult to convince celebrities to take on some of the outlandish concepts you had?
No. I learned how to do it. The publicists were running everything, so the less you told them the better. Because if you started describing what you were going to do, they would just say no. I would be really vague, like, "It's going to be colorful and pretty and we have this great dress." The publicist was the problem. When the rock star or actor would come in, they would see the set and they would get it, because there is still a performer inside those people.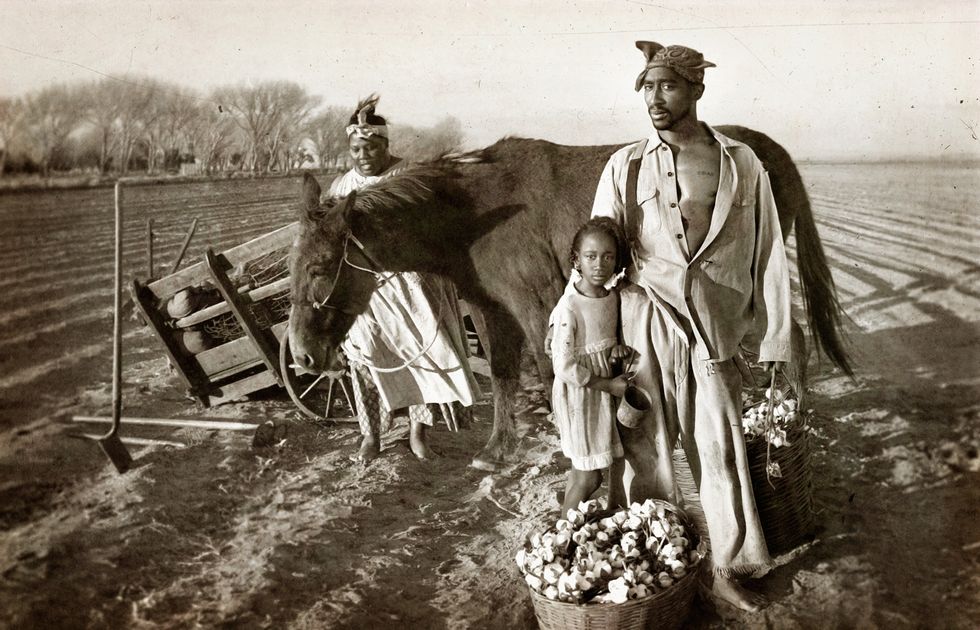 1996 Chromogenic Print
© David LaChapelle
Was it hard to get Tupac to do the cotton field shoot?
No, Tupac was the best. He was so smart. Such an artist. He got it immediately. The first time I met him, me and my boyfriend were in bed naked. Tupac was supposed to come in at noon, and they were early. The whole thing was really shocking, because most rappers were super homophobic, and this is Tupac Shakur. [My assistant] opens the door, it's dark and all the curtains are closed. I'm like, "Huh?" Tupac comes in and sits on the bed: "So what are we doing today?" I am looking for these [reference] photos: "Well, to stop from going crazy in the sugar cane fields or the cotton fields, slaves would make a rhyme, and someone would call and repeat it, and I read that this is where rap evolved from..." And he's like, "Yo, you wanna shoot me as a slave?" I was like, "Uhh, yeah?" He was like, "I'm down with that." But if I had told his record label, "I am going to shoot Tupac as a slave!" you just couldn't do that. When he died, I wrote his mom Afeni a long letter about that morning and how he wasn't homophobic and that he reminded me of the boys I went to art school with. I got these flowers from her and I started crying.
You dedicated the books to Stevie Wonder. Why?
I listened to him the entire time I was making this thing. If I could aspire to anything, it would be making photographs that are as strong as his music.
This interview has been edited and condensed for clarity.

You May Also Like
America
Zoom photo direction by Full Tac
Beauty
Photography by Silvia Draz / Styling by Craig Hemming and Caitlin Forbes