The news early this morning that David Bowie had passed away from cancer in London was met with sadness and some amount of shock around the globe. Words like icon, legend and superstar are bandied about so much that they forfeit much of their weight. His contributions to music, film and culture are immeasurable but his legacy is less one of an accumulation of influential work but more the forging of an entirely singular paradigm of how a modern artist creates. The thought of a shape-shifting androgyne, a man who donned different guises and personaes as his animus dictated, was before Bowie, more or less unimaginable.
After some success in the Carnaby Street scene of '60s swinging London, he exploded onto the world stage with the anthemic 'Space Oddity' from his self titled album released in 1969, effectively ending the decade of dolly birds and shagadelic gents and ushering in glam rock. His image then, ingeniously crafted by himself, the photographer Mick Rock and the make-up artist Pierre LaRoche (who painted the iconic -- there goes that word -- lighting bolt) was one of otherworldly elegance; sharp, reptilian lines and a rare eye condition called Aniscoria, where one pupil was permanently dilated, gave the appearance of eyes with 2 different colors. It was as though his extra-terrestrial gaze was piercing through everything else in music and performance and hypnotizing those willing to look.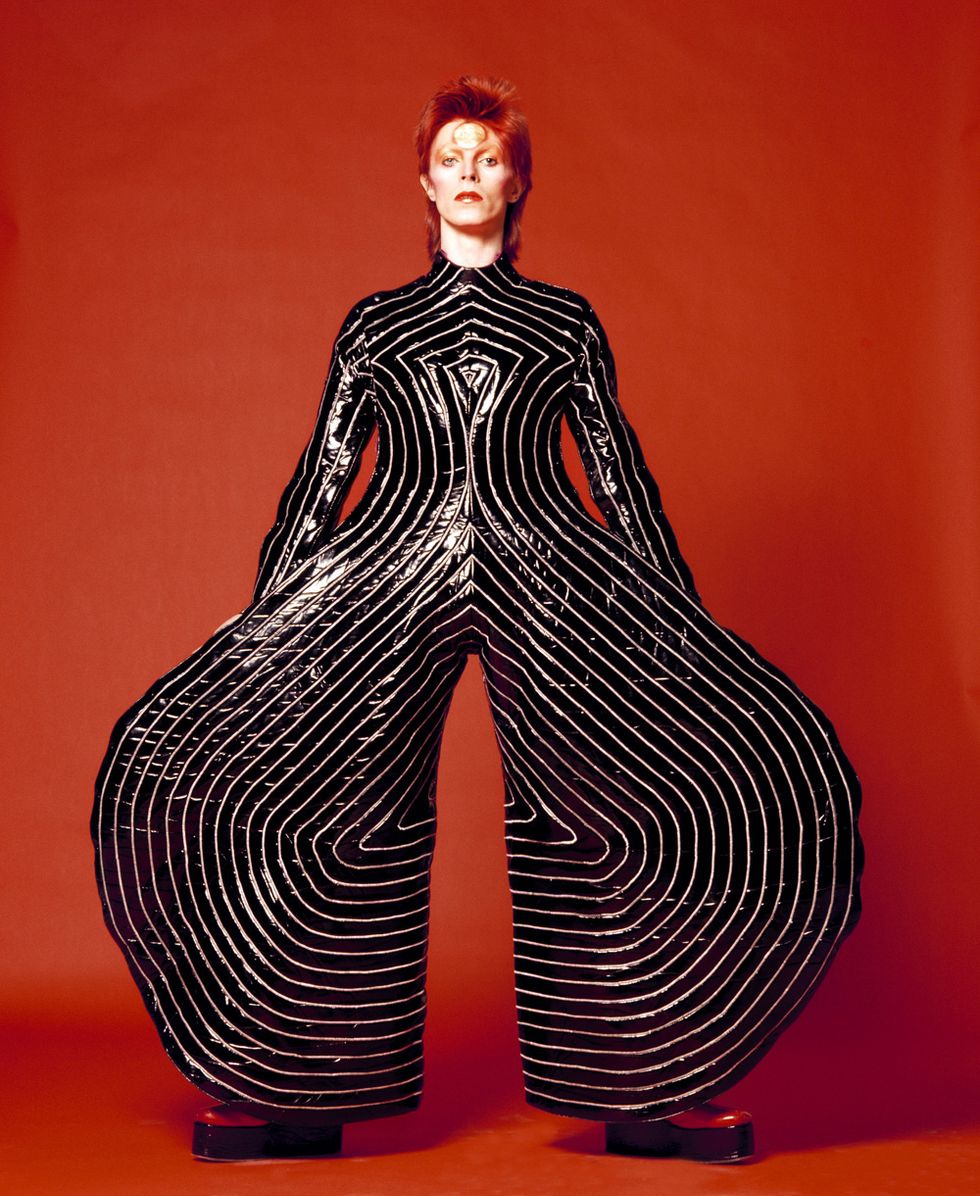 Striped bodysuit for the Aladdin Sane tour designed by Kansai Yamamoto; photo by Masayoshi Sukita

1972 saw the release of The Rise and Fall of Ziggy Stardust and the Spiders from Mars and perhaps his most formative alter ego. This was glam rock at its zenith from the shaved eyebrows and glitter rouge down to the vinyl platforms. But hidden in plain sight beneath it were the catchy pop hooks of "Starman" and "Suffragette City." His collaboration with costume designer Kansai Yamamoto during this era, reminiscent of the drama and exuberance of kabuki theatre and featured heavily in the 'David Bowie is' costume retrospective that is touring the world, was countlessly referenced and countlessly imitated. His fashion seemed just as important as the music that David / Ziggy was singing and gave him much of his power. It arrested and transported his audiences and brought them into his out-of-this-world reality.
A few years later Bowie addressed the 'Me Decade' with the singles "Fame" and "Young Americans" and spawned the persona of The Thin White Duke. The look was one of impeccable pieces: a crisp white shirt, perfectly tailored waistcoat, elegant trousers -- all in such a way to elicit a cold and soulless effect. In contrast to the stoic ease he projected, his behavior was becoming increasingly erratic, the result of Bowie's use of cocaine and other stimulants, habits he was candid about and which ultimately led to his departure from London.
Bowie as the Thin White Duke

In the early '80s a string of hits like "Under Pressure," "Heroes," and "Lets Dance" cemented him in the world of pop rock and his image became more of a dapper crooner, foregoing the theatrics of the previous decades and getting down to business of a global pop career. The flouncy trench he wears in the video for "Dancin in the Street" with Mick Jagger is one of the first pieces of clothing I remember wanting.
But it was perhaps his role in 1986's Labyrinth that resonated with a new and otherwise off limits group of fans: children. The knowingly camp Jim Henson classic starring Jennifer Connelly was the perfect blend of earnest fairytale and dark social commentary. His spindly, teased-out mane, gauzy pirate shirt, and skin tight jodhpurs were saucy, villainous cool. Not to mention the single "Magic Dance" -- it was a perfect role for him in a silly period in music and fashion that seemed to be finally catching up with Bowie's understanding of fantasy.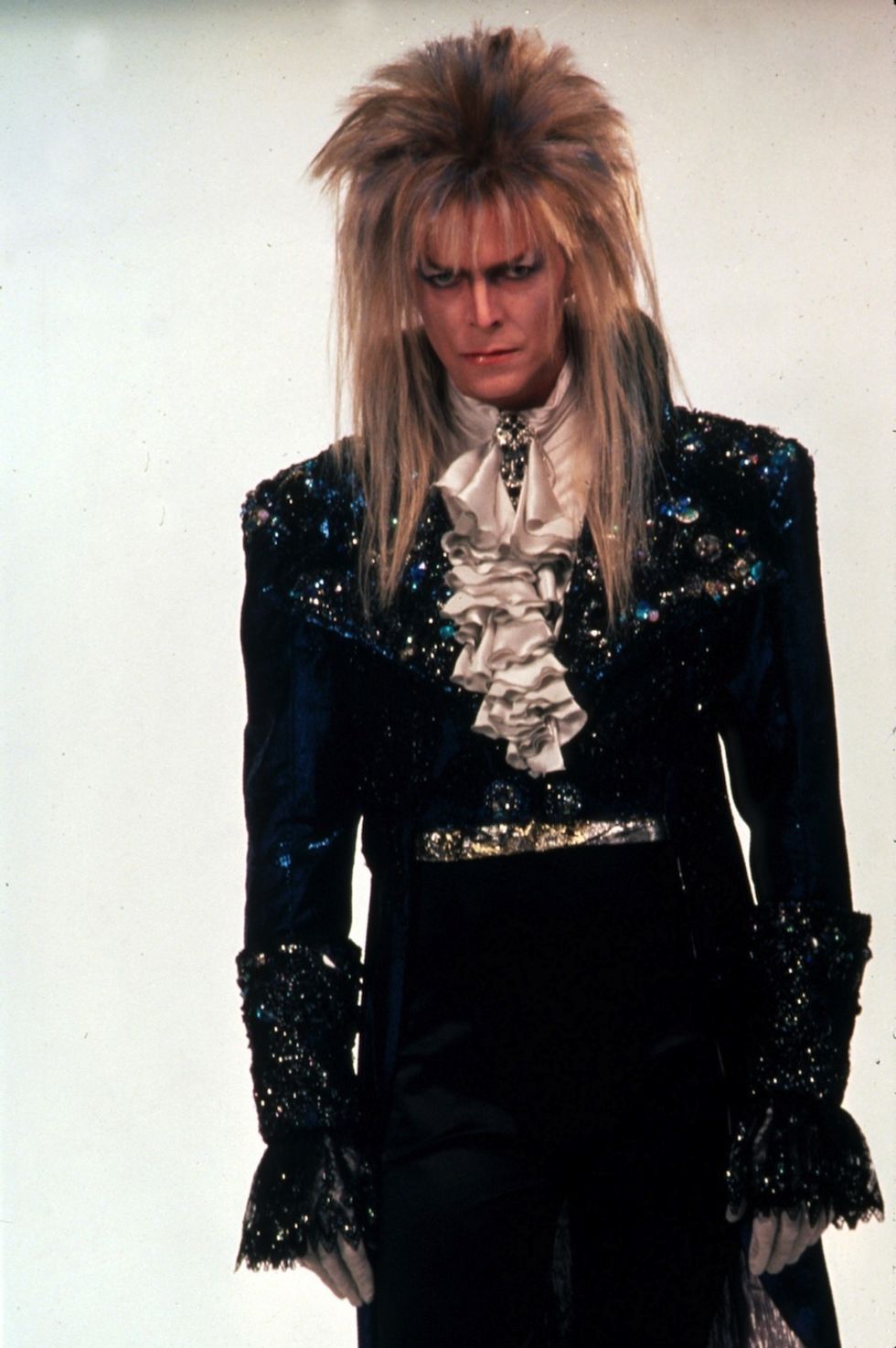 Bowie in Labyrinth

Unlike other artists who are lauded with 're-invention' and the formulation of 'characters,' he was singular in his devotion to them and their honesty in the moment, but perhaps most importantly, he never revisited them once their time was over. That the Ziggy or White Duke's moments were so ephemeral made them all the more magical. But that they still resonate is the true mark of the honesty and power they had, and will continue to have long after today. "Ashes to ashes, funk to funky."