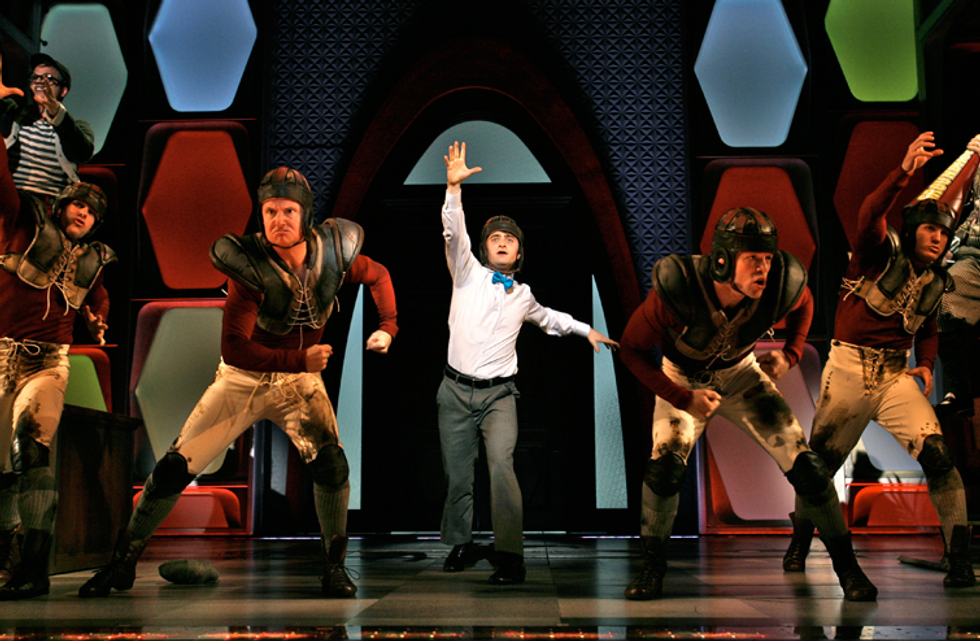 When our friends get in line at midnight to be the first to see
Daniel Radcliffe
in the 17th
Harry Potter
film, we scoff. But let us tell you what we
would
(and did) wait in line to see Radcliffe in: Broadway's latest revival of
How to Succeed in Business Without Really Trying
. We were less than enthused about the production after reading
Ben Brantley
's lethal review in the
New York Times
, in which he says it's like watching a new
Dancing with the Stars
-esque reality show where celebrities learn to star on Broadway, but after seeing the show this past weekend we were blown away with Radcliffe's ability -- and the pleasure he clearly took -- in playing ambitious businessman J.Pierrepont Finch. That's one of the many reasons we go to the theater! Seeing sheer joy come through in a performer is always inspiring. Though we can't say we were ever
Night Court
  fans growing up (though unfortunately our parents were), we loved
John Larroquette
in his role as J.B. Biggley, Finch's boss and the owner of fictional company World Wide Wickets. We could hardly contain our enjoyment during one our favorite 11 o'clock numbers, "Brotherhood of Man." While we're still opposed to jumping on the Potter bandwagon (it's a kids book!), we did leap to our feet when Radcliffe appeared for the curtain call. Shhh...don't tell anyone.
Photograph of Daniel Radcliffe showing off his dance moves in
How to Succeed in Business Without Really Trying
by Ari Mintz
.