While it's human nature to, at some point, say something foolish on Twitter, celebrities have the misfortune of having those 140 character lapses in judgment amplified...often 100,000 fold.
The sheepish backtracking--often followed by a screenshotted apology (and sometimes not)--can be brutal to witness, as these famous humans truly believe they can wave a hand in front of us, and we'll forget all about it.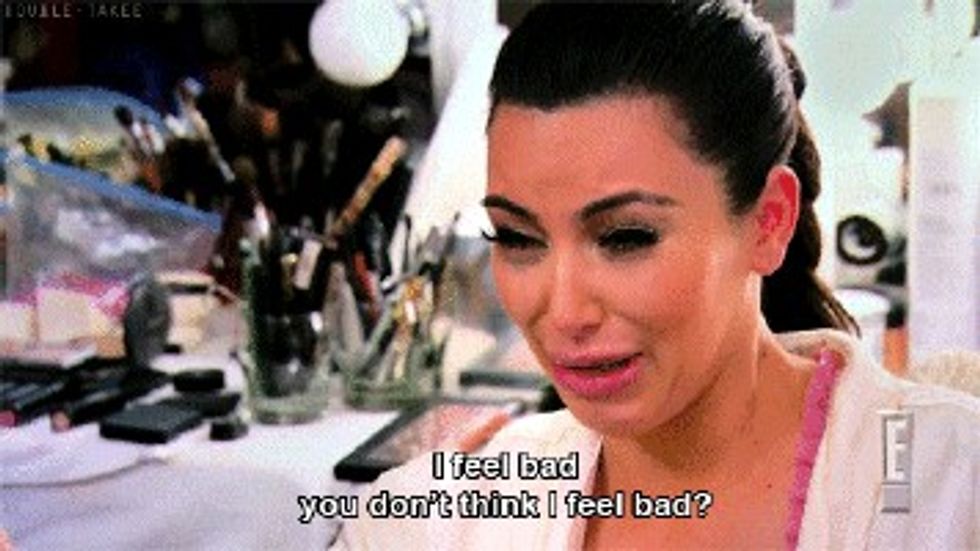 Let's zero in on some of the lamest celebrity backtrack tweets that we've endured in recent years.
UPDATE/HONORABLE MENTION:


In case you weren't following Kanye West and Wiz Khalifa's absurd Twitter war/tantrum, Kanye unleashed hell under the presumption that Wiz, dissed his wife, Kim Kardashian (KK).
Wiz responded that he was talking about WEED, OK? Then went to diss Kanye's newly re-named album (WAVES).
Sure, Wiz.

10. Steve Harvey, 2015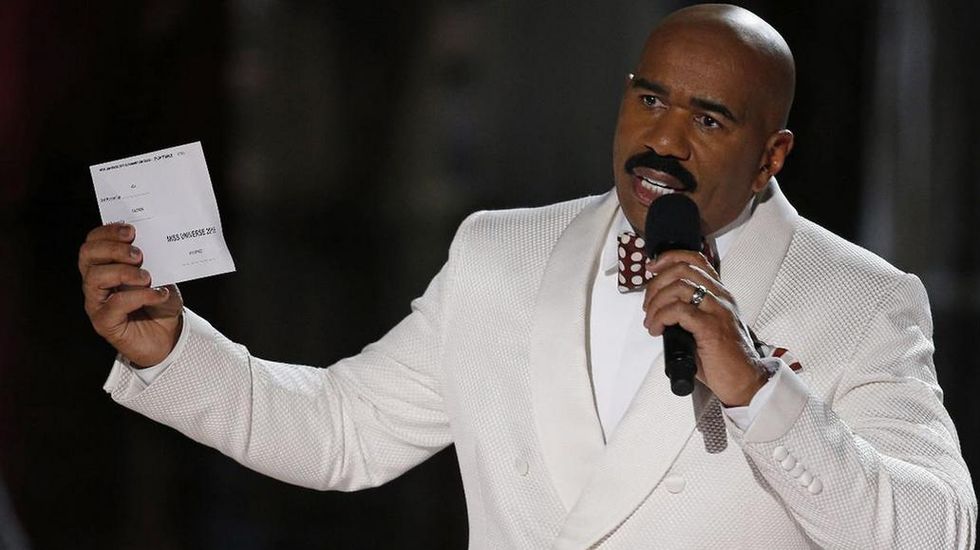 Just as a palate cleanser, let's remember Mr. Steve Harvey's 'Oh, fuck' tweet, after incorrectly naming the wrong winner of the 2015 Miss Universe pageant...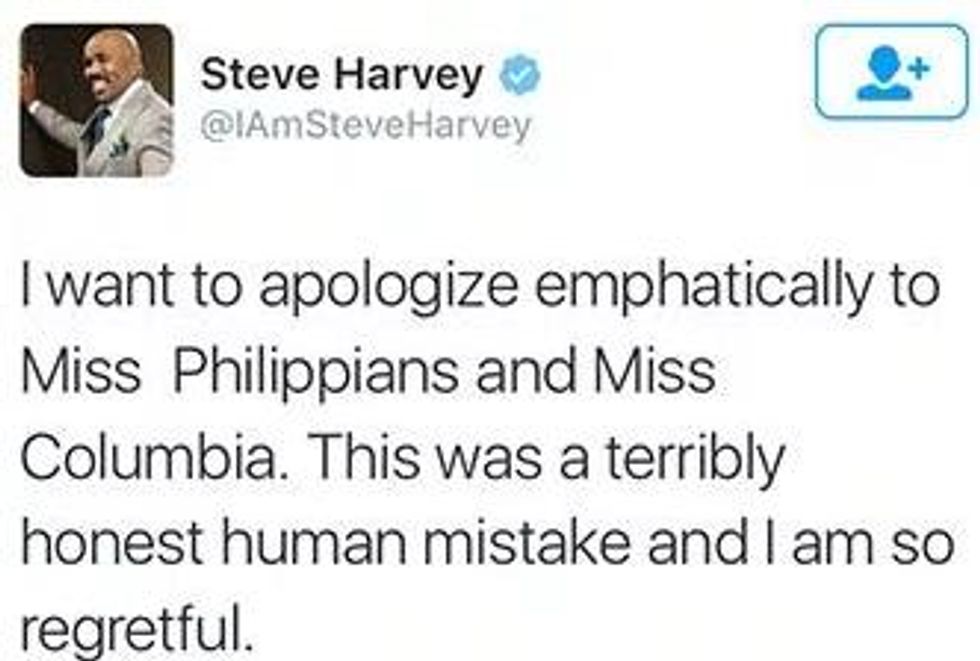 Still cringing at this one, Steve.

9. Nash Grier, 2014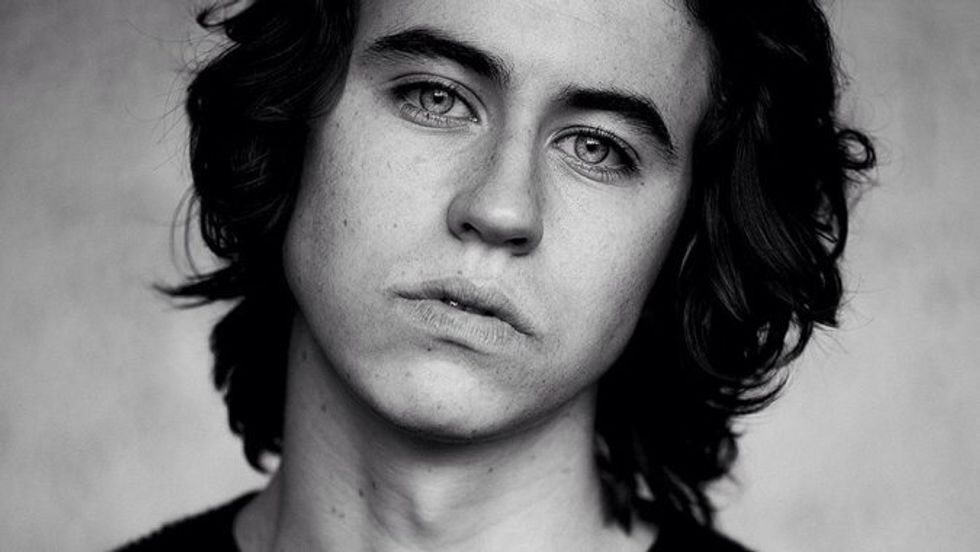 Nash Grier, the 18-year-old Vine phenom/devout Christian, who's literally made millions from his unbelievably mind-numbing, six-second clips where totally-not gay-Nash and his totally-not-gay best bros do totally-not-gay bro things, is also a dangerous, homophobic and sexist monster.
Back in 2014, Grier took it upon himself to apologize for this now infamous (and deleted) Vine.

The clip (made before he was 'famous'), featured a much younger Nash responding to a commercial for HIV medication, that stated that the disease is "not just a gay thing," to which Grier violently yelled, 'YES, IT IS! FAG!"
He also used to tweet things like this: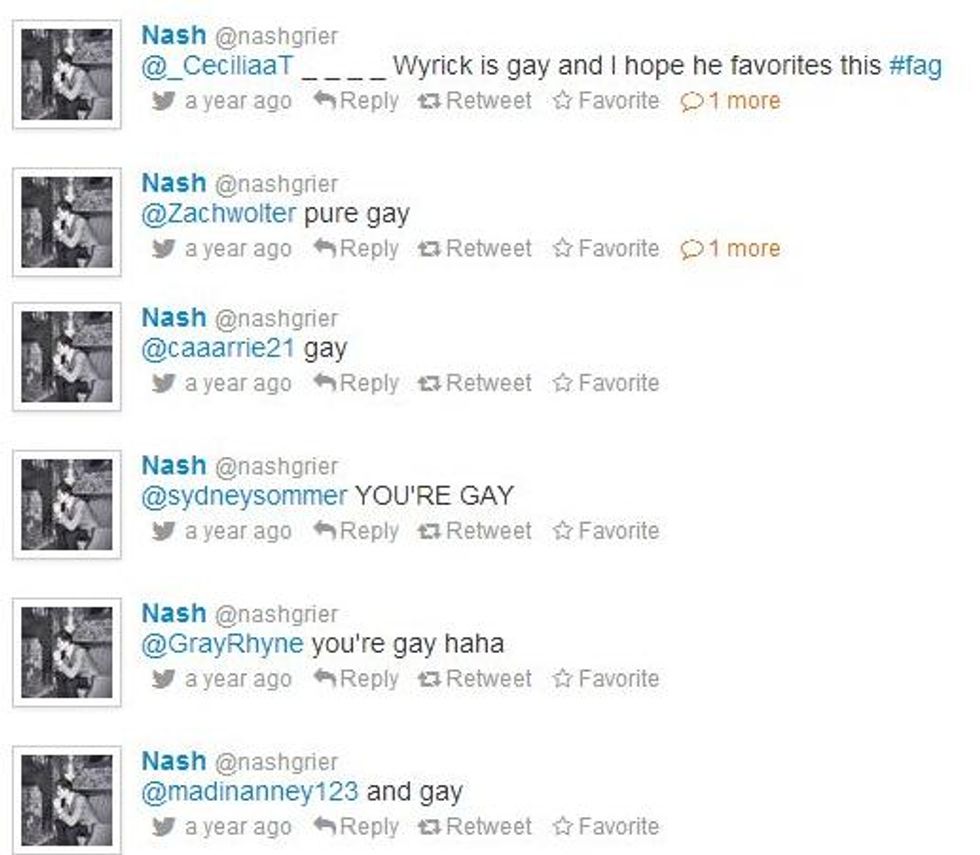 #gay
As his 'star' rose (ugh, I just typed that), the Vine in question seemed to get obscured by time, but was thankfully resurrected by people like YouTube king Tyler Oakley, and Modern Family's Ariel Winter, who demanded Grier apologize.
Grier tweeted this half-hearted apology: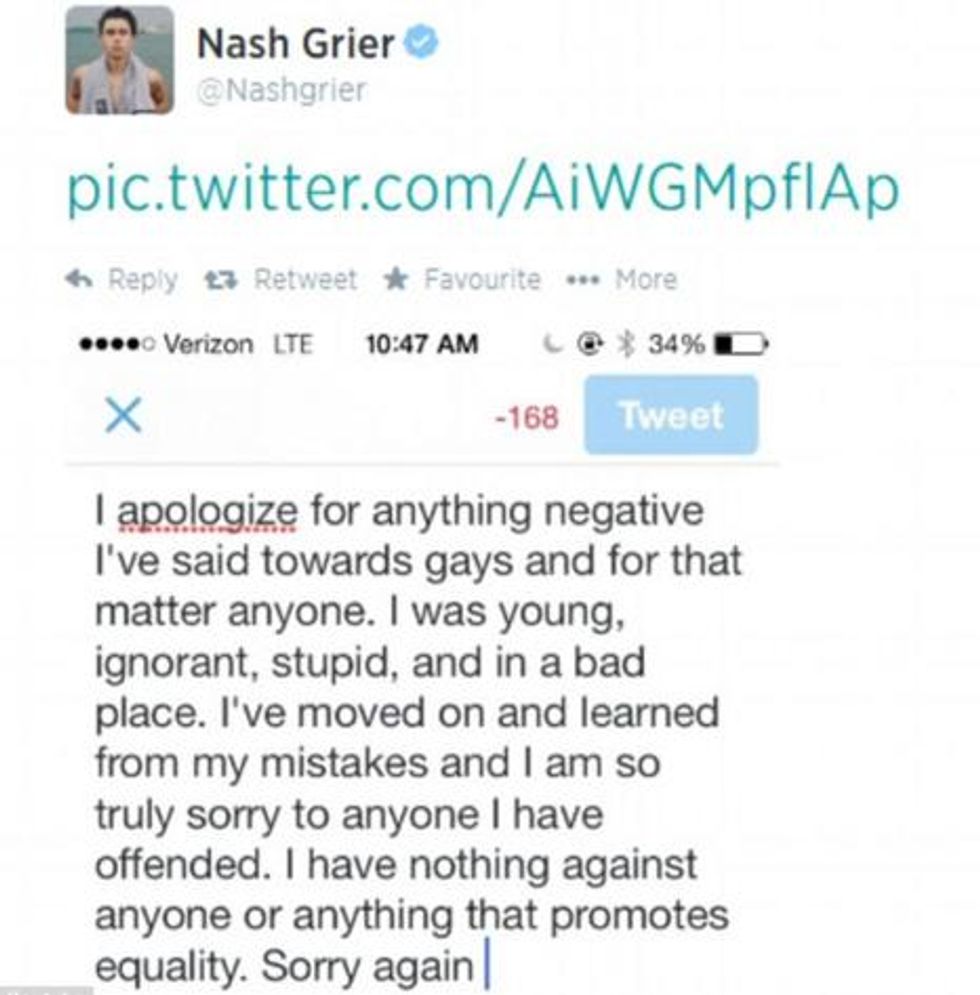 Huffington Post (for some reason) allowed Grier to pen an explanation for his vile behavior, where he essentially made himself into the victim.
He also listed his occupation as 'Vine star.'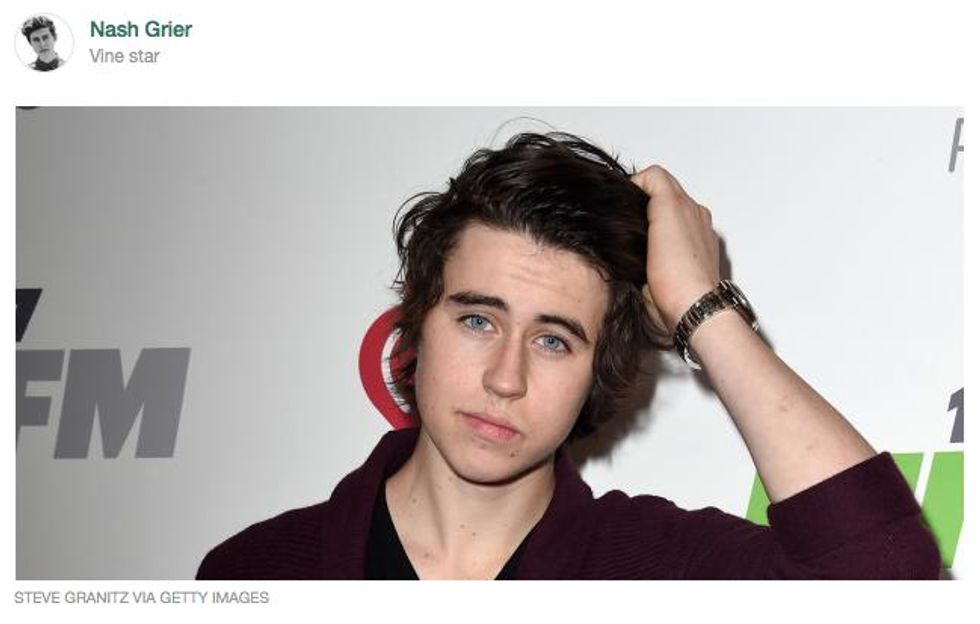 Yeah.
Fuck you, Nash.
8. Daniel Tosh, 2012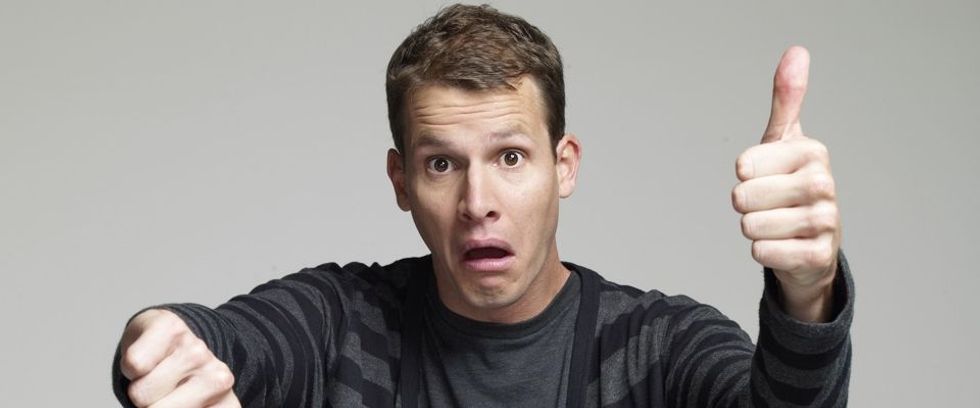 Remember when Daniel Tosh was called out by a female audience member during his stand up at LA's Laugh Factory for a horrible rape joke? And he then said, "Wouldn't it be funny if that girl got raped by, like, five guys right now? Like right now?"
And remember when 'that girl' wrote a Tumblr post about the appalling occurrence, which ignited the rightful backlash Tosh had been deserving for years of his hackish, repulsive 'comedy?'
Tosh, who had the future of his Comedy Central show to worry about, tweeted this non-apology, with a link to the woman's post.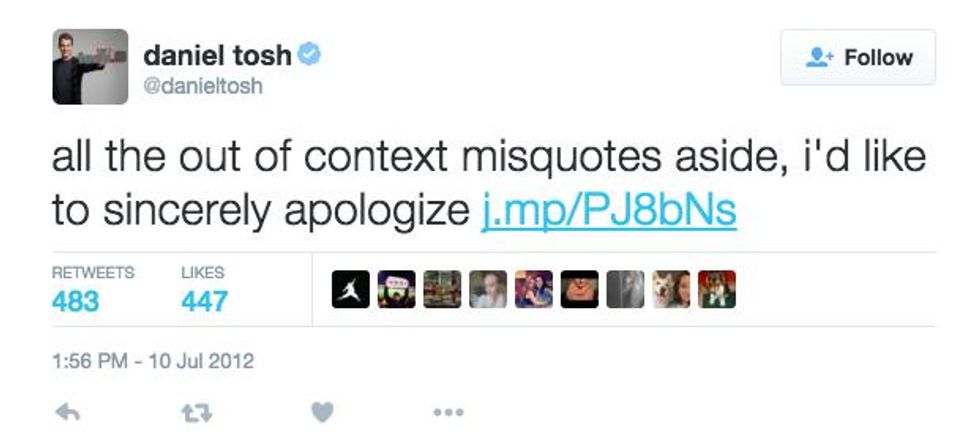 Then topped it off with this horror-cherry.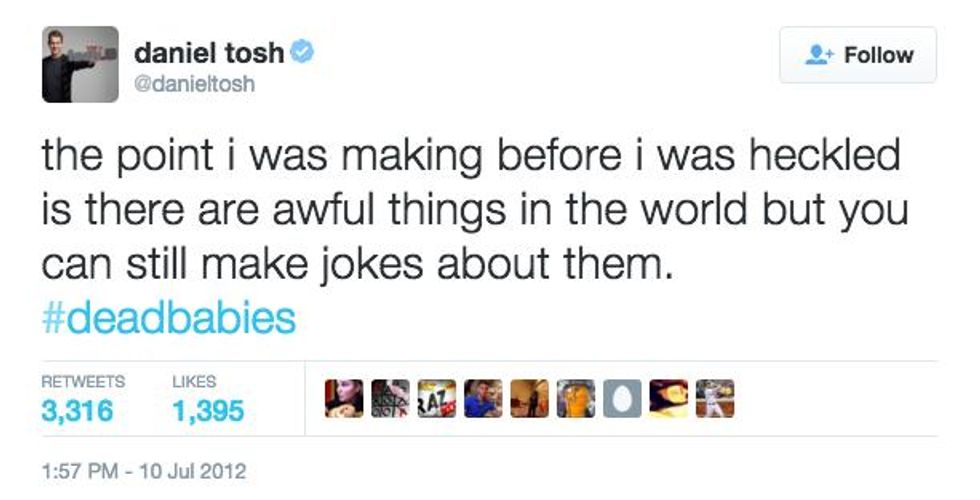 Comedy!

7. Ashton Kutcher, 2011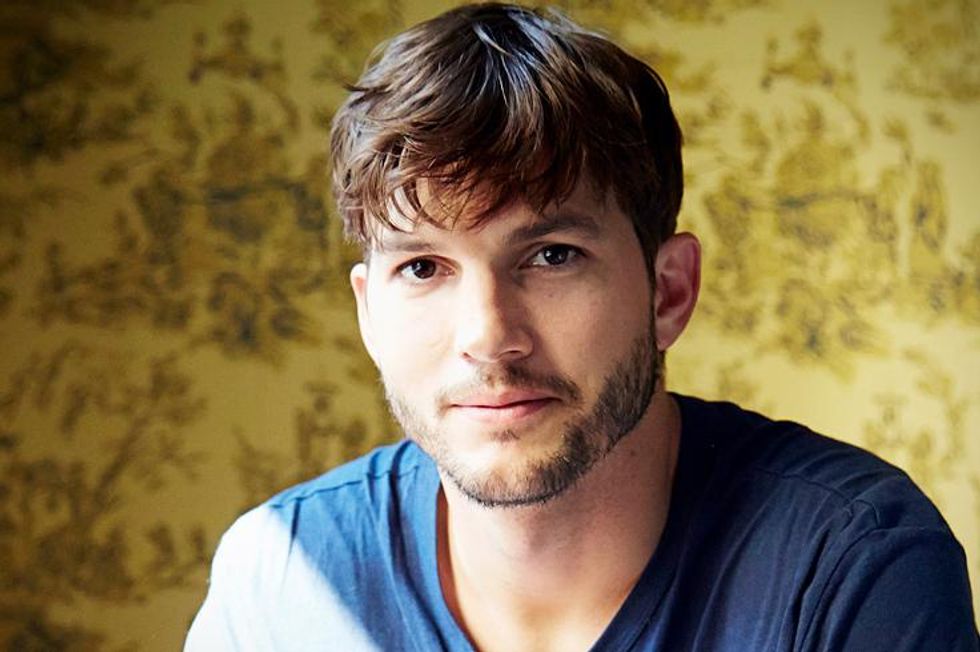 The original Twitter pioneer, Ashton Kutcher, decided to weigh-in on the November 2011 firing of Penn State's defamed football coach, Joe Paterno, amidst the-then allegations (turned-convictions) that he intentionally overlooked his assistant coach Jerry Sandusky systematic raping of dozens of young boys over multiple decades.

After an immediate "BRUH" from the Internet tribunal, Ashton immediately tweeted a frantic apology, with a morbidly corny hashtag.

Kutcher's embarrassment continued...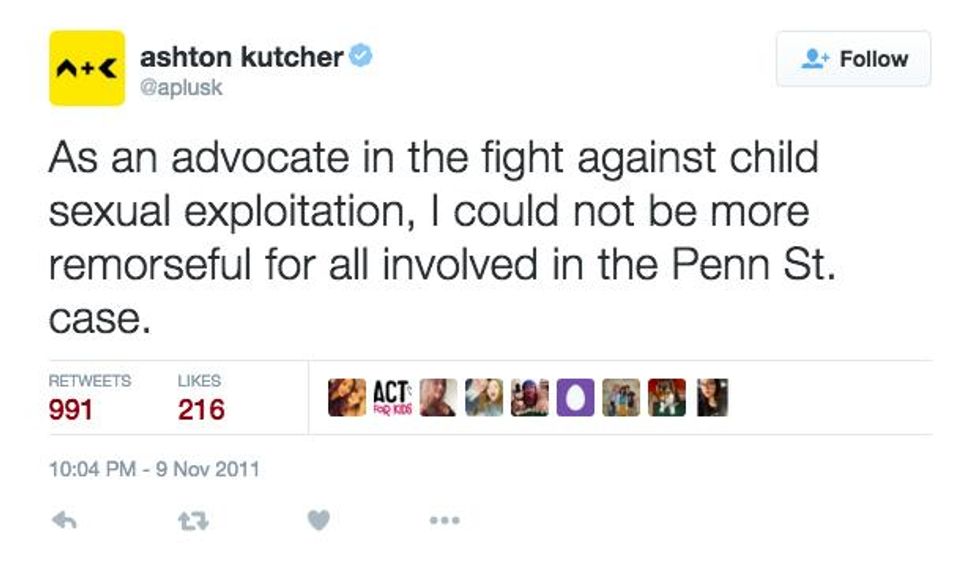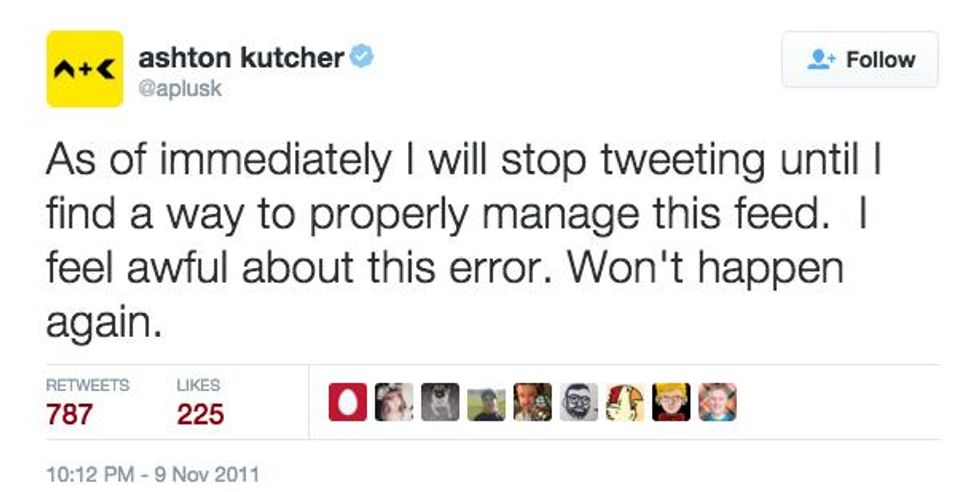 Mr. Kutcher has maintained an oppressively PC Twitter presence ever since.
6. Kim Kardashian, 2012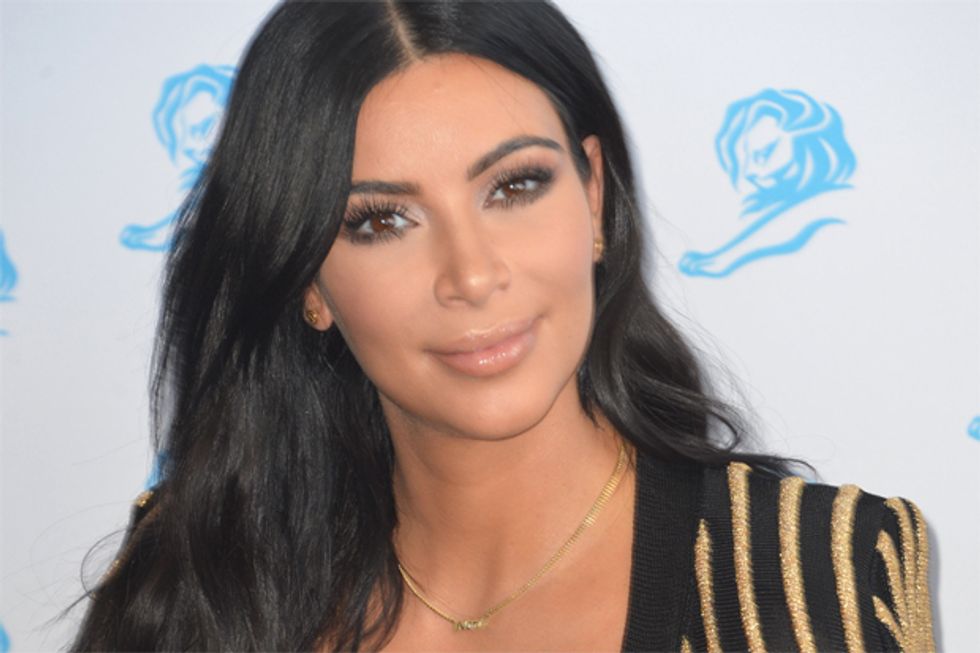 In the wake of a particularly devastating chapter in the Israeli/Palestinian conflict in November of 2012, Ms. Kimberly Noel Kardashian West decided to do the worst thing you can do as a reluctant observer of this ceaseless and morally ambiguous battle these two nations are locked in: pick a side.

-_-
Seeing her boo-boo, KiKi scrambled to 'add on' to her prayer list...

She tied the bow with this perfectly Kim statement:

Clearly distraught over her error, Kim wrote this sincere-sounding follow-up to her fans, and non-fans.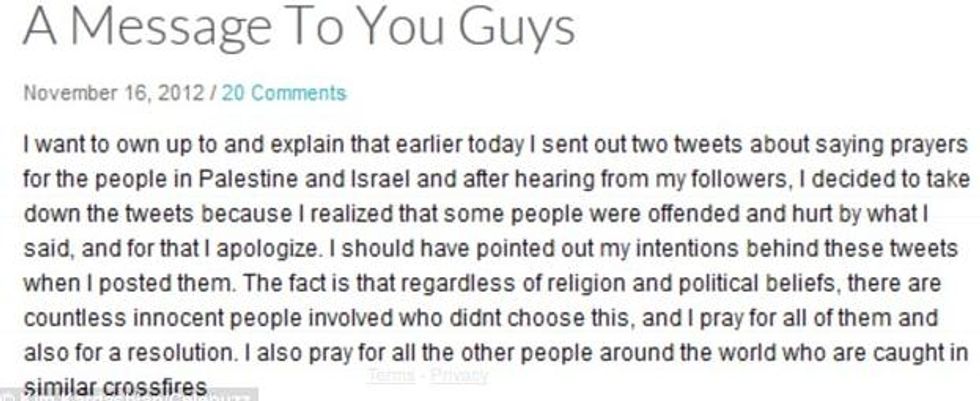 5. Rihanna, 2014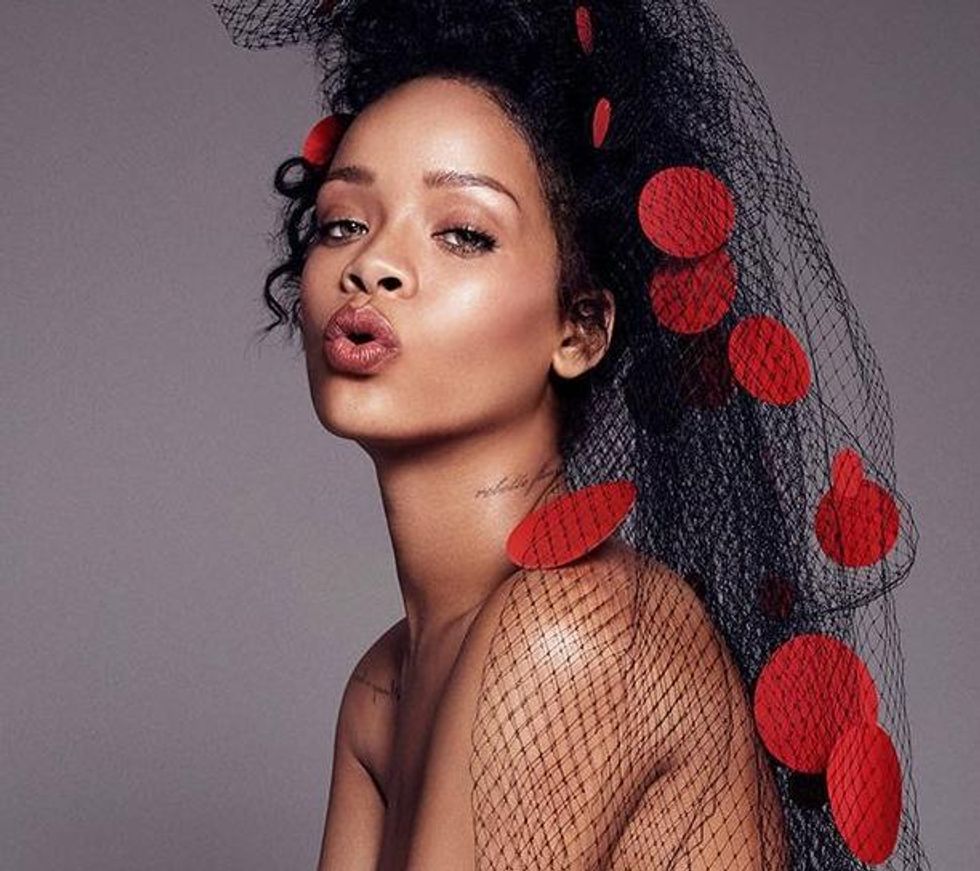 Another voice in the darkness of Israel and Palestine's clandestine war, Rihanna offered up a fairly apropos sentiment...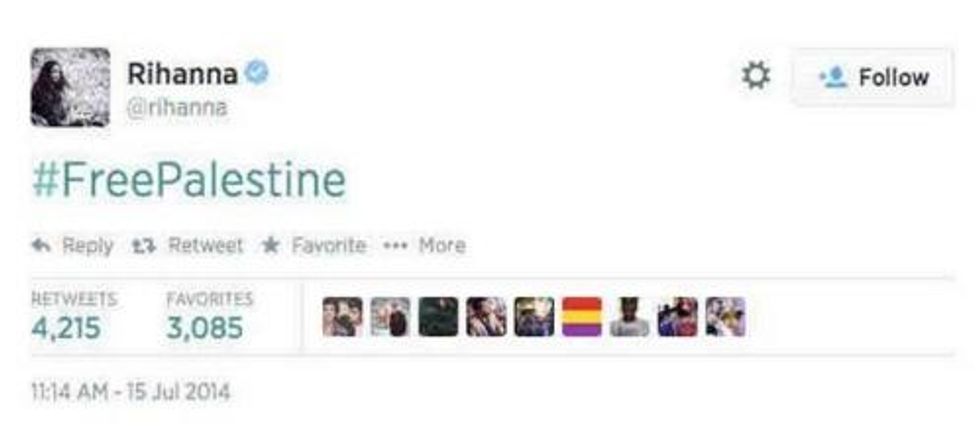 In true BadGal fashion, the singer didn't explain her burst of revolutionary spirit, but simply followed up with this: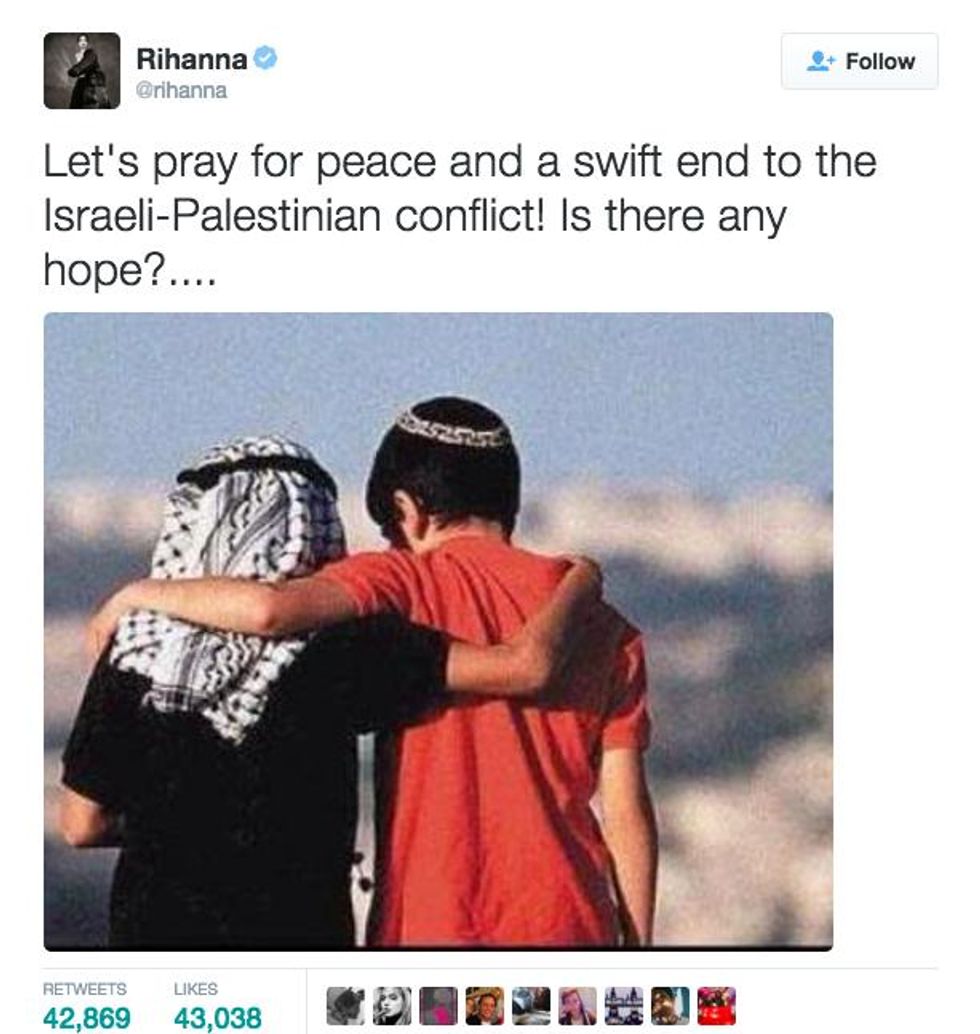 True.

4. James Franco, 2014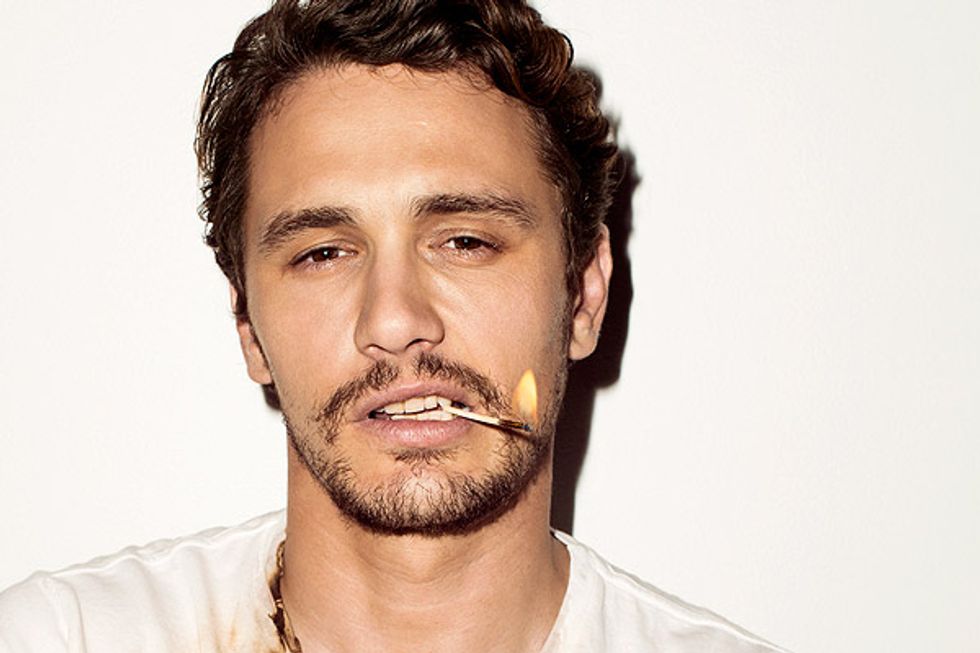 35-year-old charlatan James Franco got busted for an uber-creepy conversation with a 17-year-old girl over Instagram; Franco and the underage lass (visiting NYC from Scotland) exchanged multiple DMs (which she screenshot and leaked), where Franco unleashed a barrage of questions...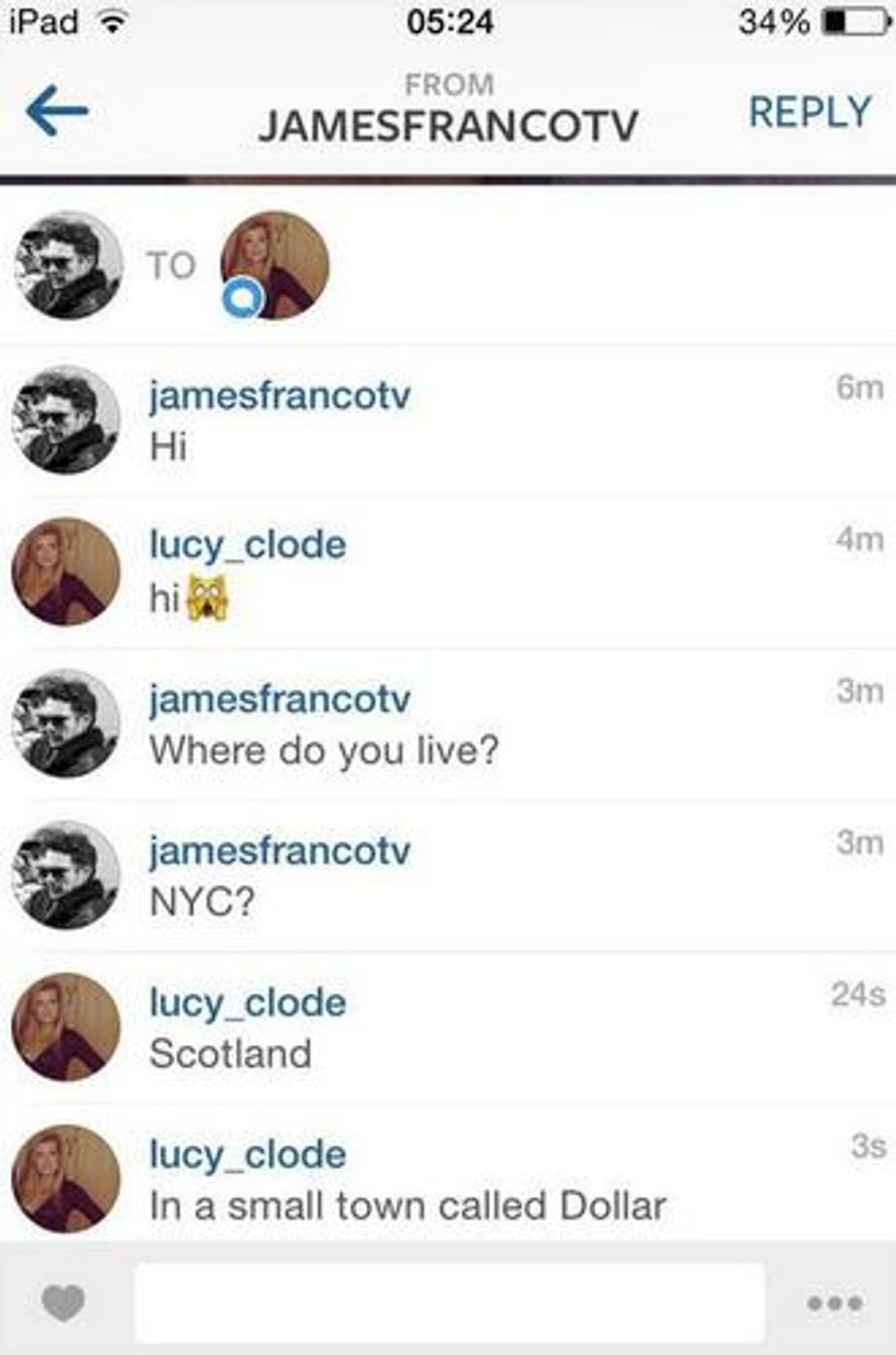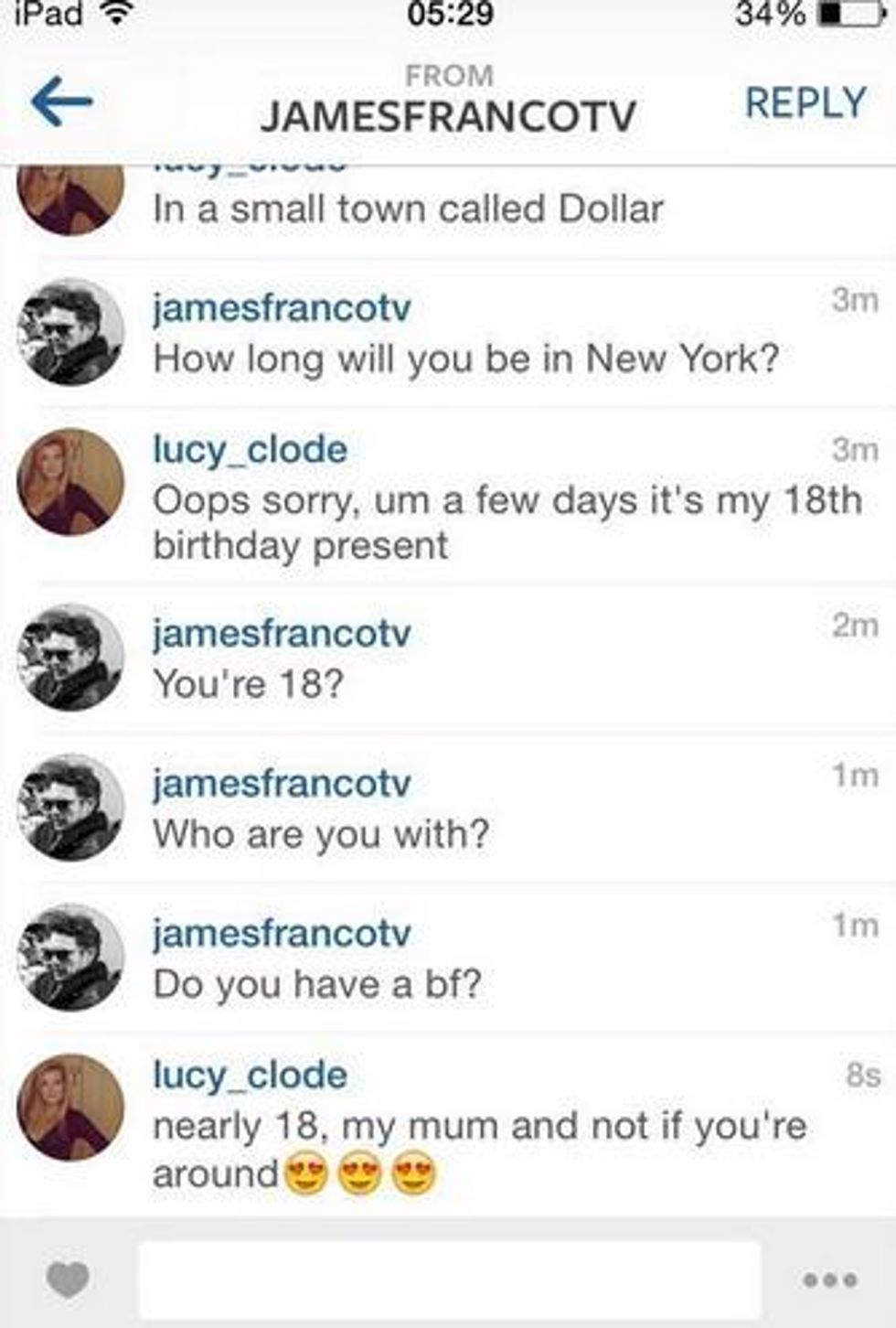 The DMs carried over into texts...where Franco offered to get a room at the same hotel Lucy and her MOTHER were staying at in New York.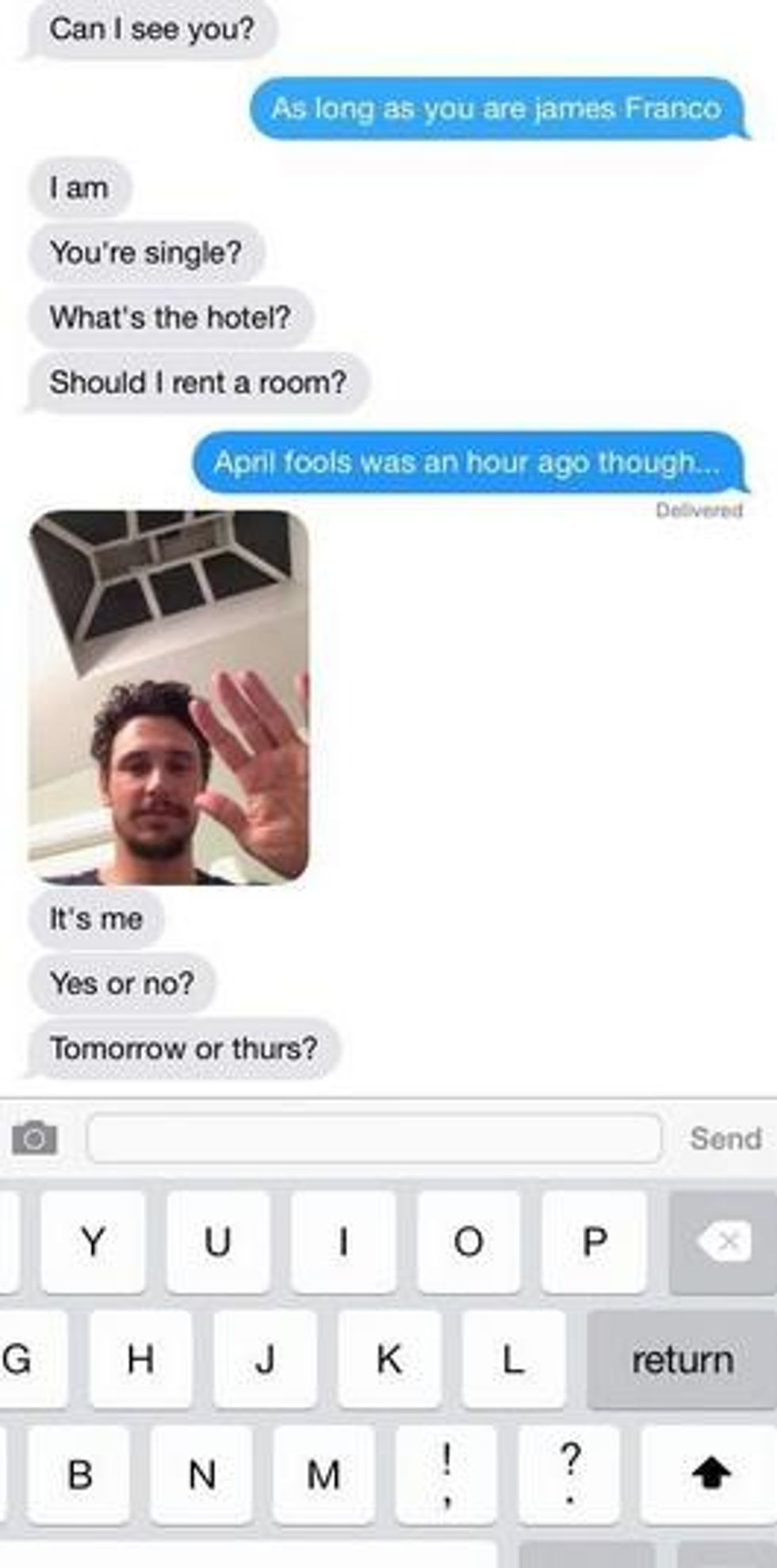 Franco openly admitted the blunder on various talk shows, and everyone seemed to gloss over it (some believing it was some troll-y performance art).
Nevertheless, Franco's only tweet (of this Instagram post) regarding the matter: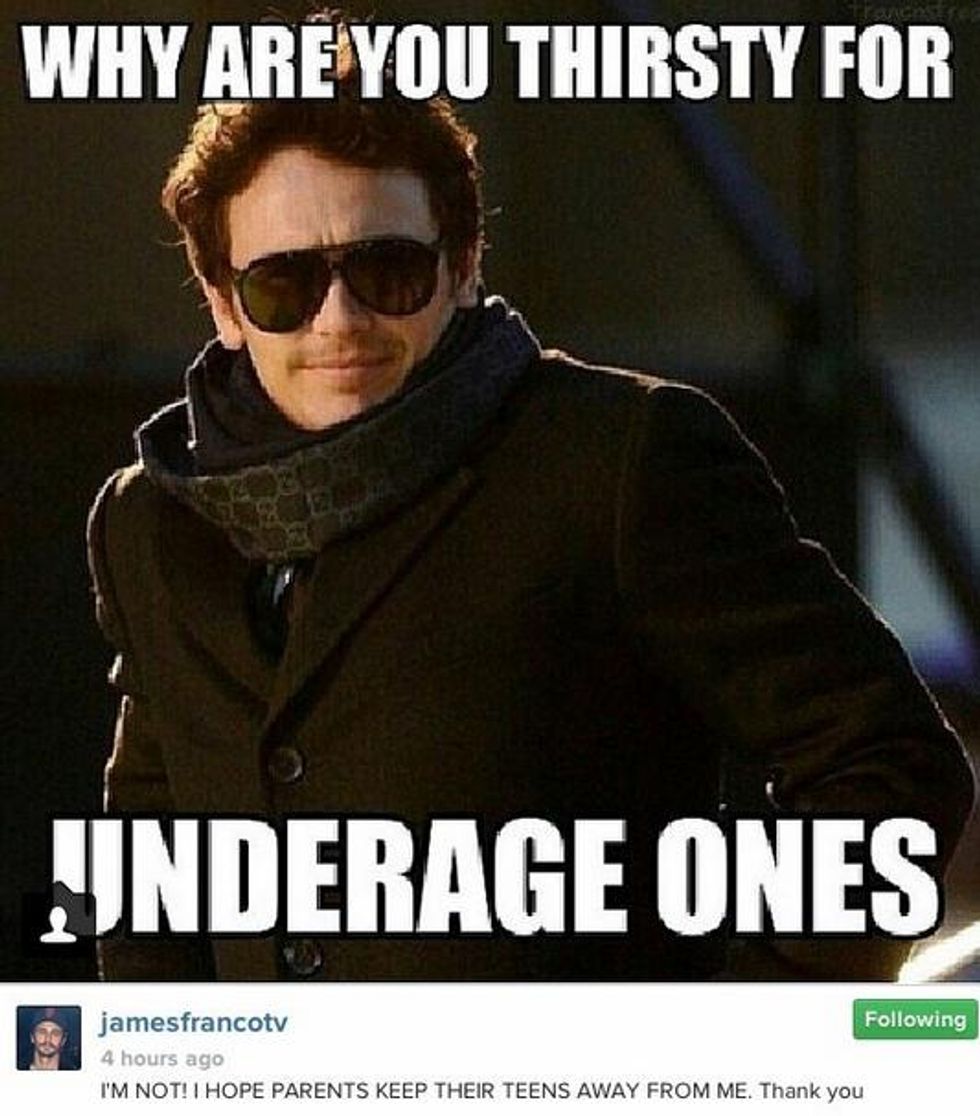 K!

3. Taylor Swift, 2015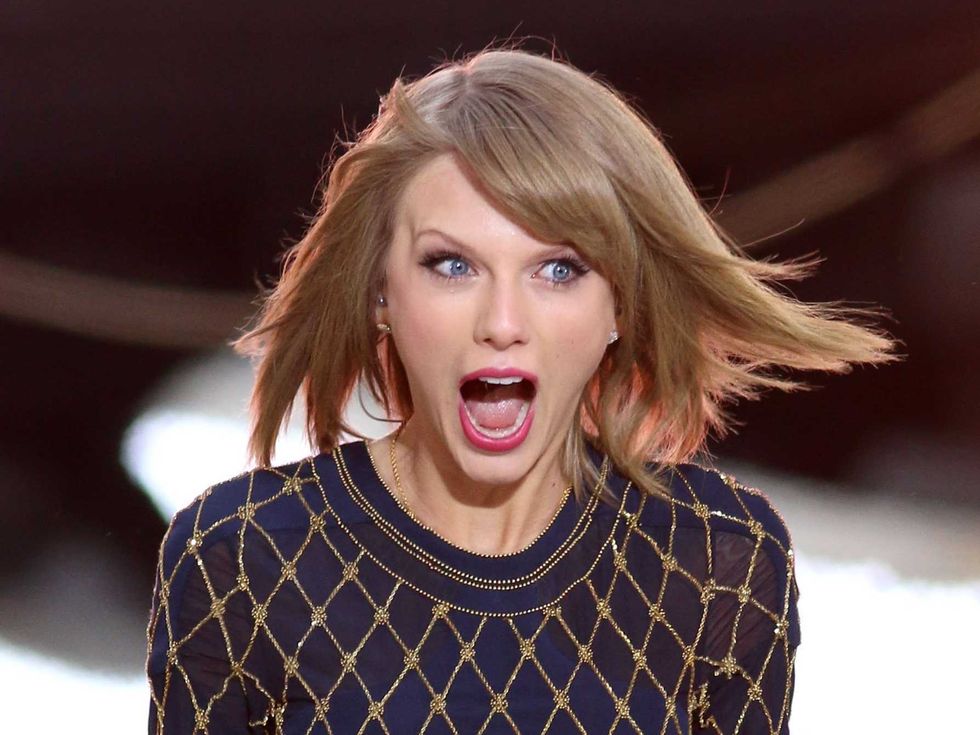 Last July, Nicki Minaj tweeted criticism following the announcement of the nominees in the 'Video of the Year' VMA category.
Her record-breaking video for 'Anaconda' was (very questionably) left out of the running, and Minaj began venting her frustration over the larger issue of pop-culture's whitewashing of black artists.
After referencing a rhetoric example of "thin white girl" as the winning equation for celebrating excellence in music videos, Taylor Swift--whose thin white girl-laden video for 'Bad Blood' was nominated in the category--pulled the ultimate thin white girl, and took personal offense...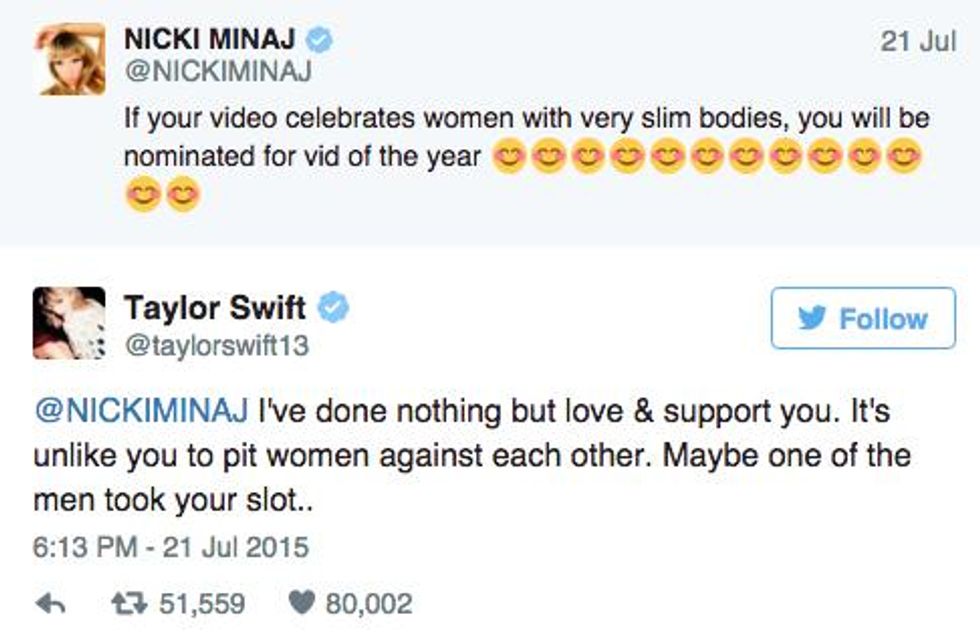 ...thus proving Nicki's point entirely.
She attempted to mend the awkward with this unbelievably narcissistic 'charity':

While the Internet waited on its toes for the next move...Taylor seemingly brushed off her ignorant tantrum: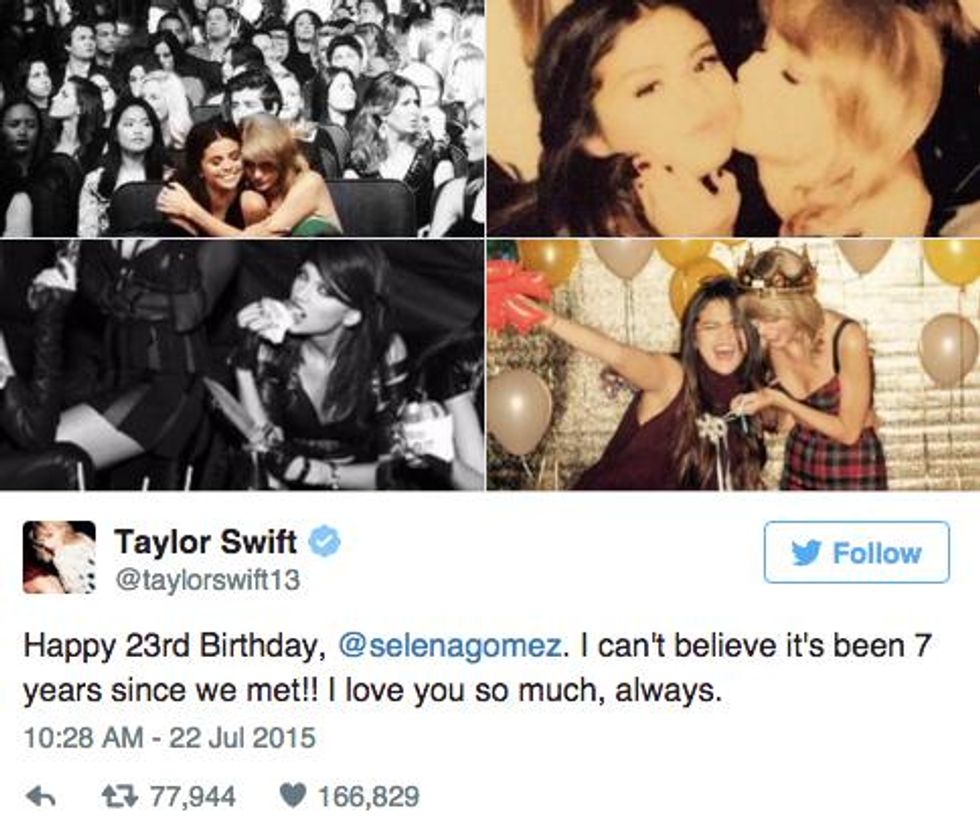 Finally, after (I imagine) a panel of terrified 'experts' in the Swift machine explained to her what Nicki was actually saying, Taylor finally owned up:

And once again, all was fake in the shimmering, austere marble temple of corporate pop-stars.


2. Gwyneth Paltrow, 2012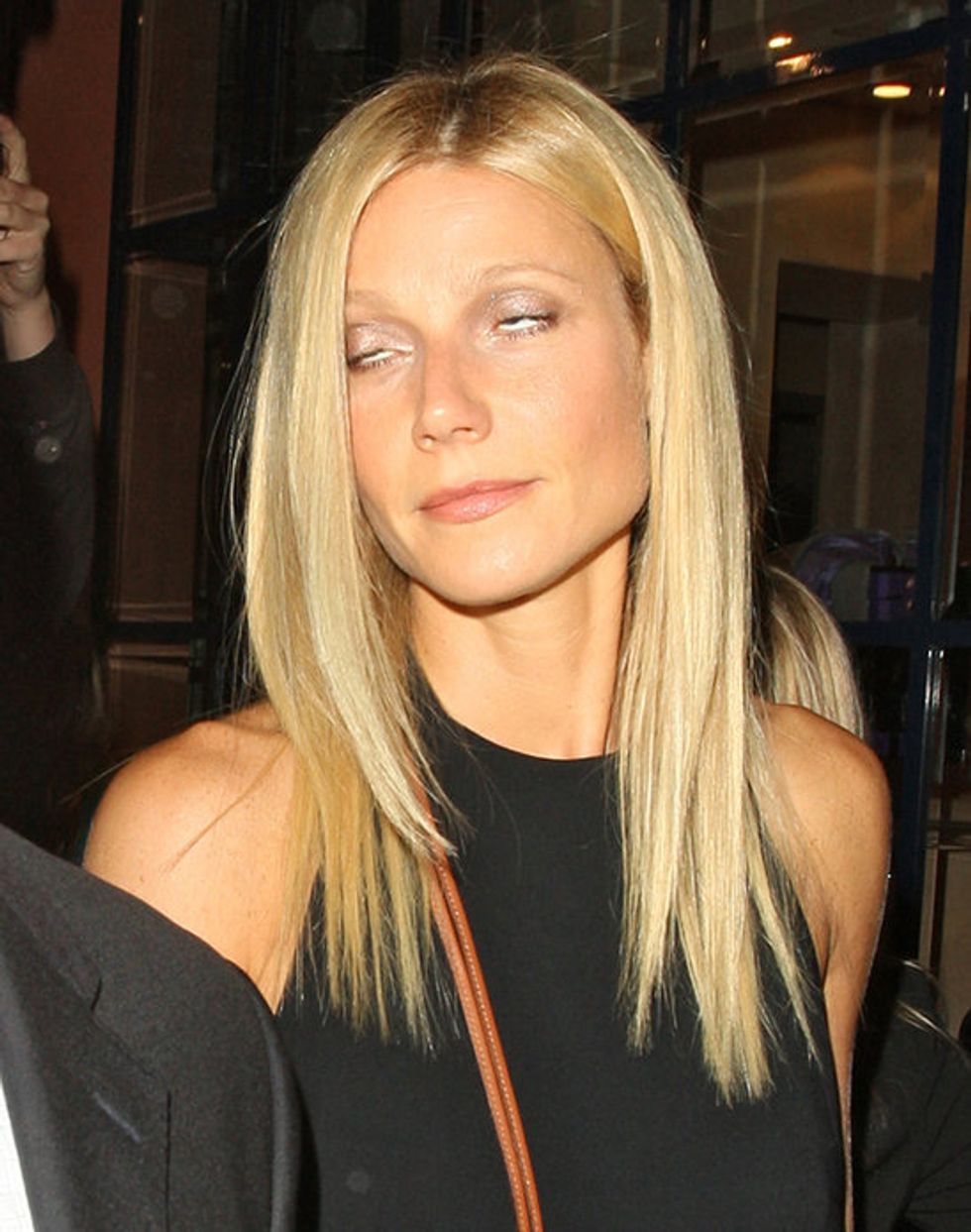 The Duchess of Goop is a self-proclaimed lover of rap, and she showed just how immersed in the genre she believes herself to be, while at the Paris leg of (dear friend) Jay-Z and Kanye West's Watch the Throne tour in June, 2012.
Paltrow tweeted this caption for a photo of herself dancing with the rap kings on stage: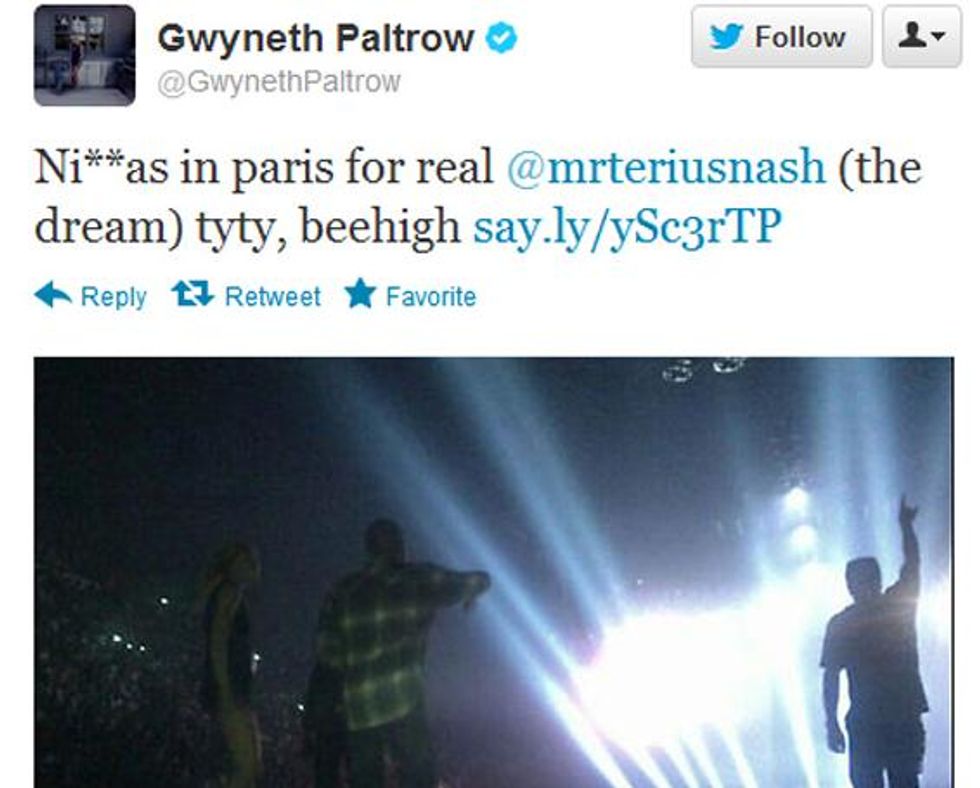 Immediately, the actress received a surge of backlash, and the following morning, tweeted this 'Whoa..whoa..whoa.." tweet: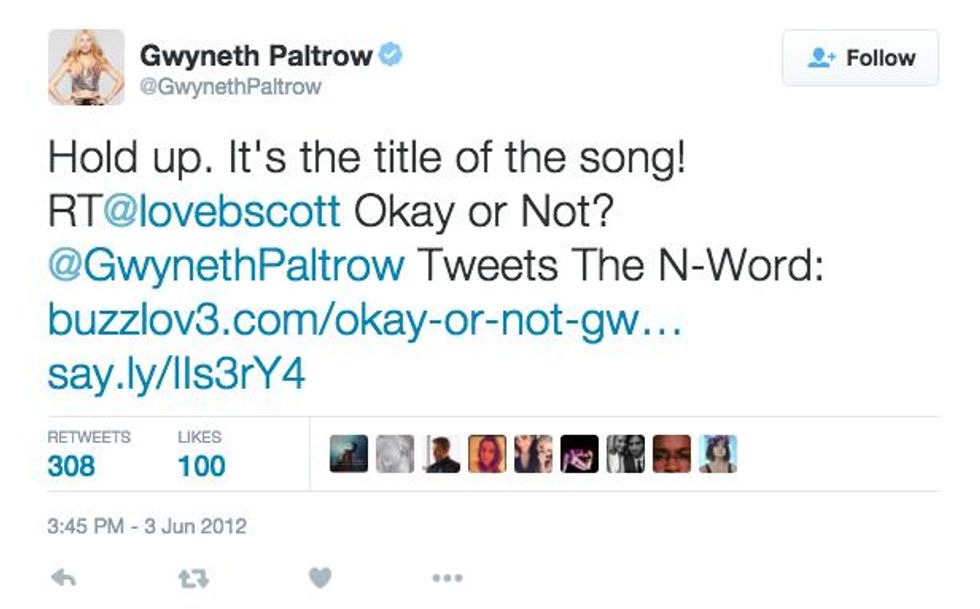 Paltow's friend The Dream took the fall for her, claiming that it was HE who typed the actual caption on Gwyneth's Twitter...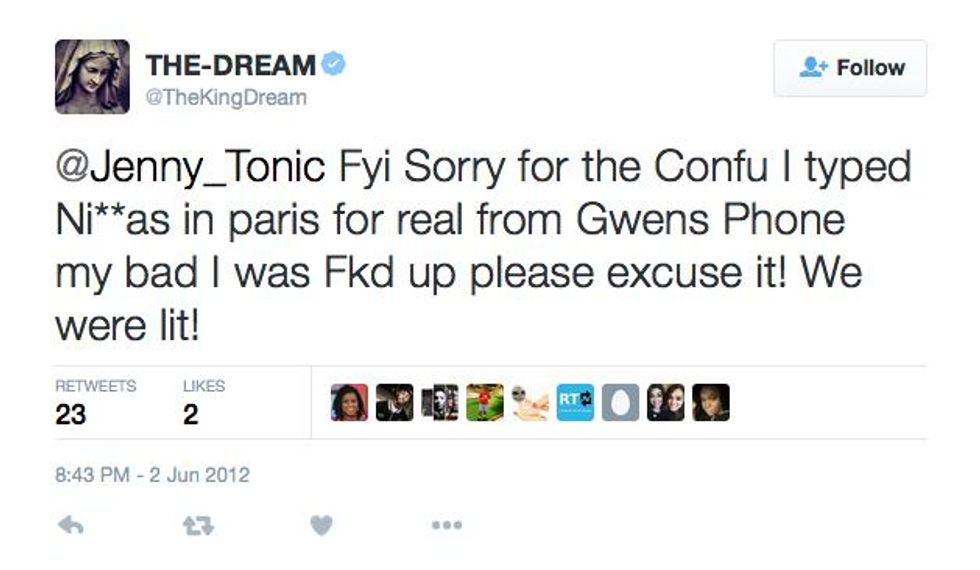 ...uh-huh.

I imagine Gwyneth texted The Dream soon after, "Thx, homie" who responded, "OK, stop"
1. Justin Bieber, 2014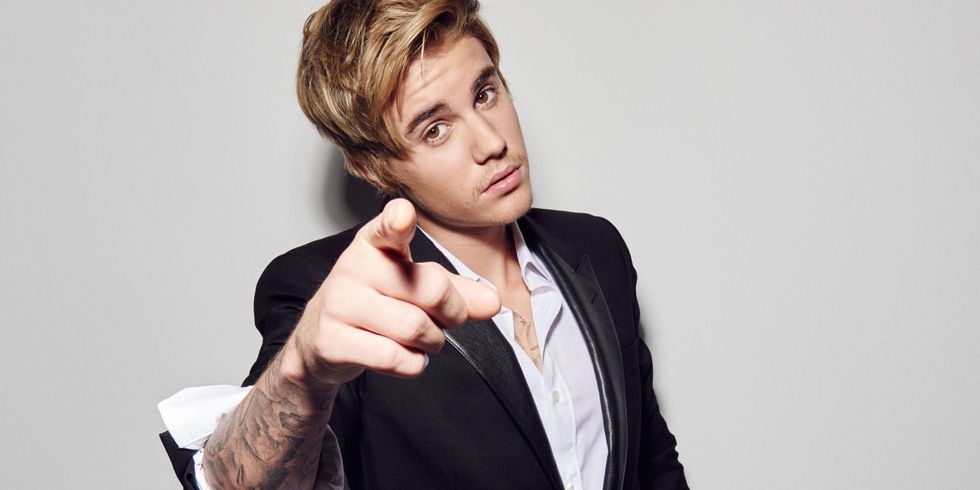 Part of the beginning of his image renovation, Justin Bieber went the Nash Grier full grovel route,, following the unfortunate unearthing of a video from 2009, where a 14-year-old Biebz could be seen singing a 'parody' of his hit 'One Less Lonely Girl,' and replacing 'girl' with that damn n word.
Bieber took to Twitter to right this fairly horrifying display.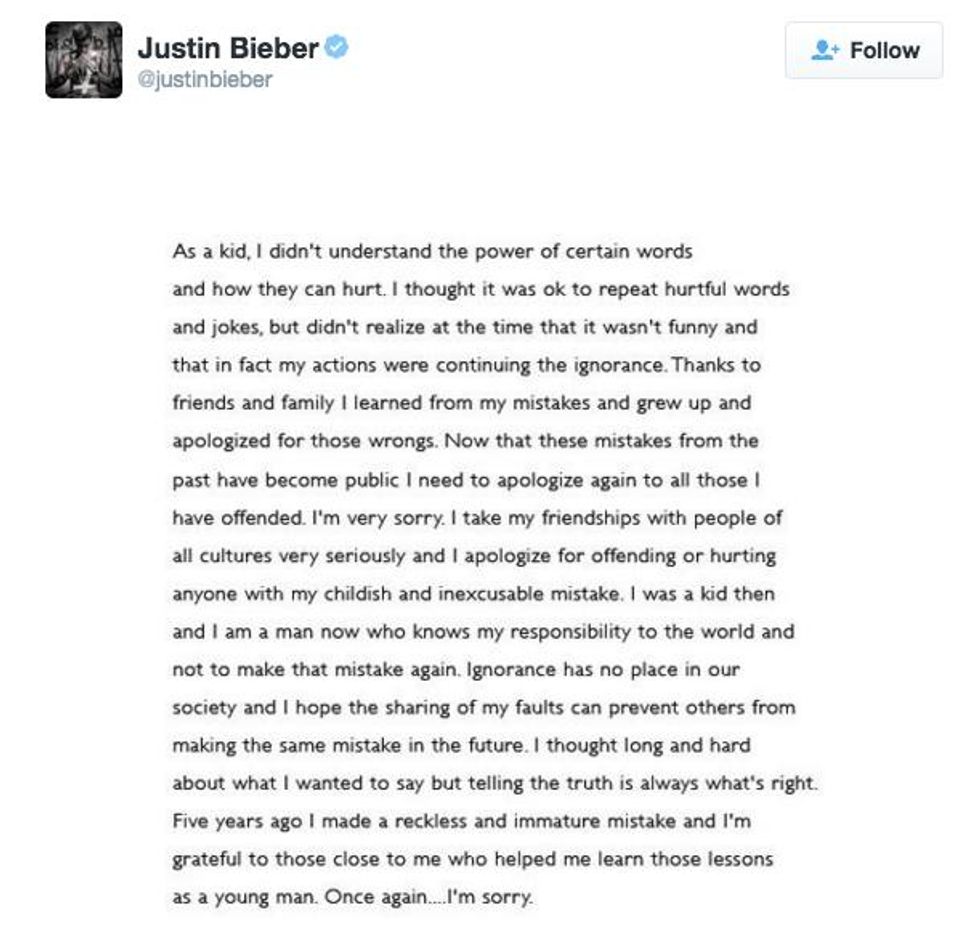 Unlike Nash, however, Bieber (or a very good publicist) seemed legitimately remorseful for this bigoted fuckery.
Forgive me that I can't help but hear this as I read his apology...