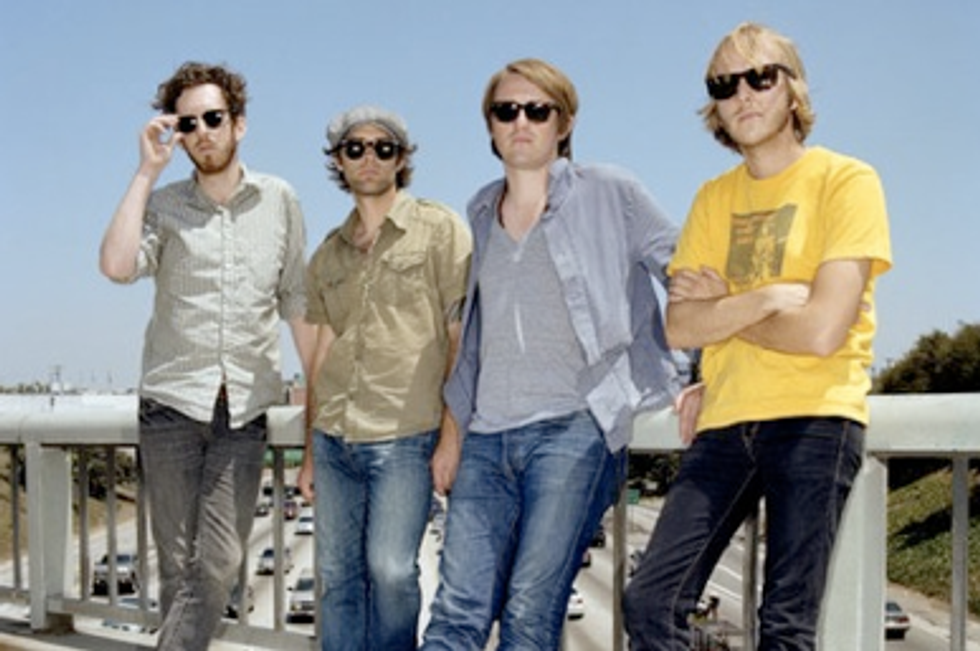 The other night I went to see the new Broadway play Coram Boy, which is still in previews, and I loved it! It opened last year to rave reviews on the West End and will open on Broadway May 2nd with an all new American cast.
I'm not a religious girl but I'm a sucker for Handel's Messiah, which is sung throughout the play by a full choir in the rafters of the stage. I recently caught up with one of the stars of the show, cutie Wayne Wilcox, during tech week. He plays the grown-up Alexander Ashbrook, who runs away from his family responsibilities at the age of 15 to study music under Handel, leaving a mess behind at his family's estate. He was terribly charming and after seeing the performance I'm convinced he's terribly talented as well. He starred earlier this year in the Roundabout's production of Suddenly Last Summer and he's also well known for playing Marty on Gilmore Girls. He's also very generous! And after we spoke, the Tennessee native sent me some of his favorite Vosges chocolates! Here's a window into our love connection. (OK, that's wistful thinking.)
How old are you?
I'm 28.
What's your theatrical training?
I went to Boston University -- there are actually three of us from BU in the cast.
Tell me about your character in Coram Boy...
I play adult Alexander Ashbrook. It's based on a real family -- most of the story that we tell is based on real events. He was a young kid, a rich landowner is Gloucester England's son who went to music school for four years, and then he developed a love for music and wanted to continue to study that but his dad wanted him to come back and be the next Lord Ashbrook. So he runs away to look for Handel and becomes his protégé. Before he runs away, he kind of meets his first love and they have a baby but he doesn't know that, so the second act is eight years later and he and his son are sort of reunited. And then the Hallelujah chorus comes.
So you are one of the principle roles then?
Well yeah, but if you come and see the show, it's a big ensemble piece and to tell the story -- everybody is used, everybody's presence is felt strongly. I still share a dressing room! I don't have people waiting on me and bringing me goodies.
What do you have in your dressing room?
Well I just went to Whole Foods and I stocked up on some Bert's Bees lotion and I got some chocolate -- you know Vosges, the chocolate company? It's so good, you have to try it! So these Vosges bars that I bought today are called "Barcelona Bars." [My co-star] Bill Camp and I go crazy for these!
Don't you have to sing in this show? Chocolate isn't good for the voice!
Everything's good in moderation I guess.
But back to your dressing room…
We have a pretty sweet view of the Scientology Center, if you ever want to know what they do at night when everybody leaves Times Square I could tell you stories!
Why did you want to become an actor?
Well it was something that I always wanted to do. I think when I was little, maybe I needed attention. I think that's probably part of it… yeah I definitely needed attention. I started doing community theater when I was in high school and I was just like, "that's it," and the rest of it was just a matter of pursuing it as much as I wanted to.
What's the funniest, most embarrassing thing to happen to you while on stage?
Well this wasn't on stage, but when I did my first episode of Gilmore Girls, I had to be naked, so that was an experience. And the funny thing was that I did the table read over the phone because I was in New York and I didn't get the whole script, I only got the scene where I had lines, but that's how I found out I was going to be naked. It just said, "he's naked on the floor," but I had no concept of how I got to be naked. So we show up on the first day to film it and we just filmed stuff to warm up and then the second day they filmed the nude stuff and I guess I was more dumbfounded than embarrassed.
[Rory] has a party at her dorm room and my character Marty gets drunk and passes out by her door and he has no clothes on -- I think somebody stole them. It was embarrassing having to do the costume fitting for that scene because there were several different options. They had several different, let's call them "types of underwear," which were actually pretty inventive and we ended going with the skimpiest option. It wasn't underwear in the traditional sense, it was movie magic underwear, and I had to try them all on and they took Polaroids of everything to see which one was the best.
If you had to give up acting what would you do?
I could maybe work as a skydiver. Do you have to have a degree to be a skydiver? And then maybe I could get sponsors. I'll be an ad skyjumper. I'll get Doritos to give me a flag and I will carry it with me when I jump out of the plane. First hand advertising.
What's the most glamorous thing about being on Broadway?
So far, it's walking outside and having people walking by my theater wanting to know who I am. And I never read press about myself, by the way, because it puts your head in a bad place as an actor, but a friend of mind called me and said that I was on a blog and that people were actually interested in coming to see the show because "Marty from Gilmore Girls" was going to be in it.
And it's also kind of flattering to be called a Curtain Hottie…
It's Curtain Cutie, you have to get the alliteration with it.
Oh, OK, well Curtain Cutie is good!
Glad you are satisfied, Wayne!