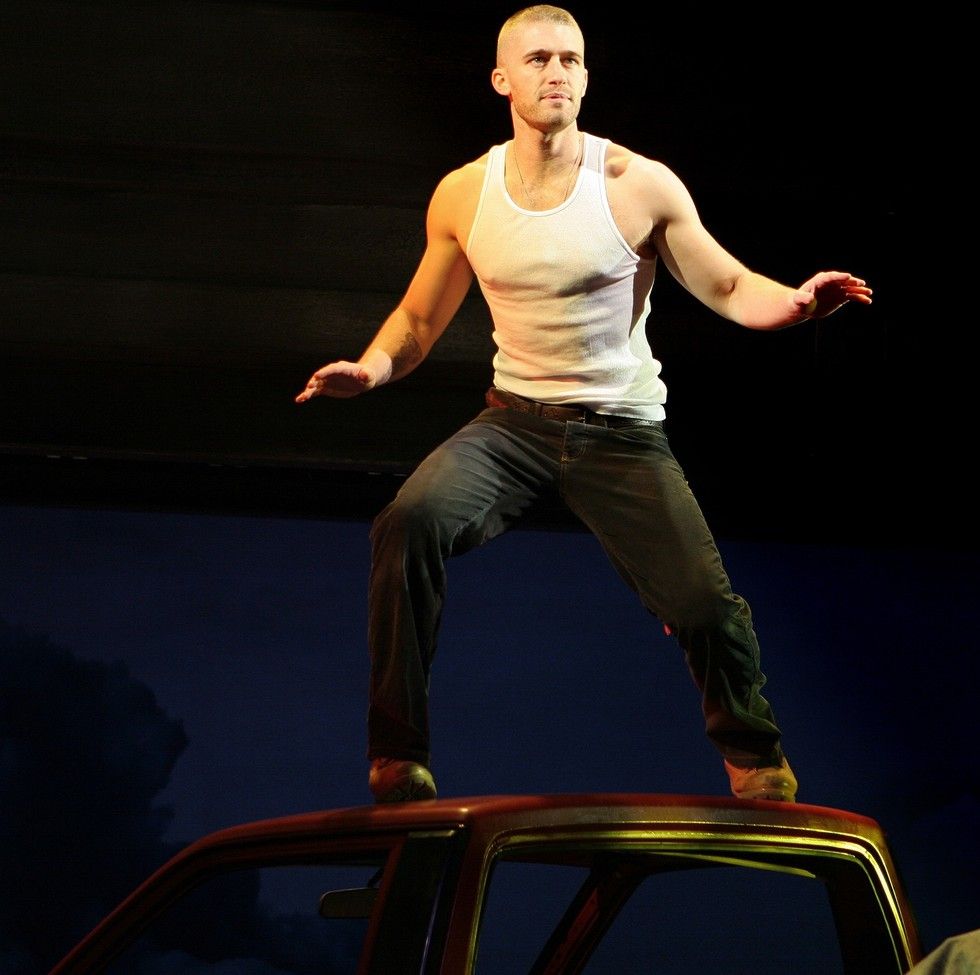 This week's Curtain Cutie is the James Dean-esque Matthew Morrison. Matt's curly hair (albeit shaved now), brilliant smile and beautiful voice have been on my radar for years. He has originated roles in successful Broadway shows such as Hairspray and Light in the Piazza and currently can be seen in the new off-Broadway musical 10 Million Miles. The musical, directed by Tony-Award-winning director Michael Mayer, features music and lyrics by Patti Griffin, and opens tonight at the Atlantic Theater.
Morrison plays Duane, a charming country boy just out of the army who recruits a former lover (played by Irene Molloy) to accompany him on a road trip in an old pick-up truck.
I got the opportunity to chat with him last week amidst his taxing rehearsal time about his new show, new film (with Steve Carell!) and his equally cute fiancée, soap star Chrishell Stause… sigh.
WS: How did you get started with 10 Million Miles?
MM: I was looking to come back to do a theater piece because I've been mostly in film and TV and I'm really into originating parts right now. I got tons of offers from other shows but I was just so excited to do this and I've become a fan of Patty Griffin as of recently. I thought it was a fun show and it was kind of a different character that I haven't played before so I was excited for the challenge -- I've always kind of played the secondary character in shows and stuff and its kind of a change to be at the forefront of things.
WS: Did you listen to country music before?
MM: Never!
WS: So what kind of music do you generally listen to?
MM: Show tunes. No, I'm kidding. No, the reason why I kind of dig Patti Griffin is because she's kind of folky and can do a little country but she's just a great songwriter -- like, what I love. I just love like John Mayer and James Taylor, you know stuff like that. But she's just great. I've had a lot of fun just singing this music.
WS: The show's run was extended before it even opened! Have you heard anything about it moving to Broadway?
MM: I haven't really heard anything like that. I mean obviously I think that's the best case scenario, that's what everyone wants to happen but I don't know, who knows what's going to happen. Yeah, I don't even like to think about that, you know?
WS: In 10 Million Miles you have to take off some clothing, and you also do a little dancing. Do you ever get embarrassed?
MM: No. I mean I feel more comfortable being on stage than I do in real life. I have had embarrassing moments on stage. I did this play not too long ago, it was called A Naked Girl on the Appian Way. Richard Thomas played my adopted dad. We had this scene where he was doing a speech about how it's not right for me to marry my adopted sister… and I had to come up with this wild theory about how my birth parents were gymnasts and it was always so funny to us... Once a week -- at least -- we would lose our shit on this line. And I was sitting down on the couch, so I would actually put a pillow over my face and the audience was losing it because we could not control ourselves, we laughed at everything.
WS: Let's get down to the basics. Where are you from?
MM: I'm from the O.C.
WS: Do you watch any of the television shows related to the O.C.?
MM: No. Because none of it's good, it's all a bunch of crap.
WS: Why did you move away from the sun and the surf?
MM: To do theater. I went to NYU, spent two years there and I dropped out 'cause I got a part in Footloose on Broadway.
WS: So you just got engaged, right?
MM: Yep to Chrishell Stause.
WS: Aw. So how did you do it?
MM: We got engaged December 9th. I chartered this boat and had some friends decorate it and did a whole dinner and proposed in front of the Statue of Liberty. Then we had an engagement party right after that and she was trying to contact all her friends and stuff and tell them she had just gotten engaged but no one was answering because I flew in some of her family and some of her closest friends and we were all having a party and stuff. It was fun.
WS: What do you have to have in your dressing room?
MM: Um, not much. [At the Atlantic] it's just one big room that's sectioned off by curtains. It's not very glamorous over there! But we only have four people in the cast. The most important thing that I need in my dressing room is something to sleep on. That's my most essential thing, so we have a little futon kind of thing that I always have dibs on.
WS: When do you get time to sleep?
MM: Well usually we have rehearsal from 1 to 6 p.m. Then we have a little break and I just konk out. I'm all about naps.
WS: How old are you?
MM: 28. How old are you?
WS: Oooh Touché! Moving on. Where did you get your start?
MM: I did a children's theater show when I was in the fourth grade. We were visiting my cousin's family in Arizona and they didn't really want to deal with me, so they they threw me and my cousin into this children's theater and I just had a ball. And I said I wanted to do it after that. I don't know what I would do if I wasn't an actor.
WS: Well let's say you had to pick something to be besides an actor.
MM: Um… I don't know. I mean, like I'm so bad at everything else. We were putting a new shower head in our bathroom and my fiancé was all, "why can't you do it?" And we called the super and stuff and he did it in like two seconds.
But, If I had to choose another career, I'd want to be a midwife.
WS: Really?
MM: Well yeah, my dad is actually a midwife.
.
WS: Do you prefer L.A. or New York?
MM: Um, I don't know. I actually just bought a place here, two years ago so… I'm always going to have a place here because I know I'll always want to come back and do theater because there's nothing better than that for me.
But I'll probably have a place [in LA] too eventually.
WS: You're off-Broadway now but you've had several roles on Broadway. What are the big differences?
MM: That's a really good question. I definitely think there is a lot more glamour and hoopla with a Broadway show. And they talk about you more on websites, on the chatrooms, if you're on a Broadway show. Oh and the paycheck…
WS: Yes, I know there's not a lot of money in an off-Broadway show. So what do you do to make money when you are doing one?
MM: I did a pilot of a TV show right before I started this gig. Doing stuff like that I can afford to do this show.
WS: Is it going to be picked up?
MM: I don't think so -- it was pretty bad. I mean I was glad it didn't get picked up. You get a great, great pay check but then that's it, no one ever has to see it so that's good.
WS: You also have a movie with Steve Carell coming out right?
MM: Yeah, it doesn't come out until September. I'm really excited about it, it's going to be a good movie. I play a police officer who pulls [Steve Carell] over like three times and then he finally backs into my squad car at the very end of the movie so it's a small part. It's very funny though.
WS: I'm sold!
10 Million Miles opens tonight at The Atlantic Theater and is running through July 15th. Pictured are scenes from the musical.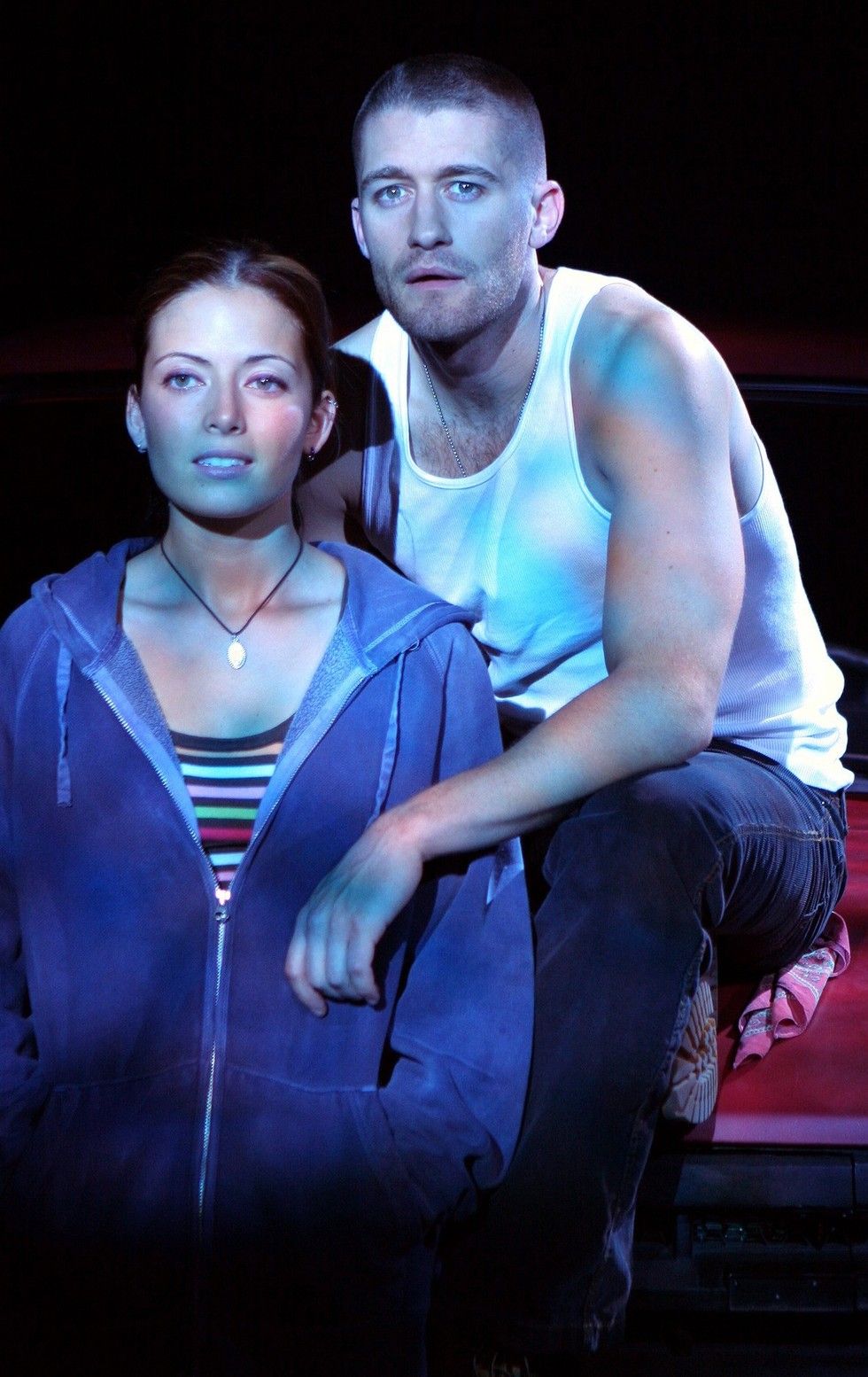 Matthew Morrison and Irene Molloy.