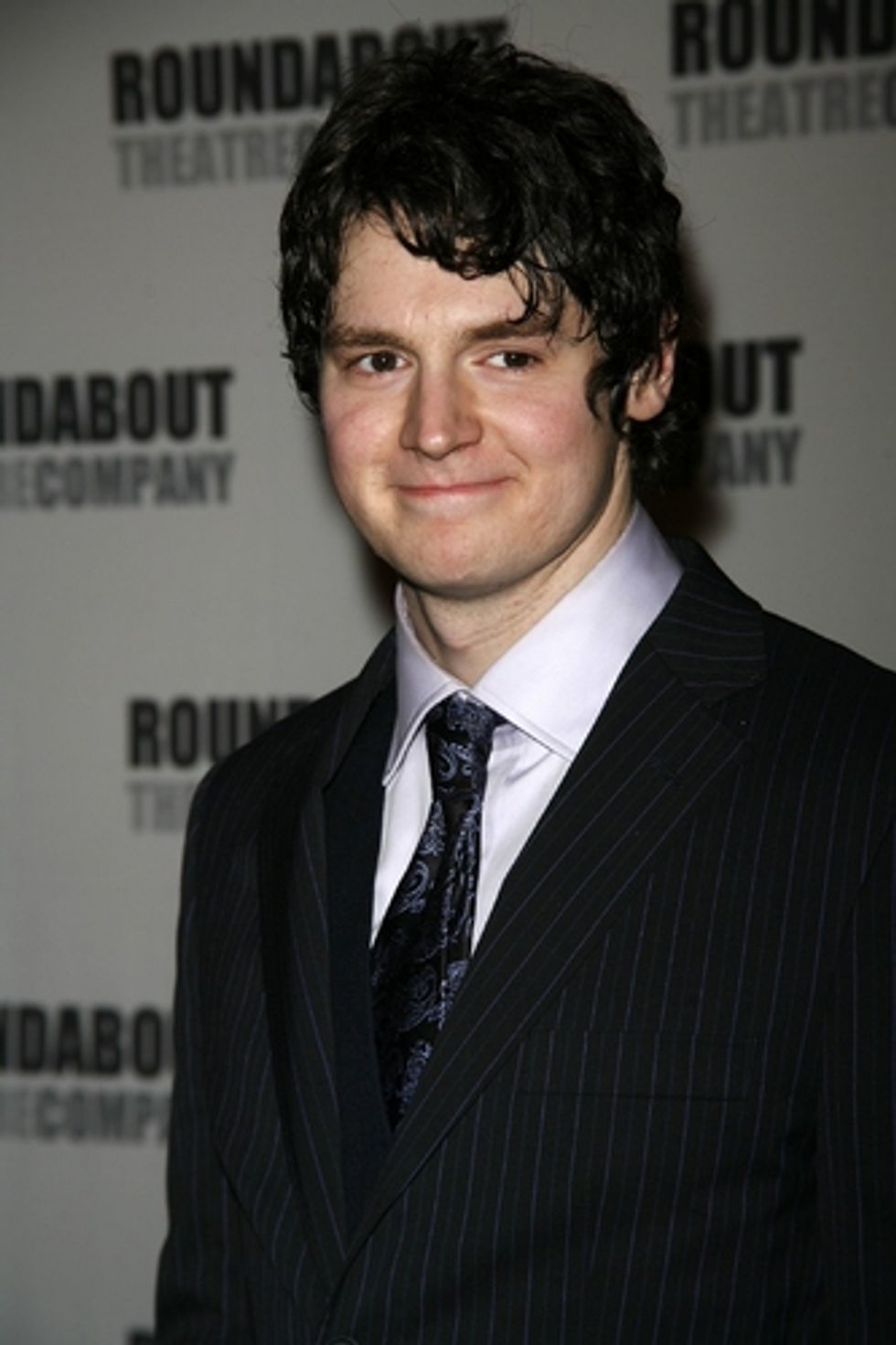 When I saw the 6'3" cutie Ben Walker get completely naked onstage while going down on none other than the Oscar-caliber actress Laura Linney in the Broadway revival of Les Liaisons Dangereuses I knew I had found my next Curtain Cutie. And when you see him running out to the middle of the stage covering up with only his hand you will see why! The slightly older but still very sexy Ben Daniels also bares it all in bed with Mamie Gummer in the naughty (for Broadway) play about the evil-doings of a 19th Century playboy (Daniels) and his revenge-seeking ex-lover (Linney). Walker and Gummer play naive young pawns in their plot. The revival is nominated for several Tonys including Best Revival and Best Actor in a play (Daniels).
Walker made his Broadway debut in last year's revival of Inherit the Wind with Christopher Plummer and Brian Dennehy. He's a Julliard grad with a sweet-as -pie Southern drawl thanks to his small town Georgia upbringing, and although it looks like his acting career is on the right path, he dabbles in construction work, stand-up comedy and he wants to be an EMT. All three would be useful skills to have around the house. I certainly wouldn't kick him out of mine!
I recently had the opportunity to chat with him between a matinee and an evening performance at the American Airlines Theatre where the production runs until July 6th. Here's what he had to say about the onstage swordfight, working with big names and his mother seeing his bare bum on stage.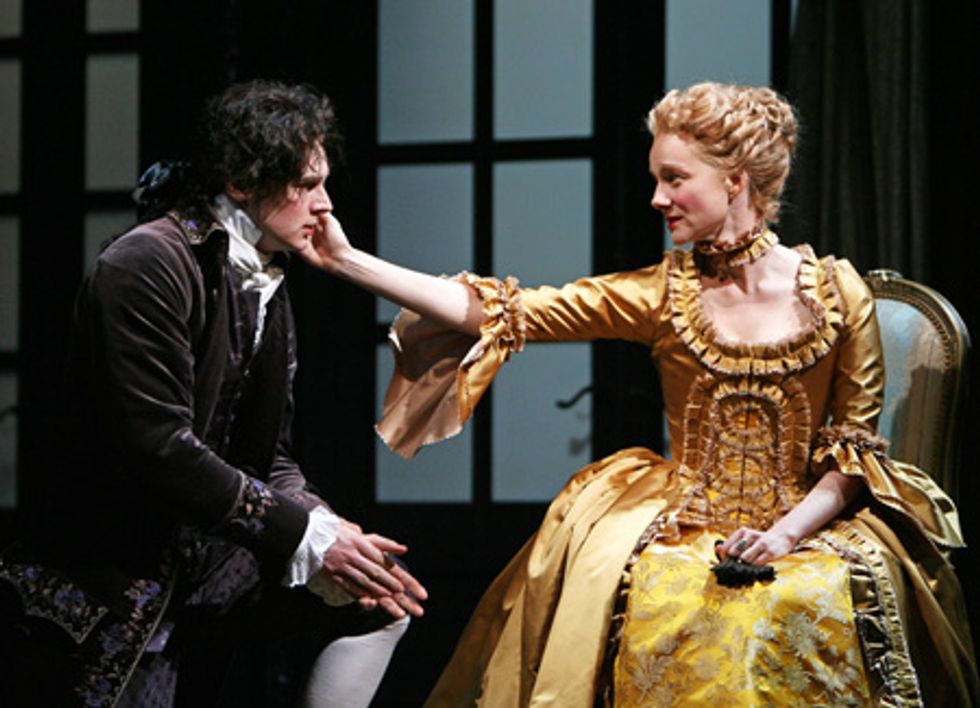 Whitney Spaner: How's the show going for you?
Ben Walker: It's great. It's kind of a dream job to work with great people and it's a great story. It's fantastic.
WS: How did you feel when you learned you were going to have to strip down for the show?
BW: I thought, poor mom! My poor mother.
WS: What did she say when she saw it?
BW: She was terribly unimpressed! She said, 'I've seen that hiney before!' So she doesn't care. But it's tastefully done and it makes sense in the show. Director Rufus [Norris] was great about making it part of the story.
WS: What do you do between shows? Besides talk to me, of course.
BW: I nap! And put my feet up. We have these great dressing rooms. I have a bed. It's called an equity cot. I share it with another actor on the show. We spoon.
WS: Funny.
BW: Yeah he doesn't come back between shows. I guess he sleeps at night.
WS: How long did it take you to get the sword fight at the end of the show down?
BW: Pretty much the whole rehearsal process. The fight director Rick Sordelet is really great but he's always ambitious and tries to do these big grand things and we always end up using all the allotted rehearsal time. It's also an extension of the storytelling. It's not just story stops, fight happens and go back to the story.
WS: Do you get nervous for that scene?
BW: Every time. Oh my god, it's scary! We're always nicking each other.
WS: The swords aren't sharp though, are they?
BW: Sharp or not they'll still take your eye out and it's so fast. We've had a couple injuries, but it just keeps you awake.
WS: Your arrival in the city as a Julliard student wasn't a typical one right?
BW: No I lived in the YMCA! Julliard has a dorm but they have too many students to live there. They have a lottery system and I flunked out but I had a scholarship so they put it through to the Y and so I just lived in the YMCA.
WS: What else have you been up to since graduating?
BW: Well I've only been out for a couple years so it's kind of been a short trip. I got a job my senior year at Julliard called Kinsey. I played the young Kinsey.
WS: I'm noticing a sexual line through your characters!
BW: And Spring Awakening was in there.
WS: You just did the workshop though right? Why didn't you continue with it?
BW: I'm a bit too old I'm afraid. It's alright. It's been fine otherwise. I'm like 6'3". It's kind of hard to look 17 when you're 6'3".
WS: What do you do in your spare time?
BW: Well I try to get another job. I do stand-up. I play in a band. I play music.
WS: Cool. I love bands! Where do you do stand-up in the city?
BW: Now that the show is up time is pretty limited but with a couple of friends we run a show down in the Village called "Find the Funny."
WS: What's your stand-up routine consist of?
BW: I guess it's largely about family. It's pretty dirty but it's like family stories and stuff like that. Right now we're making a lot of episodics -- like short films. You can see them on YouTube somewhere.
WS: Where does "Find the Funny" take place?
BW: At a great little club called Jimmy's on 7th and 2nd Avenue. It's like a little Belgian beer bar with this cabaret space in the back. It's a free show so a lot of people always come out.
WS: Do you ever keep in touch with people who are bigger stars when you're in shows with them?
BW: Sometimes. I mean sometimes you kind of take a liking to each other but often times it's very transient, gypsy-like. You have very intense friendships for a very short amount of time and then you never see them again and sometimes that's really nice. I like you a lot -– in a small dose.
WS: Speaking of big stars… what are your Tony plans?
BW: I don't know. When are they?
WS: June 15th -- aren't you supposed to know that kind of thing? Moving on. If you had to stop acting what would you do?
BW: I don't know I'd do a lot of things. I would and do work construction because it's always good to do something therapeutic with your hands. I do tile and hardwood floors and dry-wall. And it also pays when you're not working. And when the show is over I'm going to go to school to be an EMT. I don't know that I want to do that for a living, but I would like to have that as a skill.
WS: What's in your dressing room?
BW: Dirty clothes. I take them home in a big bag. It's a very functional dressing room. There's no flowers or tinsel or anything. It's also on the 6th floor, which is quite a hike and by the time you get up there you just want to leave stuff. It's definitely kind of a boy's room. It's messy. It's homey.
WS: What do you have to do before the show to get ready? Do you have a ritual?
BW: Kind of. Most of the guys in the show are in the fight and we all get together with the understudies and I'm the fight captain and we run the fight, but it ends up being really funny -- like we do comical versions of the fight and we do vulgar versions and it's like playtime. But it's also a good way to warm up, so that's something we do consistently.
WS: What do you do during the day?
BW: I try to fill it with work-related things, like this week I'm doing a reading of Morning Becomes Electra this Eugene O'Neill play. Being an actor is a full-time gig!
Pictured at top: Ben looking very dapper on opening night of Les Liaisons Dangereuses. Photo courtesy of Broadwayworld.com.
Bottom: Ben and Laura Linney in a scene from Les Liaisons Dangereuses. Photo by Joan Marcus.