If your idea of a crystal store includes corny affirmations etched into river rocks, Enya, moldering piles of Hacky Sacks, and a lot of loose talk about yonis, Mark Phillips and Martin Anguiano are here to blow your mind. These fierce "man-witches" started out in fashion, designing for brands like Guess and Nu Collective before launching a millennium-era menswear line called Prototype. (They're also the geniuses behind Britney and Justin's iconic denim formalwear moment, but that's another story for another day… ) But they ended up leaving the biz to explore their shared passion for magick, meditation and of course, crystals. And so, on a sleepy street in the Silver Lake neighborhood of Los Angeles, their store Spellbound Sky was born.
This chic metaphysical emporium features gleaming white tables of dazzling, color-coded crystal assortments for every existential ailment, a house line of ritual candles, essential oil potions, and high-end new age bling from local jewelry designers. Its accessible, contemporary feel, Instagram-readiness, and the powerfully positive vibes of its owners and staff have made the boutique a favorite destination for modern magical thinkers, including celebs like Cara Delevigne, Brooke Candy, Angelyne and Alexa Chung. To wrap up Health and Wellness month on Papermag.com, we sat down with Mark and Martin to ask them all about working with crystals, their mineral must-haves, and a 7-foot-tall unicorn named Monica.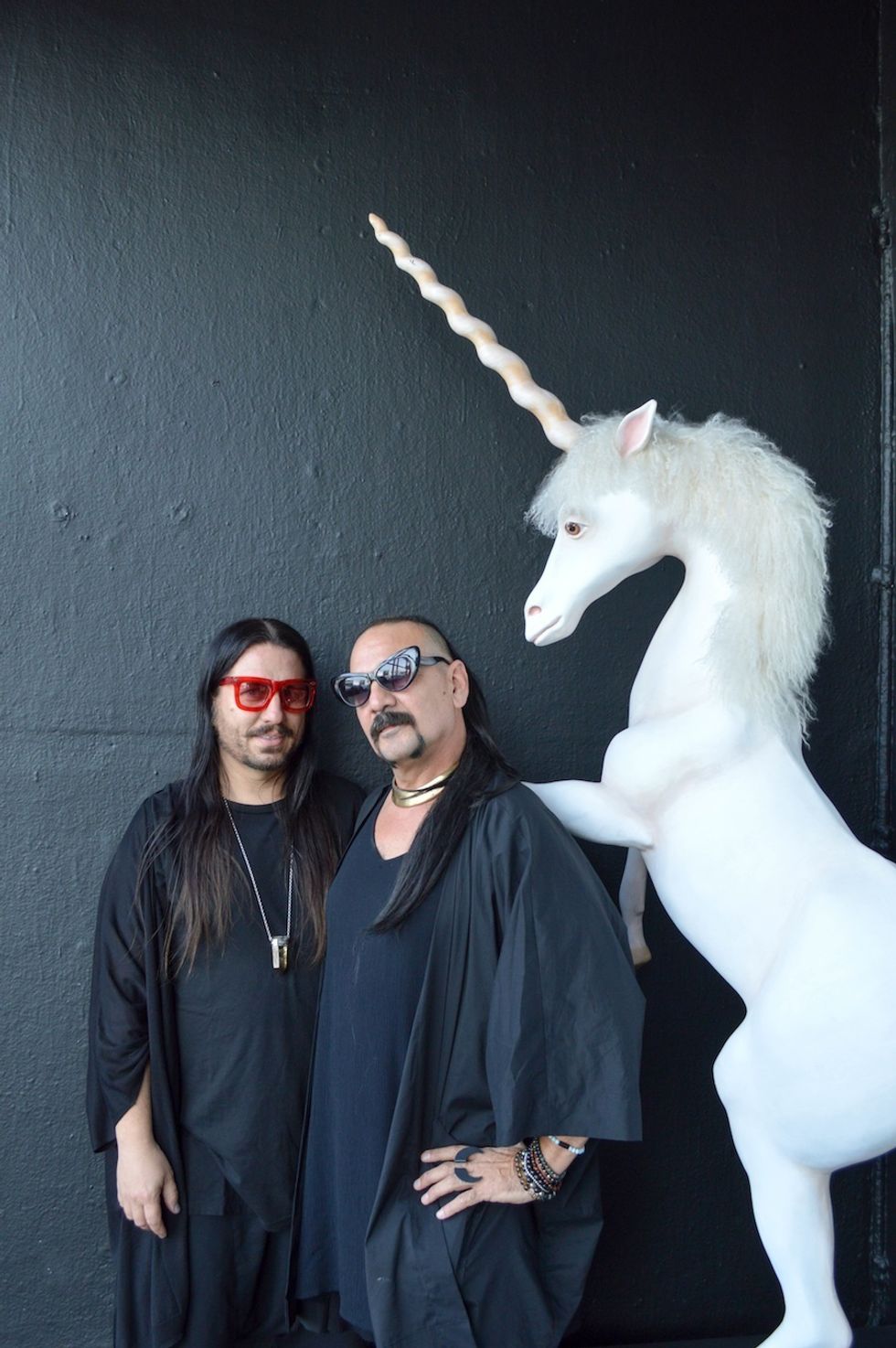 Mark Phillips and Martin Anguiano

Tell me a little bit about the Spellbound Sky origin story. How did you two meet, and what made you fall in love with crystals?
We met in 1989 at the infamous Los Angeles dance club Catch One. It was practically love at first sight as we danced the night away to Grace Jones...the rest is history.
But our background is in fashion, and after a long career as designers we both decided we'd had enough of the deadlines and the stressed-filled days. We left the fashion world behind, and took a leap of faith, creating this magical space in 2011 to help inspire like-minded people. We put the Law of Attraction to the test, using the power of crystals and meditation to help us create an abundant new chapter, filling our days with magic and love!
Crystals are one of the most important aspects of our lives. Our obsession with them has given us the freedom to be our own bosses, as well as the realization that we can manifest the most wonderful and abundant life. We are always in awe of their diverse formations and the natural uniqueness of each and every stone. We feel that crystals radiate positive energy and love, helping us to know that even in our darkest hours, this too shall pass. If Mother Earth can create such lovely specimens, imagine what we can create!
What is the Spellbound Sky aesthetic? Who are your muses?
Spellbound Sky is all about a modern and magical aesthetic -- anything that radiates fun, joy, individuality, and freedom from the norm. We love anything quirky and fantasy-filled, celebrating both the light and the dark…so naturally we are forever obsessed with Elvira! You can always expect to hear a diverse assortment of our musical muses playing at the shop, including our faves Stevie Nicks, Grace Jones, David Bowie, and Dolly Parton. We usually like to keep the New Age music to a minimum!
What sets Spellbound Sky apart from your average metaphysical store (aside from the Brooke Candy endorsement)?
Haha...we loooove Brooke Candy! Aside from our modern appeal, at Spellbound Sky the crystals are stars of the show. We are just their conduits. We never want anyone to feel intimidated when they walk into our world. We help each and everyone of our clients to understand how the crystals work and recommend what stones to work with, inspiring everyone to raise their vibrations and to become power-filled. We're definitely not about spiritual elitism, so wherever you are on your spiritual path, you are always welcomed with a warm, loving, and kind reception.
Alright, so Crystals 101. How do you work with crystals to get the most out of them?
Crystals are powerful conductors of energy that you can use to get from point A to point B more quickly. Every human has a personal energy grid, composed of our chakras. We have 7 chakras in our energy body, and each chakra operates a different aspect of our selves. If your energy centers (or chakras) are misaligned or unbalanced, you are missing a precise frequency that operates some aspect of yourself. Since crystals are conductors of energy, holding a stone or placing that stone in your environment allows you to work with that frequency. That is when the magic happens!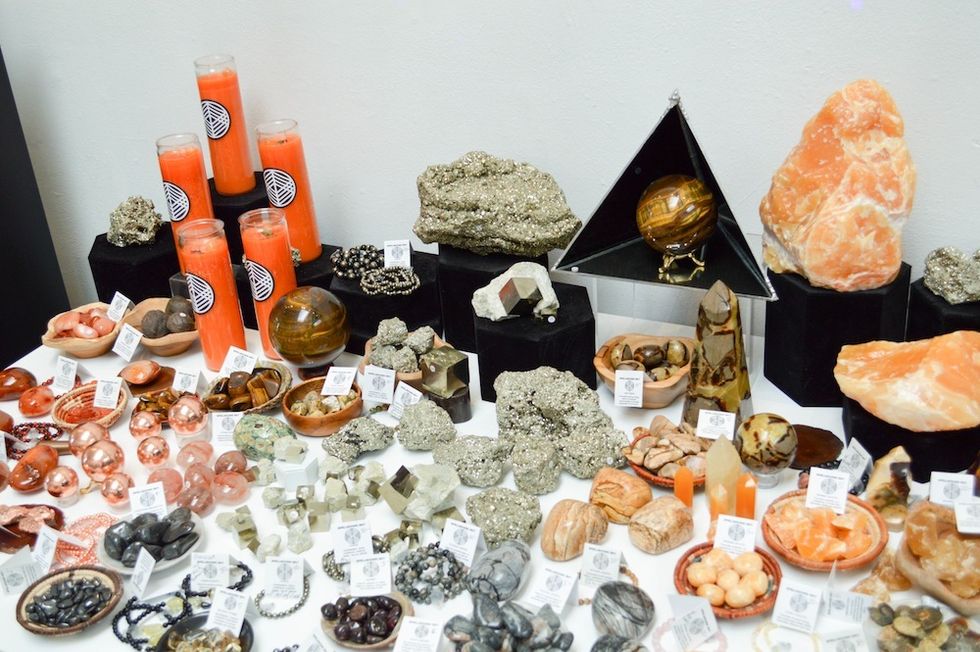 A display at Spellbound Sky

How should first-time crystal shoppers pick the right specimen for themselves?
The first-time crystal shopper should always ask themselves what they want to accomplish or gain from this experience. Intention is key here. Are you ready to manifest something in your life, or are you letting go of aspects of your life that are no longer serving you? By knowing what you want to co-create, any crystal practitioner can guide you in the right direction to choose the perfect crystal for you. That is our focus here at Spellbound Sky -- guiding you to the best tools to start your journey of healing and empowerment.
January tends to be the major goal-setting, vision-boarding month of the year. What are your top five crystals that no mystically-inclined modern person should be without in 2016?
Our top five crystals that we recommend for getting you on track are…
Carnelian: Used to boost confidence, courage, power, and passion.
Pyrite: Helps you to manifest here on this 3D world. Think of it as the gas in the tank that help you go go go!
Rose Quartz: Used to create harmony in relationships, as well as self-love, self-empowerment, and knowing that you are the shit.
Amethyst: Aids in protection, spiritual connection, and self-awareness. Now is the time to let go of what does not serve you any longer.
Black Tourmaline: This is the premiere stone of protection against negativity, and blocking negative emotions or energies from entering your energy field.
I would like to address the giant -- literal -- unicorn in the room. Where did this majestic creature come from?
We are obsessed with Monica, named after our street location on Santa Monica Blvd. We knew we wanted a magical guardian to set the tone for our new shop, so when we came upon this vintage 1970s unicorn made by a mannequin company for a specialty store in Canada, we simply had to have her. After taking a few months to clear customs, she arrived in the biggest box ever, just in time for the opening of our new location - its all about the power of manifestation and magic!
Spot check: how many crystals do each of you have on your person right now, and what are they for?
We always mix it up, but on the daily we both love wearing black tourmaline for psychic protection with action stones like pyrite and carnelian to help us feel empowered and grounded. On days off, we use high frequency stones, because they help us stay in la la land, disconnected to earth and more connected to higher realms. We love feeling connected to the spirit world. It gives us comfort, and helps us realize this world is just an illusion, and we can make of it as we will…
Spellbound Sky is located at 4210 Santa Monica Blvd., Los Angeles, CA
Photos by Kristen Stegemoeller

You May Also Like