Nearly everyone involved in the production of Crazy Rich Asians has spoken out about the need to keep the film as authentic as possible. The author of the series of books upon which the movie is based, Kevin Kwan, grew up in the same moneyed Singapore milieu as his characters, a world where fish get plastic surgery and private jets are equipped with full-service spas. So the movie doubles as both a rom-com and glittering affluence porn. The glamour even extended to the extras — legendary costume designer Mary E. Vogt told PAPER that they brought their own Birkin bags to set.
"I said, 'Bring your own purse,'" she laughed over-the-phone from a set in Canada. "Because whatever we had expected for somebody, we had to share it, and there had to be guards for all the jewelry. It was kind of a big deal."

It is a very big deal. The costumes for Crazy Rich Asians, which is headed for a $30 million opening, needed to dazzle, and Vogt made it happen. The movie had a $30 million budget, and naturally drips with money. Characters wear designs from houses like Dior and Ralph Lauren, and the jewelry pops. Many of the standout pieces came from bespoke Hong Kong jeweler Carnet — Kwan told Time's Karen K. Ho that his characters would never wear Cartier, because it's "too common for these women." Michelle Yeoh as imperious matriarch Eleanor Young wears a $300,000 Michelle Ong brooch as a belt buckle. A big wedding scene features a custom, Vogt-designed wedding dress worn over a jumpsuit covered in Swarovski crystals. The clothes are opulent.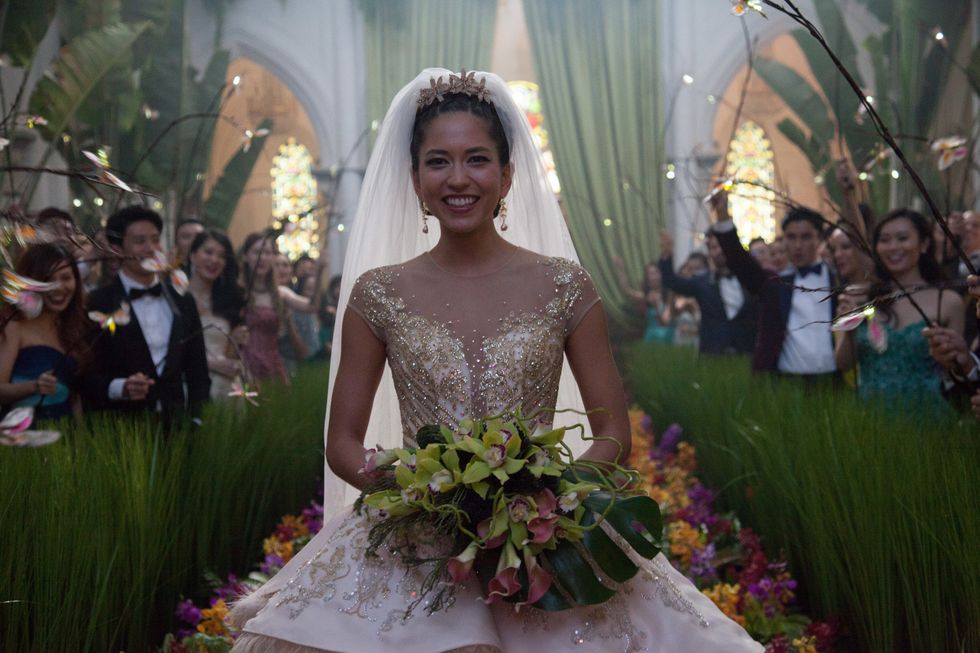 Sonoya Mizuno as Araminta Lee in Crazy Rich Asians
Vogt, a veteran costume designer who created indelible looks for movies like Hocus Pocus and Batman Returns (the best Batman — Christopher Nolan people, please don't @ me), knew that Crazy Rich Asians would be a challenge. "The book was so dense, and there were so many characters," she said. "I thought, 'Oh my god, how in the world am I ever going to make this into a movie?'"
She was also concerned about identity. Vogt is neither Asian nor Asian-American, and this film is a benchmark for Asian representation in Hollywood (a depressing, oft-recited fact about CRA is that it's the first Hollywood movie in over two decades with an all-Asian cast and creators). She told director Jon M. Chu that she wasn't sure she could "bring subtleties to the characters." But Chu insisted she speak with Kwan, who helped her research Peranakan style, derived from Straits Chinese (Chinese immigrants to the Malay archipelago) culture. Vogt contacted the Peranakan Association, and women from the group ended up in the film in their own "museum quality" costumes.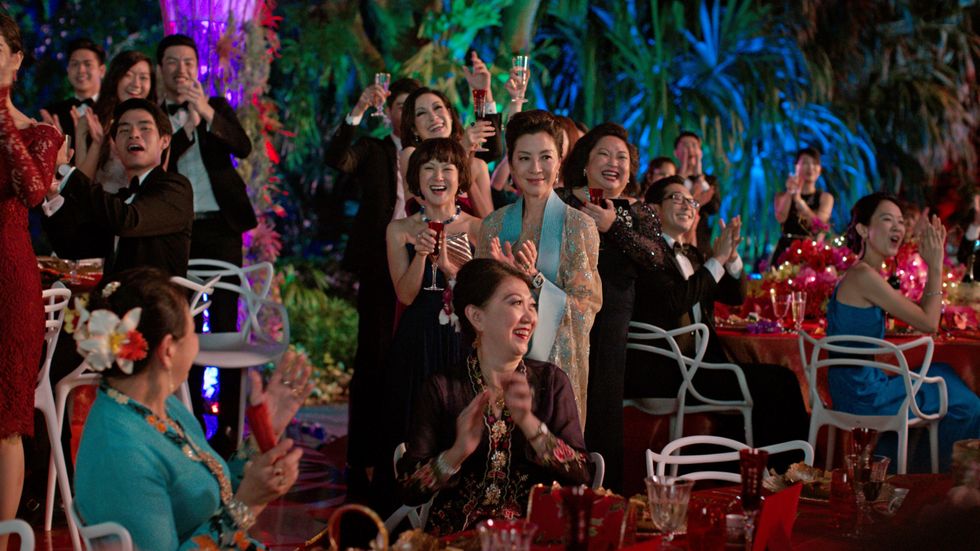 Anice Koh as Felicity, Amy Cheng as Jacqueline, Michelle Yeoh as Eleanor and Selena Tan as Alix
"Kevin really explained to me where his characters came from, and made me understand the depth of the characters in a way that I would not have been able to on my own," said the designer. "I'd find that I would email him by mistake [from set in Singapore and Malaysia] with the time difference. It was like 3:00 in the morning, and he would get right back to me. I was like, 'Oh my god, Kevin. Do you ever sleep?' He goes, 'No, I'm a writer. I'm always awake.'"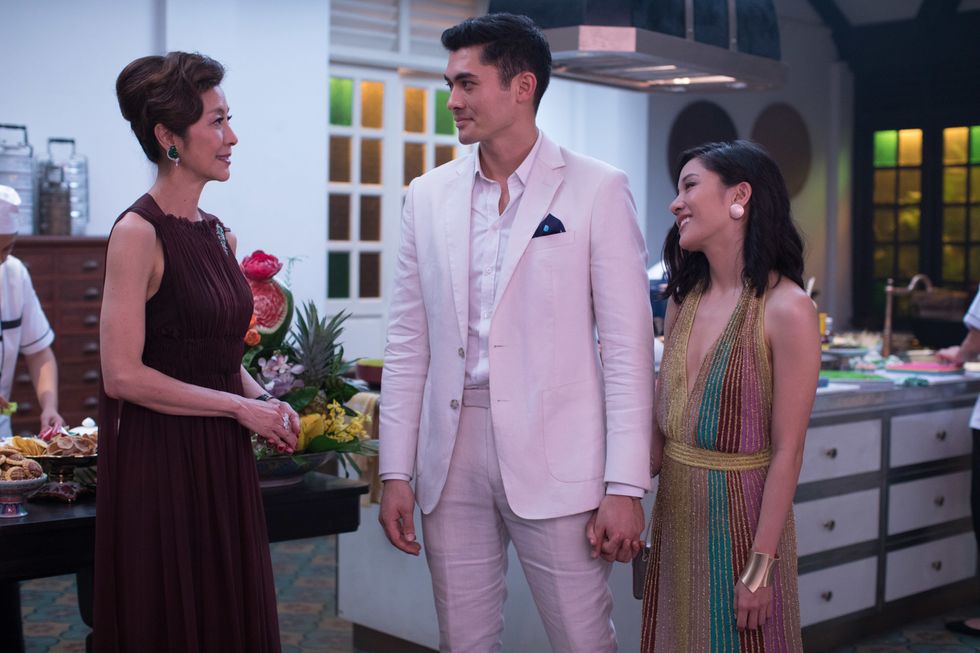 Michelle Yeoh as Eleanor, Henry Golding as Nick, and Constance Wu as Rachel
Kwan's books, which reference designer brands with an American Psycho-like frequency, provided a stylish blueprint for the film. But Vogt had the freedom to be creative, taking the characters' style in new directions. In the books, supporting character Goh Peik Lin is a gaudy shopaholic — for the film, Vogt was inspired by breakout actress Awkwafina (born Nora Lum), and made her a much zanier, "more wild and crazy, bouncing off the walls-type person." She gets to wear a "really fabulous, fun" set of pajamas.
The character Astrid (Gemma Chan) is the movie's fashion plate, and was accordingly fun for Vogt to dress. "I had a lot of Dior for her, which suited her because the pieces were very sculptural and artistic and simple, but really beautiful, timeless fashions," Vogt said. "She wears this pink dress that Audrey Hepburn could have worn 40 years ago."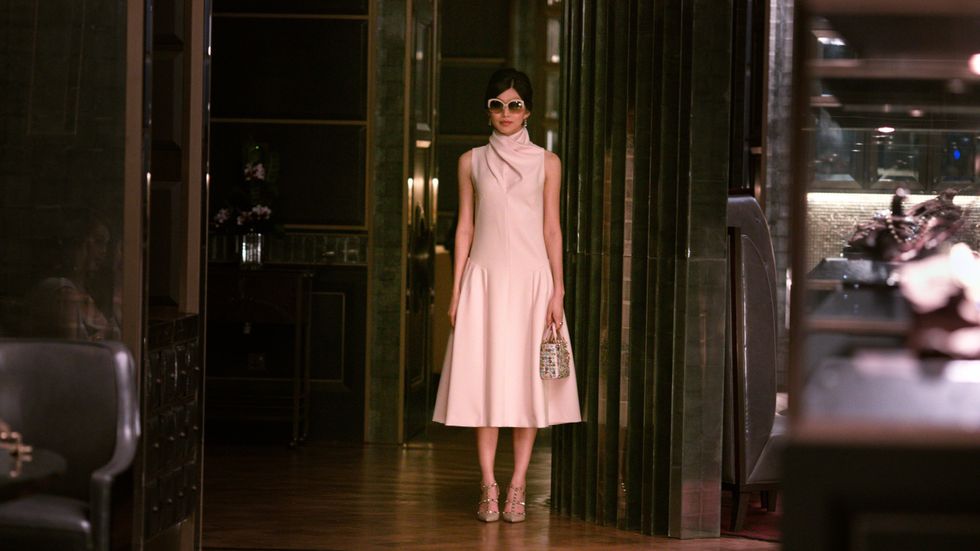 Gemma Chan as Astrid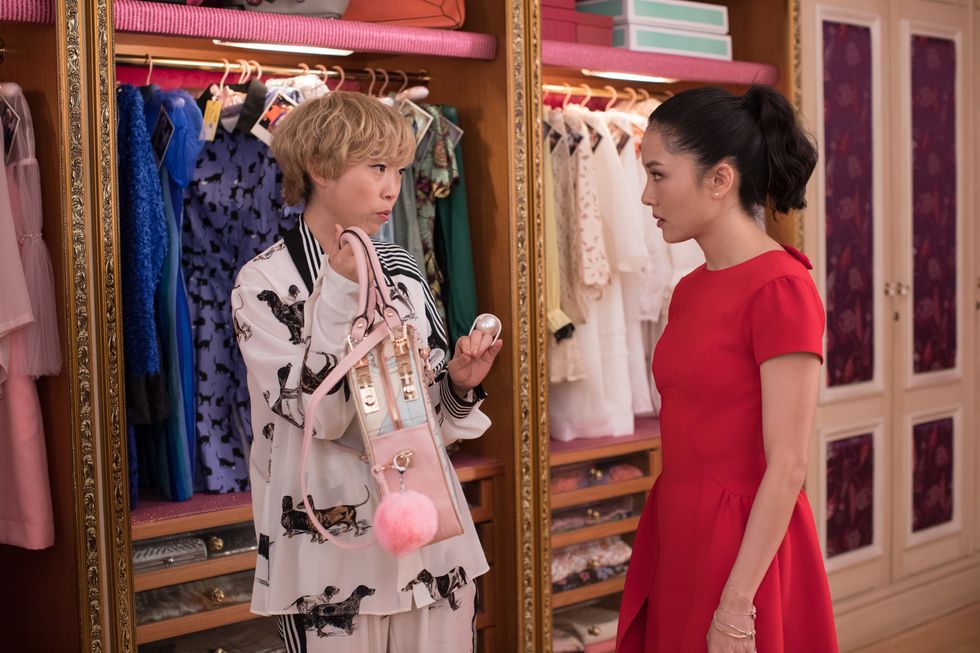 Awkwafina as Peik Lin and Constance Wu as Rachel
But Crazy Rich Asians really focuses on protagonist Rachel Chu (Constance Wu), a Chinese-American college professor with a working-class background, who finds out that her boyfriend, Nick (Henry Golding), comes from an obscenely wealthy Singaporean family. Rachel's outfits needed to tell a story: she's confident in her normal life in New York, nervous around Nick's snobby relatives.
"Jon talked a lot about that exact thing, and he referenced The Wizard of Oz," said Vogt. "When Rachel's in New York, everything we do is more black, white and gray-toned. She's a little more edgy in New York, in very simple, inexpensive clothes. Then, when she goes to Singapore, it's more bright and colorful, but she's a little out of her element. She wasn't expecting to be met with this mother who didn't accept her. Her clothing there is more vulnerable. She's more innocent and vulnerable looking, she wears a lot of chiffons and the patterns are very soft."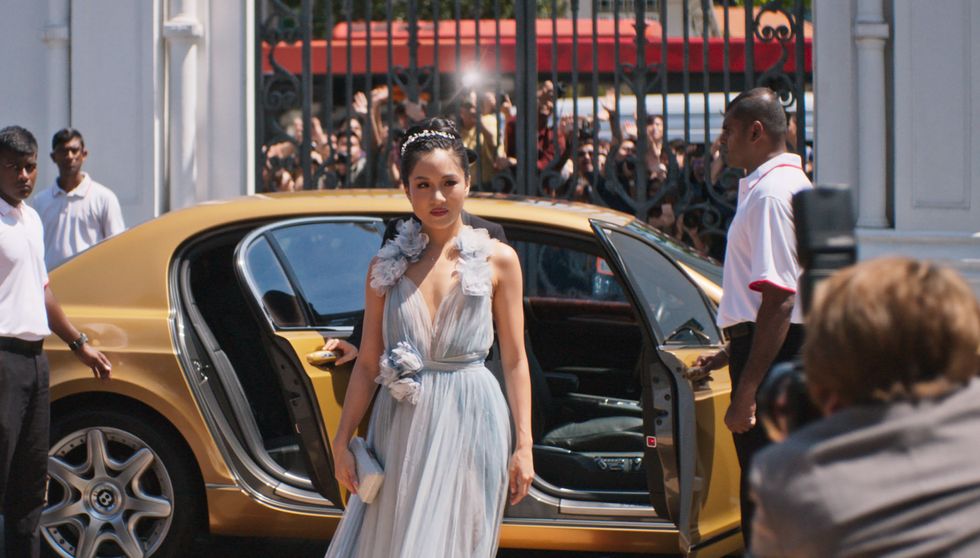 Constance Wu as Rachel
One of the last dresses Rachel wears is by Prabal Gurung, a designer who has been vocally supportive of the film. "I can't remember ever turning on the TV or going to a movie and seeing someone who looked like me, who represented me, or who felt desirable and came from an Asian background," he told The Cut. "When I heard about Crazy Rich Asians, I couldn't have been more excited and immediately felt a need to support the film myself, and to rally my friends, and our industry to come together for this film in a larger way. It is smart, funny, optimistic, entertaining, and glamorous, and for the first time in 25 years, it is a film that features an all-Asian cast, director, and writer."
We're so excited, too. Bring on the priceless brooches.
Photos courtesy Warner Bros. Pictures