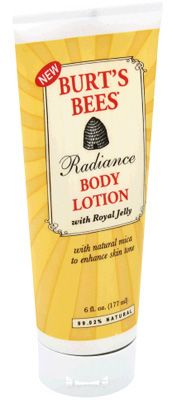 I'm not one of those people who "summer" away from where I live year round and I'm either working too much or too lazy to squeeze in much beach time. So whatever makes me chase away the summertime blues is pretty cool. And as the saying goes, it's the little things that make you happy. One of those things for me is using body moisturizer with some subtle shimmer (yep, I know, it really doesn't take much…). It's a quick pick-me-up and an easy way to add some razzle-dazzle during the dog days of August. One of my favorite skincare companies Burt's Bees (their beeswax lip balm has been a staple in my makeup bag for-evah!) just came out with a little sumthin' sumthin' called Radiant Body Lotion made with royal jelly.
When you put it on it's smooth like buttermilk and smells like baby and honey, but the crème de la crème touch is that the mica in the lotion lends a coat of Hollywood red-carpet-ready shimmer. (FYI: mica is a group of shiny minerals and its usage goes as far back as cave paintings and as recent as toothpastes.) I've been using this after the shower before heading to work and I feel like a million bucks. How's that for puttin' on the ritz! $9. Get it here.
You know what else is really cool? Estée Lauder Body Performance Golden Naturally Radiant Moisturizer.