Though Live Through This was released over twenty years ago and Courtney Love has since had many creative re-inventions, the Girl With the Most Cake's influence on fashion and culture is almost always associated with the grunge era. Lately, it seems, high-fashion can't get enough of the aesthetic. In the past couple of years, Love's early and mid-90s baby-doll dresses and oversized fuzzy thrift store cardigans have showed up in high-fashion editorials and been sent down many a runway. (Hi, Saint Laurent.) At last night's launch party for Love's collab with Nasty Gal, Love, Courtney, a gorgeous Love served us an updated #TBT look with a black satin baby-doll dress from the collection, placing a tiara atop her blonde locks to the delight of many a selfie-taking millennial, who were probably still watching Barney while Love was touring the world in silky slips and frilly bloomers, one patent-leather Mary Jane heel defiantly propped up on the amp. Though Love, Courtney is a mix of all of the aforementioned sartorial-slayage, these aren't the tattered plaids she fell upon in West Coast thrift stores. Many of the looks are sleek, sexy (she's been hunting for the perfect lace catsuit since forever, so she fucking made it) and glam. We phoned up both Love and Nasty Gal founder Sophia Amoruso to chat about the collection.
Hi! So, why did this collaboration make sense and why now?
Courtney Love: I've never put my name on anything before, but I knew this was right. I really like Sophia's company, I like the ethos, I like the clothes. I think she's really cool; I read her book. And I was just really attracted to all of that. I also have an agent named Mitchell Grossbach who started the fashion department at CAA, who, when I brought in my other wackier clothes was like "You can't do this. But I know what you should do and I know who you should meet." And me and Sophia clicked right away.
Sophia Amoruso: Nasty Gal is named after an album by Betty Davis, who was this super outspoken, raunchy, bold, funk singer in the '70s who was married to Miles Davis. She was an ex-runway model and just super stylish. Courtney isn't too far off the mark from that. The spirit of our brand isn't a far cry from the spirit of Courtney Love. There's few women out there in music history who have such an iconic style and one that has been co-opted over the decades by everyone, and never really given credit to her for. To do something that is so timely and so relevant when it comes to what is happening on the runways -- which we couldn't have really even predicted to the extent that it did come with tiaras and everything and Saint Laurent -- and then something that ties back so naturally to what our brand is and what we represent and the spirit of rock 'n' roll. It was just almost too perfect. It's been a lot of fun.
Why do you think the '90s are such a compelling fashion inspiration now? Is it simply the nostalgia cycle, or something else?
SA: I just think every decade is back and every decade is here to stay. There's as much '80s minimalism in fashion as there is '70s flair as there is '90s grunge or whatever you wanna call it. It's happening at the same time, and it's happening in a modern way. I guess it was the last decade that had a style that you could say "that's so '90s." Who knows, maybe years from now someone will be saying "that's so 2015," but I kind of doubt it.
Any '90s trends that you just can't with?
CL: The trucker girl look -- the baseball hats and crop tops with fringe on them thing. This isn't really nineties, but those pants that basically show your pubic bones.
SA: In one word, I would say JNCOs.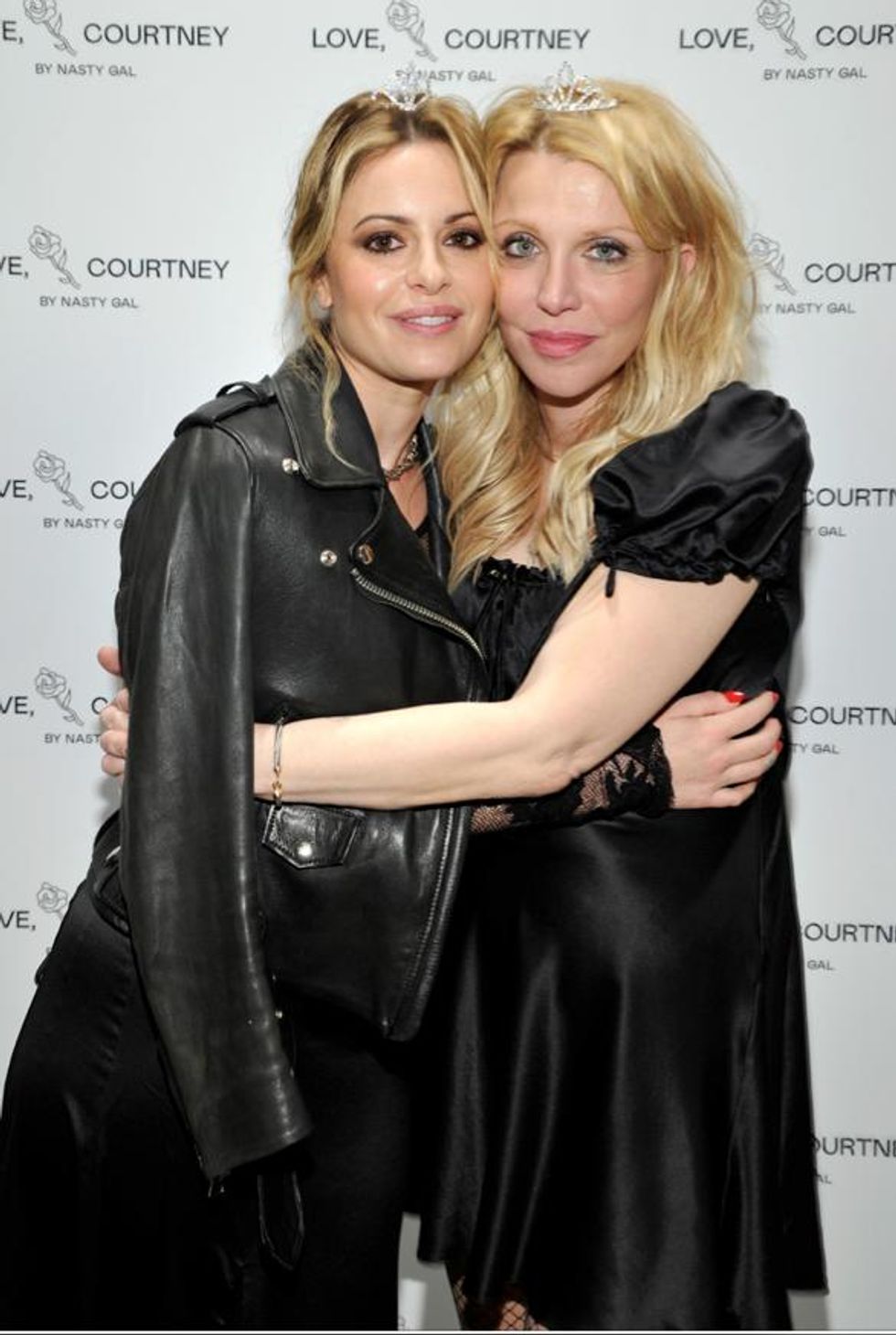 Courtney, you already have designer experience with your own line, Never The Bride, which is a pretty different aesthetic (flapper dresses!) compared to Love, Courtney. Can we expect more from Never The Bride in the future? Did your designer experience help prep you for Nasty Gal?
CL: It was so crazily expensive. Like, to cut up an Edwardian dress and cut up a twenties dress and stick it together. It was more like art. I love those dresses that I made, but who's gonna buy them and who's gonna wear them? It's a whole other question. It's not dead, it's just something I do in my spare time. I don't think it's gonna be going to Target or Macy's or Bergdorf's any time soon. But it was fun for me to do and it got me started on this path and I'm really, really pleased with the work that we did. And it isn't just '90s. We went through my closet and we looked at more of what you would say iconic dresses, but Sophia's team really updated them to the point where it went toward the Nasty Gal girl. I've never been able to find a really good lace catsuit and we were able to make that. And there's a kimono that we kind of took from a shoot that I did with Hedi. Also, some of the lingerie and other pieces have choker pieces on them that aren't at all '90s. They're very now.
Who would you say left the biggest fashion mark on you in your formative years?
CL: Mine is a combination of Stevie Nicks and Patti Smith. They're polar opposites.
SA: For me, it might be like Helena Bonham Carter.
CL: That's a great answer, man!
Do you think there's any well known musicians of today who we'll look back at in 20 years and consider them to be style icons?
SA: I think everyone is wearing costumes instead of style. Madonna had style, Stevie Nicks had style, Patti Smith had style, and Courtney Love had style. I think it's a really different thing than wearing a costume or being dressed by a stylist or being in fashion. I mean, I think there's definitely iconic looks that different celebrities have, but they're all wearing contraptions and not something that they found in their boyfriend's closet and turned it into their own thing.
CL: I mean, they get everything custom made. What Miley wears is so cool and interesting and stuff, but trying to copy Jeremy Scott making you into a giant Star of David is kind of hard.
Love, Courtney is available on NastyGal.com now.

You May Also Like