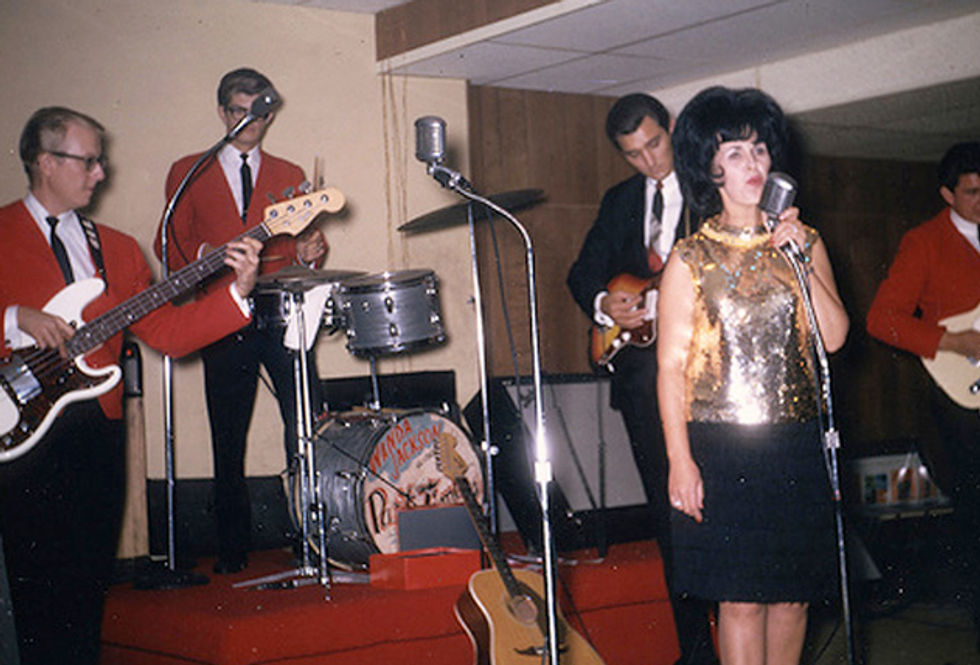 Wanda Jackson rocks our world. Ever since we caught an old clip of the undisputed Queen of Rockabilly at the Country Music Hall of Fame in Nashville - cute as a button, but snarling like a cougar through her version of Elvis's hit "Hard Headed Woman," shaking her patootie in a skin-tight fringed white dress and four-inch heels, we were smitten. And we aren't the only ones: In a career spanning almost 60 years, Jackson has impressed everyone from Elvis Presley - her onetime boyfriend who convinced her to start singing rock when she was barely out of high school -- to Bob Dylan, who called her "an atom bomb in lipstick'" to Elvis Costello, whose lobbying helped get her inducted into the Rock and Roll Hall of Fame last year.
And now another high-profile fan, Jack White, has been in the studio with Jackson since late last year, recording a batch of tunes destined to bring this one-of-a-kind talent to a whole new generation of fans. White, you'll recall, produced Loretta Lynn's multi-Grammy-winning breakout record Van Lear Rose a few years back, and judging by the first fruit of his and Jackson's collaboration, a cover of Amy Winehouse's bluesy slow-burner "You Know I'm No Good,"out now on White's Third Man Records, it looks like lightning has struck twice. PAPERMAG got the chance to speak to this rock goddess by phone a few days ago about her new record and her upcoming tour, which includes a stop this Thursday, February 11 at Brooklyn's Knitting Factory.
You started out in country, then moved into rock, then went back to country and even dabbled in gospel in the 1970s. What brought you back to your rockabilly roots?

I started doing '50s rock in Scandinavia in the '80s. I was told that the early stuff just never really died away, and that they just loved it, so when the word got out that I was still alive, still kicking and working, I guess, the doors began opening for me over there. I had no idea that this music had this big of an audience, and how well the kids knew this music - [they were] asking for songs that I hadn't sang since the '50s. One audience kept yelling for "Mean, Mean, Man." Now, I wrote the song, but I just couldn't remember all the verses. So I said 'I'm sorry, I'll learn it and I'll do it next time I'm here.' But the next morning at the hotel here comes a fan, who placed this paper in my hand and said 'Here's the lyrics to 'Mean, Mean Man.' So start doing it!' I thought, Now that's really wanting me to sing a song!
You were one of the first women to bring a bit of showbiz glamour to rock 'n' roll. How did that get started?
I didn't like the way girls in country music were dressing. It was cowboy. I didn't want to look like a cowboy. I always looked better in tight skirts and fairly low-cut gowns with little rhinestone straps, and I had the figure to wear them. So then I thought 'It needs to be something totally different.' I thought of the flappers from the '20s -- I always thought that was wild. And I wore the high heels, just tried to get some glamour and sex appeal into country music. I was the forerunner for Dolly Parton, I guess. And a little bit of Lady Gaga thrown in.
It sounds like you've kept pretty busy touring and recording ever since.
If you call 12 months a year busy, yeah. And each year seems like a little bit more. I'm enjoying all of it very much because my crowds these days are really a lot of people and just wonderful people too. I'm just really impressed with the young people today. Of course they have their tattoos and their piercings, which I don't go along with, but they're such great kids, and they know and love this music so much. They just really [respect] me. You can't help but like that.
We love your new record. What was it like working with Jack White?
When I decided I'd do this, I told Jack, 'I'm putting myself in your hands, because I trust that you have a hand on the pulse of the record-buying audience these days more than I do.' My following is more like a cult following you know. And his plan is to reach the masses. I said 'OK, sounds exciting. I'll hang on for the ride.'
How did you choose the material?
We started off with some rockabilly things, "Rip It Up" and "Nervous Breakdown," and I liked his arrangements.Then I began getting more comfortable, and then we went to the Amy Winehouse things, and some other ones that I'm not at liberty to say, because Jack likes surprises and he doesn't want me saying things too soon. So all is well, and Jack's happy, so we'll see if the fans are happy. And if they're happy, then I'll be happy.

Wanda Jackson plays tonight at The Knitting Factory, 361 Metropolitan Avenue, Williamsburg, Brooklyn, (347) 529-6696. $18.00. 8 p.m.