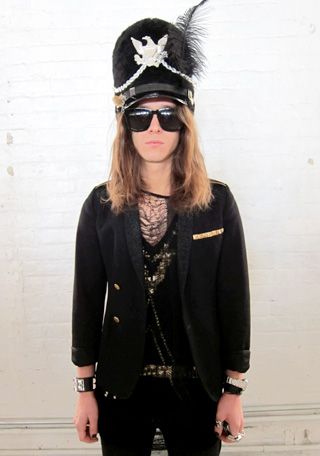 WHO
: William Vitiello
SPOTTED
: At the Timo presentation
LIVES
: "I live in the East Village. I just moved from NoLiTa. I miss it."
OCCUPATION
: "I am a student at Parsons. I am coming out with my own line. The samples are being made right now. It's the Chinese New Year so it's taking a bit too long. It will be launched by the summer. It's called WAV by William Vitiello."
THE LOOK
: "From bottom to top: My shoes are Phi. My pants my friend made for me. The tank top is Givenchy. My jacket is from What Goes Around Comes Around and most of my jewelry is Hermes. My hat is a vintage hat from Screaming Mimi's. It's my really good friend Ally's hat. I was like, I am wearing that out and she said 'you work it!' She added the feather.
FASHION WEEK HIGHS
: "I've been super busy and super tired this Fashion Week. The highlights were seeing Guns and Roses and Patti Smith play. They were both amazing and so special, despite the crazy crowds."
CLICK HERE FOR PAPERMAG'S COMPLETE DOWN-LOW FASHION WEEK FALL 2010 COVERAGE. >>