YouTube trailblazer Connor Franta has helped to set the precedent for translating internet fame (5.5 million YouTube subscribers, 5.2 million Instagram followers, 5.3 million Twitter followers) into a business empire. At only 23, Franta's already written a best-selling memoir, designed a clothing line, worked as a film music supervisor, launched a record label and spearheaded philanthropic endeavors, one of which raised $421,000 for building wells in Swaziland.
As his celebrity and success continue to grow, Franta's connection to his rabidly dedicated fanbase has remained as pure and genuine as it was back in 2010, when he uploaded his first YouTube video. Connor quickly carved out notoriety for his channel with his quirky #relatable weekly vlogs about life as a college student, as well as funny pop culture quips regarding music, movies and books. But it was a video he released in December 2014 that elevated Franta to a new stratum of stardom. In the heart-wrenching, six-and-a-half-minute video, Connor came out as gay -- something he had kept from his fans for a long time.
Since coming out, Connor has become an LGBT icon, using his humor and unique take on things as a way of helping his followers and fans (many of them teenagers) muddle through daily struggles together. "I'll get DMs and tweets saying, 'Is there any way I can talk to you personally? I'm struggling with my sexuality.' Or, 'I'm from the Midwest like you were, and I know my family's not going to be accepting,'" he says. "Because of what they know about me --with my coming out video and everything else -- they know that I've gone through it. Hopefully, I can give them the best advice that I can."
We caught up with the LA-based media titan to talk about business, social media responsibility and spreading the love and education.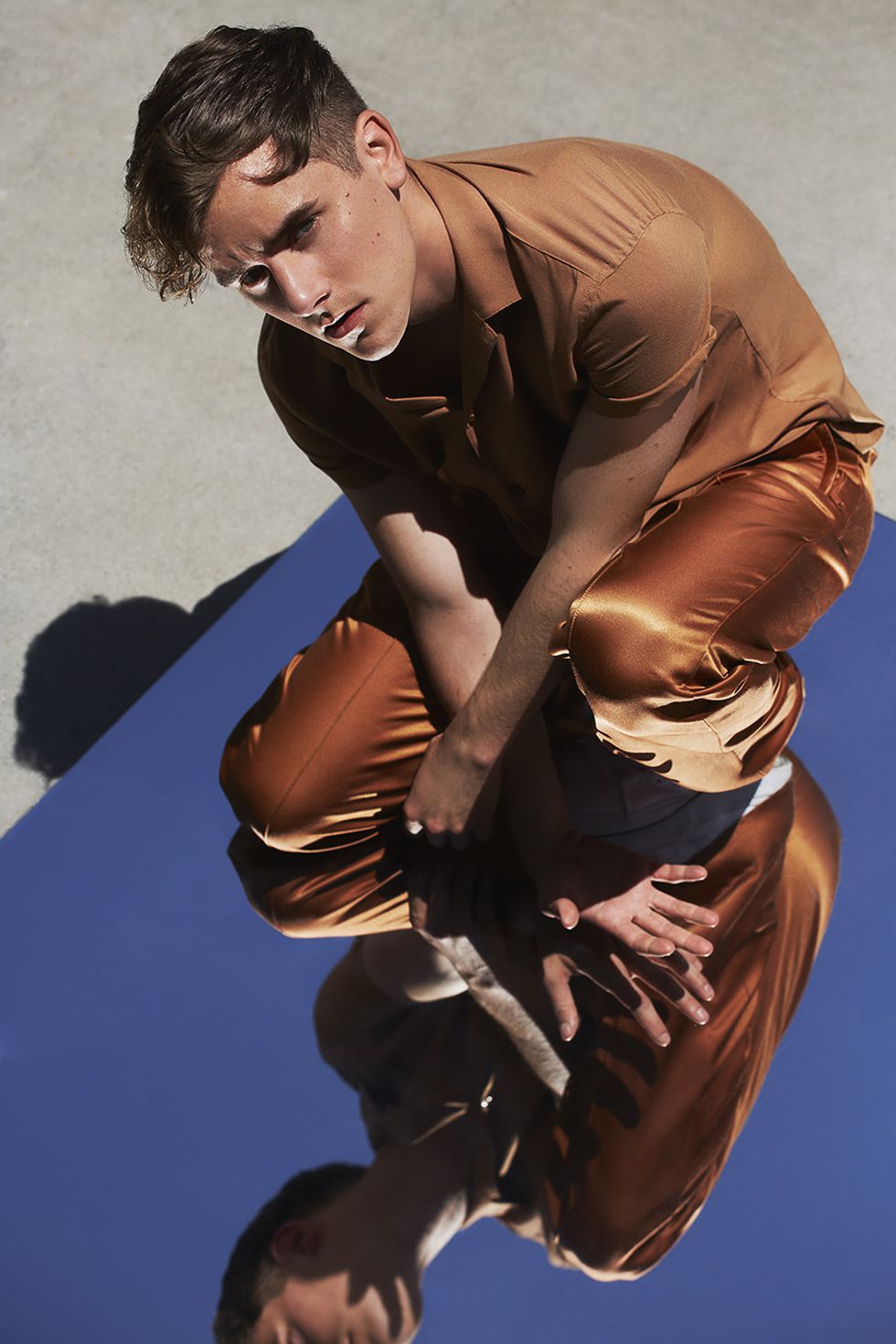 In this and splash photo Connor wears a shirt by Topshop and pants by Opening Ceremony
How have you used your influence as an LGBT activist, especially in the wake of the Orlando shooting?
Being a part of the LGBTQ+ community, I think it was just a natural instinct that I needed to say something about it. It felt like it was a direct attack on me and my friends, and I felt like I had to -- in some way -- be a part of the movement to help better it or to help move it forward; to help assist in it never happening again.
Coincidentally, [the shooting] happened on my first Pride weekend in Los Angeles, and my first Pride parade in general. It was a really devastating emotional twist to have such a great Friday and Saturday of Pride weekend, and then to wake up Sunday morning to the news that something so horrific had just happened to our community.
What was the mood like at LA's Pride parade that day?
You can never prepare for something like that; I just didn't know how to handle it. Several of my friends said, "I still want to go; I want to be present and together in this time, and not cower in fear." Being present was solidarity. I agreed, and when we got there, seeing everything be fine and happy, as amazing as it was, also felt really strange; I had to leave cause I started crying. My friends and I took a break, and we went back later for the music portion. It was just a surreal day.
Obviously, with a situation like Orlando, it was natural for you to speak up on social media, because it's something that affects you, personally. But do you also feel a responsibility to inform in general?
I feel a responsibility to respond to topics that I think I can respond correctly to. I definitely don't think I need to be present on every single social issue, because there are truly some that I haven't lived. I can show my support in other ways, but on some issues, I don't think it's necessary for me to speak my opinion.
It's not your experience.
Definitely. And there are certain things, like the Black Lives Matter movement, that obviously I haven't experienced, but it's still everyone's issue and obligation to support.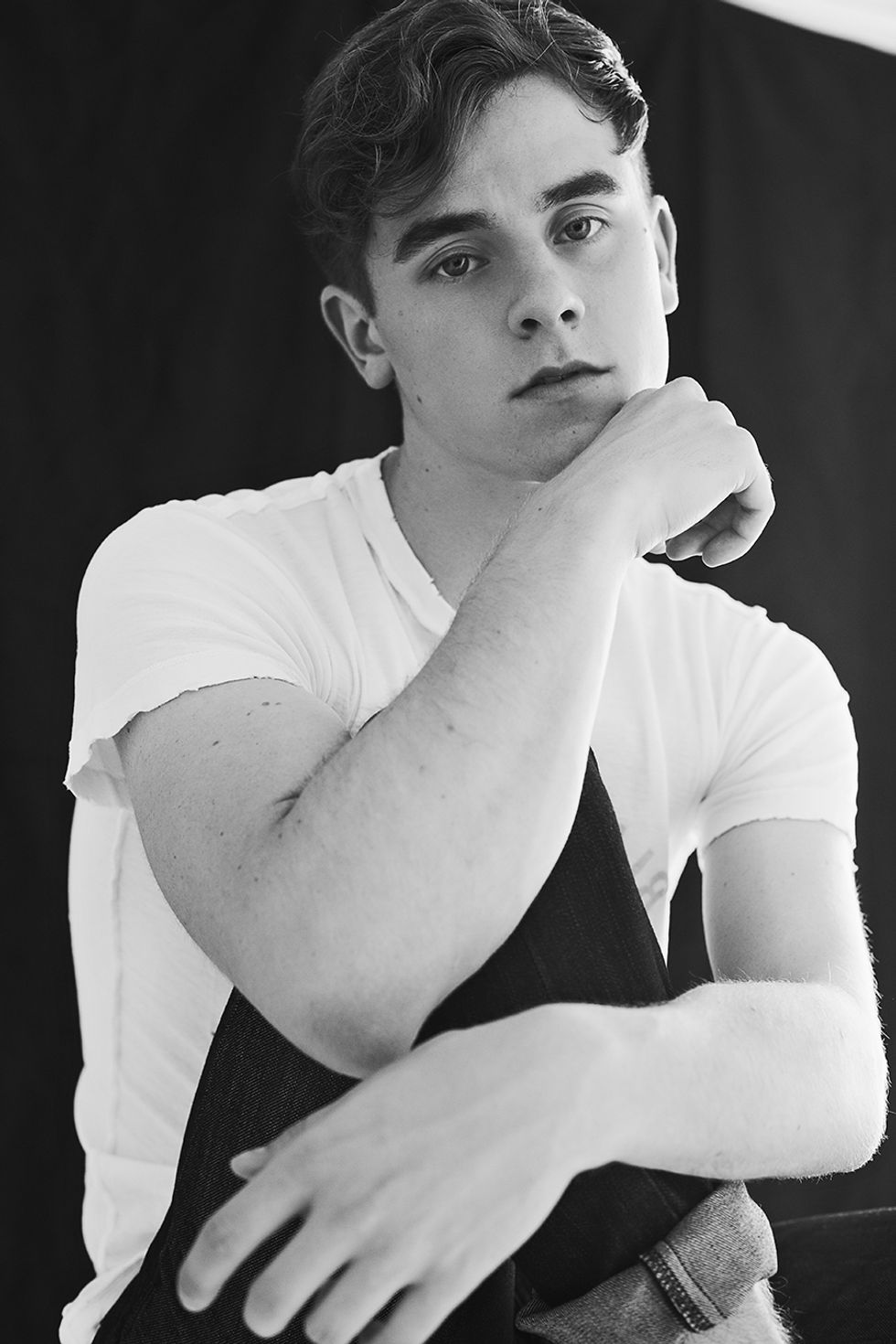 Connor wears a t-shirt by Bliss and Mischief and jeans by Guess
We talked about your coming out video last time, and I know you've collaborated/worked with other LGBTQ YouTubers. Do you have any other LGBTQ-based projects coming up?
I'm getting close with GLSEN, an LGBTQ youth charity. They helped create and spearhead a gay-straight alliance program that is now in 50% of schools across America. They're the ones who started that movement, and they also focus on anti-bullying in the LGBTQ community. I'm just trying to get as many ties and as much involvement with the community as I can.
This current presidential race is so important for our country's future. What's it been like for you seeing all of the election coverage on social media?
What's been so interesting about this whole election in general is that it's really the first socially driven election. I don't think people quite realize. Even since the last election -- the evolution of social media in just four years is tremendous. It's amazing and scary to see that this is potentially the future of all elections going forward.
It's really like the internet decides.
Exactly, but also, everything is immediate. Every live broadcasted speech is immediately uploaded to YouTube, on Twitter and Instagram. There's a meme taken out of it, there are so many gifs … it is dissected in a way that it's never been dissected before, by all of us -- not just the news outlets anymore.
Do you think the transparency is good?
There are positives and negatives. There are narratives that get applied to both parties and their candidates ... we sort of invent the personas out of what they say and do. It's crazy to watch.
What have you realized from this campaign?
It's made me aware that there is still so much ignorance in America, and there is still so much hate and bullying, on the internet and off of it. We have a lot of work cut out for ourselves, still. It's like, "The land of the free! Except for some people."
Recently, Twitter and Instagram have been making more of an effort to mitigate trolling and hate speech. What do you think about that? I'm sure you've experienced your fair share of online BS.
People will say any horrible thing behind a computer screen. It's interesting that Twitter deleted Milo Yiannopoulos' account. It really sets a precedent. But these platforms are their businesses, and they can instill whatever rules they want, and you have to abide by them.
There will always be haters, though.
If you really wanna find bad stuff, you will, about everyone. So if you go searching [for bad things people say about you], you'll find it, and then you'll just keep going down a dark rabbit hole of hate. I try not to go there.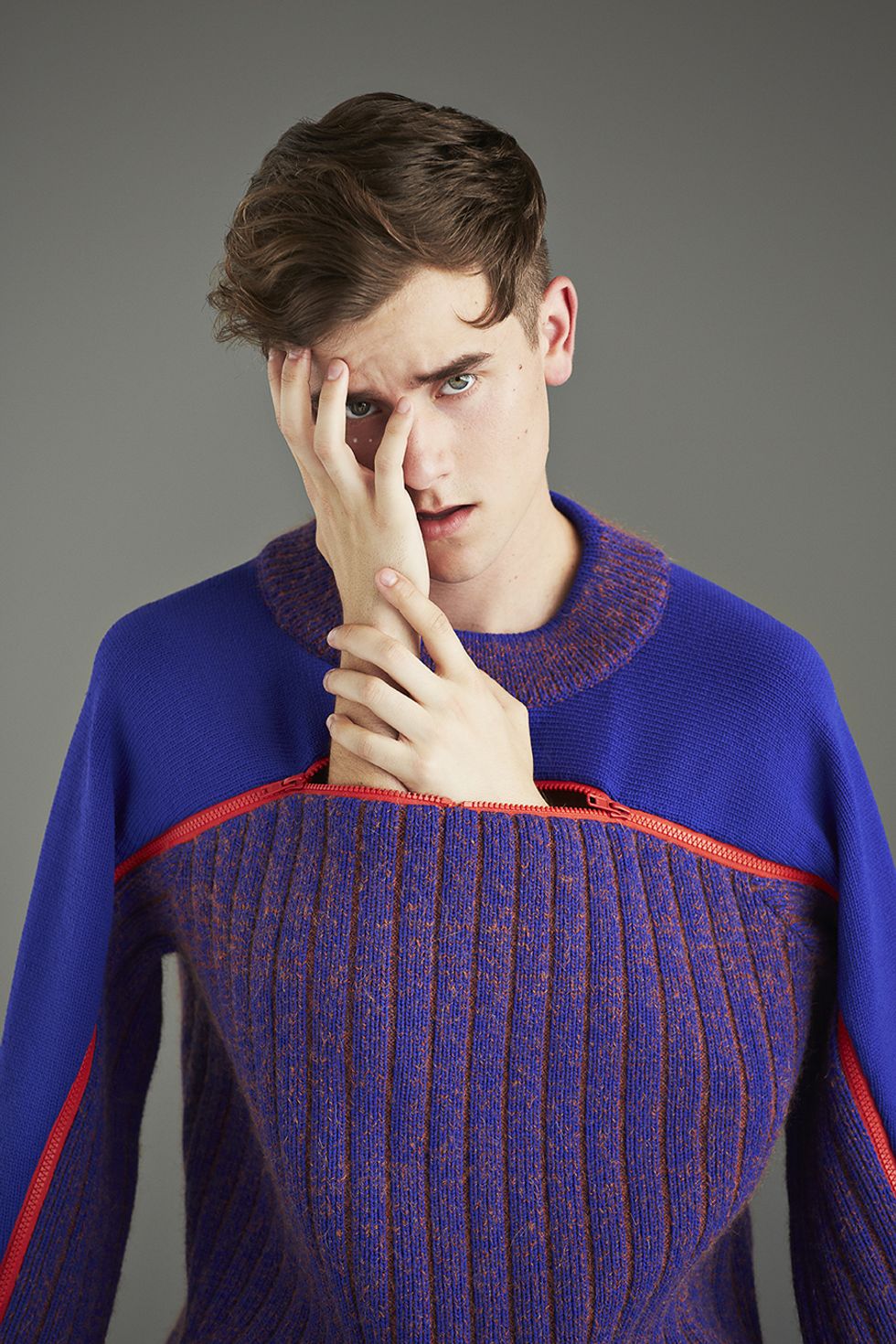 Connor wears a sweater by Opening Ceremony and jeans by Guess
On a lighter note, what is your favorite thing your fans and followers tweet or comment to you?
My followers' new thing is to say, no matter what I do, that I "invented" it. So, if I were to post a photo of orange juice, they'd say, "I can't believe Connor invented orange juice." I guess it's come from all the years I've been posting my "non-selfie Instagram selfies" and photography. They love to joke, "I can't believe Connor invented photography," or "I can't believe Connor invented lighting."
What can we look forward to from your own business this year?
I recently launched a new collection of clothing (on Connor's Common Culture lifestyle site). It's going really well, and we've sold out of several products. It's been fun cause I do all the design and concepts and marketing, and everything is all me -- besides the actual production. But it feels like my heart is in the clothing; my stamp of approval is over everything. It's just been so great to see that it actually does well and people appreciate all the little details.
How long does it take for you to come up with a design?
It's loosely over a span of three to four months. Which is pretty quick, I guess, in terms of that, but it's fun. You do it, and like any other creative outlet, you get inspired to just go; it doesn't feel like work by any means.
Grooming by Kristee Liu

Location: The Forge