A little over a decade ago, I stepped off a Greyhound bus from rural Mississippi with only a month's rent in my Gap capri pants pocket. Like many others, I came to New York City completely confused, looking for a place where I could finally be myself. Since that day, this city has turned me into everything from a reality TV star (I appeared on Big Brother 5) to a travel show host (Round Trip Ticket on Logo), and most importantly, a registered nurse. I've come out of the closet here, found my first true love and created sustaining friendships that have grown into a freaky family. So it seemed only natural to me at the ripe old age of 32 to shock my system with an unexpected new hobby: go-go dancing.

I started dancing at around seven years old. My fierce teenage babysitter Niecey pressed play on an El DeBarge record, and when she turned around, I had mounted the stool in my kitchen and had begun popping my booty to the beat. I knew I was doing something right when her mouth fell open and she said, "Do you do this in front of your mama?" I realized that I possessed a booty worth poppin' in high school when all my black girlfriends told me I had the best "reindeer booty" in our class. Thankfully, they showed me how to move it. I grew up dreaming of being a back-up dancer for Janet Jackson and then Britney Spears, but my Bible Belt parents would never entertain it, always forcing me to play team sports with a bunch of balls I never knew how to handle.

When I finally moved here, I would marvel at the boys gyrating on the bars of the Cock, Boysroom and Opaline, but was always too insecure about my own body to ever entertain the idea of getting up there and shaking it myself.

It wasn't until a year ago that I officially made my dancing debut, when I was asked by my New York go-go crush, Matthew Camp, to dance with him one night at Sugarland in Brooklyn. I said yes, thinking that at the very least maybe I'd get to make out with him in the dressing room. That Saturday, I worked my shift as an emergency room nurse and then reported for duty at the bar. Upon arrival, Matthew immediately pushed me on top of the box in my high-tops and jock strap. After some initial stage fright, I quickly found myself dropping it low -- as if I were back in the kitchen with Niecey.

I've danced all over the city nearly every weekend since, driven by the unparalleled view of New York City nightlife afforded by the go-go perch. I get to see the drag queens perfecting their tuck game in the back of the club and watch drunken one night stands spring to life on the dance floor. Some friends make fun of my new side gig, saying my nurse-slash-exotic dancer existence is like the plotline of a low budget indie film. To my Southern Baptist family back home, I tell them that God blessed me with a bountiful butt, and shaking it is my ministry. To my medical colleagues, I tell them that with the stress of literally holding someone's life in my hands all day, it's comforting to think some people fantasize about holding parts of me in their hands all night. But my resounding answer to everyone is always a new slant on an old saying: This is New York and if you can make it rain here, you can make it anywhere. ★

WILL WIKLE'S TOP FIVE GO-GO ESSENTIALS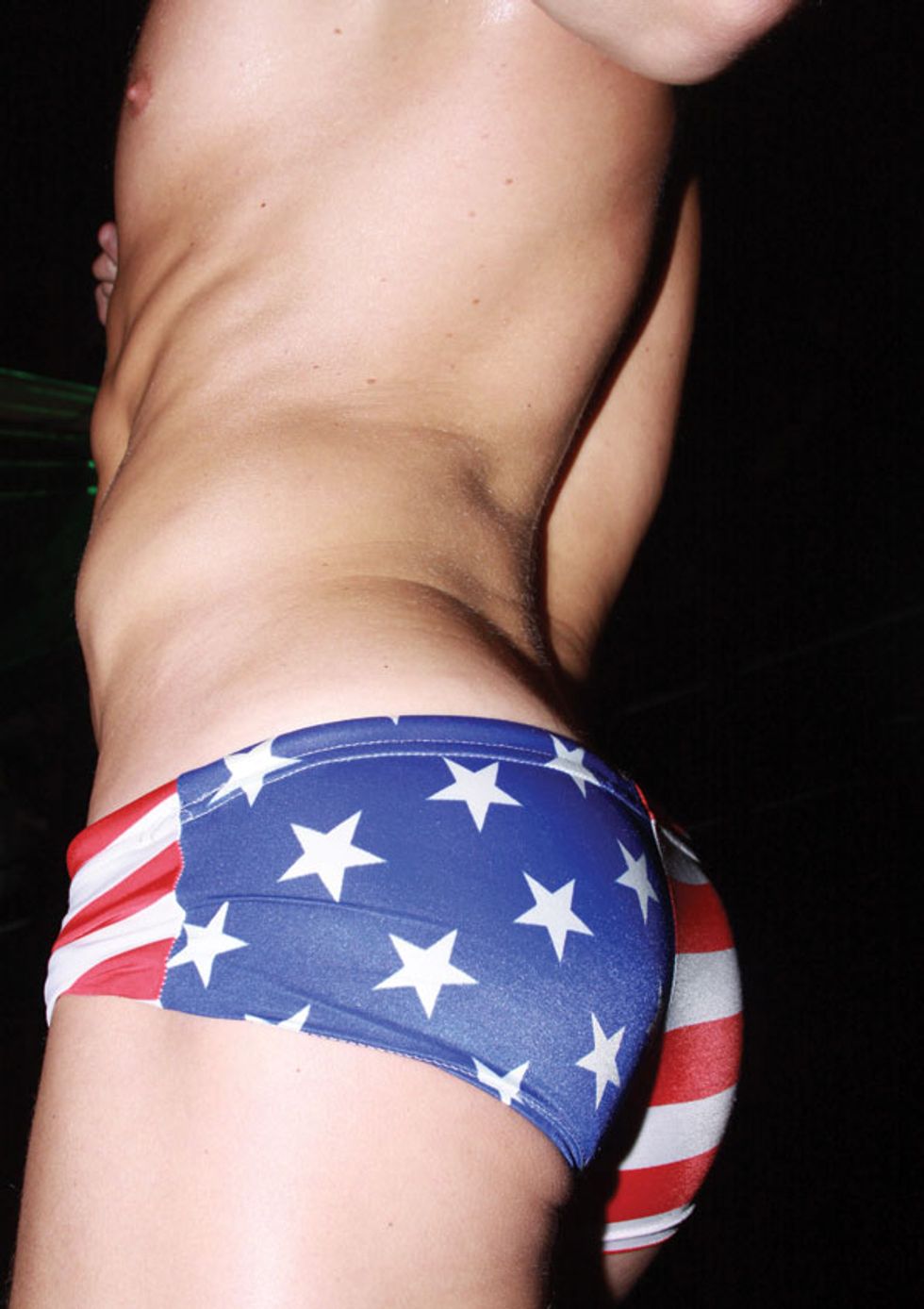 1. Nike high-top sneakers:
The bigger and chunkier, the better your legs will look sprouting out the top.

2. Timoteo jock strap:
Basic underwear might get you enough tips for an Old Navy duffel, but showing your ass guarantees a Louis Vuitton travel bag.

3. Johnson & Johnson baby oil gel:
This will make all the right body parts shine, even in the pitch black dark.

4. New York Yankees baseball cap:
A fitted cap is the go-go's high fashion sweatband.

5. The official go-go buzz cut:
Go see Humberto at VL Studio on Christopher Street for the best $12 fade you'll ever get in your life.