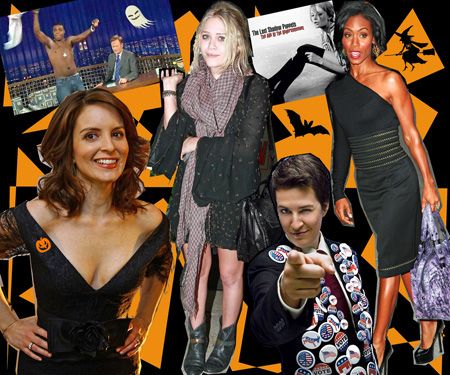 It's essentially the worst-kept secret ever that I'm more than a little in love with Conan O'Brien. Not in a '"crazy-stalker-priest" way –- but admittedly in a "faint-in-the-elevator-next-to-him/have-not-missed-an-episode-since-2001/frequently-exhausts-every-NBC Universal-connection-to-get-tickets-whenever-possible" kind of way.
So when I found out that my trifecta of girl crushes (the sparklingly hilarious Tina Fey, the brilliantly witty Rachel Maddow, and –- well –- Mary-Kate) would be among Conan's amazing lineup of guests for Halloween sweeps I essentially went bananas. And wrote a blog.
MONDAY: Charles Barkley, Justin Long, Annuals
TUESDAY: Tina Fey, Peter Sarsgaard, The Black Crowes
WEDNESDAY: Tracy Morgan, Paget Brewster, The Last Shadow Puppets
THURSDAY: Jada Pinkett-Smith, Rachel Maddow, Pink
FRIDAY: Mary-Kate Olsen, Will Forte, Tom Nardone
Set your TiVos this week for 12:35 a.m. on NBC!