Welcome to Guys, Guys, Guys month on Papermag.com -- an online companion to our Girls, Girls, Girls issue on stands now. Join us in the coming days as we reflect on the many facets of modern masculinity, queer culture, the subversion of traditional male norms and what it truly means to be a dude in 2016.
The relationship between sex and art today has reached a new level of congruency, and gay porn star Colby Keller is at the forefront of this shift. He's starred in a CockyBoys BCALLA fashion film, modeled for Vivienne Westwood's SS '16 campaign and embarked on a nationwide tour for meeting men on Grindr and creating 50 original, x-rated videos. Now, Keller's tackling Shakespeare, starring in a new film inspired by "The Seven Ages of Man" and directed by Grindr's Vice President of Marketing Landis Smithers.
"'The Seven Ages of Man (or, 'all the world's a stage') is one of the most iconic stanzas in the canon, and we wanted to commission a piece that took this timeless exploration and updated it to a modern gay man's experience," Smithers said. "In so many ways, our community faces these stages not just over the course of their life, but over and over again in their day-to-day existence. Whether struggling with masculine tropes of appearance, finding our way as lovers, fighting for our rights, or dealing with transition and endings, the work was a great touchstone for a new take on masculinity and the gay community."
For the short, he drew inspiration from classic Richard Avedon lighting and Herb Ritts angles, mixing in heavy elements of mythology, gay iconography and a mood that marries Keller's sensuality with darker, more complex issues. "While physically, [Colby] is an idol for many, emotionally he is raw, broadcasts a beautiful range of interests and ultimately is an unexpected new model of masculinity that isn't afraid of expression on all fronts," Smithers said. "That's someone we wanted on film."
We caught up with Keller ahead of the film's debut this weekend at Grindr's Seven Years, Seven Wonders bash to talk about all things fashion and fucking.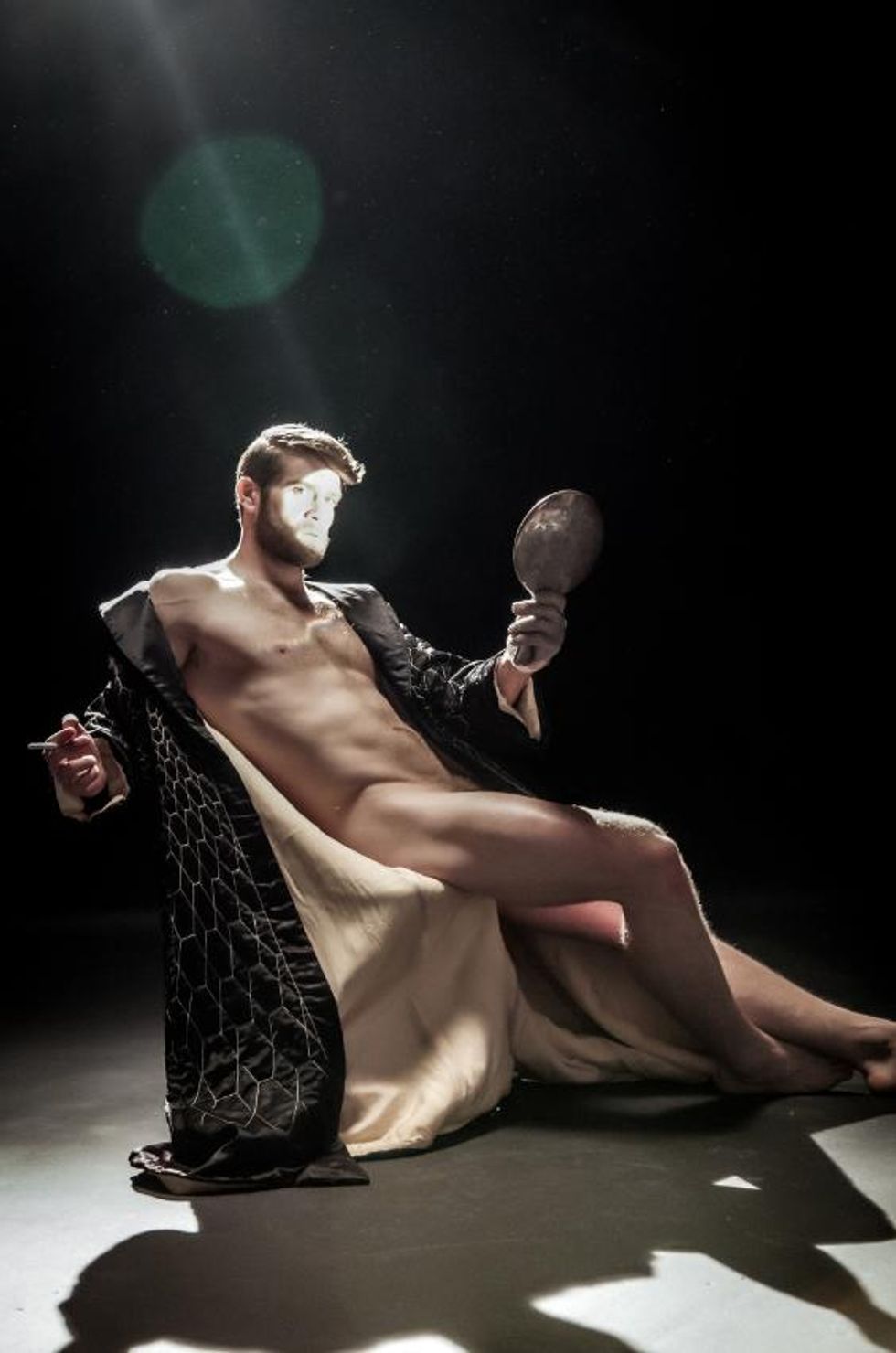 photo courtesy of Landis Smithers
Describe your role in "The Seven Ages of Man."
I play each of those 'Seven Ages,' and there's one other person who plays a soldier I carry off the battlefield -- this beautiful man with a crazy body. But all the other stages of man are played by me. It was a lot of fun and I think it will be really beautiful. The project really was Landis Smithers' creative idea and he has, from what I've seen, really nailed everything. It sort of looks like a classic '80s perfume ad.
The short is debuting at Grindr's Seven Years, Seven Wonders party in LA. Why Grindr?
From what I understand, Grindr has a big audience and they use it specifically for one thing, which is meeting other men for sex. There's a lot of potential for them to provide a space for gay men to learn more about fashion, art and music. This project was a way for both of us to reach our respective audiences and do something fun together that will hopefully show the potential in this. If you have a big platform that's reaching a lot of different people, it's a great idea to think about ways to expand that reach and give people a more complex relationship with their community. I think they wanted to reach more into that space where sex and art have a relationship, and that's an area I'm also interested in.
How did your feature in Vivienne Westwood's "Mirror the World" campaign come about?
I was with Bernhard Whillhelm, a fashion designer, at a thrift store and we found a pair of vintage Vivienne Westwood pants. He was like, 'You should put those on and I'll take a picture to send to Andreas Kronthaler, [Westwood's husband].' Shortly after, they reached out about the opportunity to shoot. Unfortunately, I had this TV project I was also working on and the day Westwood wanted to shoot me for their campaign was the day that I had to film this other project in New York. I put them in contact with each other and they managed to work it out. Basically, I worked a 10-hour day filming and went straight to the airport, flew to Venice and got off the water taxi to go shoot for Westwood—a pretty surreal experience.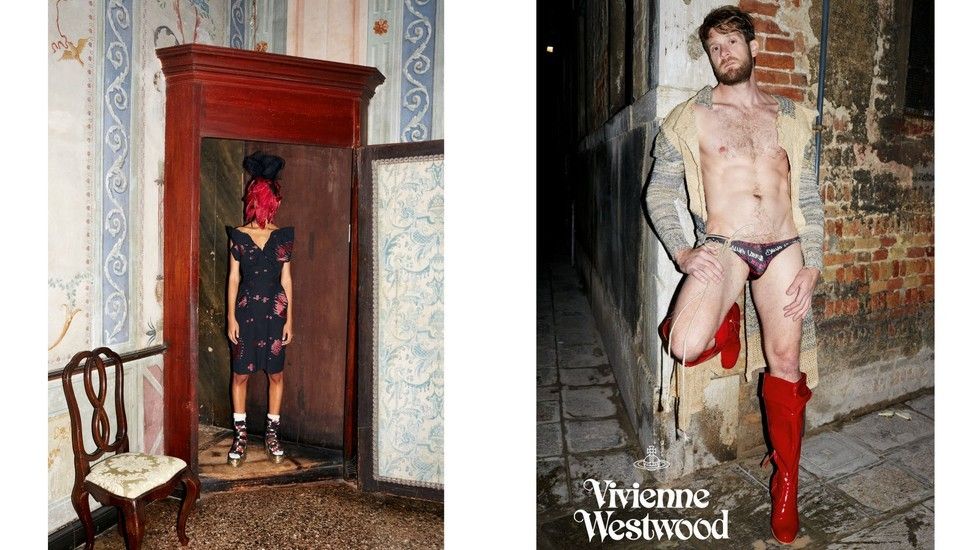 Keller in Vivienne Westwood's 2015 "Mirror the World" campaign. Photo by Juergen Teller.
What was it like working with Juergen Teller?
I was a little intimidated. He's a big deal and so is Vivienne Westwood, but everyone was really easy-going, friendly and accommodating. With Juergen's photos, there's a certain honesty that's apparent in their aesthetic presence, and that's also how he works as a photographer. He likes a really natural look with natural poses, so from the perspective of a model, I think he's a great photographer to work with.
How did shooting a fashion campaign differ from shooting a porn scene?
They're very similar in a lot of respects. Adult film a little different because it's film and I'm actually having sex on camera, but there isn't too much of a difference. A fashion shoot, I think, purports to be about the clothing and that's certainly a difference, but both are very much so about the body and sexuality.

Before this, you starred in BCALLA's fashion film with CockyBoys. What's your best on-set memory?
It was a dream fulfillment for me, I'm a big admirer of Bradley Callahan's work. The funniest memory was that a lot of the performers didn't know what to expect. They had this look of like, 'What the fuck?' It's fun to challenge people and expand their sense of the possible, and I could see that happening for several people on set. That's a really exciting moment to be a part of.
That collaboration seemed to spark a larger relationship between sex and fashion: J.W. Anderson exclusively streamed his runway show on Grindr, Diesel began advertising on PornHub. Why now?
Let's be honest, a lot of the people working in fashion are gay men, and those gay men have sexualities. I think consumerism, in general, has always used desire to market and sell its products. As we're becoming a little less sex-phobic, the boundary lines are starting to blur, but I think we're still at a time where there's tension around sexuality and being explicit that can bring attention to industries, like fashion. People see the power in market potential of porn and want to tap into that. I think we need to be more honest about our sexualities, particularly as gay men, and that discussion should translate to different types of media presentations, including fashion. It's definitely a step we need to be going in, but is it just a fad? I don't know what is happening, but I'm happy to be a part of it.
How have you seen perceptions of porn change since you began in the industry?
There's a much more open discussion about people's relationships to porn -- a general acknowledgment because a significant, if not a majority of the population, consumes porn, and that includes men and women. I've recently noticed more women coming out of the closet as fans of gay porn, and that's changing the business. It's an exciting new frontier, which is scaring a lot of people in the business, but I think we're seeing a complex, more interesting engagement with human sexuality in all the ways it can be beautifully complicated.
Do you experience more privileges as a gay male performer?
I definitely have more privilege than a straight female or male performer because I think gay men have always been more engaged with pornography. If you look back to the '70s and '80s, there's a contingency to the gay community that I think maybe idolizes the gay porn performer in ways the straight community doesn't. I recognize there's a lot of privilege with that reality, and while that privilege doesn't extend to me making more money, I don't think that I've had some of the negative kickback that I imagine some straight performers have.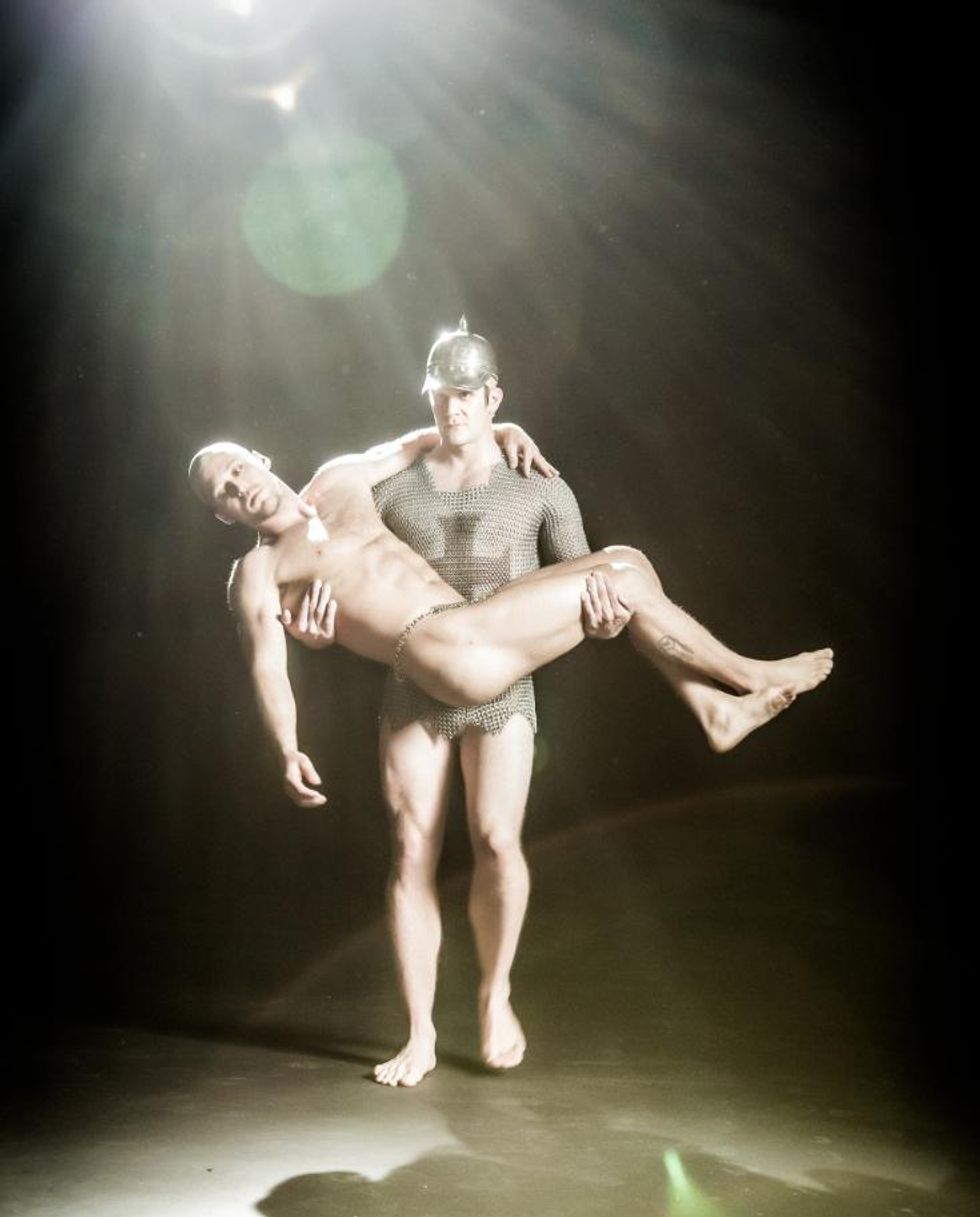 Actors in a scene from "The Seven Ages of Man." Photo courtesy of Landis Smithers.
Why did you first get involved in porn?
When I got into porn, I'd just graduated college with an anthropology degree at the tail end of the Clinton administration, when we were stuck in a pretty bad recession. I couldn't find work to save my life, including minimum wage food service jobs. I was pretty desperate, honestly, so it was mainly poverty that motivated me to put in my application at Sean Cody. I was expecting a rejection.
You've recently been doing more creative side projects. Was your long-term plan to use porn as a launching pad for another career?
I've always really been in this to pay my bills and put food in my face. My financial situation has gotten a little more desperate; I've technically been homeless for the past two years and I still need to do porn to make money. Where it's definitely translated into lots of interesting creative opportunities to explore what it means to have a public persona, it hasn't necessarily translated into financial gains. I think a lot of people don't know that—they assume I'm a well-known performer making tons of money, but really I live paycheck to paycheck, and paychecks come from porn scenes. I'd love to continue exploring what I can do with the career that I have and hopefully that will lead to some kind of stable income, but I never set out with that goal. I don't think about myself as a careerist.
What was the catalyst to your two-year-long trip on the road?
I was evicted from my home in Baltimore. They wanted to charge me $1,500 for a studio apartment. The rental market in the U.S. is obscene. Thanks to my career in porn, I've been able to get through the worst of this, but I don't have a home, I haven't had my own bed in two years. I sleep in hotels or on friend's couches. It's very far from an ideal situation, but I'm trying to make the most of it and I'm growing as a person. I couldn't ask for a better outcome from that devastating moment in my life, but it's important to bring attention to those realities. While my situation may have worked out in a positive way for me, it hasn't for a lot of people.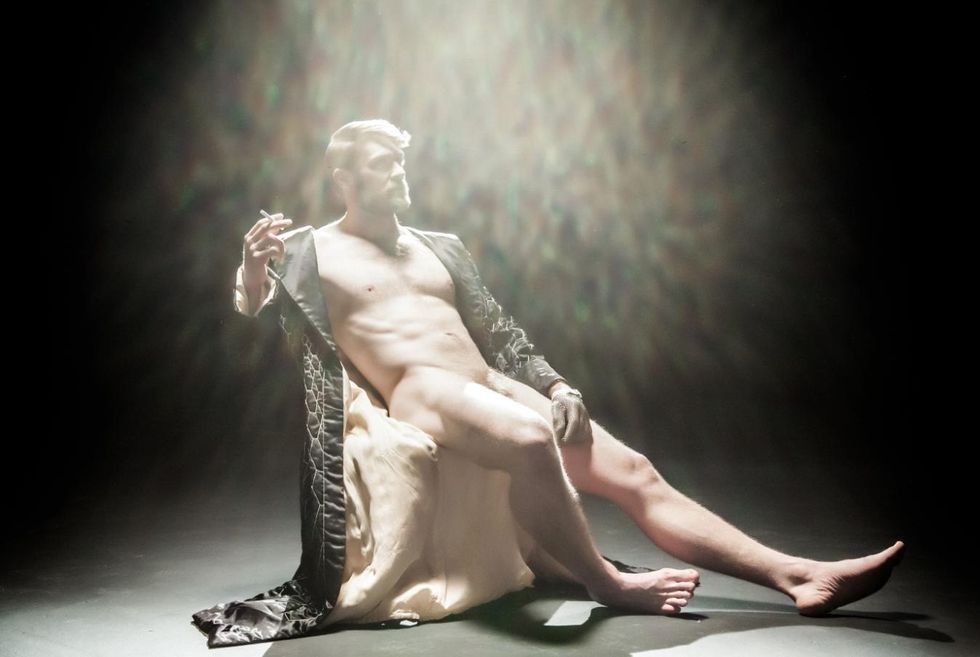 photo courtesy of Landis Smithers
During your 50-state Colby Does America series, you connected with people through Grindr. What are some of the most memorable characters you met?
I did have one person who was actually following me, who had a fake profile of me. I remember being in this tiny town in Canada and started talking to someone on Grindr and they were like, 'But you were already here yesterday,' and I'm like, 'What are you talking about?' This person had somehow predicted what city I was about to go to and was talking to people as me in advance of my arrival, I think to sabotage me. Another guy, who I never ended up filming a video with, came over to my hotel and we had crazy hot sex, but he managed to also tell me he was a psycho path and wouldn't leave my hotel room. It was a little scary, he had these scars on his shoulder. He had a best friend and they'd take razor blades and cut into each other's shoulders to see who would relent first. There was the goal of carving two smiling faces on both of their shoulders and I guess he he cut so deeply in his shoulder that he couldn't use his arm for several months. That was definitely a memorable experience.
Did you notice any cultural differences between states?
Some states were really easy to film a video and other states were almost impossible. Like Tennessee I thought would be an easy state, and I could not film a video there. I went into Kentucky thinking, 'Oh my god, this is going to be impossible,' and filmed three videos. Same thing with Texas versus Oklahoma. Texas was probably the worst state, it's like a fascist country. I went to every major city in Texas and could not find someone to film a video with, but I filmed a video every day I was in Oklahoma. I think part of it is that Oklahoma City, for a long time, the only place you could go to meet other guys was this motel that also had a gay bar and people would rent rooms there, so it also served as a sex space. People from all over the plains would come to Oklahoma City on the weekends to get laid, so I think the legacy of that institution created a very sex positive environment. Overall, you can get a good diagnosis of a city's gay culture by talking to men on Grindr.