Olivia Galov
Clowns are polarizing fixtures in pop culture: Meant to be joyful sources of entertainment for children, they leave most people terrified. Mostly associated with children's birthday parties or terrorizing small towns in cult horror classics, they're starting to pop up in the most unlikely of places -- New York City DJ booths.
Brooklyn party hosts Olivia Galov and Abby Fiscus have been throwing clown-themed parties for about a year, bringing polka dots, balloon animals and pie-throwing to the local party circuit. Their next installment will ring in the New Year at Bushwick's Happyfun Hideaway, starting at 9 pm with a promise of free champagne at midnight.
Galov and Fiscus got the idea for the party after they spent a Halloween bartending shift together, raiding the Party Fair on Knickerbocker for face paint and rainbow suspenders to dress as sad clowns for the night. They blasted circus music, juggled fruit and, as they both assert now, never felt more comfortable in their own skin, according to Galov, who confessed she wishes she could wake up every day as a sad clown.
"I looked absolutely terrifying," Fiscus said. "I had this intense dissociative moment where the clown took ahold of me and I thought it'd be interesting and fun to try it again."
And so they did, assembling a daytime clowncore gathering at Happyfun and inviting attendees to don clown gear in exchange for a free drink. They're also known to give out free booze to party-goers if said guests are willing to have a pie thrown in their face ( though Fiscus said she's not afraid to pie someone without consent).
Olivia Galov
Olivia Galov
Abby Fiscus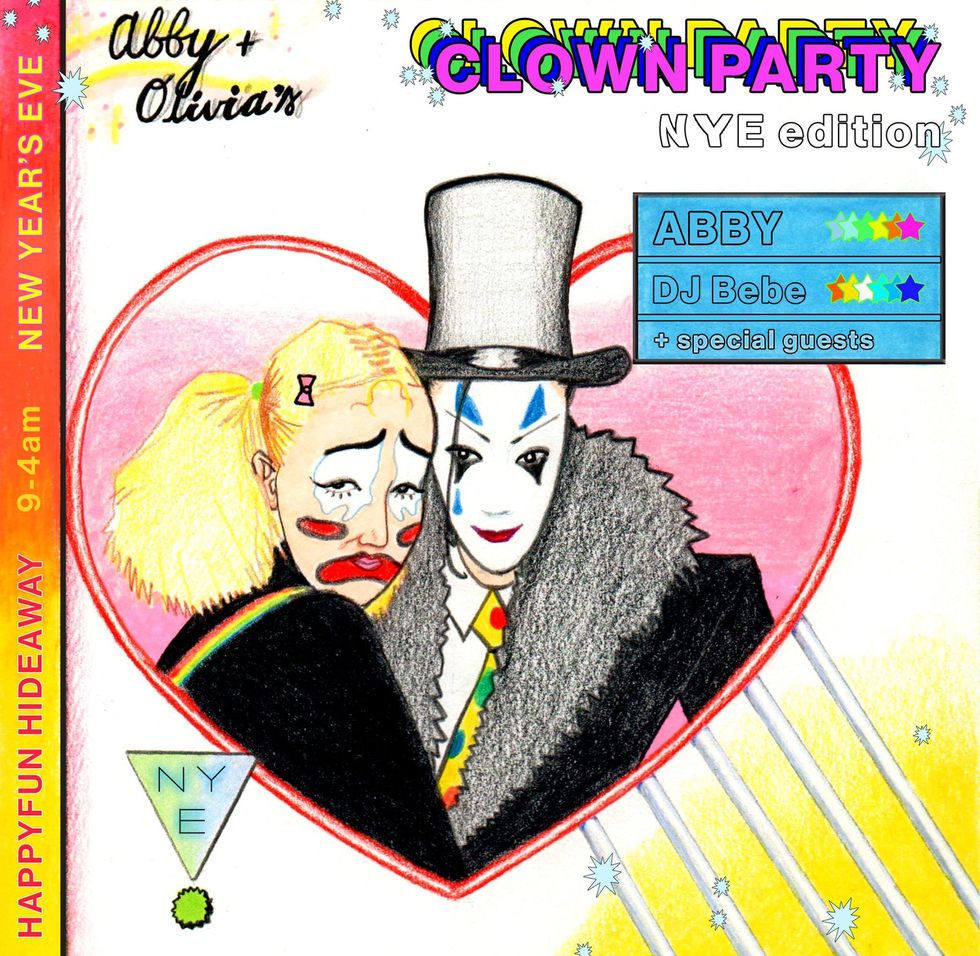 During the first official party, Fiscus DJ'd five hours straight, spinning everything from Justin Bieber to hardstyle versions of circus songs pulled off YouTube. For the second, they invited Baltimore-based producer Schwarz, whose clown-inspired sounds included this creepy vocal cover of Meredith Brooks' 1997 classic, "Bitch:"
For Fiscus, dressing up as a clown provides her with a sense of escapism from the everyday—a way to channel a different self when face with the exclusivity of NYC nightlife.
"A lot of times when I go to nightlife-type parties in New York, I feel like my former high school self staring at the hot popular people drinking bottle service and I go sit in the bathroom alone," she said. "People can't judge me if I'm a clown. There are a lot of clowns in New York nightlife, whether they admit it or not—I'm just showing my true colors for the whole world to see."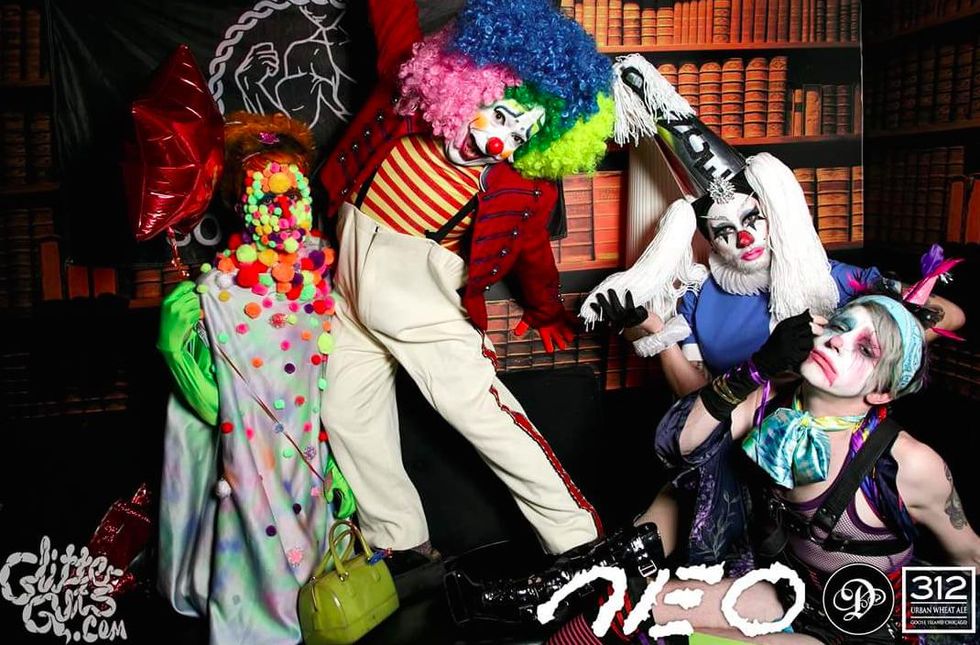 Neo night in Chicago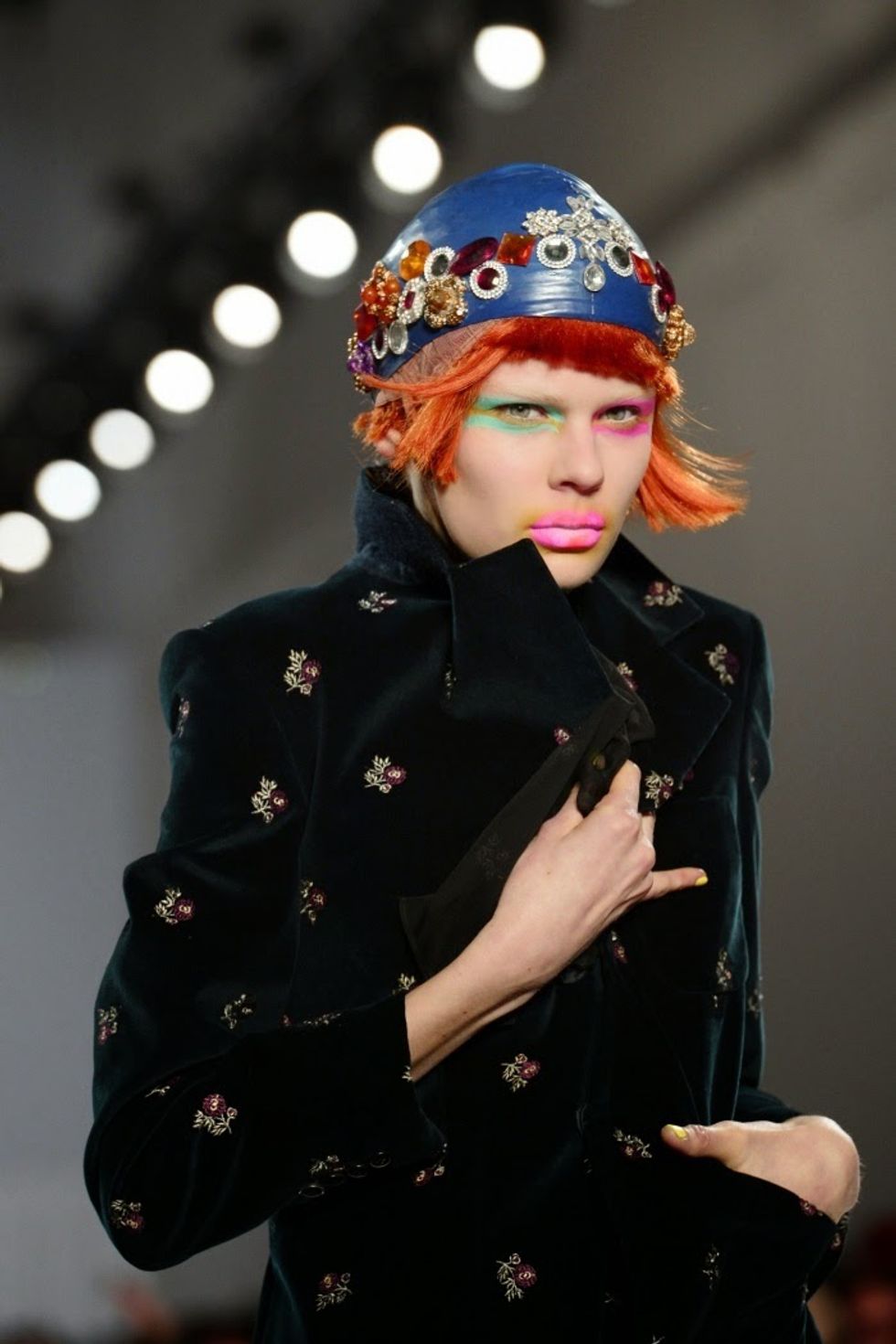 Maison Martin Margiela Fall 2015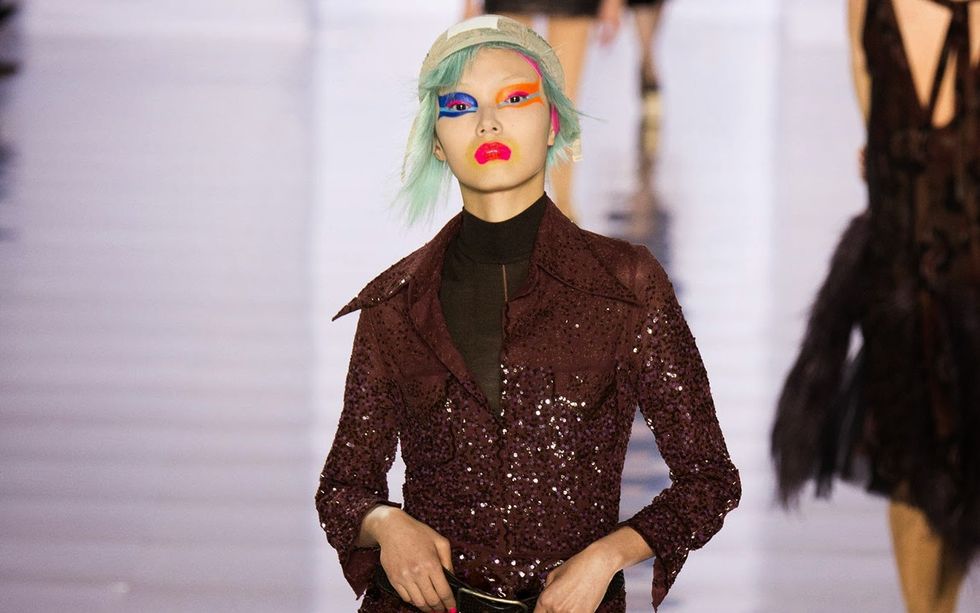 Maison Martin Margiela Fall 2015
This clownish aesthetic has also been pervading national pockets of nightlife and making appearances on top designer runways, as well. During the newly revamped Neo night at Chicago's Debonair Social Club, party hosts Jojo Baby, Seth Nayes, Nico and Lady Ivory all arrived looking like circus escapees. Some looks were more traditional—a multi-colored wig and ringleader jacket—while others edged toward the avant-garde: a face covered entirely with pom pom balls, faded, smeared makeup paired with a leather harness and a dunce-style headpiece with mop heads fashioned to look like pigtails.
Even designer John Galliano indulged in the look this season, sending models down the Parisian runway in neon clown makeup for Maison Margiela's fall 2015 presentation. Galov, who designs under the genderless label Daimorf, echoed this trend in fashion, recently posting an Instagram that previewed something clownish in the works. "Excited for the winter," she wrote in the photo's caption, which featured a furry print of a cartoon clown on the run.
Galov promises future clownish events will be "bigger and better," loaded with a face painting station and miming. "As the event grows, our costumes will become more extravagant," she said. "I'm spending a lot of time on YouTube learning magic tricks and perfecting my mime impressions, so the looks will be more entertaining and purposeful. The rest is a secret."
You May Also Like