UPDATE (x9): Police in Concord, California (near San Francisco) are searching for a clown who allegedly tried to snatch a 1-year-old from her mother's arms on Wednesday afternoon. The woman--named Tiffany Martin--told police that a man dressed like a clown approached her at a bus stop, exclaimed "Aw" over her baby daughter, then started to yank her arm.
Martin reportedly "kicked him in the shin," before he fled.
A world of nightmares.
---
UPDATE (x8): The actual clown community has planned a "Clown Lives Matter" protest in Tucson, Arizona on Saturday, October 15th, in light of the clown panic gripping many states across the U.S.
-_-
A flier posted on Facebook by "Nikki Sinn" detailed the event: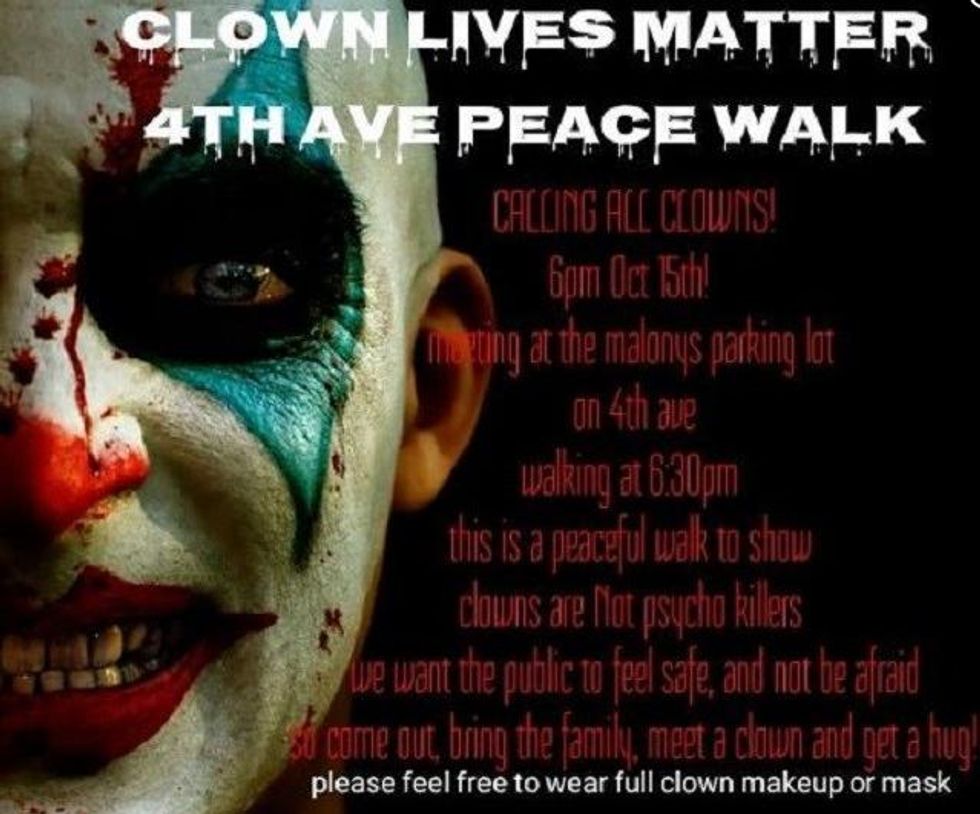 Sinn explained to a local Tucson news the hysteria is threatening the well-being of benevolent clown-kind:
There are a lot of people who live their everyday lives like this and they are getting death threats. We're just going to gather together and walk peacefully and pass out balloon animals and fliers and give out free hugs.
No one should be threatened or discriminated against for harmless passions, clearly, but given the nation's current crisis of systemic racism against people of color, and the police brutality resulting from it, the name of this event is not in the best taste. At all.
---
UPDATE (x7): The current evil clown crisis gets a little deflating from a man who knows them all too well: Stephen King. The iconic horror author, who has one of the best Twitter accounts...ever, splashed some cold water in all our faces via this tweet:
Hey, guys, time to cool the clown hysteria--most of em are good, cheer up the kiddies, make people laugh.
— Stephen King (@StephenKing) October 3, 2016
Of course, King, whose legendary novel IT, which follows a group of friends plagued by a shapeshifting demon in the form of a clown named Pennywise, changed pop culture; the novel spawned a terrifying television movie, and has a new film version on the way--which some theorized was using these clown sightings as a very twisted viral marketing.
If Stephen King, who pretty much created the scary clown narrative, is telling us to relax....well, we should still be slightly worried, but in a more relaxed way.
---
UPDATE UPDATE UPDATE UPDATE UPDATE UPDATE: School systems in Philadelphia, PA and Houston, Texas are on high alert after responding to new "clown threats" against teachers and students.
Philadelphia officials say, "The safety of our children and the communities surrounding our schools is a top priority for us and we are taking this matter seriously." Weeks ago, police in the Northeastern part of the city, near Pottsville, investigated a report that a 12-year-old girl and her friend were chased down by a man in a clown mask/costume.

These recent report come a week after a 16-year-old in Reading, PA (about 50 miles west of Philadelphia) was stabbed to death by a person wearing a clown mask.
Spring Independent School District in Texas has also issued a statement over clown threats, calling them "hoaxes" and asking students to please confirm their claims of clown threats with parents.
---
UPDATE UPDATE UPDATE UPDATE UPDATE: Things have gone from scary to truly horrifying. Police in Reading, Pennsylvania are searching for a clown who stabbed a 16-year-old boy to death following a fight at a party on Sunday. Police say the assailant, wearing a Halloween clown mask, fled after the attack, and the teen's body was found dead on the front porch of a home, with a crowd gathered around him.
Berks County District Attorney John T. Adams issued a statement:
We urge anyone who was there to contact the Reading police. Someone was wearing a clown mask and a fight broke out. Anyone who knows anything about this, please contact the Reading police.
STOP THIS MADNESS!!!!!
---
UPDATE UPDATE UPDATE UPDATE: As Jezebel reports, the terrifying clown epidemic spread up the East Coast may have just been quarantined. Police in Middlesboro, Kentucky have arrested one such example: man in a clown mask found "lying in a ditch," waiting for unsuspecting people to scare. Sure!
He was promptly de-masked...
Revealing what/who lies behind this bizarre, nightmare trend.
What in Scooby Doo Hell?
---
UPDATE, UPDATE, UPDATE: Schools in multiple counties Alabama are currently, and have been, placed on lockdown after threatening messages by a group of clowns calling themselves "Flomo Clowns."
One school, Shades Valley High School, was put on alert after a Facebook message alluded to clowns showing up on its campus; fortunately, that never occurred.Another, Holy Family Cristo Rey High School, closed down after a phone threat claiming a clown would be showing up to lure children into the woods.
This all comes after an epidemic of clowns have gripped North and South Carolina, and now Alabama.
MAKE IT STOP.
---
UPDATE, UPDATE: With the new clown-in-the-woods sightings infecting North Carolina, a new story out of Greensboro, North Carolina, has upped the twisted in this already twisted tale.
Police say on Tuesday night, a person dressed a clown--wearing "a clown mask, red curly wig, yellow spotted shirt, blue clown pants and clown shoes" emerged from the woods surrounding an apartment complex.
Witnesses say another bystander got out a machete and chased the jester back into the woods, who promptly disappeared into the night; police were unable to find the suspect; unclear if this clown was part of this new wave of evil clown-dom, but I would venture to guess someone dressed as a clown, lurking through the woods in twilight is probably up to no good.
No children were involved in this most recent horror.
Kill me now, please.
UPDATE: Reports of a fresh batch of demonic clowns attempting to lure children into the woods have reached Winston-Salem, North Carolina.
On Sunday, at 8:30 PM, a person dressed as a clown reportedly tried to offer children candy; this was, of course, only seen by children.
Said creepy clown was white overalls, white gloves, red shoes, red hair, white and a red nose, and disappeared when the po-po arrived.
Another report of a clown was surfaced hours later; unclear if this was the same person.
REAL clown Mike Bevcar, who performs under the alias Sir Toony Van Dukes, and runs a website called "Just For Clowns" (I mean...) expressed his concern for the damage these reports are doing to the reputation of professional clowns everywhere, in an email to the New York Times.
He also condemns the media's coverage as adding to the clown hysteria:
I wonder how the reporting on the story would go if instead of clowns, people were dressing up as aliens, witches, zombies or doctors? What if they were wearing hospital scrubs, lab coats and a stethoscope around their neck. Would the news report that doctors were hiding in the woods trying to lure kids with candy?
No offense, Mr. Toony Van Dukes, but it's very, VERY different when it's a CLOWN.
Greenville, South Carolina is currently existing in some kind of collective nightmare dimension, as multiple children in the area have reported that several people dressed as clowns have been attempting to lure them into the woods surrounding the community.
Specifically, residents of the Fleetwood Manor apartment complex are on high alert, with many of the sightings occurring in or around the buildings.
A terrifying letter of warning has been posted for the families in Fleetwood Manor:
To The Residents of Fleetwood Manor

There has [sic] been several conversation [sic] and a lot of complaints to the office regarding a clown or a person dressed in clown clothing taking children or trying to lure children in the woods. First and foremost at Fleetwood Manor Apartments childrens [sic] safety is a top priority. At no time should a child be alone at night, or walking in the roads or wooded areas at night. Also if a person or persons are seen you are to immediately call the police. Greenville County Police Department is aware of the situation and have been riding [sic] the property daily. Remember there is a 10pm curfew for the property so to ensure your childrens [sic] safety please keep them in the house during night hours and make sure at ALL times children are supervised. Anymore information that becomes regarding this issue will be sent out to all residents.
Thank you,

Property Manager
Fleetwood residents, James and Donna Arnold, filed one of the reports after two of their sons, aged 10 and 13, spotted some of the phantom clowns; their sons, along with several other children, believe the clowns are living in an abandoned home in the woods.
0_0
James Arnold relayed the chilling encounter his sons had with said clowns to BuzzFeed:
[Our children] mentioned, 'Mama, there's clowns out there in the woods and they're trying to get us to come out there. Some had chains, some had knives, and some were holding out money, saying, 'Come here, we've got candy for you,' but they wouldn't go.
FUCKKKKKKK.
Another resident alleged that she saw a man dressed as a clown with a "blinking nose" standing under a parking lot post light (as only a clown does in the dead of night) as she walked home around 2:30 AM on the morning of August 21.

She claims the clown waved at her, which she reciprocated.
GREAT, NOW YOU'RE MARKED BY THE BLINKING-NOSE CLOWN. UNIDENTIFIED RESIDENT.
Unclear if this is some viral marketing for the upcoming IT remake, but all phantom clowns can go RIGHT to hell.
Thank you.
You May Also Like