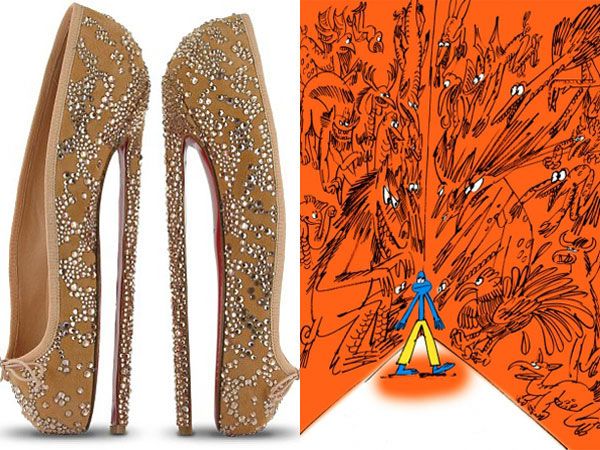 1.
Christian Louboutin
created an amazing/unwearable(?) pair of shoes
with eight-inch heels covered with Swarovski crystals to raise money for the English National Ballet.  [Daily Mail]
2.
Johnny Depp
still smokes
, only flies in private jets and seldom leaves his house.  Plus, he stopped living in France to avoid their income taxes. [Guardian]
3. "
Magic/Bird
" -- a musical about basketball legends
Larry Bird
and
Magic Johnson
-- is coming to Broadway in the Spring. [AOL Sports]
4. UK illustrator and toy designer,
James Jarvis
, will be in town later this week with an exhibit and a book-signing for his new graphic novel,
De Profundis
. He'll also be doing some live drawing.  It all goes down on Thursday, November 10, 6 to 8 p.m. at the Standard Hotel's (848 Washington Street) gift shop.
5. Italian artist
Enrico Castellani
opens a show of new works called "Castellani e Castellani" on November 11 at New York's
Haunch of Venison
(550 West 21st Street) gallery.  Along with his paintings, the artist is showing his room-like environment, "Spazio Ambiente," a "360-degree painting executed in a translucent white acrylic." The exhibit will be up until January 7, 2012.
6.
Frank Ocean
canceled last night's Bowery Ballroom show at the last minute due to illness.  Tickets will be honored at a to-be-rescheduled date or money refunded.  You can read the
Rolling Stone
review of his Saturday night show in New Orleans
here
.
7.
What caused the financial crisis
? The big lie goes viral. [Washington Post]
8. Wild raccoons
terrorize a quiet Brooklyn neighborhood
, attacking cats and scaring locals   [NYDN]