Last night, at Miami's Pérez Art Museum, celebrated French shoe designer Christian Louboutin — never more relevant considering Cardi B's recent "bloody shoes" shout-out — teamed up with his old friend of two decades, the producer and art collector (and husband to Alicia Keys), Kasseem "Swizz Beatz" Dean, to execute a supper party and immersive exhibition for the Jamaican-born visual artist Ebony G. Patterson's ...while the dew is still on the roses...
The celebration featured music by Paris-based DJ Louise Chen and a special performance by the genre-bending, self-described "TrapHouseJazz" musician, Masego, who inspired a little performative FOMO for Swizz, as Mr. Louboutin himself witnessed. Patterson, the night's featured artist, lives (in some respects) in the same creative universe as Kehinde Wiley, Mickalene Thomas, Rashaad Newsome, Aaron Fowler, and Amy Sherald, as it explores the always-shifting idea of youth culture, with a clear emphasis on pageantry and the nature of beauty, while operating expressively within the intersectional paradigm of people of color and those along the queer spectrum.
It makes sense that Christian Louboutin, who first fell in love with Patterson's complex but vibrant work on a tour of Swizz' growing and certainly impressive "Dean Collection," would double down on Patterson's efforts, especially at Art Basel Miami Beach (In 2009, Louboutin opened a store in the city's design district). In the late 1980s, just a few years before launching his now powerhouse company (in 1991), Mr. Louboutin actually bowed out of fashion to explore landscape architecture and remains something of a gardening connoisseur to this day.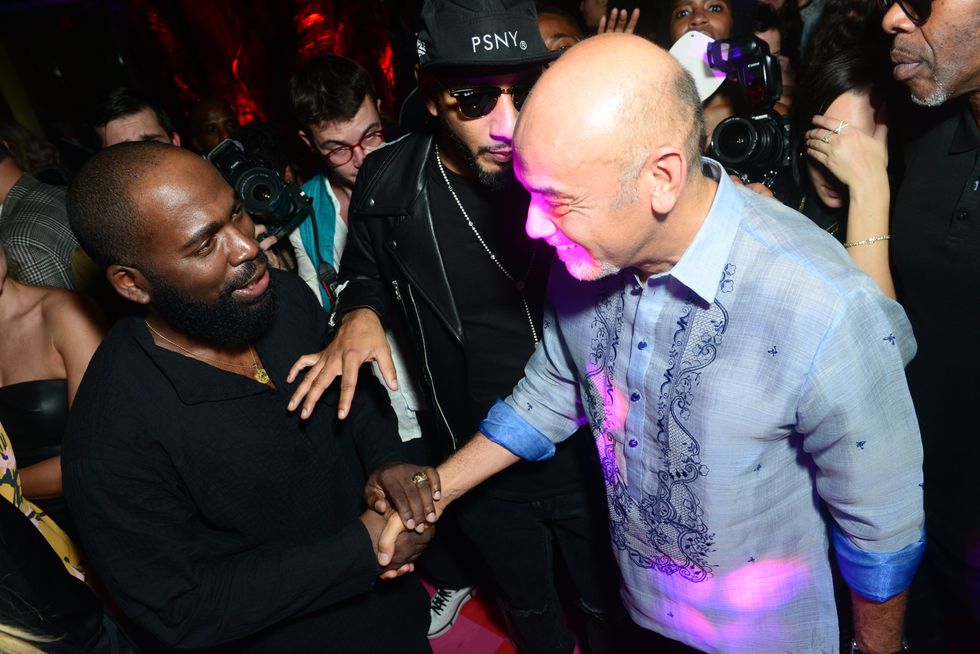 Patterson's exhibit at the Pérez, her largest to date, like much of her previous work, plays with texture-costumes, textiles, found objects, and in this case, smell and multi-media dimensionality. Her exhibit was an over-the-top floral explosion — a direct gambit for complete sensory overload, intent on providing a luscious, but perhaps fleeting, multi-colored foundation for young people across the globe navigating an oppressive socio-political landscape, as well as an otherwise grim concrete jungle. The title could mean: let's help young people, the marginalized of the world, the "at risk," maintain their innocence, much like the pristine shimmer of morning dew.
Fashion, perhaps even more so than contemporary art at the moment, has seen itself back at the forefront of social justice conversations. Victoria's Secret, of course, is struggling to maintain relevance and industry supremacy in light of their Chief Marketing Officer Ed Razek's comments regarding the inclusion of trans models (who he referred to as "transsexuals") and also, diverse body types. More recently, the Italian luxury fashion house Dolce & Gabbana took a hit when they produced an ad campaign that was absurdly offensive to Chinese people. This was followed up by some ignorant tweets and a half-assed apology. These missteps, accentuated by major players at the top, has spurred a larger debate regarding the uncontested leadership at various houses, and whether or not a particularly blunt sassiness, wrapped up in a deeply engrained "cult of personality," still has its place in the highly social and very public, global cultural sphere.
Not one to shy away from a good conversation, PAPER was lucky enough to chat with the man himself, the highly independent and outspoken Christian Louboutin, (who ran away from home at 12 and never really looked back), regarding this recent shift in perspective, the importance of sensitivity and accountability, and how designers have a responsibility to somehow remain true to themselves as much as the brands they're famous for creating.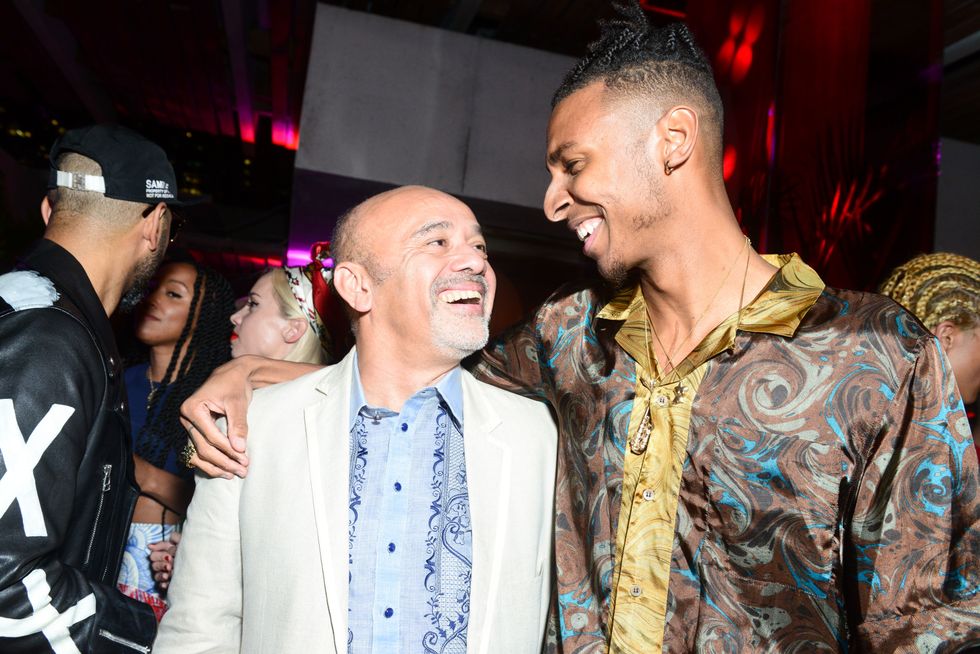 How was last night?

Very, very nice. I'm very happy actually. Not that I was worried, but you never really know.
What about Ebony G. Patterson? Was she having a moment?
I'm really happy for the [Pérez] Museum and for Ebony and Franklin [Sirmans], the director of the museum. They all did a lot of work. It was a really great party and the show was strong, powerful and very beautiful, I was so happy to support it. It meant a lot to me.
The flowers and floral arrangements were a big part of the exhibition. I know you have a history with gardening and landscape art. What did you think of all the flowers?
Absolutely. I liked that she has this big engagement with flowers. It's something I always loved. At first, it all appears decorative, and that's ok, but really, she's hiding a real, powerful statement and presenting nature, and the people within it, from a different perspective.
Do you have a favorite flower?
There is one that I really like, Striped Triumph Tulips, because you see them in a lot of 16th and 17th century still lifes, in Belgian and Dutch art. They're very unnatural, which I love. I love it when nature doesn't look so much like nature but something surreal. Also Sunflowers, because some flowers aren't always to be loved only by their looks, but by their smell.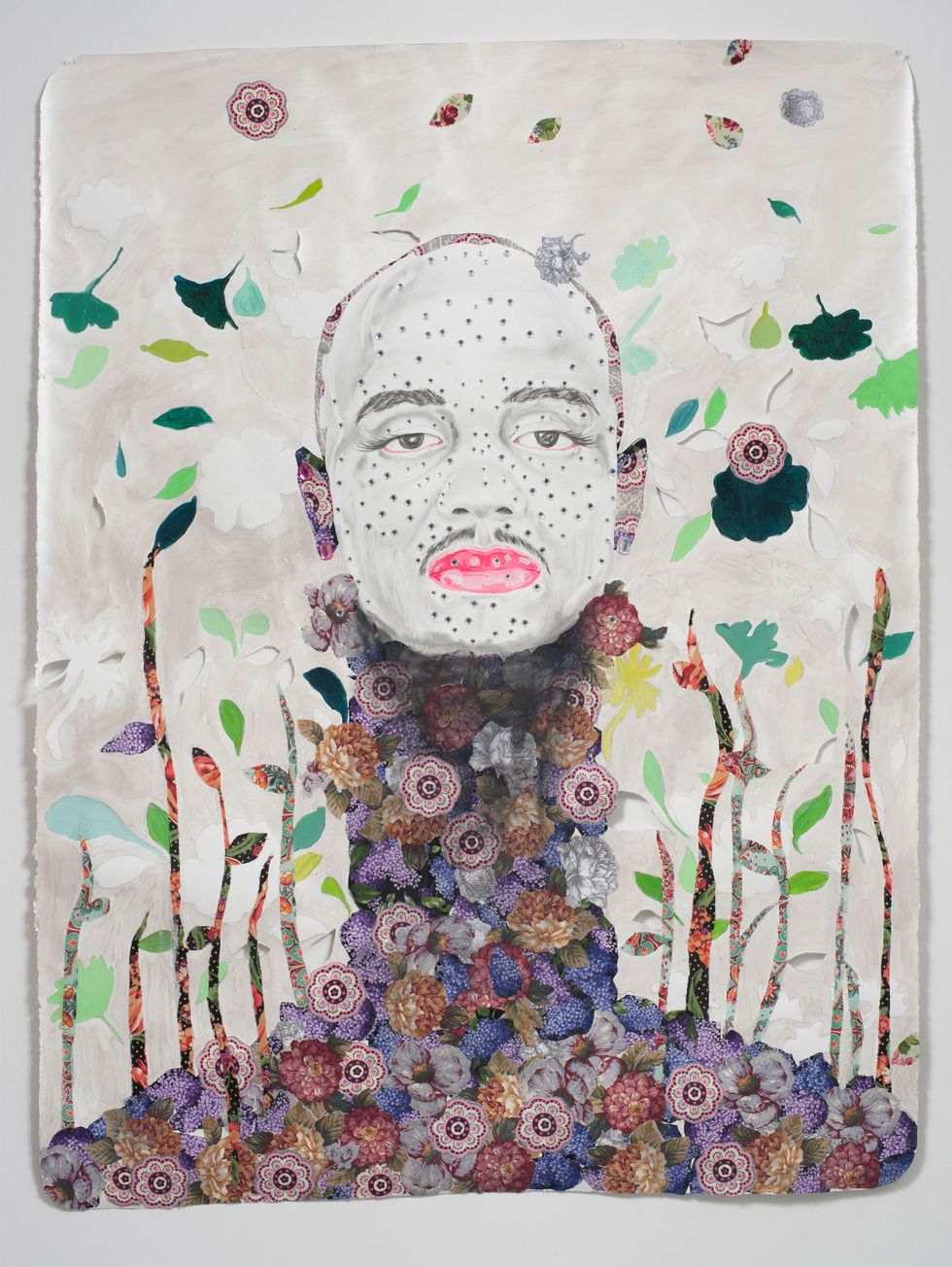 Ebony G. Patterson. Untitled Species VIII (Ruff), 2012. Mixed media on paper, 65 3/4 x 50 inches. Collection of Marti and Tony Oppenheimer, Beverly Hills, California. Courtesy of the artist and Monique Meloche Gallery, Chicago
I know Andy Warhol's "Flowers" (1964) inspired your shoes. He's having a moment in NY with a big show at The Whitney and in the Calvin Klein lobby in a partnership with DIA. Any thoughts on Andy?

Andy was very much the Pope of Pop Art in a way. His work was always with me in an unconscious way, but in 1993, I started to design shoes that were really full of bright colors. Andy, at the time, showed me what you can do with black and how it could really make other colors, especially like flowers, which were made to catch the eye, pop off. That was how I decided to paint the sole red. He was a very important reference.
I know you've collaborated with Swizz Beatz in the past, you partnered again for the show last night. Why do you like working with Kasseem Dean?
You know, we've known each other for such a long time.
When did you first meet?
We first met 20 years ago in Miami, on the boat of a loving friend, Loren Ridinger. He asks me to do things, I ask him to do things, but always on a friendly basis.
He's a fascinating guy. Have you had a chance to see his collection?
Absolutely. Actually, the first time I became familiar with Ebony Patterson and her work, was with Swizz. He's a big collector of her work. I just fell in love with it, right away. That's why I said to him, "Hey man, you have to be a part of this thing."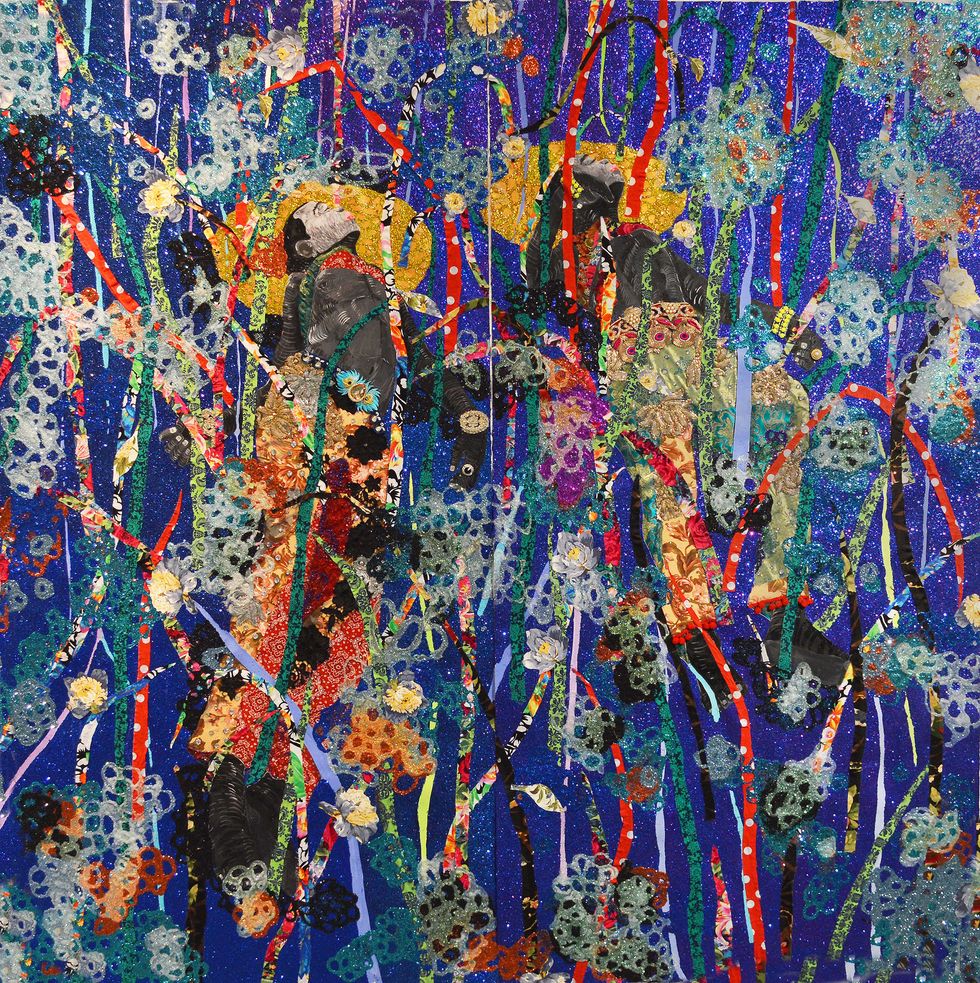 Ebony G. Patterson. wata marassa-beyond the bladez, 2014. Mixed media on paper, 85 x 84 inches. Collection of Doreen Chambers and Philippe Monroguie, Brooklyn, NY. Courtesy of the artist and Monique Meloche Gallery, Chicago.
That's great.
There's something really nice about him, because he's doing a lot of things. He's very serious. At the same time, he doesn't take himself too seriously. For example, last night, when Masego was performing, Swizz was watching him and he said, "You know, when I was starting out, that's exactly what I was wishing to do when I got into music, I just realized that I was not talented enough."

[Laughs] Not in that exact capacity at least.
Right. He's not acting like he's major on every level, which makes him very, very smart.
I like what you said about Swizz being serious, but not taking himself too seriously. I feel like you could be talking about yourself. You have a good sense of humor. There's lightness, but directness to the way you think. Do you think it's difficult for fashion designers to be as sassy, blunt, biting and irreverent as they've been in the past?
There's been a big change with social media. You have to be very careful with the things you say. Sometimes being completely genuine is a stupid thing to do, you know? It's not really allowed anymore. I find it very, very sad. In the past, journalists might change something you said and twist it in a different way. Now, with social media, anything you say can be repeated, stressed and deformed, creating a big problem out of nothing. It's easy to criticize something or someone when you're anonymous and mean nothing to no one.
In the art world, we hear a lot about the "male gaze." Have you heard of this?

No.
It's sort of about women, primarily, being presented in an overtly sexualized manner, specifically for male enjoyment. You've mentioned that a lot of your shoes are specifically courting the male gaze, that the red attracts men the way it would a bull.
I don't fully understand this "male gaze." Also, I've been hearing a lot about "cultural appropriation." It's so crazy to me, the idea now that now people have to be apart of their own culture and we should not interpret things from another culture. Should no one outside of France wear denim because denim originally came from Nimes, a city in the south of France? Does this mean Americans can't wear denim anymore? The whole thing makes no sense. So stupid and so restrictive. Why should you not be allowed to do what you want with your hair? The Greeks appropriated colors and patterns that first came from Egypt. We have to look at all the people and all the cultures. Culture is about sharing values; this new thing is fascist and dangerous. As for men looking at women's bodies, what about men looking at men's bodies? I think all this negativity is just that, negative.
It seems like the shoes you make are empowering for everyone, at least for those that can afford them. They're something of a trophy, a statement.
Listen; when you do something and it goes in the popular culture, you can only be happy. It does still take me by surprise, like with the different artists. I could talk about Cardi B, but I could also talk about Embeudah Musik an African band, or the Russian group [Leningrad] who have that song ["Exhibit"], about painting the shoes. It's really funny. I'm just designing things, then after, it's what people do with it. It's their fantasy and I like to be surprised by their fantasy. What you do with it, it's yours.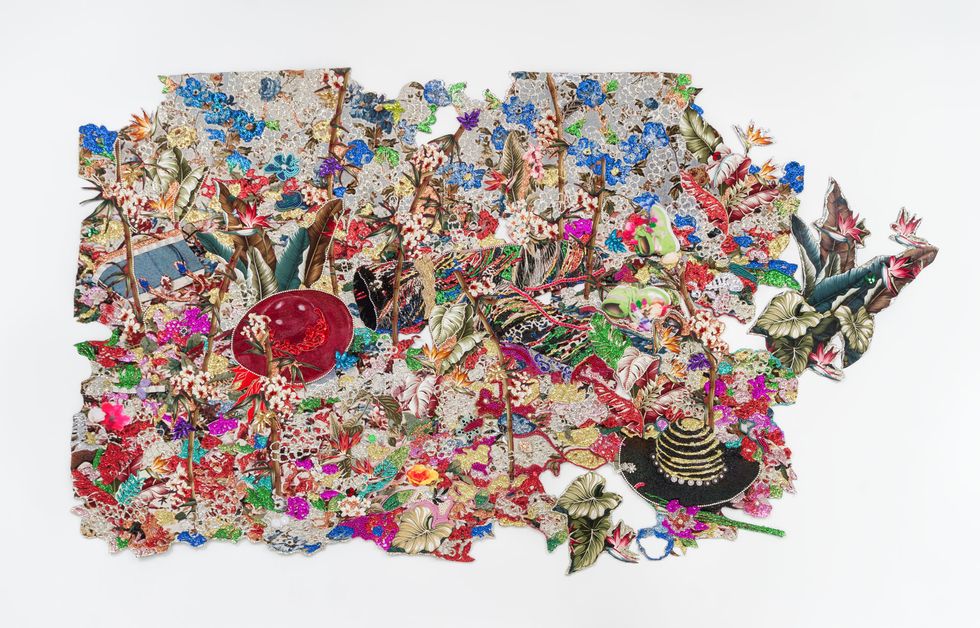 Ebony G. Patterson. found among the reeds-Dead Treez, 2015 (detail). Jacquard weave tapestry with handmade shoes, knitted leaves, and costume jewelry, 8 1/2 x 12 x 1 1/2 feet. Collection of Laura Less Brown and Steve Wilson, 21c Museum Hotel. Courtesy of the artist and Monique Meloche Gallery, Chicago.
Is there anyone throughout history that you would love to see in your shoes? Maybe Cleopatra?
No, not Cleopatra, because she was not such a great queen and Elizabeth Taylor did the job, so I'm bored of that. I have to say, because of the way she walked, especially from the back — Marilyn [Monroe]. She has the best way to put on the shoes, from the back. And also, someone else, when she's crossing her legs, and from the front, Marlene Dietrich. Then, I have this fabulous Egyptian Queen, not Cleopatra, her name is Hatshepsut. She was a woman that transformed herself into a male god. I should also add, my mother, because she died before I founded my company.
You had such a fascinating story, going out into the world at 12 years old. Is there anything style-wise, from your mother that made its way into the shoes or other products? Did she inspire you in any way?
She was very skinny, and always wearing these 1950s, tight, short pants. I don't know what you call them in American. What she really gave me was a sense of freedom. She was a very free spirit.
Are you hanging in Miami for a little bit?
I'm going to check out the store in the design district, but I'm also going to go to the Design [Miami] fair, as I'm more interested in objects than painting. I've been doing Art Basel since before it was in Miami, but in Switzerland only. Art Basel Miami is great, but unless you're a billionaire, you can't buy anything.
What can people look forward to, regarding the future of your line?
I like to deal with things my way and at my pace. I think I'm doing enough for me. And I don't have to answer to anyone, thankfully. I am lucky that way. I will never do clothing. I always totally decline. I have the shoes, I have men's shoes, and I have beauty. I like doing things like the party with Ebony, things outside of my web that can help other people.
Where are you off to next?
I head to NY for a meeting on Friday, but then I fly back to Paris to see this fantastic singer, Mariza, the best Fado singer from Portugal, a beautiful woman with the most amazing voice. She's the new Amália Rodriguez, the new face of Fado. She has African influences, because she's also from Mozambique. I can't wait to see that show.
Event photos courtesy of BFA/Madison McGaw
Sign Up For The Morning PAPER