Creating designs that fall somewhere in between "Studio 54 at 5 a.m.," glam rock and the sparkly school supplies of the 80s and 90s, British designer Christian Cowan-Sanluis has already made fans out of outré-fashion-loving celebrities including Lady Gaga, Miley Cyrus and Brooke Candy. And he only just graduated from the London College of Fashion a mere couple of months ago.
From his flame-emblazoned glitter bustier to a sparkly dress featuring Caitlyn Jenner to his wild "selfie hat" -- a collaboration with the electronics company Acer that went viral after it was sported by Gaga -- Cowan-Sanluis creates looks that are decidedly influenced by the internet culture he was raised on as well as the glimmering veneer of celebrity.
Below, we chat with Cowan-Sanluis about moving his brand from London to New York, his designs, and what's coming up next.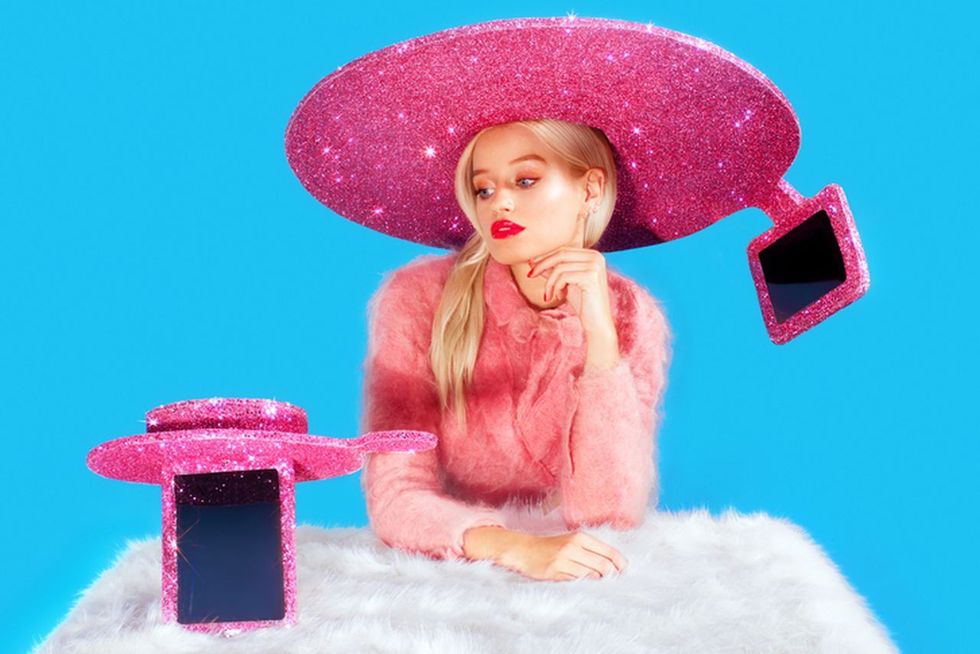 Cowan-Sanluis' selfie hat.
Congratulations on recently graduating! How does it feel?
I'm so pleased to be out. I'm really glad I did it but it was time to be free -- I've always known what I want to do so I found it frustrating having to wait. But school was also really helpful, especially on the technical side.
What was it like to still be early on into your course yet your pieces were blowing internationally?
It was fun but it totally distracted me from University. I would be missing deadlines because I was making customs for Gaga or meeting with Acer to collaborate. So it was fairly awkward playing that balancing act. The press from the Selfie Hat was particularly crazy. It was surreal to wake up and head to class and see that Vogue was tweeting about me, and 50 Cent was wearing the Selfie Hat on NBC.
Tell me more about collaborating with celebs? How did that come about?
Miley, for example, happened because I made a custom design for a shoot of hers, and she loved it so much I got an email asking if I'd do some of her tour looks. Gaga got in touch through seeing my work on Instagram. The highlight is seeing their fans reactions, too -- I love seeing fan art of my outfits. And their reactions always crack me up -- they either love it or are just like "what the fuck."
Did you imagine yourself as a designer?
I wanted to be an entomologist. I was so obsessed with insects' crazy forms and color, but when I entered my teens I was super into music videos, in a big way. I also spent my whole life online and on my xbox -- I grew up in the middle of nowhere, so the internet was a form of escapism. I was obsessed with Legally Blonde, Courtney Stodden, Dolly Parton and all those women who especially dig drag.
What are the inspirations behind the latest AW16 collection. What are some of your favorite pieces?
When I design I don't like to have a very strict narrative. I find that restricts me and makes it feel a little stale. However this collection had the idea of pride within the LGBT community and bigger themes that pop up in our lives, from sex to our jobs to the idea sharing and friendship. I love the glitter fishnet looks and the Caitlyn Jenner dress. That took so long to make – I made it using layer upon layer of glitter on her Vanity Fair cover.
How has your work evolved and changed since you started designing?
Well, having a much better understanding of the technical side of things has really informed my ideas. It better allows you to design knowing what is actually possible and how draping works.
How do you find the balance between creativity and commerciality. Is that something you struggle with at all?
It's so hard. And I'm sticking more on the creative side for now.
My designs are often pretty outrageous or sexual, I could funnel that easily into something more wearable, but it's just that I don't want to yet. That time will hopefully come soon, but I'll always keep those more 'fantasy' looks.
You're in the process of moving you and the brand from London to New York. What will you miss about London? What sort of influence do you think being in New York will add?
London is the best. I've had such an amazing time there and, who knows, maybe I'll be back. But for now I feel like my market is state side. I've always felt much more at home in New York, LA or Miami, too.
London has such a unique creative world – it's incredibly open to new perspectives. As far as New York goes, I'm just really excited for everything to be new. I get bored easily, so I'm looking forward to having a whole new city to tackle. I also have a bunch of really exciting plans that will be happening over the next coming year, so it should be an ace experience.
What can we expect from your upcoming collection?
I'm so excited to release the collection; it's so much better than my previous ones. I'm trying to push myself each time and really up the craftsmanship, consideration and just generally make it more awesome than the least. I'm playing with loads of my favorite materials but in new ways. I'm introducing new silhouettes, but my crop tops and high-waisted trousers will remain.
If you could, what advice would you give to your younger self?
I'd tell my younger self to invest in Google, Instagram and Uber.