While it's anyone's guess how you can make R&B music without knowing who Robert Glasper is, Chris Brown has shown it's certainly possible.
Last night, Brown took to Instagram after he lost in the Best R&B Album category, which Glasper won. In a series of Stories posts, he took a screenshot the Google Search results of Glasper's name with the caption "YALL PLAYING [laugh emoji] WHO DA FUCK IS THIS?" Brown also insisted that he will "keep kicking yall ass! Respectfully" and said he's going to start playing the harmonica, presumably mocking Glasper's skill as an acclaimed pianist.

By morning, Brown appeared to have recognized his mistake and posted a screenshot of an Instagram message sent to Glasper, who follows Brown on the platform.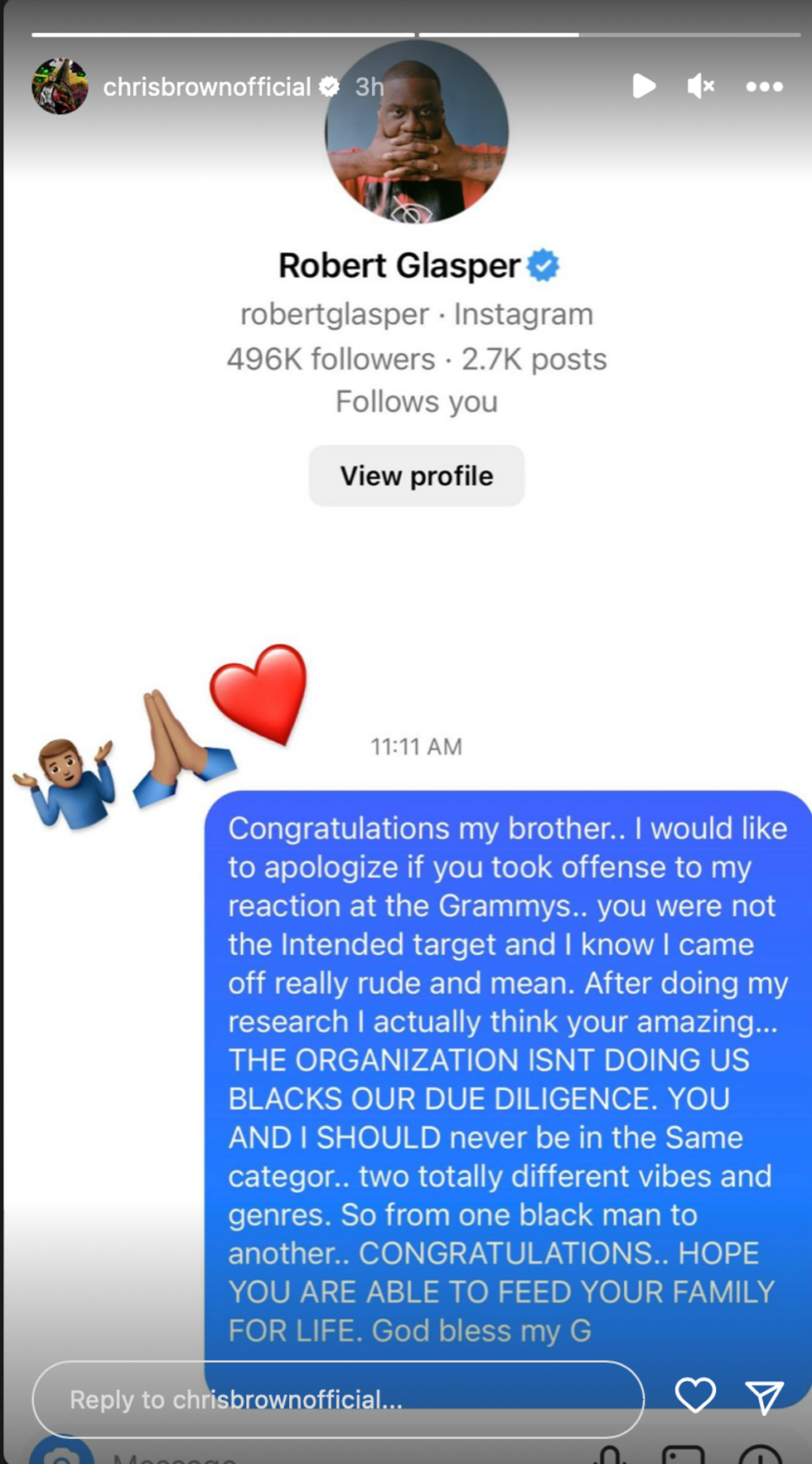 "Congratulations my brother," Brown's message reads. "I would like to apologize if you took offense to my reaction at the Grammys.. you were not the Intended target and I know I came off really rude and mean. After doing my research I actually think your amazing."
He further goes on to say that while he recognizes Glasper's skill, they should have never been nominated in the same category. Brown said that the two of them are "two totally different vibes and genres."
Glasper's 2012 album Black Radio garnered critical acclaim for its blend of his classical jazz training with R&B and hip-hop musicians. Its third installment, Black Radio 3, featured the likes of Killer Mike, Big K.R.I.T., Q-Tip, Jennifer Hudson and more. The album was nominated for Best Engineered Album, Non-Classical in addition to Best R&B Album, and Glasper took home an award for the latter.
Brown was nominated for his tenth studio album Breezy. He previously took to Instagram to complain about the lack of support the album received in the media. In a post to his Stories, he wrote: "July 8th [Breezy] deluxe album, not that [it] matters…SEEMS LIKE YALL ONLY INVEST IN THE NEGATIVE STORIES ABOUT ME. CHRIS GETS IN TROUBLE (THE WHOLE WORLD IS ON it). Chris drops album…[cricket emojis]."
Photos courtesy of David Vassalli and Chandler Allen
Sign Up For The Morning PAPER