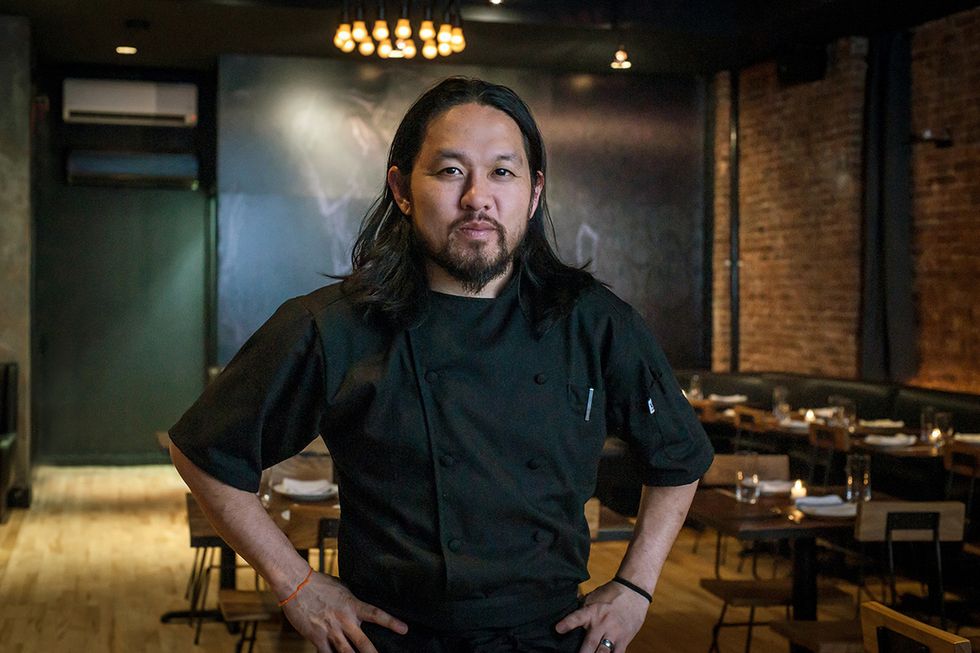 In a sexy Tribeca dining room, with exposed brick walls and black banquettes, hungry patrons reach into a basket of hot sticky rice and tear off a clump with their hands like it's a baguette. They dunk it into Bang Bang sauce, a racy condiment comprised of garlic, Thai chilies, sugar, lime juice, fish sauce and cilantro. This is how a meal begins at
Khe-yo
, the city's first shrine to Laotian cooking. The brainchild of executive chef Soulayphet "Phet" Schwader -- who partnered with longtime pal Marc Forgione for the culinary adventure -- Khe-yo showcases piquant dishes like laap-gai (a twist on go-to Thai dish larb) with Rock Cornish chicken, romaine hearts and toasted rice; prawns swimming in a fiery chili sauce accompanied by a slab of ginger-scallion toast; and meaty lemongrass Berkshire pork spare ribs. Here, Schwader, an alum of AZ, BLT and Kuma Inn spin-off Umi Nom, demystifies Laotian food and talks Kansas, mama's influence and old men's drinking habits.
So let's set the record straight: Is it Ley-oh-shuhn or Lou-shuhn?

It's not wrong either way, but personally I pronounce it Ley-oh-shun.
New Yorkers are smitten with Asian cooking of all stripes, but Laotian cuisine has never been at the forefront of restaurant kitchens. Why was now the right time for you to launch Khe-yo?
I was tired of working for other people. I didn't think it was possible to open my own place -- let alone a Laotian one in Tribeca -- but when I started thinking about a restaurant, I wondered, is it going to be Thai? Vietnamese? Thai restaurants have one hundred items on the takeout menu. No, I didn't want to do Pad Thai. Instead, I knew it should be what I have experienced. So, I took all the good memories of what my mom cooks for me and I'm staying true to those flavors. Really, I just want everyone to have a taste.
Although you were born in Laos, the strongest memories of your mother's cooking are from growing up in Wichita, Kansas
.
I came over from Laos when I was three. The Midwest is where the sponsors were; a business sponsored half of my family here. The Laotian community in Wichita is huge. We even had Laotian soccer teams. When I moved to New York in 1999, I asked, where are the Laotians? There was no sense of community, no restaurants.  At least the Thai grocery stores carried some Laotian products.
Did that immersive Laos-in-Kansas experience inspire you to become a chef?
I went off to college and that wasn't really working out, but I missed my mom's cooking. She and my brother would cook and I would wash the greens and clean the dishes. 'Hmm, I kind of like cooking,' I thought, but I didn't think it was Laotian dishes I would be making as a chef.
For all us Laotian food novices, what should we know?
The lowdown is sticky rice: it's part of everything we eat. Protein is never the main idea, but the greens and the herbs. I went back to Laos two years ago and did a food tour. It reaffirmed the brightness and freshness of the food -- the lemongrass, the abundance of greens and chilies. Every dish that comes out, it's not heavy. Growing up, we passed around different bowls of pho -- sour, spicy, plain. There is no wrong way of eating things.
What's the one dish Khe-yo diners shouldn't miss?
The crunchy coconut rice -- Nam-Khao -- with kaffir lime sausage is a great intro to Laotian cuisine. It's sweet, spicy and saucy. Our staple, Bang Bang sauce, is a palate awakener with the perfect flavors of sweet and sour.
There's an after-dinner drink on your menu, the Lao Lao Whiskey, which features Cognac infused with peaches, herbs and spices. Is that a take on a Laotian ritual?
Growing up, all the old Laotian men would sit around getting wasted. There was this clear plastic jug they would pass around. Everyone has a different version of it -- sometimes with a scorpion, sometimes with a snake. We incorporate the same idea, but by infusing Cognac with whatever ingredients are in season. Right now it's peaches, and in the fall we'll use apples.
Has your mom come to visit yet
?
Before the restaurant opened she came and told me how to make things. She's a home cook and I'm a restaurant cook, so we do it differently. 'Mom,' I'd say, 'I don't have to do it this way.' When she tasted the dishes she said, 'Are people really going to eat all this?' thinking it was too adventurous. She almost wanted me to water it down, but I wanted to sift through the flavors, translate it for people and show them this is how my mom cooked. When she comes back to New York and sees all the people eating, she's going to be happily surprised.
Khe-yo, 157 Duane St., (212) 587-1089.