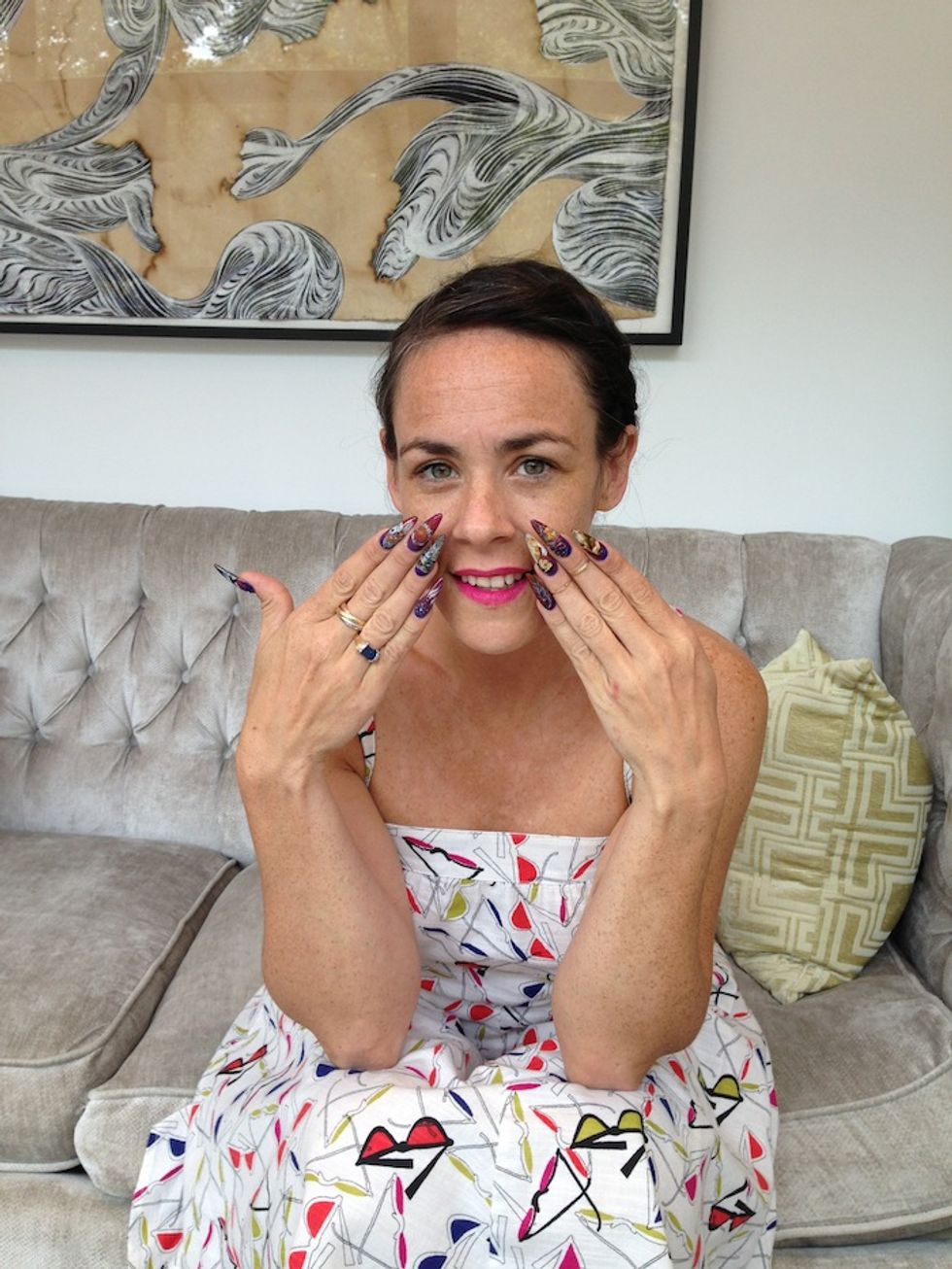 Rita de Alencar Pinto (Photo credit: Vanity Projects)
Though the nail art trend has been going strong for a while now, in New York City, it's recently entered a fresh iteration, thanks to LES nail salon-cum-art gallery,
Vanity Projects
. Founded by NYC-based curator Rita de Alencar Pinto, Vanity Projects, pardon the pun, puts the "art" in nail art. Hosting several in-house nail artists as well as a rotating selection of temporary residents, the salon exposes its clients not only to over-the-top nail designs but also to video art installations projected on screens, curated (for now) by Pinto. With previous pop-ups at MoMA PS1 and NADA Miami during Art Basel, Vanity Projects has allowed the manicure trend to branch out of its confinement on blogs, Instagram or fashion glossies and into the art world. The result? Now some of the same people raving, critiquing and reporting on the latest
Claes Oldenburg exhibit
or Ursula von Rydingsvard's
impressive new piece installed outside the Barclays Center
are getting their nails did. We chatted with Pinto about the salon, what it's like to enroll in nail school and where she thinks the trend is headed next.
How did you get into nail art?
I moved to New York in 2003 and I was working in art world branding and advertising for a couple of years before I started curating exhibitions. Around 2008 I realized that it was financially prohibitory to do independent curatorial work as a career so then I segued into thinking about more entrepreneurial ideas. At the same time I met Fleury Rose, who is now a huge female nail artist, but at the time was still out in Bushwick and together we started doing nails. I was inspired by the time it took to do the nails, and I thought "What could you be doing while you were waiting that was dynamic or cultural?" I thought about video art, a medium that's easily exchangeable. You can get galleries and artists to loan video easier than you could a painting or sculpture. Also video is just a medium that I love and one that artists are using more and more so I wanted it to be a space where you could be relaxed and open to watching video.
I started hosting parties through art world friends to test out the ideas and it proved to be successful. And then we were invited by organizations to participate in their programming -- we did NADA in Miami and it was there that I met Angela Goding from MoMa PS1, the director of development there. We were residents at MoMA PS1 from January-March and it was hugely successful. And then after that I finally had my financing together and found my space, which inevitably was the long-term goal. We opened July 1st , so we've be open for about two months, and I have a great roster of artists working with me. My goal was to take the nail art trend and elevate it without it being gimmicky. The art world really is very picky. If you were going to do something off the beaten path it has to be executed in a certain way to get legs.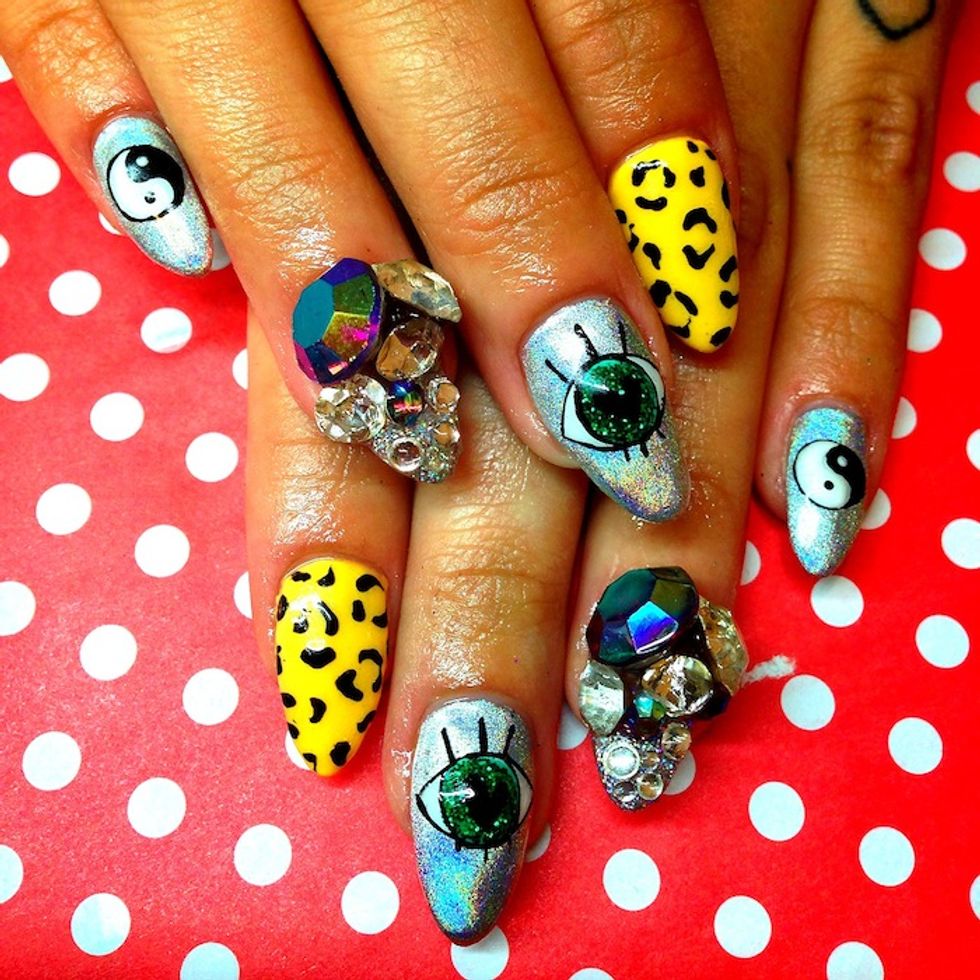 Nails by Britney Tokyo (Photo courtesy of Vanity Projects)
Aside from having an interest in nail art, did you have any experience doing it?
I am not a nail artist but I did go to nail school. It was, like, the craziest experience of my life. It was mind-numbing. Every day from 9-5 for three months, I'd be filing nails on a mannequin and getting tested. It was basically like a
Twilight Zone
experience.
Why 'Vanity Project'? 
The choices when it comes to naming something in the art world is always either your name or something with "project" and I didn't want it to be my name. That's not my focus. 'Vanity Project' is a twist on the pun, and then also it being a nail salon. I wanted to have fun with it as well as being rooted in an art world tradition.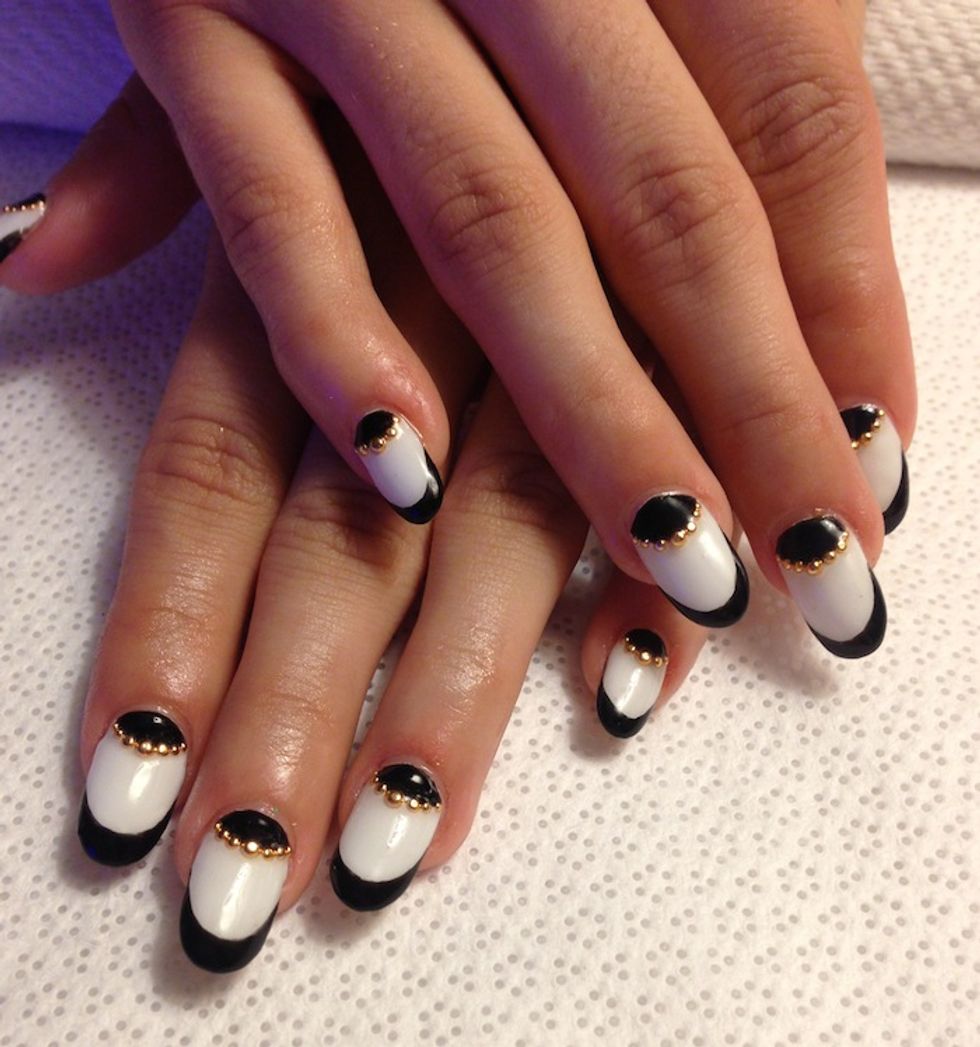 Nails by Nail Swag (Photo courtesy of Vanity Projects)
What are some of your favorite designs that Vanity Projects has done for clients?
We did a Mara Hoffman-inspired nail that was just fantastic. I loved our My Little Pony nails with massive gems on them. Recently we did a Surrealism-themed party for Performa and the girls came up with these crazy Magritte and Dali-inspired designs. My hands were already covered, so of course the next step was to go for my toes. The nail artist was able to get the
"Ceci n'est pas une pipe"
on my toe! I also love the [Yayoi] Kusama nails -- anything that can translate graphically.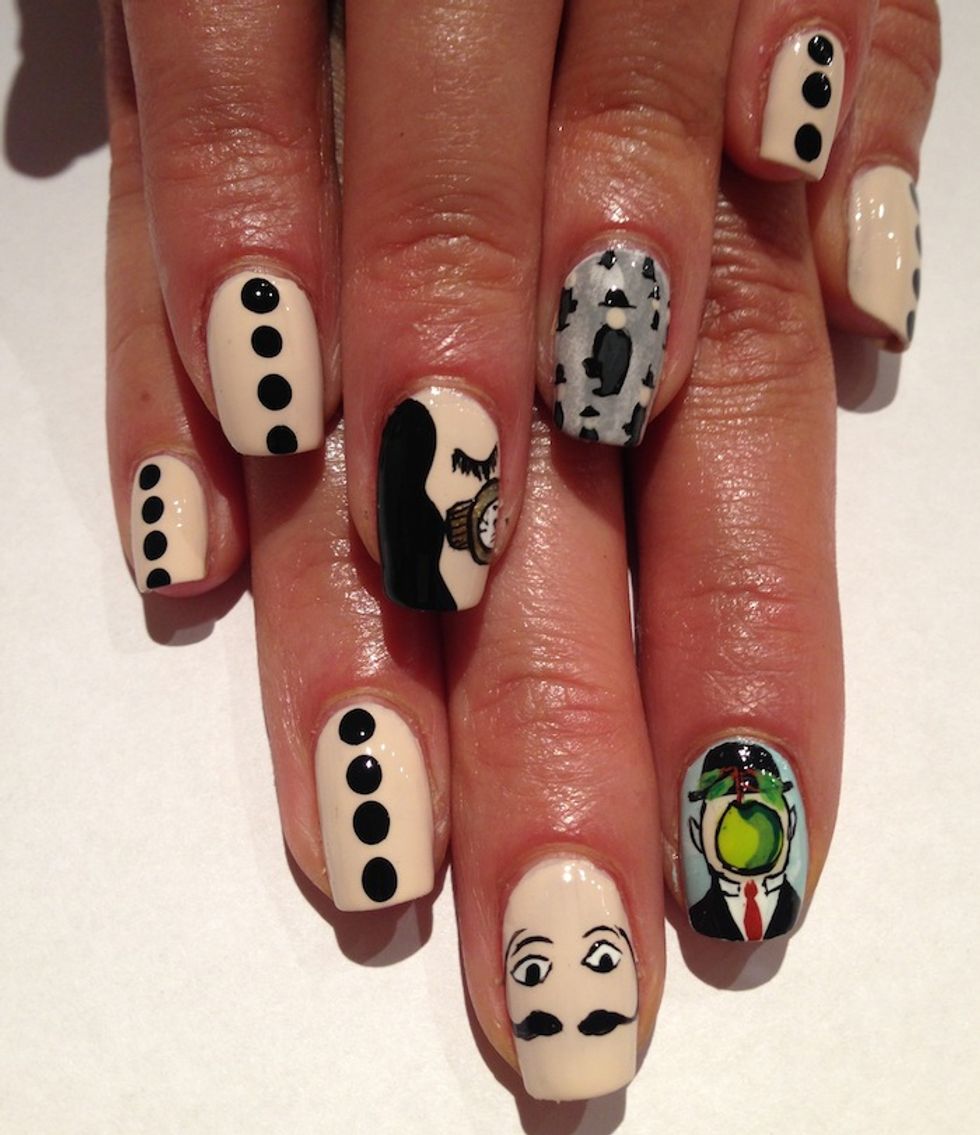 Nails by Raqstar (Photo courtesy of Vanity Projects)
Tell us more about the nail artists that come through.
Right now I have Raqstar Nails, a Puerto Rican artist based in New York. She is very talented. I have another artist named That Jane who's really great at Lichtenstein nails and hand-drawing things. And then I have Mr. Luis, he's being doing nails since he was 11 years-old. I also have a Japanese artist named Miku Tsutaya who specializes in super, super long Geisha-style nails. I like that each of them have a different facet. I also have my Artists-in-Residency program -- I Hana 4 coming from Tokyo on September 5th for three months. Later in the fall we have Regina Rodriguez, a nail artist called NailGurlNYC who specializes in 3D insanity. If you look at her Instagram, you'll see a 3D afro Hello Kitty with a hairpin in her hair. It's a 3D sculpture! She also did one that was a cow drinking out of a carton of milk with an Oreo sticking out of the backside of the cow -- it was all done with acrylics.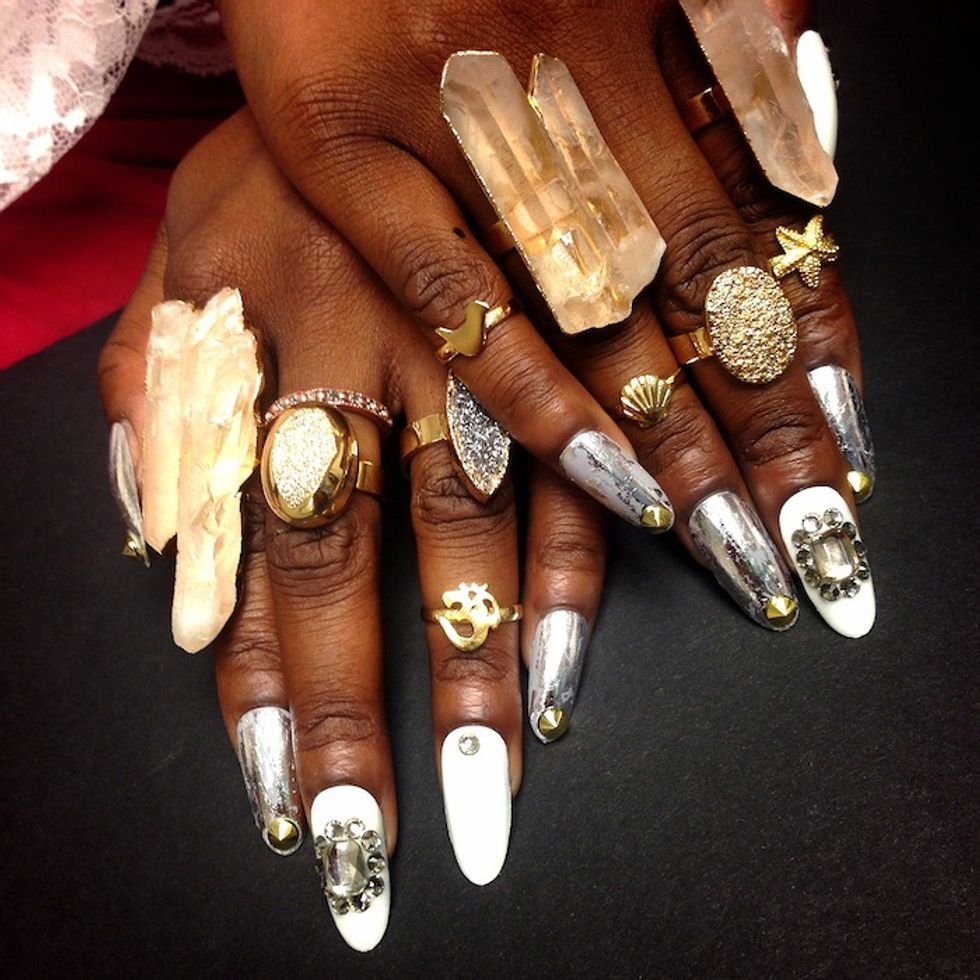 Nails by Britney Tokyo (Photo courtesy of Vanity Projects)

And what about the video artists?
Last month I curated an exhibit by Filet de Peixe, a really crazy collective I found when I was in Rio de Janeiro a couple of years ago. They've gone out and pirated the last forty years of video-making and made copies of videos and then sold them on the streets, just like you'd find on the subway here, only its video art and almost like a performative practice. This month I have 10 female video artists in an exhibition I curated called
Girls, Girls, Girls
with Keren Cytter, Shannon Plumb, Shana Moulton, and others -- all artists whom I've been super inspired by. The program is funny and sexy and explores the facets of the female persona.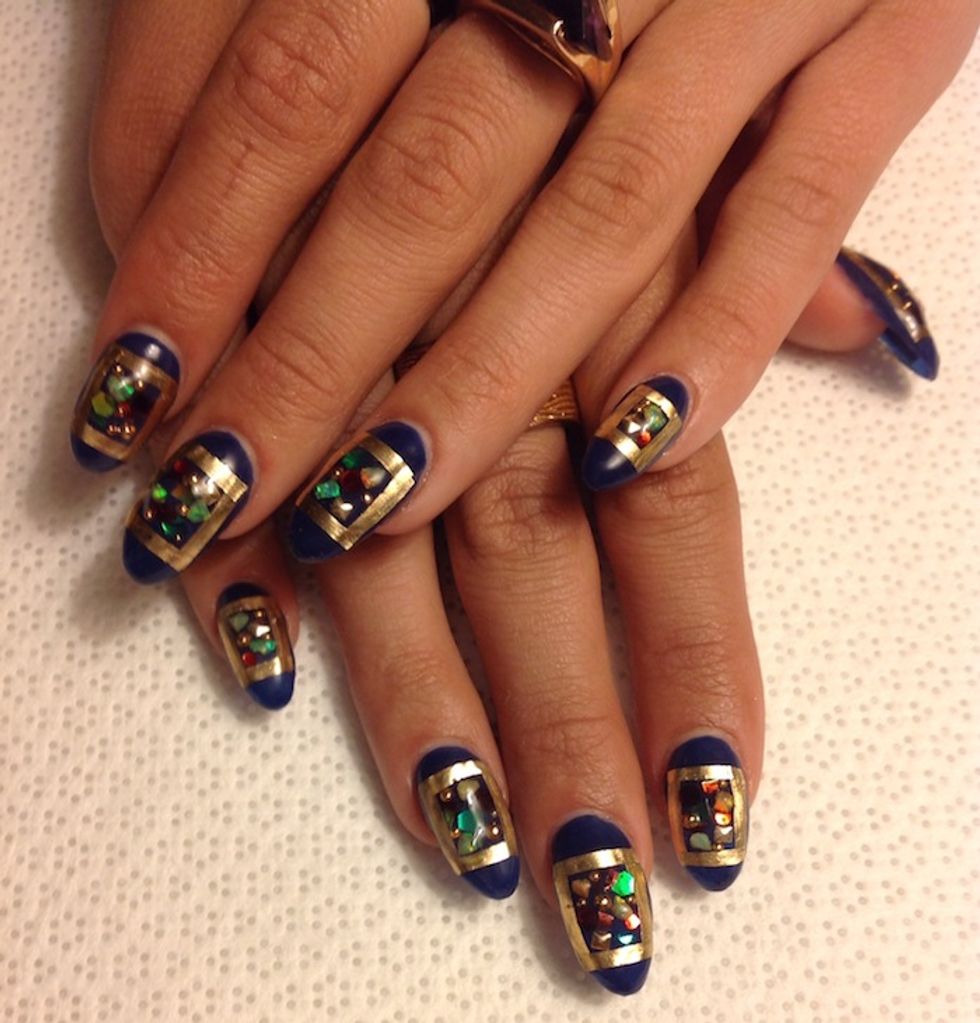 Nails by Nail Swag (Photo courtesy of Vanity Projects)
What are some of the nail trends you're interested in this fall?
I'd say our newest trend is the negative space manicure, where your natural nail is showing in part of the design. Then also the iridescent nail is a big trend and then obviously gems. One trend we just discovered is galaxy pedicures and doing a flip where we do four toes with the same designs and then the big toe another color and then pick it up on the foot. I think that's something people will really get into. Who ever thought you could reinterpret a pedicure? It's pretty mundane. I guess I've now run out of surfaces to do nail art on!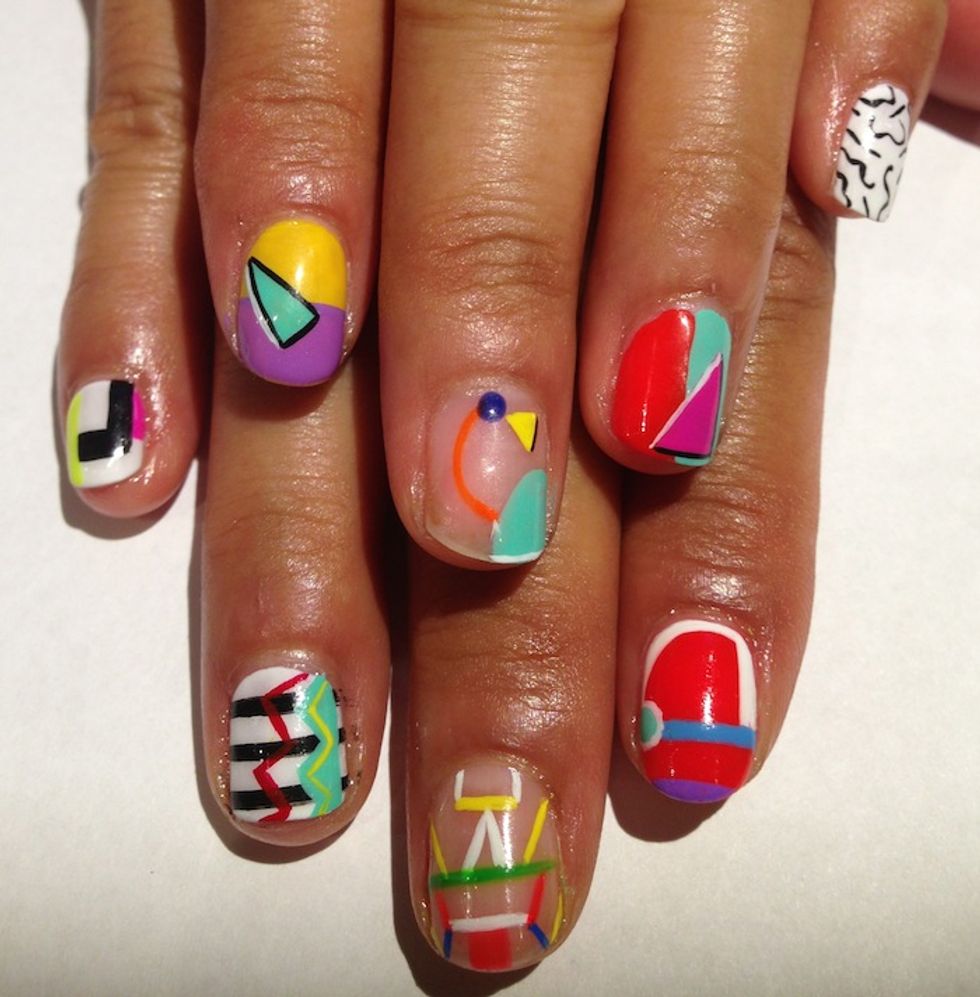 Nails by Raqstar (Photo courtesy of Vanity Projects)
Vanity Projects is located at 99 Chrystie St., and is open daily from noon-8pm and will be open from noon to 10pm during New York Fashion Week  (9/5-9/12) with the following artists-in-residence: Nail Swag, Britney Tokyo, BK Ruby, Spifster and Hana 4.