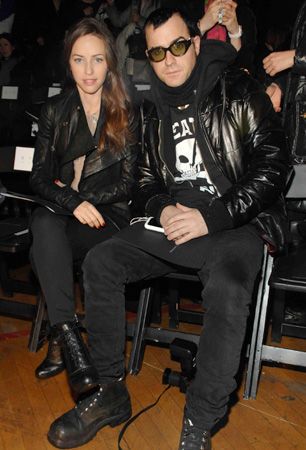 Sexy actor
Justin Theroux
will be directing the sequel to
Zoolander
, the film that poked fun at the world of modeling starring the pint-sized
Ben Stiller
as a male supermodel. We chatted with Justin, who was at the Viktor & Rolf show his longtime ladylove, stylist
Heidi Bivens
, about the upcoming film.   
Justin, you're going to direct the Zoolander sequel. Does it have a name yet? Zoolander Too?   
Toolander. Until we have a better name we're going to call it Zoolander 2.    
Are you doing research here? I know you're quite a fashion fan.
I like the fashion. Yeah I'm doing research.    
Has Heidi had to sneak you into shows because people are afraid of this kind of thing after the movie Bruno made fun of the fashion world?    
Noooo. We're not trying to do anything mean or avant-garde. People in the fashion industry like the movie I'm discovering.       
Have you seen anything so far that's going to inspire you for the movie?    
What's inspiring me is usually what's happening just outside the fashion show or the parties. That's where you get the most eccentric people and characters and you get to talk to them.    
Hellllo! Olivier Zahm (editor of Purple Magazine and well-known heterosexual horny dude) would be good to have a cameo or be an entire character. 
Olivier is fantastic. I would love to get some version of him in the movie. He's just great. Super cool and super funny and amazing.    
If Heidi saw the script and said if you do a scene that makes fashion look bad I'll never have sex with you again, what choice would you make? Are you a filmmaker first or a horndog? 
I'm a horndog first and then a filmmaker first and half.