Oscar-winning actress and South African native Charlize Theron spoke during the opening ceremonies of the 2016 International AIDS conference.
She offered up a simple but gut-wrenching opinion on why the disease continues to ravage the African continent, despite modern medicine's updated means of prevention and treatment.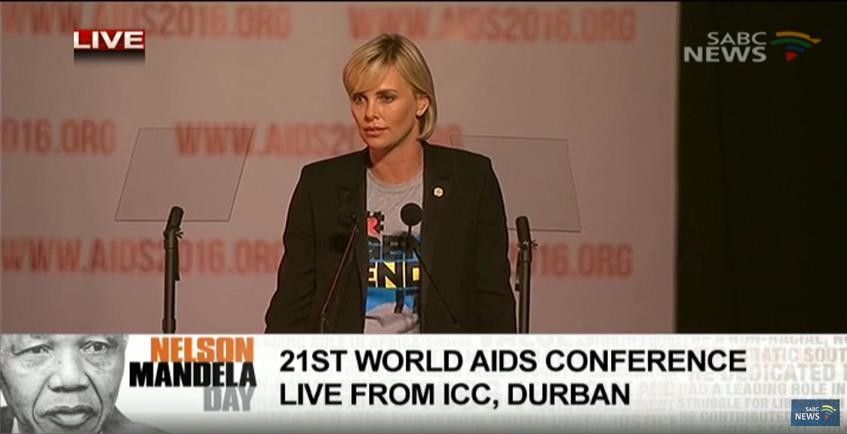 Theron, who founded the Charlize Theron Africa Outreach Project in 2007, laid out the hard facts for the audience:
The truth is, we have every tool we need to prevent the spread of HIV: condoms, PrEP, PEP, ART, awareness, education. And yet 2.1 million people — 150,000 of them children — were infected with HIV last year. In South Africa alone, 180,000 people died of AIDS last year.
Charlize continued:
The real reason we haven't beaten this epidemic boils down to one simple fact: We value some lives more than others. We value men more than women. Straight love more than gay love. White skin more than black skin. The rich more than the poor. And adults more than adolescents.
She touched on the equalizing horror of the disease at its core:
I know this because AIDS does not discriminate on its own. It has no biological preference for black bodies, for women's bodies, for gay bodies, for youth or the poor. It doesn't single out the vulnerable, the oppressed or the abused.

We ignore them. We let them suffer, and then we let them die.
As recently as today, UNICEF confirmed that HIV/AIDS is the greatest killer of African children, aged 10-19; sub-Saharan Africa accounts for 70% of the global population of people living with HIV, and 1 in every 25 adults have contracted it; three out of every four adolescents newly infected with the HIV are female.
Watch Charlize's powerful speech below: