For our new digital cover series Takeover, we chose five of our favorite women who're making a significant impact on the music industry right now. Charli XCX, the hitmaker turned underground pop auteur, is building a cult-like community around her inclusive, new music. Today, she'll be taking over PAPER with guest edited pieces and appearing on our Instagram.
The key to understanding what makes Charli XCX such a revelation in the world of pop music is that unlike so many before her, she knows exactly when to step out of the spotlight. "I don't think that I could be the artist I am without collaboration; I don't need to take center stage at all times," says the British singer/songwriter as she reflects on how things have changed for following the massive success of her two 2017 mixtapes, Number 1 Angel and Pop 2. "I love it when CupcakKe comes to one of my shows and the crowd goes absolutely wild. I'm not mad or jealous, I'm just so excited to be there watching her."
The same can be said for almost any one of Charli's numerous collaborators from Brazilian pop star Pabllo Vittar to the cerebral-yet-whimsical gender-fluid iconoclasm of Dorian Electra to the underrated genius of producer SOPHIE. "I feel so happy that I can call all of those artists my peers and that we are all doing something together, " she marvels. "It feels like a very fun moment in pop culture and music that I'm just so happy to be at the center of."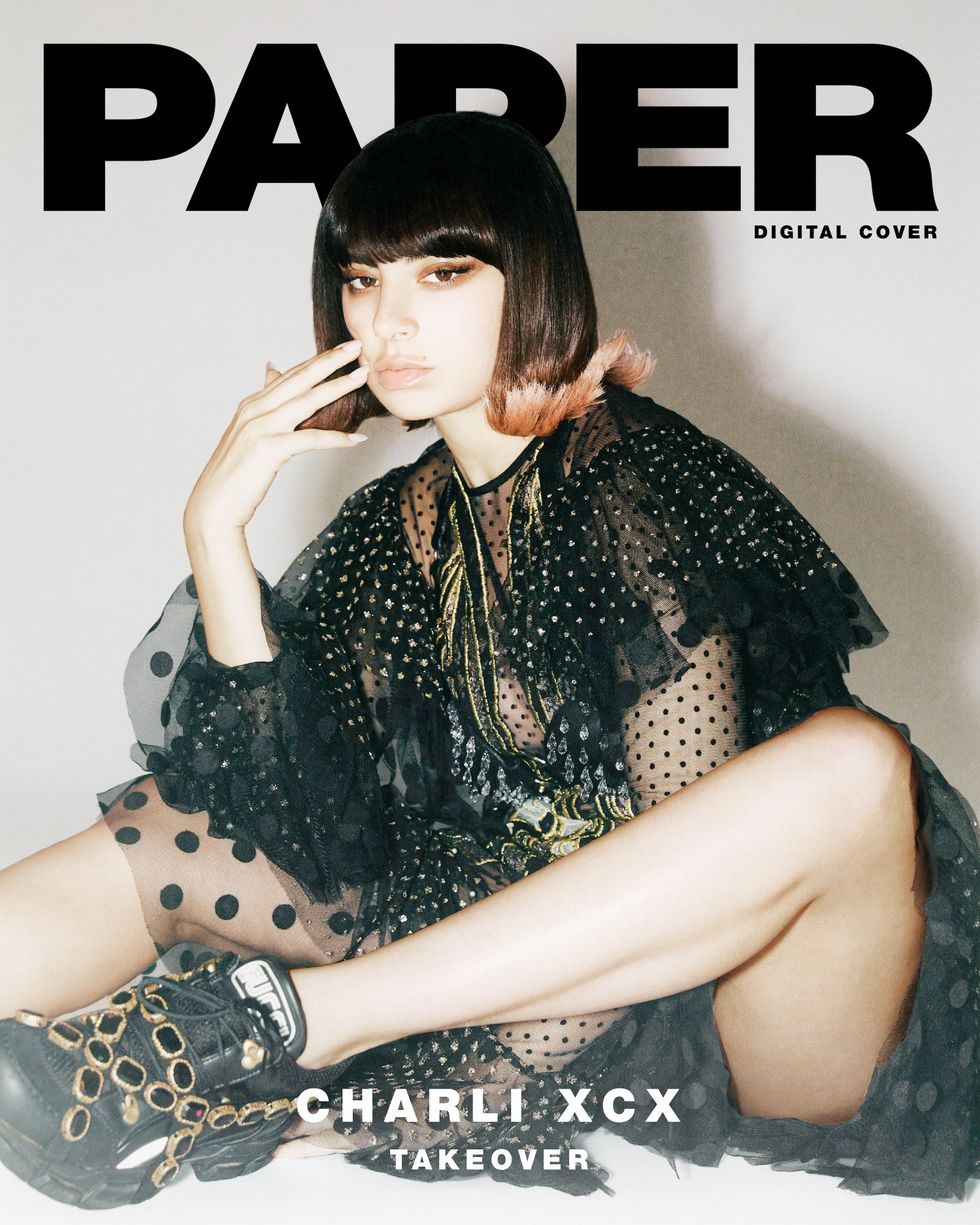 But it was a long road to get to the point where Charli is at today. Before falling in with the likes of hyper-gloss pop collective, PC Music, and linking up with producer A.G. Cook, Charli struggled to find her own voice amid a perpetually crowded field. As Charli explains,"There's always been this storyline about me in the media as like 'the feature,' 'the support act,' 'the girl who wrote Selena Gomez's song,' rather than the main event. I think that was always something that sort of bothered me." Sporadic success with chart toppers like "I Love It," "Fancy," and "Doing It" proved that Charli was more than just a one-hit wonder but also managed to keep her in the shadow of her collaborators.
It wasn't until 2016's Vroom Vroom EP with SOPHIE, where Charli decided to forgo pop convention and embrace the sounds of London's electronic underground. As she tells it, Vroom Vroom was when things all finally started to click and she began to surround herself with a community of artists who were just as enthusiastic about rave sounds and pop music as she was.
"Even when I was younger, I was making music while I was in school and I would go on the weekends to play shows in London and play at raves but it was very separate from my school life," she says. "I had my school friends, and they were great, but they weren't really involved in my music. It was kind of like living a double life."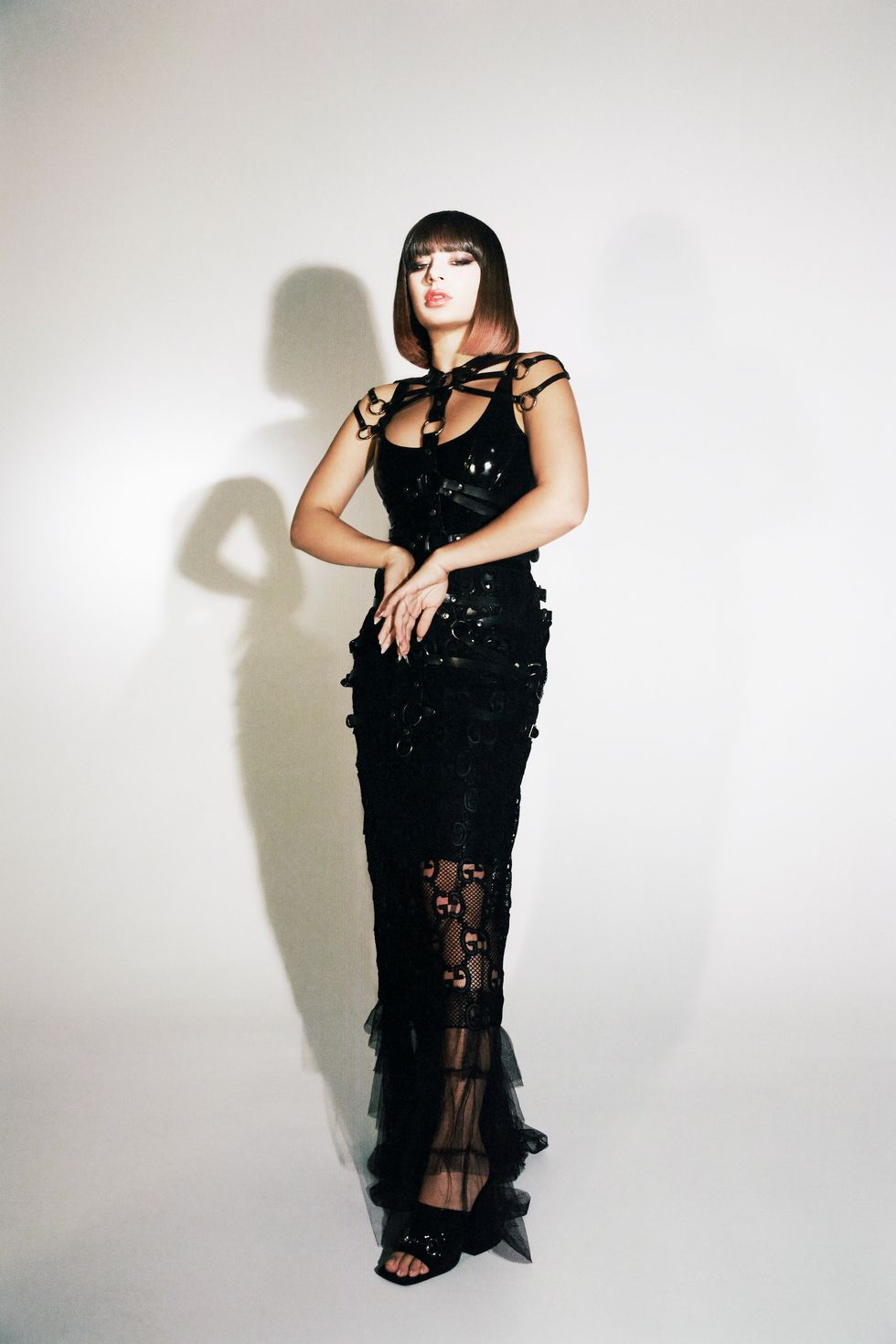 Harness: Zana Bayne, Corset: Honor (Max Black), Skirt & Shoes: Gucci
She continues, "I had always been behind the scenes curating in terms of curating rooms for production and putting different producers together and putting different writers together but I never really thought about that in terms of artists collaborating. I think when I really found my stride, and my confidence through SOPHIE and A.G. [Cook], it just began to be so obvious to me that I am a really good curator and collaboration is so key to everything I do."
Pivoting drastically to such a different sound, one that her fanbase was likely not already acquainted with, was a huge gamble, but it clearly paid off. The 'features artist' had in the process discovered that her strength lied in knowing which musicians to bring together under the same roof and how to bring out each one's potential.
"It really is like a vibe, I only want to work with artists that I think are unique," Charli says of her approach to working with artists. "I think all of the artists I work with can't be replicated." And Charli draws inspiration from all over whether its calling on long-time friends like Tove Lo or Alma for Pop 2's "Out of My Head" or being introduced to Pabllo Vittar by Brazilian fans playing her videos and then sliding into his DMs. "No one can do what SOPHIE does, no one can do what CupcakKe does. That's really how I decide who inspires me and who I want to work with."
In an age where new music discovery has shifted from radio DJs to algorithmically generated playlists, Charli's role as a curator may very well be the future of pop. The very titled, Pop 2, indicates a radical re-imagining of what we already know — a sequel to pop, an update, 2.0. Charli leaves her music very much open to anyone; on her Pop 2 tour she would frequently bring out local artists like Rina Sawayama, Banoffee, and Tkay Maidza to add their own verses to existing track when one of the mixtape's numerous featured artists couldn't make it. That ability of Pop 2 to be a work in flux and change with each show is an innovative fix to a logistical problem that still manages to prioritize the mixtape's strength, its collaborations. With artists from all genres, parts of the globe, and walks of life converging on Charli as the link between them all, Charli has become pop's event horizon.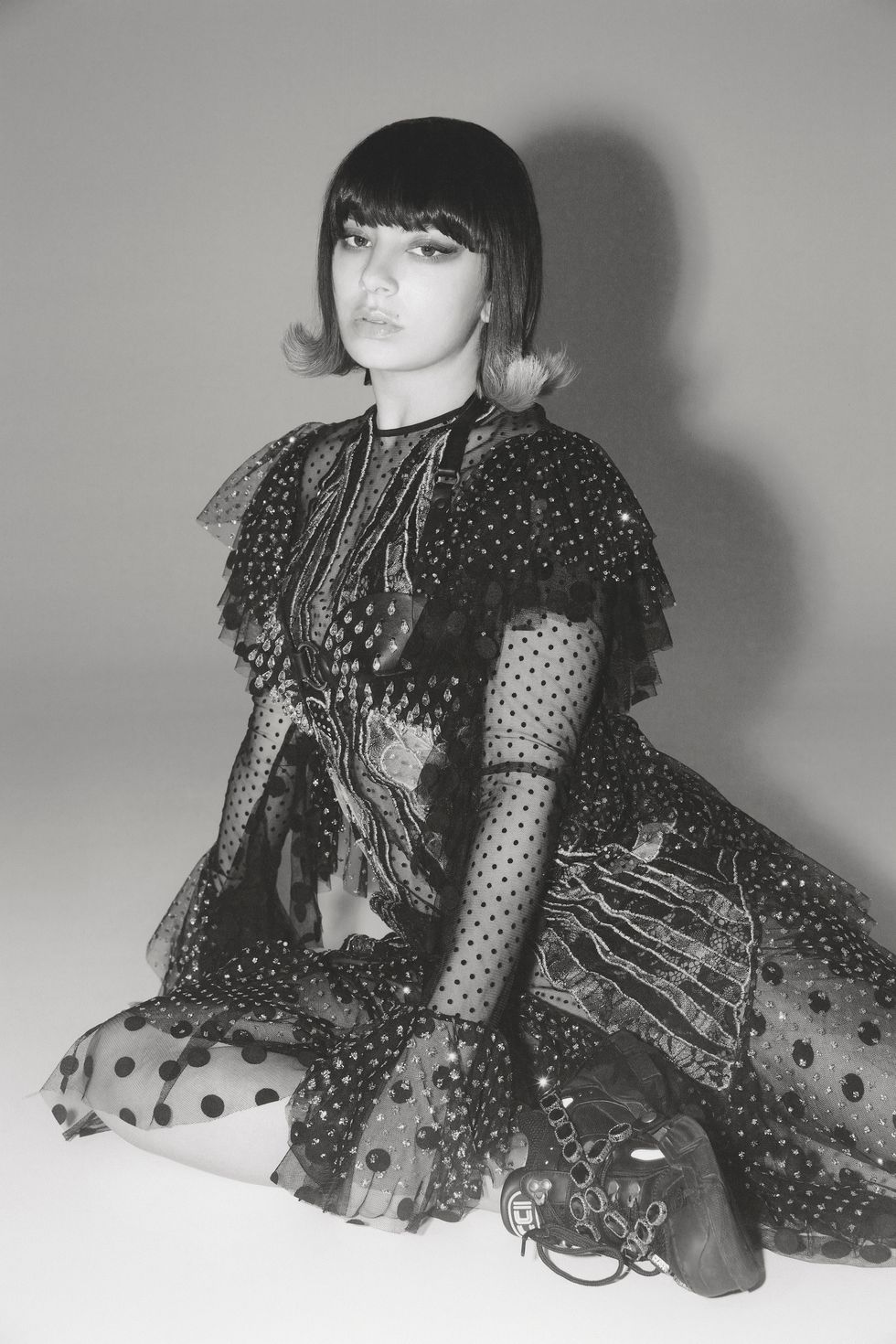 Dress: Romance Was Born, Bra: Zana Bayne, Sneakers: Gucci
And as things have radically changed for Charli so has her fanbase, and she's the first one to admit it. "I've always felt supported by the LGBTQ community for sure but I really do feel like now more than ever that my fanbase is hardcore rooted in that community." Charli attributes this to all of the queer artists that she has come to work with over the past couple of years. After having searched for so long to find a community she could belong to, she is especially thankful that the queer community has accepted her with open arms and allowed her to find her own identity.
"I feel like members of the LGBTQ community have to come up against a lot, people accepting them for who they truly are," she says. "Now whenever I do a show I feel like it's this really joyous, amazing space that everyone is free to be whoever they want to be and however they identify. I know this is fucking cheesy but it feels so magical. I'm so thankful because they have really opened my eyes to so much."
Through working with so many different artists, Charli has managed to bring all of their fans under one roof, but with that growth also comes growing pains. It is easy for fandom to morph into fanaticism, and for Charli that reckoning came with the leak of an album's worth of unfinished music and demo's from a Google Drive account last year.
"It's really soul-destroying, you spend all this time working in the studio and it gets taken away from you and put out to the world in a state that you don't really want it to be in," she says. "It's also damaging because maybe I was pitching those songs to other artists or I was maybe going to collaborate with another artist on one of those songs and now they don't want to do because it's online."
Pop Hell: The Charli XCX Cult
Corset: All Is a Gentle Spring, Necklaces & Earrings: Justine Clenquet (Distal Phalanx), Earring: Chris Habana (Distal Phalanx)
It was a challenging moment for the community Charli had grown around her. Earnest intentions ("they think they are saving me by leaking things") ended up derailing what might have been the artist's third studio album, but also renewed the singer's efforts of releasing things as soon as they were finished. As a result, following the release of Pop 2, Charli XCX has been on a tear of new singles from the twinkling glitter-pop of "Focus" to the anthemic turbo-charged "Girls Night Out" leading up to her recent collaboration with Troye Sivan on the fun nostalgia-driven bop, "1999."
The world of Charli XCX is vibrant and vividly clear, now more than ever. Between talking about rabid fans (she calls them "Angels") and building a community around herself, the idea of a Charli XCX cult was floated out and immediately the singer ran with it. If you've been to any one of her shows, this isn't at all a stretch, as her fans arrive in droves, wearing technicolor rave gear, and sweating and swarming the stage until 4 AM.
"Can it be like a latex cult? I feel like we would all be in latex," Charli lights up, imagining the possibilities. "All of the furniture in the cult house would be inflatable, like water beds. We wouldn't have pets but like a ginormous fish tank in the middle of the house." Charli goes to lay out the rest of the cult house's floorplan with a dungeon-like church hall decked out with massive speakers, upturned cross, and walls painted pink dubbed "Pop Hell."
"Every night at like 2 AM we all have to go down there and just manically dance. A compulsory rave every night. And hopefully, SOPHIE can DJ at least once a week in the compulsory 'Pop Hell' rave, that would be fun. It's basically like Berghain but forever."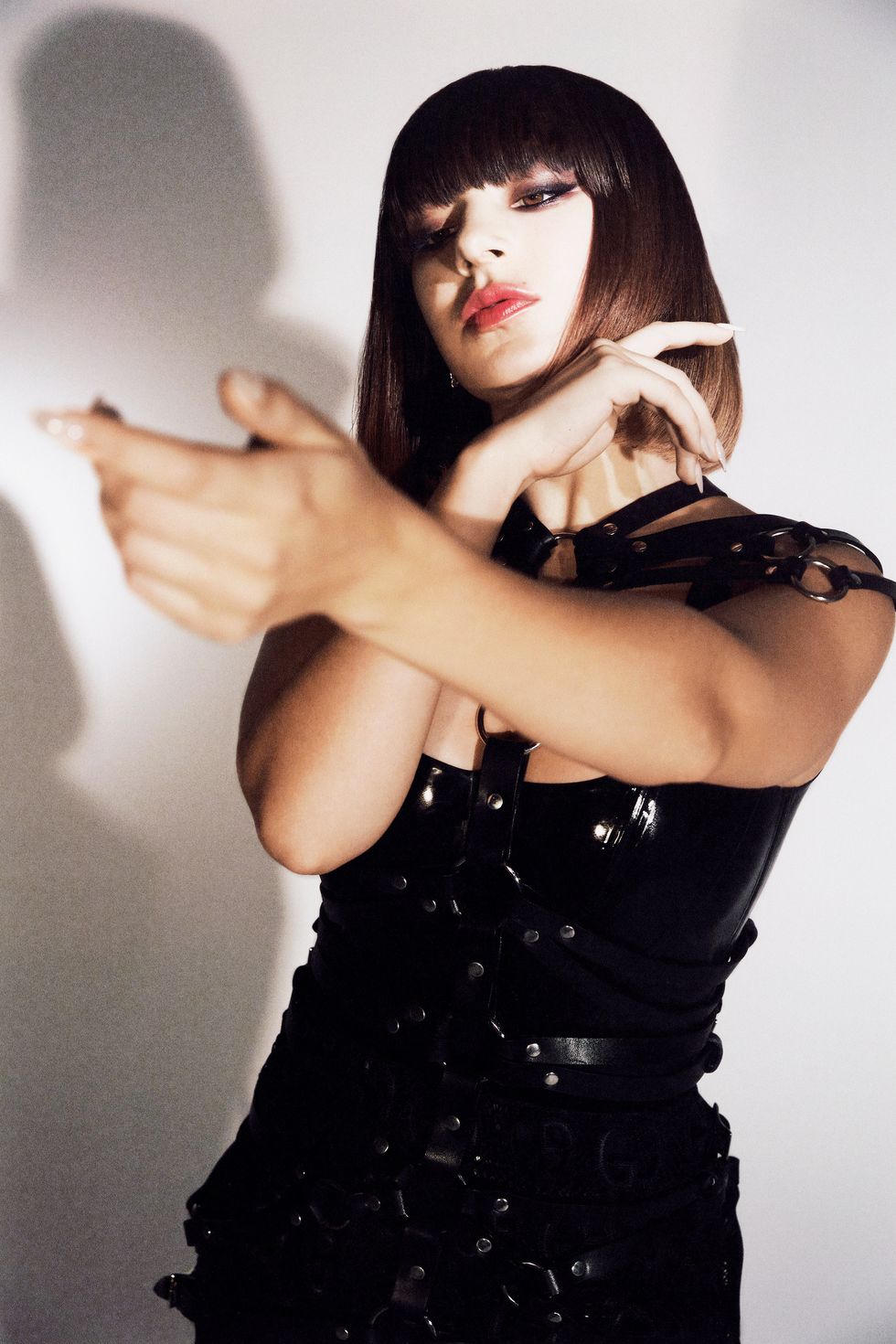 Harness: Zana Bayne, Corset: Honor (Max Black), Skirt & Shoes: Gucci
Further fleshing out the fantasy, Charli casts Brooke Candy as the welcome committee and the enforcer, tasked with banishing members who fail to follow the rules by kicking them out with a large PVC platform boot. CupcakKe would be there to take confessions from members of the cult and providing them with sound life advice. "I think we need like a choreographer for our huge 'Pop Hell' ceremonies," Charli ponders. "A.G. [Cook] is a pretty sick dancer, but I feel like A.G. combined with Troye [Sivan], they could be our dance persons."
Already having drank the Kool-aid and fully prepared to devote the rest of my life to the ways of 'Pop Hell,' I asked Charli what the core tenants of the cult would be:
Rule #1: Be Cunty
Rule #2: Be Kind
Rule #3: Britney Spears is God
Rule #4: You are only allowed to listen to Charli, SOPHIE, A.G., or Britney.
Rule #5: Treat others as you would want to be treated, but also be the baddest bitch.
And as I chiseled the five commandments of the cult of Charli XCX onto the walls of 'Pop Hell,' it became apparent that what makes Charli XCX so special is her ability to create a total and engrossing vision that is both vividly immersive while being open-ended enough that it leaves room for others to play in the same space. The cult of Charli XCX is not a cult of personality but one about community — accepting one another for who they truly are and letting everyone's individual talents shine as bright as they possibly can. At its core Charli is about bringing artists together to create something stronger than the sum of their parts, showcasing the best of what this generation has to offer and creating a blueprint for an exciting and radically different pop landscape for the future. The evolution of pop starts with Charli XCX.
Charli XCX Shoot:
Styling & Creative Direction: Kurt Johnson
Photography: Levon Baird (Company1)
Makeup: Danielle Kahlani
Hair: Nicole Kahlani
Styling Assistant: Millie Sykes
Photography Assistant: Aiden Green
The Charli XCX Cult Shoot:
Styling & Creative Direction: Kurt Johnson
Photography: Georges Antoni (The Artist Group)
Makeup: Nicole Thompson (Union Management)
Hair: Michael Brennan (The Artist Group using Oribe)
Prosthetic Makeup: Emma Bartik
Styling Assistant: Millie Sykes
1st Assistant: Oliver Begg
2nd Assistant: Ostone Kwon
3rd Assistant: Zani Jackman
Makeup Assistants: Natalie Ridler, Natallie TSE, Rochelle Spotswood, Carol Mackie
Models: Liam (Debut Management), Harrison (Debut Management), Konker (Kult), Nya (Kult), Honor (Kult), Evan (Chadwick), Cindy (Chadwick), Michael (Chadwick), Sean (Chadwick), Mindwell Holcomb, Sam Young