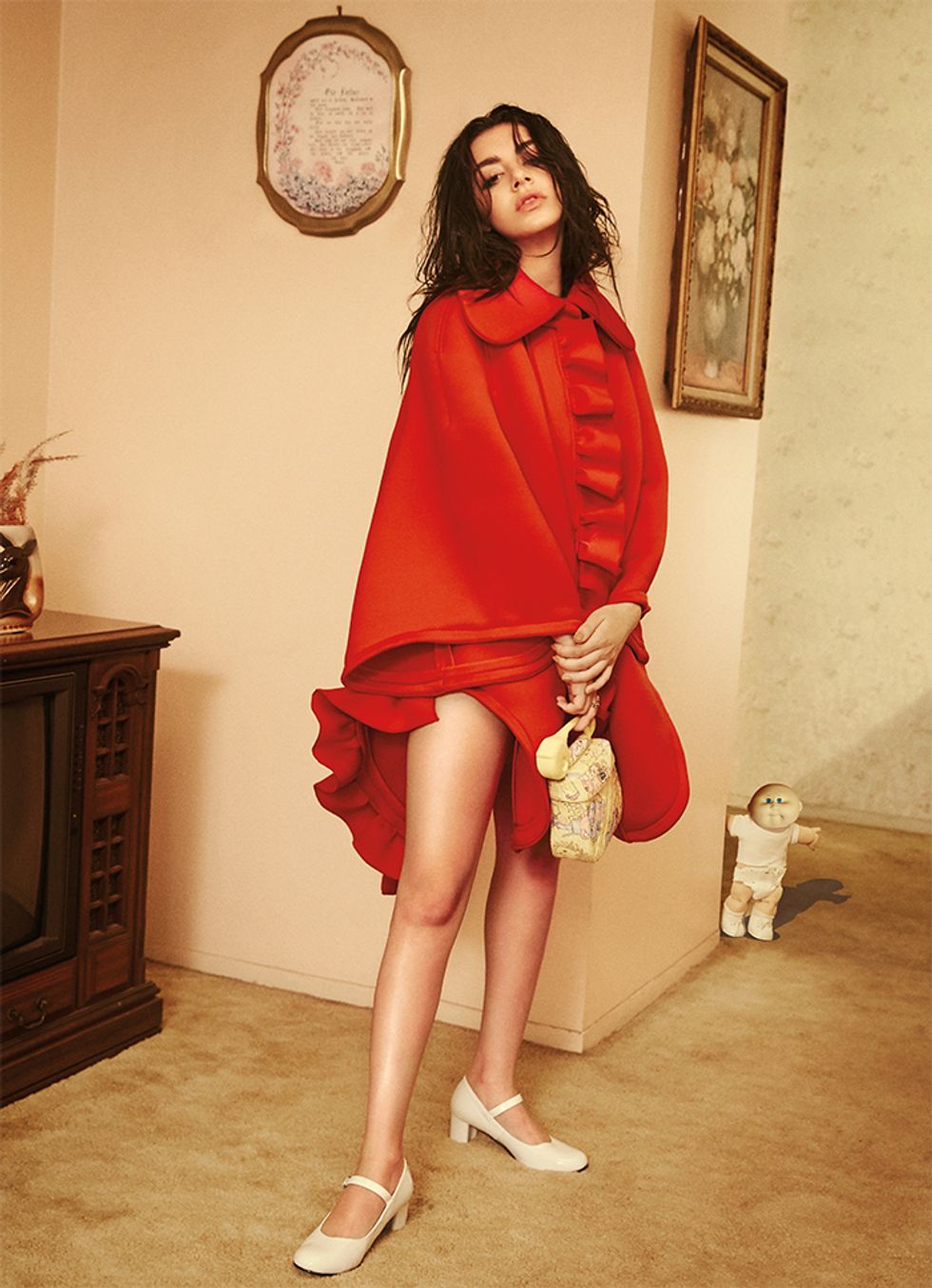 Charli wears a Nicopanda Red Ruffled Coat and Jeremy Scott shoes and bag.
"I don't think I'm the type of person who always says the right thing," Charli XCX admits with a laugh. "In fact, I always say the wrong thing at the wrong time."
The 22-year-old, Cambridge, England-born singer does have a reputation for being a "wrong" young pop star, if "wrong" means "admirably indefinable:" she gives expletive-laden interviews, rolls up at awards shows dressed like Cher Horowitz on acid and once holed up in Sweden and wrote a whole punk album, only to scrap it. And while her 2014 album,
Sucker
, was littered with new wave-inspired odes to dumping deadbeat boyfriends and rallying calls for teens to play hooky, none of Charli XCX's '90s-nostalgia-heavy shtick feels performative. She's one of the few pop stars who's been able to nail down Tumblr-girl power and camp with such strong vision and songwriting that it feels totally organic.
"I think there's this twenty-first-century idea of what sells records, especially within females, but there's no cookie-cutter pop star," Charli says, her spitfire tone never faltering as she answers my questions. (She's calling from a baseball game, which, she assures me, she doesn't understand one bit.) "Sometimes I think record labels still try and cram artists into that, but the artists who are successful are the ones that tell them to fuck off." It's not a sense of provocation Charli XCX brings to the pop music table as much as it is effortless self-assurance. Neither down-to-earth "cool girl" who eschews high-maintenance stardom nor world-dominating diva, she pens songs about hitting the discotheque and acting like she's famous with her girlfriends that are somehow devoid of cloying underdog vibes. She's better than accessible: she feels best-friendable.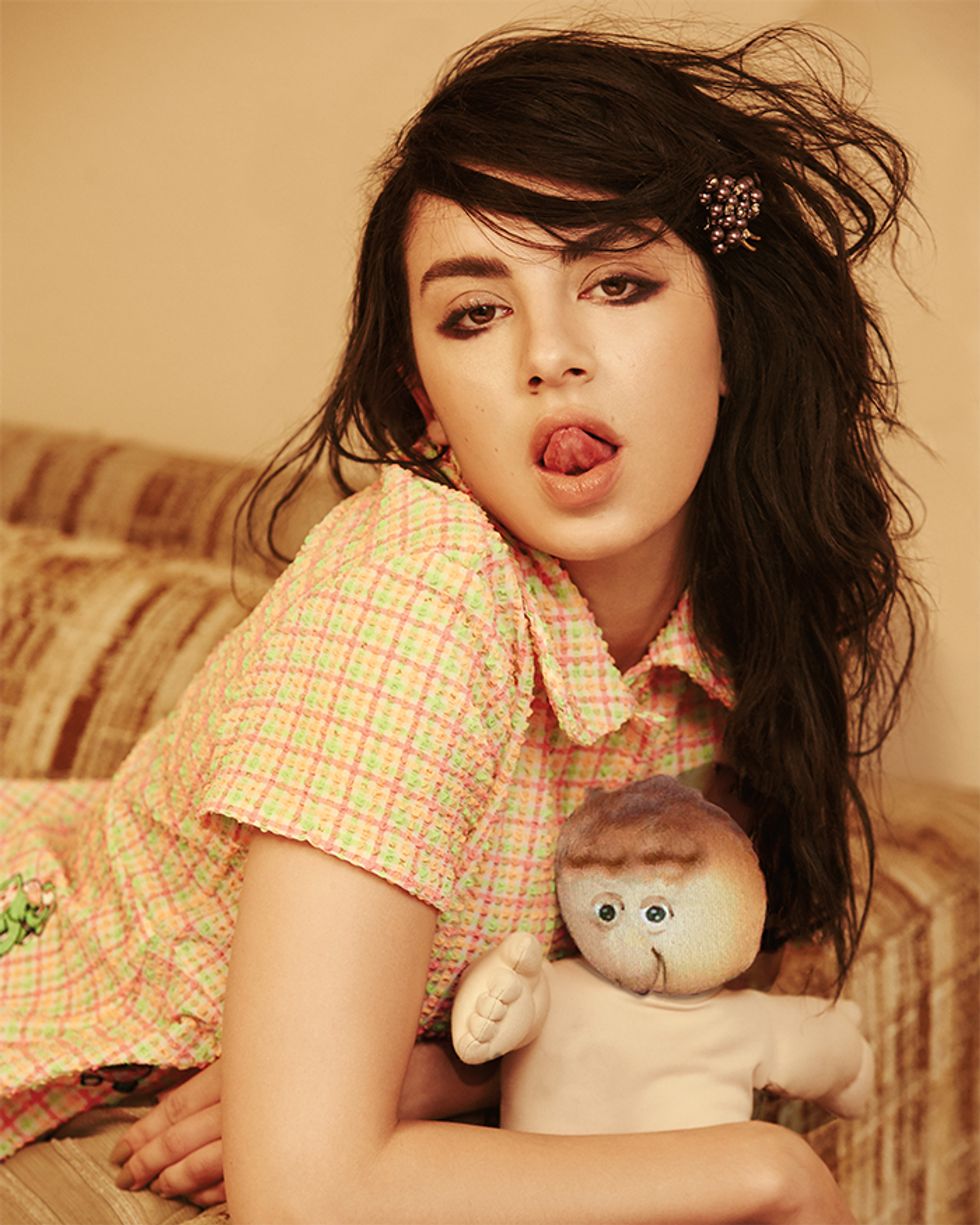 Charli wears a Jeremy Scott dress, Dolce & Gabbana hair clip.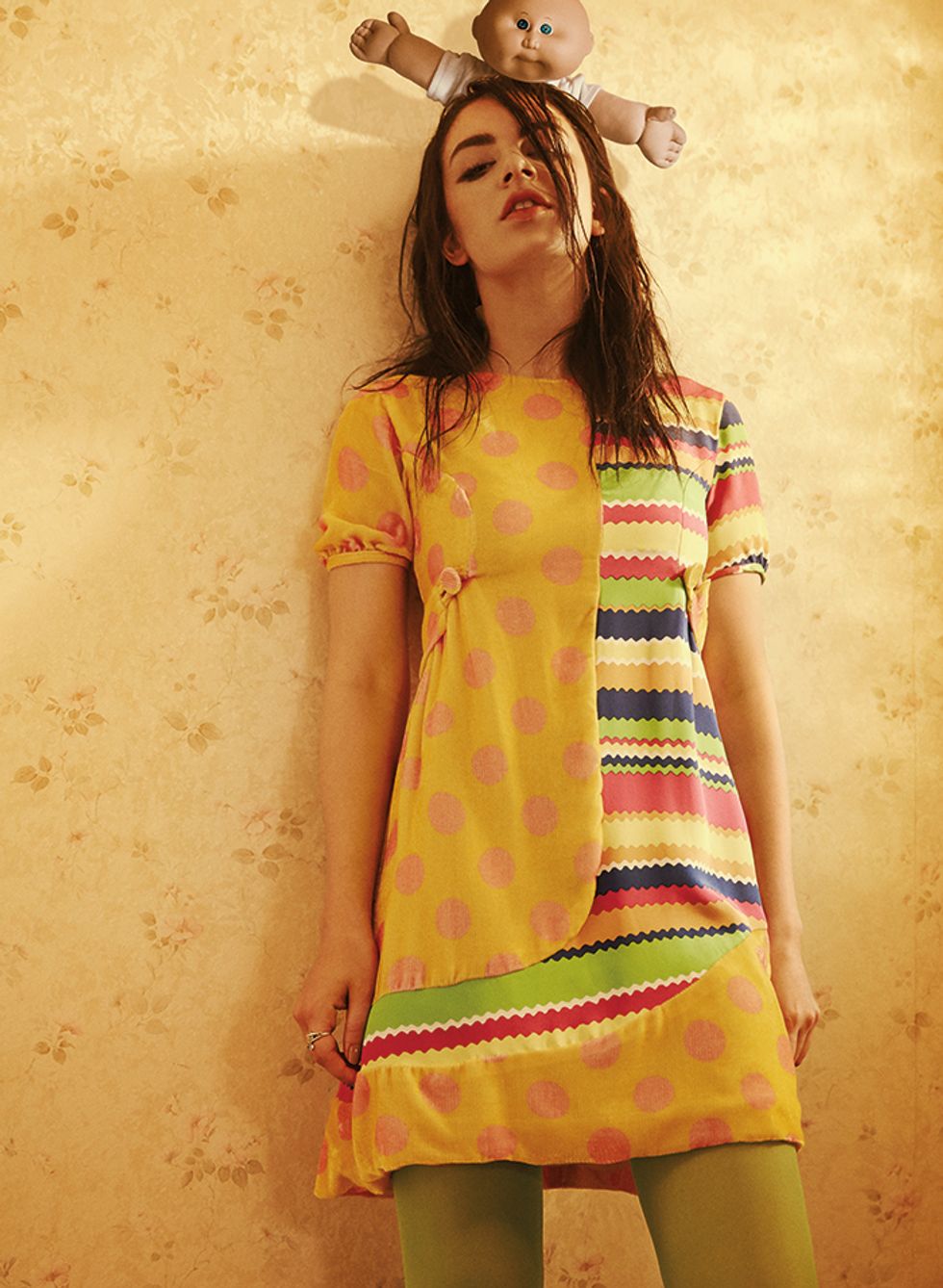 Charli wears a Jeremy Scott dress, Fogal tights.
All of this can be owed to the fact that Charli XCX does not care about "being cool," which is surprising given her long list of stellar collaborations (e.g. Iggy Azalea, Ty Dolla $ign, Giorgio Moroder). "At the end of 2013 [there] was a moment when something clicked and I genuinely and truly stopped worrying what people thought of me," Charli says of working on
Sucker
. "For the past couple of years I've been super done with trying to be someone I wasn't, and finding that peace leads to being able to do what you want with conviction. You're not trying to kid yourself along with everyone else." In turn, it seems like Charli has figured out that the best way to broadcast being a self-confident pop star is simply to inhabit the message.
What's clear is that Charli's determination to freely be who she is extends beyond crafting a comfortable spot just for herself in the pop landscape. A memorable moment for the singer came at the 2015 Grammy Awards, where she was nominated for Record of the Year and Best Pop Duo/Group Performance for her spot on Iggy Azalea's "Fancy."
Asked by Giuliana Rancic what she hated most about the industry, Charli replied "misogyny" without missing a beat. "There is definitely still a strain of it," she tells me. "It's shit sometimes that there are literally no women working at record labels, and female artists tend to get more questions about their validity as creatives, whereas male artists in the same position don't. It's so frustrating."
The solution? Good old-fashioned support for her female peers, which Charli considers an act of "basic human nature," and recognition that the industry tends to pit them against each other without understanding that all these women can exist in the same field. "I've always felt that the women I've been surrounded by have been super respectful to one another, especially now. There's a lot of unity between female artists," she says. "I treat everyone the way I'd like to be treated." Now, what could be more right than that?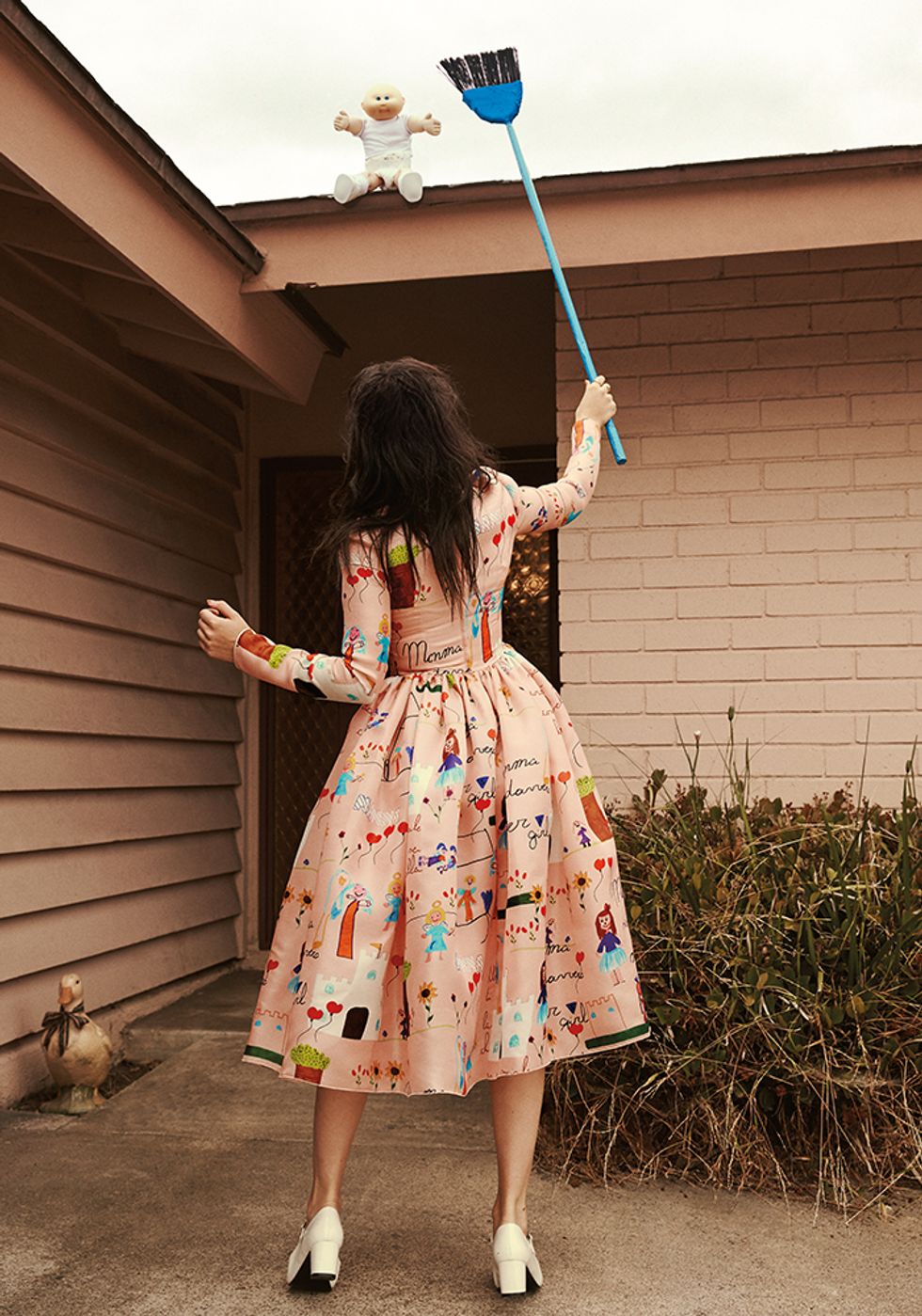 Charli wears a Dolce & Gabbana dress, Jeremy Scott shoes.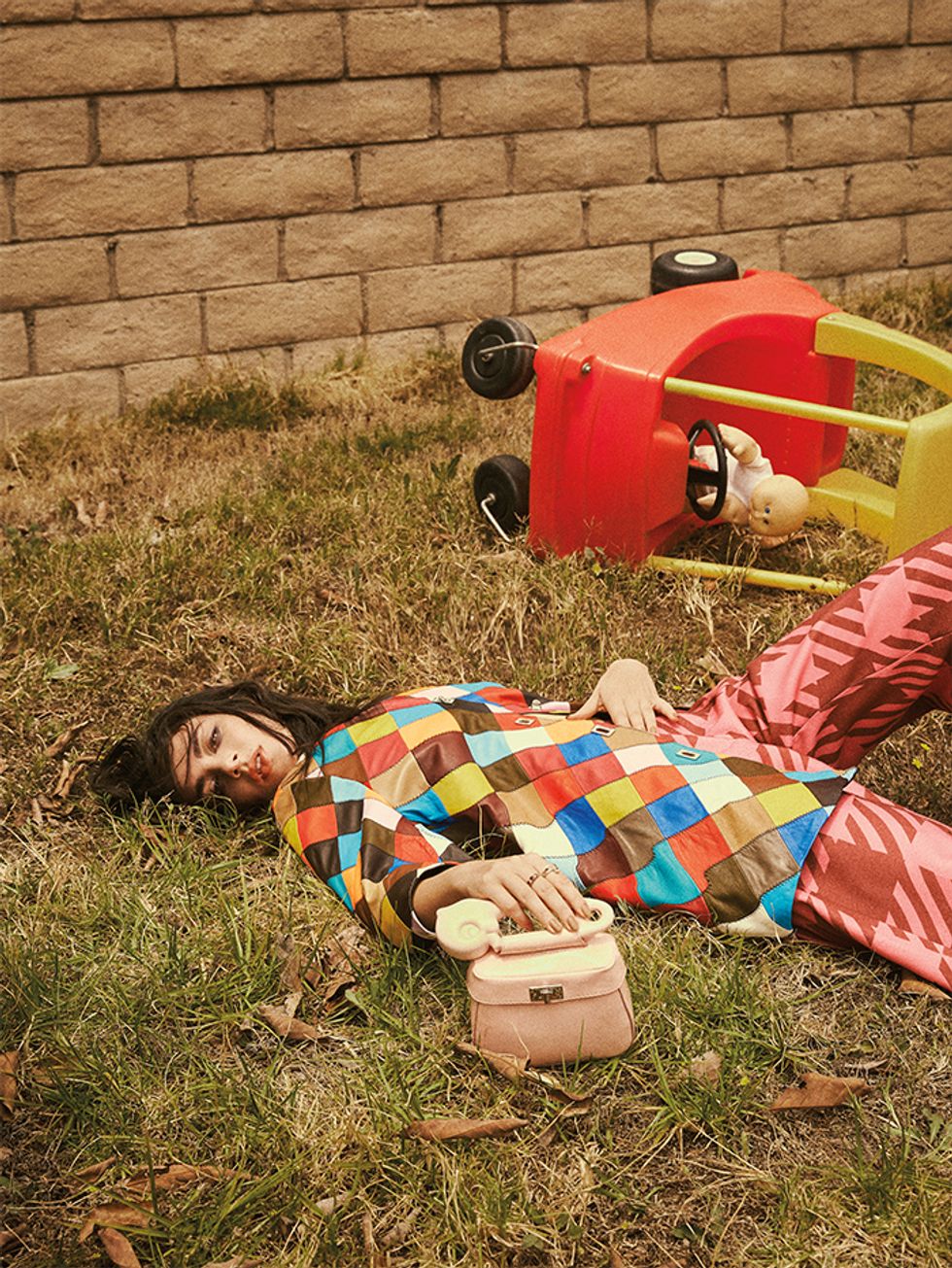 Charli wears a Jeremy Scott coat and bag, House of Holland trousers.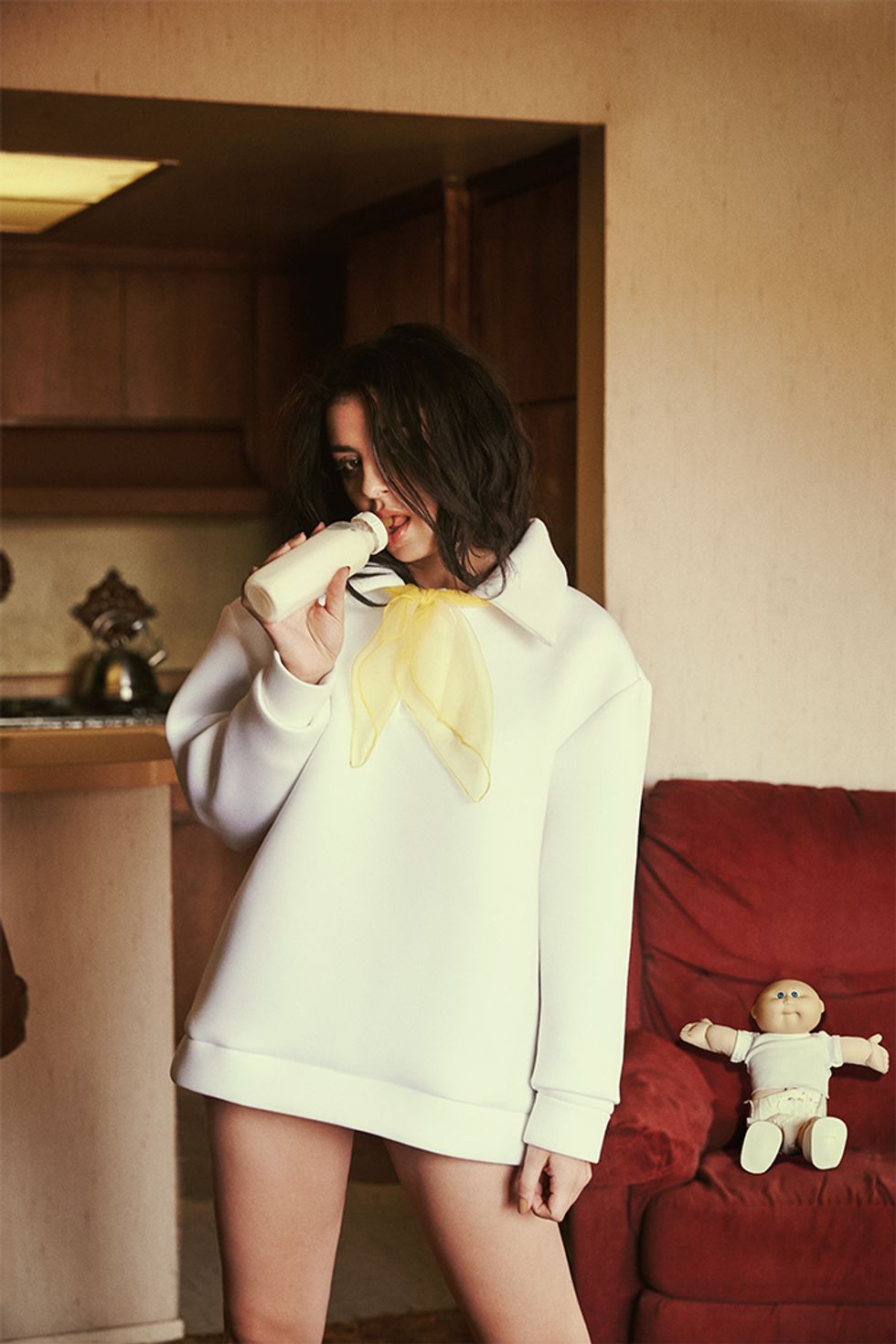 Charli wears a Nicopanda jumper, Jeremy Scott shoes and a Screaming Mimi's scarf.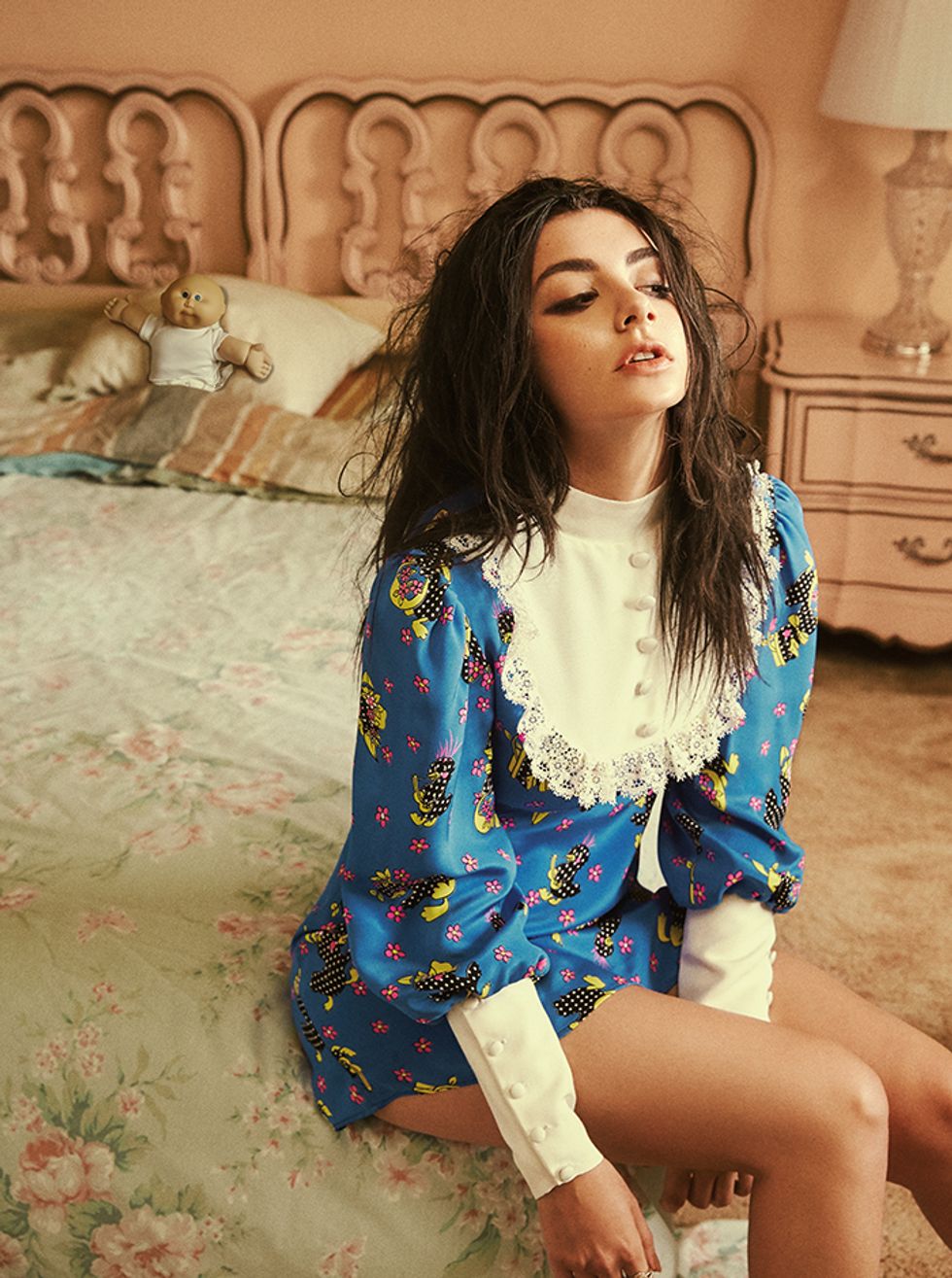 Charli wears a Jeremy Scott dress.

Styling by Lisa KatnicHair by Andy Lecompte
Makeup by Kali Kennedy
Nails by Stephanie Stone
Art by Garrett Davis
Production by Rachel Ann Cole

See Charli XCX
on tour this summer with Bleachers
. Dates below.
July 21st            San Diego, CA              The Observatory North Park
July 22nd            Costa Mesa, CA          Pacific Amphitheatre
July 23rd            Oakland, CA                 Fox Theater
July 25th            Seattle, WA                   Showbox SoDo
July 26th            Troutdale, OR                Edgefield
July 29th            Denver, CO                   The Fillmore Auditorium
August 4th         Minneapolis, MN            Cabooze Plaza
August 5th         Milwaukee, WI               Eagles Ballroom
August 7th         Tulsa, OK                      Cain's Ballroom
August 8th         Kansas City, MO           Starlight Theatre
August 9th         St. Louis, MO                The Pageant
August 11th        Detroit, MI                     The Fillmore Detroit
August 12th        Columbus, OH              LC Pavilion  
* B�RNS supports all dates
 
Second Leg Tour Dates:
September 14th              Boston, MA                  House of Blues
September 16th              Wallingford, CT             The Dome
September 18th              Philadelphia, PA            Festival Pier
September 19th              Shadow Of The City
September 21th              New York, NY              Central Park Summerstage
September 23rd              Washington, DC            Echo Stage
September 25th               Tampa, FL                   Jannus Landing
September 27th              Orlando, FL                   House Blues
October 1st                   Dallas, TX                     House of Blues
October 3st                   Houston, TX                 House of Blues
October 6st                  Phoenix, AZ                  Marquee
 October 7st                  Los Angeles, CA          Palladium
 October 9th                   Las Vegas, NV              Boulevard Pool at The Cosmopolitan
 October 10th                 Salt Lake City, UT        Complex
*Robert DeLong supports all dates
You May Also Like