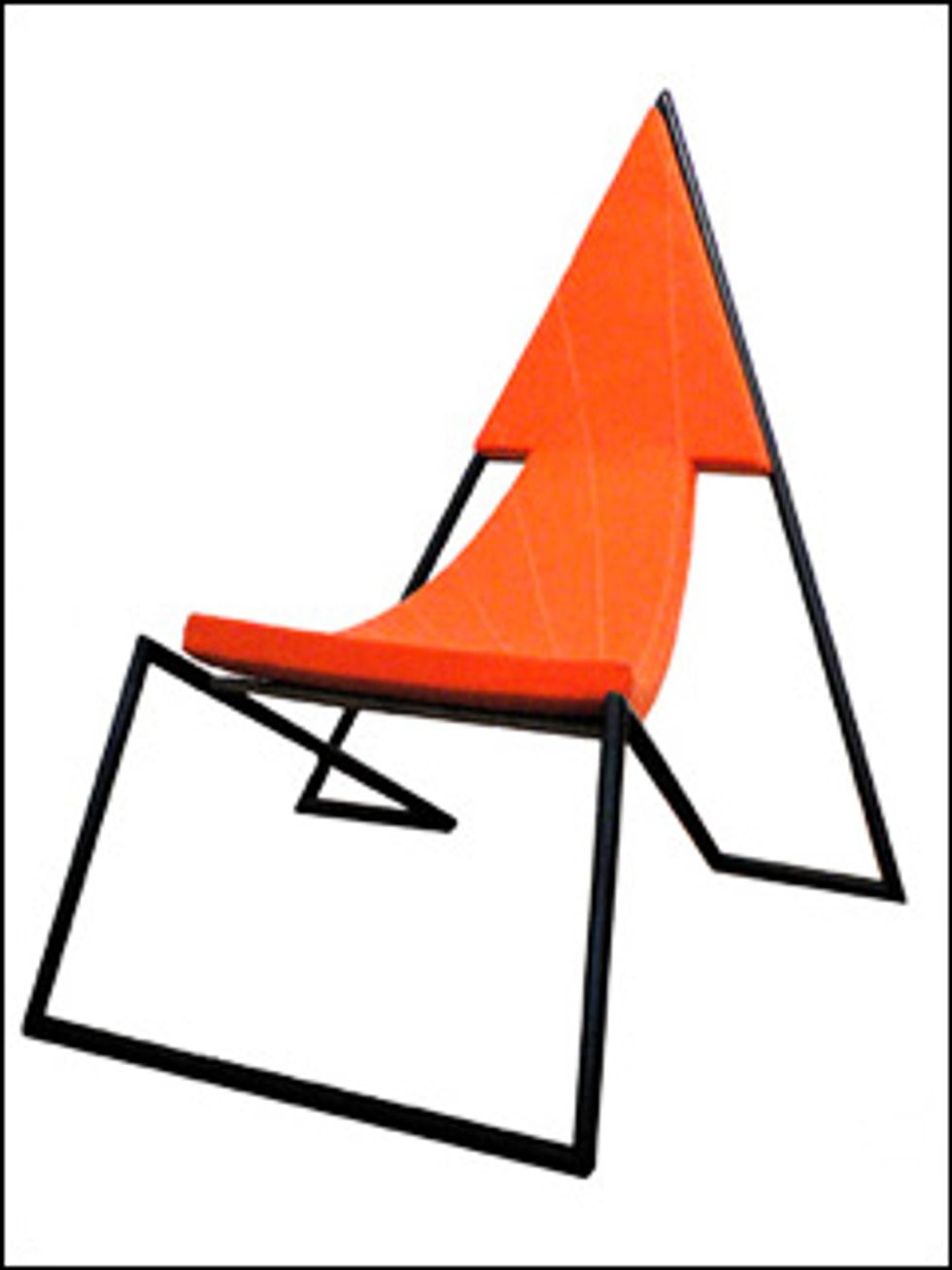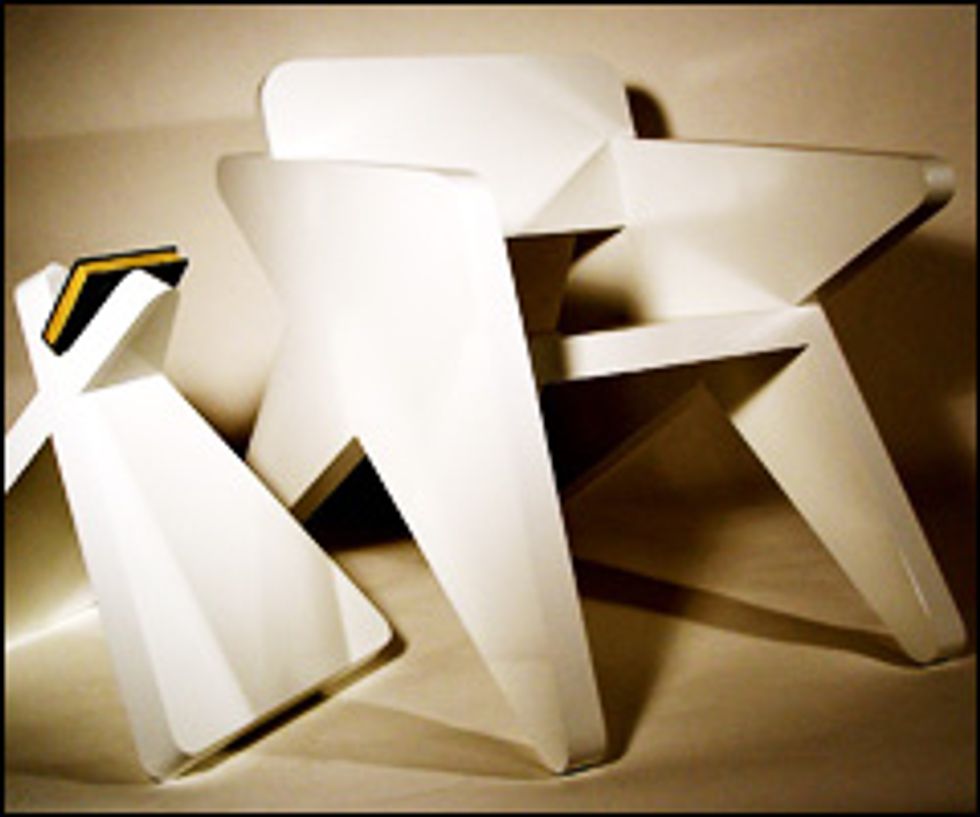 When Chrissy Angliker enters Frankies 457, a quiet Italian restaurant on Court Street in Carroll Gardens, she greets the thin, unflinching waitress with a smile and a discreet wave. Chrissy pokes her face through a screen of cabinets leading to the open kitchen area. "I used to work here," she explains, right before stating that she never wants to work as a waitress again.
Having graduated from Pratt with honors, Chrissy, an industrial designer, now faces the vast expanse of the working world. She designs out of her Brooklyn apartment. "Here's little Chrissy who doesn't know how to find manufacturers," she says, throwing up her hands. But her work has recently been met with major interest. Her father created her first web site, originally tricked out with clip art and animal jpegs, which she has since streamlined. Her pieces were displayed on DesignSponge , a blog-forum profiling new designers, after which she has heard from, among others, editors at Boxer, a new Hungarian, gay lifestyle magazine.
Chrissy's long days as a waitress in cozy neighborhood restaurants seem numbered. Her designs, including her Arrow Chair and GoGo Chair manipulate iconic forms to the human figure. The Arrow Chair, more than a study in pop art, creates a striking sense of movement, balanced with a close attention to materiality, tension, and comfort. The GoGo Chair employs the sinuous configurations of an owl, applying its biological flexibility and multiplicity of forms to human poses. Even in her smaller designs, a fishing rod-cum-brass knuckles, she conveys a keen geometric sensibility, an interest in human activity, and an incurable playfulness.
The hand-bound books in which she presents her designs, stored in a lunchbox alongside a hand-customized CD of press photos, are indicative of Chrissy's passion and meticulousness. While other students display their work with oversized glossy photographs, Chrissy sells her pieces based upon the narration of thinking process. And aesthetically, her gently-proportioned, pre-worn display booklets speak to accessibility and genuine, careful foresight: "I'm interested in age, and history. I saw all these people making these beautiful paintings and then putting them behind plastic and I was like, 'Oh! I do not like that!' I want lots of people to look through my stuff and not feel bad about touching it, so I scanned old book covers in," thus pre-loving her book with trompe-l'oeil creases.
Chrissy speaks in an unplaceable accent from behind of crop of European-stained blond hair -- she's from the town of Winterthur in the German-speaking corner of Switzerland. "Was from," she corrects, apparently surprising herself with the mistake. "I was always into the whole art thing," she recalls, "That's why I had to leave Switzerland, because people just didn't understand that. My friends parents would be like, 'What are you going to do after school?' and I would say, "Oh... I'm going to figure something out with art' and they would laugh at me and say 'Oh that's supposed to be a hobby.'"
As for the Swiss art scene, says Chrissy, "If you don't have a name, they're not going to take you seriously. Especially if you're young. I would get kicked out of museums because I was too young." Painting and working tirelessly, she got little notice from established Swiss artists or galleries. So when she was 16, Chrissy enrolled at Walnut Hill, a small art high school outside of Boston. "I didn't want to leave home -- I had an awesome relationship with my parents, and an awesome relationship with friends -- it was just this one thing." She begged her parents who, with understandable reservations, relented, sending their daughter for a trial year. She painted day and night in her studio, in a refreshing and open environment. Finally there was positive reinforcement. Upon returning home with a diploma, she finally got her first show in Switzerland.
But armed with an American go-get-'em attitude, Chrissy decided she couldn't stay there. On seeing Pratt her father told her, "You'll fit in here." She was skeptical: what's Brooklyn, anyway? Inside the office of the admissions director, she was instructed to re-direct her life from painting, summarily cutting her last line of security: "He looked at my stuff, and was like 'You should go into design -- and you should go into industrial design.' He said those words and my mom and dad were like 'Yeah!' and I just started crying. Industrial design? I didn't even know what it was, but the word 'industrial' killed me." Worried she'd let her parents down and dreading long hours with measuring tape, Chrissy took a tear-streaked tour of the facility, as the dean explained to her the artistry of design. "I bit the bullet": It convinced her.
So Chrissy re-focused her efforts, telling herself, "I'm going to stop painting even though I love it. I need that energy, and I did need to translate it into design..." Giving up the familiarity of her close-knit Swiss town, she poured herself once again into her work, re-conceiving her projects to her liking.
The education allowed her to define for herself her priorities in design; namely unity and personality. "Whatever I do needs to be fed from whatever I have done. The process of design is to grow. If they're all characters, I want them to communicate and relate." For her last semester Chrissy eschewed the formalities of a final project, instead combining her pieces into an exhibition that displayed her finished pieces alongside the transitional phases, both two-and three-dimensional.
Her latest design, though she prefaces it as "a bit of a one-liner," is a smoothly proportioned, well-crafted lampshade. Made of measuring tape, it not only exploits the detailed effect of light against the ticks, it witnesses Chrissy's full acceptance of the tools of the designer. "Are you an inches person or a centimeter person?" She asks, "It's a major decision."
Contact information and product details available at Chrissy Angliker's web site, www.chrissy.ch.