If you woke up to a low, but steady humming this morning, you were probably hearing Taylor Swift biting into a power line; she was forced to recharge after last night's tea spill via her clandestine enemy, Kim Kardashian.
While most of the internet sat screaming in their beds watching TayTay's savage and swift (lol sorry) reckoning, all over Snapchat, some fellow celebrities--possibly contracted members of of the Swift squad, and team Kardashian--took the time to wedge themselves into that press burrito.
Their replies range from hilarious to self-righteous to "Huh?"

Let's break it down:
Selena Gomez
Taylor's official right-hand, Gomez quickly subtweeted the situation with this eye-roll of thing:
There are more important things to talk about... Why can't people use their voice for something that fucking matters?
— Selena Gomez (@selenagomez) July 18, 2016
Almost immediately, Twitter posed the "The Hell were you when actual important things were going down?" including Black Lives Matter supporters, and members of the LGBT community.
Gomez even responded (then deleted) to one said inquiry: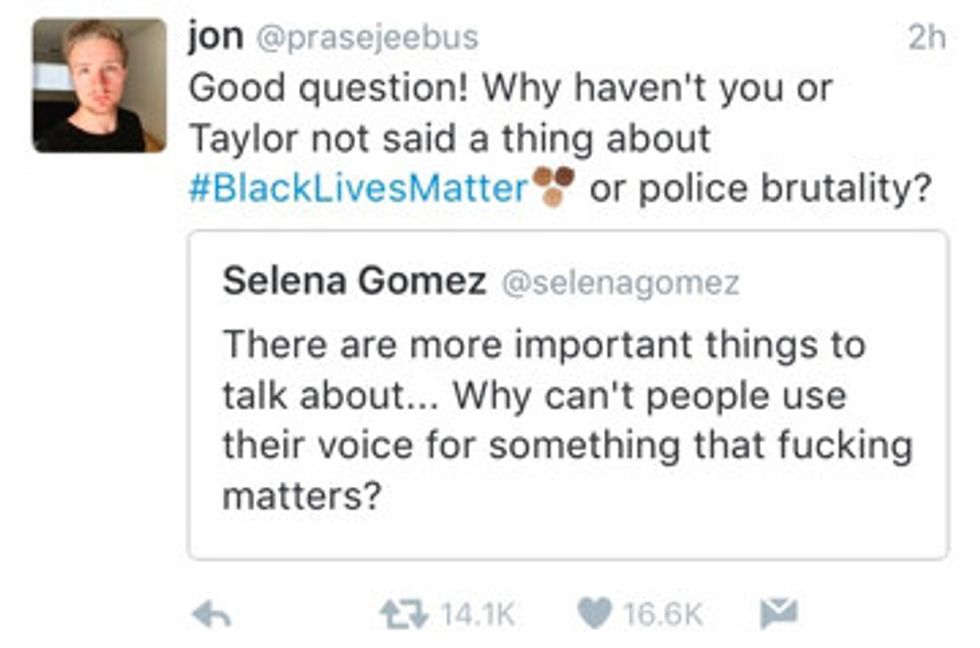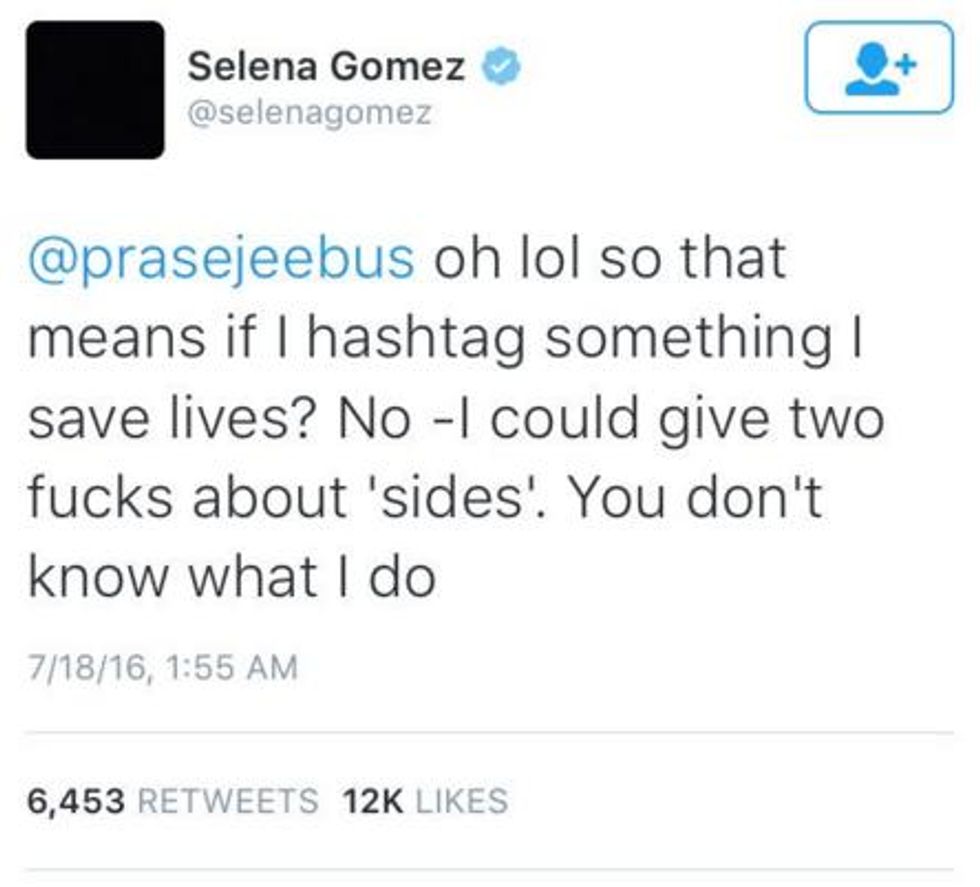 -_-
She continued with this nearly indecipherable ...
Truth is last thing we need right now is hate, in any form
— Selena Gomez (@selenagomez) July 18, 2016
????
She ended with this lame-ass lament of #theindustry...
This industry is so disappointing yet the most influential smh
— Selena Gomez (@selenagomez) July 18, 2016
Smh, indeed, Selena.
Chloë Grace Moretz

The teen--not involved in any way with the situation--decided to insert herself, taking the opportunity to dish out some #industry chastising of her own, and firing off some finger-waving at her 2016-sanctioned enemy, Kim.
Everyone in this industry needs to get their heads out of a hole and look around to realize what's ACTUALLY happening in the REAL world
— Chloë Grace Moretz (@ChloeGMoretz) July 18, 2016
Petulant and unimportant!

Stop wasting your voice on something so petulant and unimportant
— Chloë Grace Moretz (@ChloeGMoretz) July 18, 2016
Like Gomez, CGM was promptly schooled by the internet for also staying mum on non-petulant, and non-unimportant matters...
. @ChloeGMoretz pic.twitter.com/T3UpGF02vq
— Christopher Kennedy (@onebrightlight) July 18, 2016
#Shoes.
pic.twitter.com/7RCVhc1KWb
— JamieLeeCurtisTaete (@JLCT) July 18, 2016
Another famous "Chloe" with an unnecessary accent, Ms. Khloé Kardashian, chimed in on Moretz in defense of her big sister; frustratingly, she took the low-low road:
Is this the a hole you're referring to @ChloeGMoretz ??? pic.twitter.com/h56S8FvNWr
— Khloé (@khloekardashian) July 18, 2016
Klo! You're better and smarter than this!
Moretz clapped back:
@khloekardashian fact check: first photo is me filming my movie Neighbors 2, the second photo is some girl who was wrongfully photographed
— Chloë Grace Moretz (@ChloeGMoretz) July 18, 2016
Which brings us to our next "????"
Ruby Rose
Newly sworn in member of Swift Squad, The model/singer/Orange is the New Black star, seemingly triggered by Khlo's unfortunate tweet, decided to increase her Google SEO...
@ChloeGMoretz @0hbubbl3s @khloekardashian Yo Khloe I thought you were rad when I met you but this is awful and this is a 19 year old girl.
— Ruby Rose (@RubyRose) July 18, 2016
Rose, getting her mentions flooded by haters on both sides, did the good old "Celebrity long post via iPhone notes" tactic, explaining why she dipped her toe in this hot mess situation:
The Internet/social media has endless possibilities, positive possibilities but more often than not its a sad place. pic.twitter.com/eQzNvR2rSy
— Ruby Rose (@RubyRose) July 18, 2016


Another "huh???" member of the Swift squad decided to tweet her own "bigger issues" critic...
Martha Hunt
It's pathetic how quick our culture is to sensationalize a fabricated story..
— Martha Hunt (@MarthaHunt) July 18, 2016
Take interest in the real problems going on. Spread love. ❤️
— Martha Hunt (@MarthaHunt) July 18, 2016
REAL PROBLEMS.
For the record, Kim has made use of her platform to "take interest" in real, non-petulant issues...
Header photo via BFA