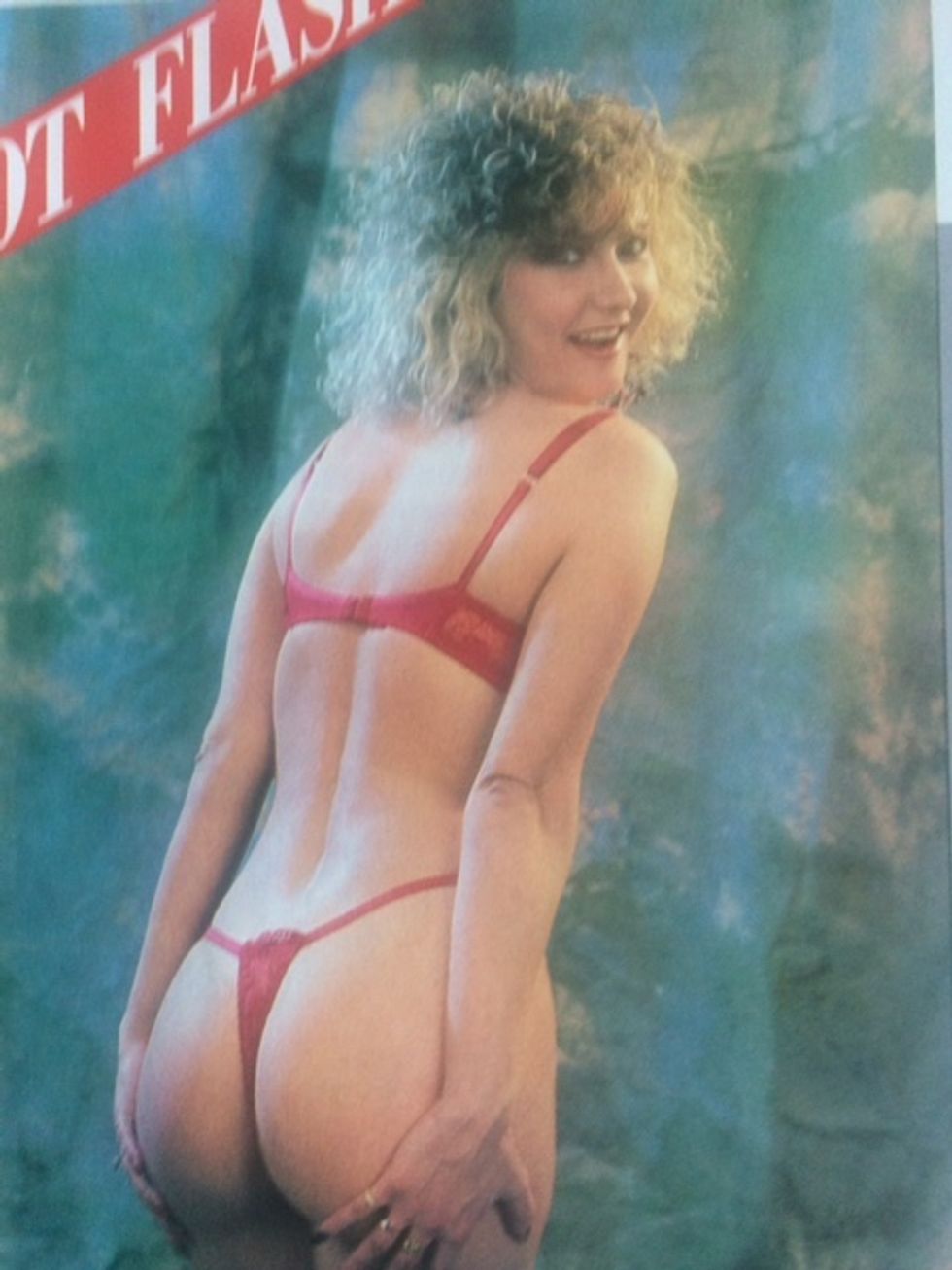 Tracey back in the day. photo courtesy of Tracey.
A loud tinkle rippled through the 1990s on Channel J (the racy, leased NYC access Channel 35), and everyone took notice. It was the young and always game Tracey Love either peeing or getting urinated on in commercials for the phone sex lines 970-PEEE and 970-PISS, which were a real pisser. In one such legendary ad, Tracey sat naked and talked to the camera, in between opening her mouth for a rivulet of liquid (which I found out in an on-set visit was Gatorade.). "Looking for some slippery good fun?" purred Tracey in the commercial. "Call 970-PEEE. The extra 'e' is for extra pee. Feeling naughty? How about some water sports? A golden shower of sexy hot pee. Spray me with your sweet juice. It feels nice and warm all over. Imagine it dripping down my gorgeous bod. Lick it up! What are you waiting for?" "The kinkiest pleasure trip ever…I'll hose you down," she cooed in another ad. (No, I didn't memorize this stuff. I happen to still have a tape of the commercials for posterity, along with my old Masterpiece Theatres.)

Tracey also made memorable appearances in the commercial for 540-JOIN ("We'll personally handle your erection. $1.75 a minute") and the rather menacing one promoting 970-BANG ("Now get on all fours and get banged like a bitch!"), as well as hosting Interludes After Midnight, the Channel J talk show on which there wasn't that much talking. Now 52, the Delaware-born single mom lives on the East Coast, where I cornered her for a fun catchup on the phone, while I was in the bathroom. (Kidding.)
Here's what transpired:

When did you come to New York?

When I was 24, in 1989. I answered an ad for nude models. I was with this creepy dude. A seriously creepy dude. I was young and had come out of a marriage and trusted anyone.
And then what happened?
I did the first phone sex ad, working with [the Channel J producer/star] Dan Landers, for the pee girl.
Did you know it was going to be pee?
He didn't say, and I really didn't care. To me, it was so ridiculous. Dan's mentality was so out there. He had me getting off, grinding on the curtains, these big hanging curtains in the studio.
What were your aspirations at the time?
I didn't really have any. I was 24, I had gotten divorced after seven years, and I came to the big city. It didn't faze me.
Was it funny, with them squirting Gatorade on you?
Did I get wet in the commercial?
It squirted into your mouth—though it usually missed and went running all over your body.
I can't remember. In one of them, I remember, I had a microphone when I was peeing in the toilet, for the sound effect. One night, Robin Williams was on Late Night with David Letterman, and he said, "What about that woman on the commercial who sounds like she's peeing in a pie plate?" I thought, "Oh my God, they're talking about me." I wasn't, though. I was actually peeing in the toilet, but my mic was real close.
Was working for Dan creepy?
No. Dan was very eccentric. That didn't bother me. We really had a great relationship. He ended up dying of Lou Gehrig's, probably in 2006.
Did he ever try to come onto you?
Not at all. They were swingers, though. I went to a nudist resort with him.
So the whole experience didn't warp you at all?
It did not warp me in any way. Then I left the city with a creepy guy, then got rid of him, then came back and went back to working with Dan. I can remember "the extra 'e' is for extra pee."
Was that Dan's creation?
Dan thought of all of them.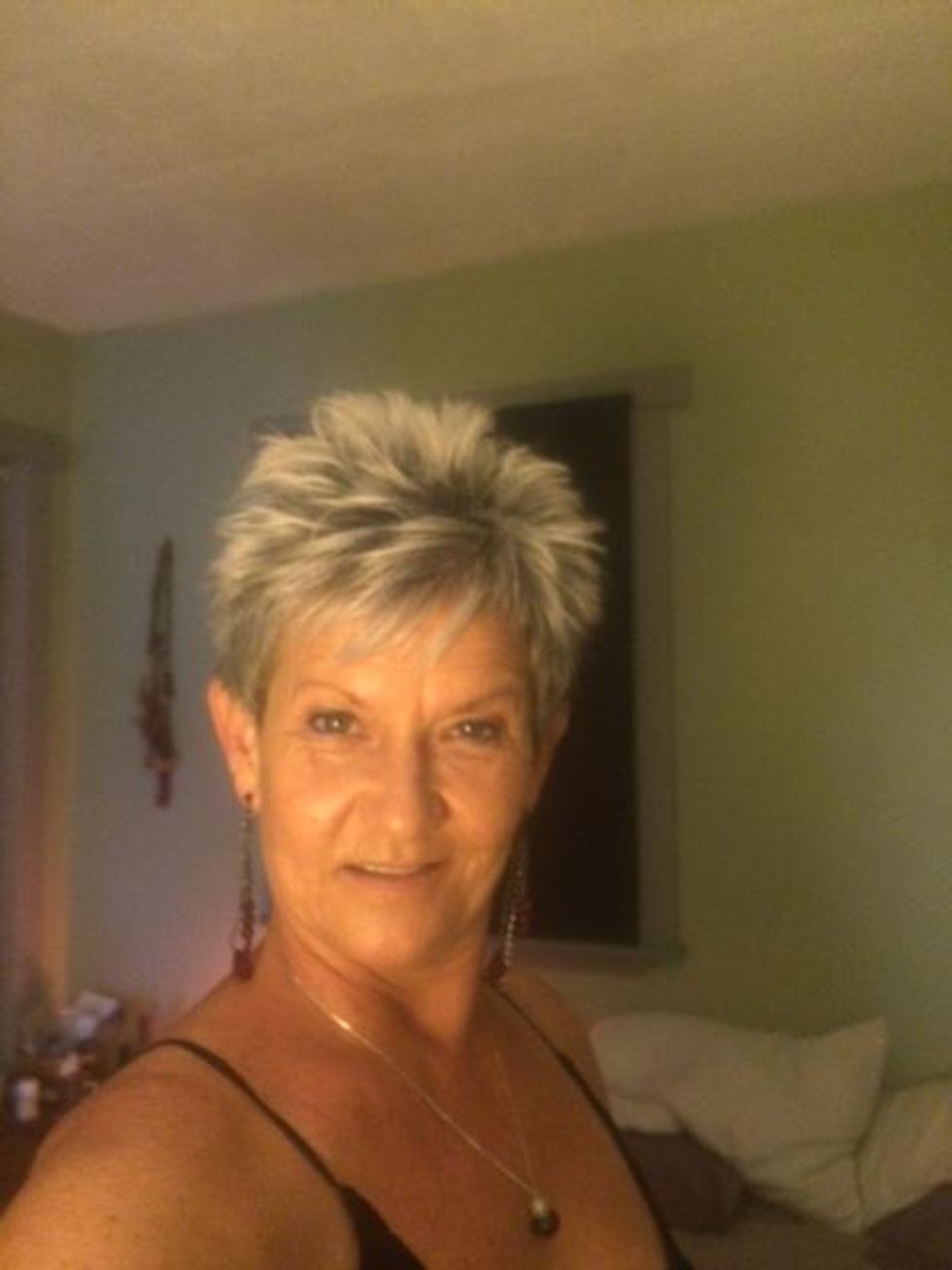 Tracey today.Photo courtesy of Tracey.
What reactions did you get at the time?
The NYPD would see me and stop. I had firefighters take me to their trucks. We were down at a bar in Village, and a firefighter said, "I know who you are. Come to the truck with me. Your biggest fan is in the truck." I was in a bar in the East Village, and cops saw me through the window and flagged me out. "Will you sign our ticket books?" I didn't have to wait on line. I got into the VIP room at Limelight. I didn't have to wait for the bathroom at bars and clubs.
No comment.
[laughs] People would recognize me. At a bar, this guy said, "I know who you are.'' I look up and Channel J's there and there I am, doing my stuff! Once, I did a show in a gay club where the guys peed on me. They had bottles in their jeans.
The old Gatorade trick! What was it like hosting Interludes After Midnight?
Dan would have people come on and they'd do jumping jacks naked. [laughs]
And what are you up to nowadays?
I bartend six nights a week. I have a son, who's really handsome.
Did you ever do porn?
No. Annie Sprinkle kept me from going into porn because she told me it wasn't safe. And I did't want to get fucked all day for $500. But I did a spread in Adam magazine.
What are you doing nowadays?
I've done a lot of traveling all over the country. It was my 16th U-Haul rental, coming back from North Carolina last year. Now I just want to settle down and buy a place here and figure out what I want to be when I grow up. I have degrees I don't use because I love bartending so much. But nobody wants a 60-year-old bartender. I might get into massage or real estate -- I want to do something.
Do people around you know about your past?
Some people do. Some people, I tell. I don't lie to anybody. I say, "By the way, I've done a men's magazine and I had a nude talk show, so if it's gonna offend you…" But I'm really blessed because, at 52, I can still wear a bikini. I have a nice body.
You May Also Like