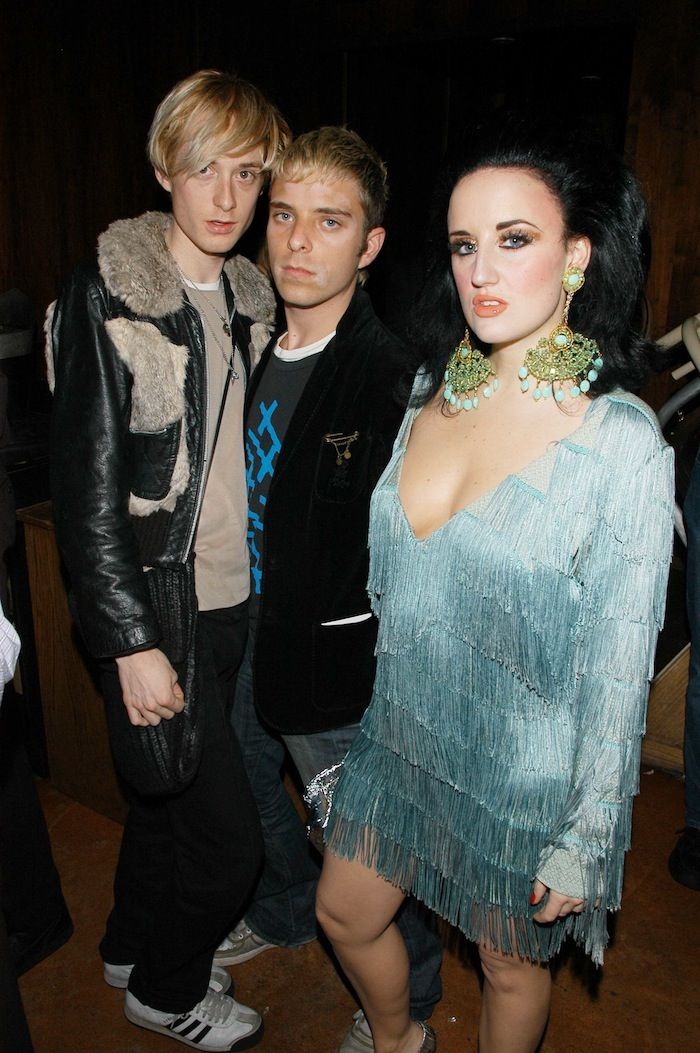 The Trinity (a.k.a. Mack Dugan, Drew Elliott and Aimee Phillips) c. 2005 (Photo by Patrick McMullan)
In honor of our 9th annual Nightlife Awards taking place next Thursday, October 17 -- go vote for your favorite nominees HERE! -- we're looking back at some of the folks who took home awards in past ceremonies. From now until the 17th, we'll post a new story each day that tracks down the winners' exploits, closures and rebirths so you can find out what's been going on with your favorite DJ, door person or nightclub since they last witnessed you downing tequila shots and belting out Maximo Park lyrics at 4 a.m at Luke and Leroy's.
Next up: Cuckoo Club, the riotous Sunday night dance party that started at the Maritime Hotel roof terrace before migrating to Hiro Ballroom. Hosted by The Trinity (Aimee Phillips, Mack Dugan, Drew Elliott -- former Executive VP of Paper's sister company,  ExtraEtra -- Erich Conrad and Lincoln Palsgrove), Cuckoo Club attracted tatted-up East Village gays, Victoria Beckham, and everyone in between during its incredible six year run. We chatted with Phillips and Elliott about how the party started, what kind of crowds their 'Sunday Funday' attracted, and the night they hung out with Alexander McQueen.
How did Cuckoo Club start?Aimee Phillips:
Erich Conrad, the master of everything always, had been doing his party Beige for a long time but it felt like if you wanted to go out and of you were gay, your choices were either to go to a big club like The Roxy with crazy dancing or you could go to Beige and have a nice dinner and kind of hang out and smoke. There wasn't really a big, cool dance party. I don't even think we knew initially that there was a market necessarily for that.

Drew Elliott:
We started the party on the roof terrace of the Maritime Hotel one crazy summer.
AP:
Initially, it was in the same realm as Beige, more of a lounge vibe, sitting out, having drinks. It got cold and we were like, "Oh shit, we have to stop the party because it's cold." But there was this big ballroom space downstairs with a 2,000 person capacity [Hiro Ballroom]. We weren't sure if we could fill it because our friends were cool but not the crowd who went to big clubs. We did the same things we always did and just got cool DJs to play good music and people came. They kept on coming and we literally couldn't go back upstairs next summer because we had so many people downstairs. It was the best of both worlds having people downstairs with their shirts off but who were also cool indie kids -- people from the art, fashion, music worlds who wouldn't necessarily have felt comfortable going to [a big club].
DE:
It was 'the naughty night' because it was 'Sunday funday' and then would go into Monday, when everyone is supposed to be back to work and responsible. So it was for the hardcore party-goer.
AP:
Yeah, it was interesting that it was on a Sunday night. When we were starting, we didn't think people would go out. Drew, Macky and I all were working normal jobs and would have to go in tired or with hangovers on Monday morning.

What DJs did you book and what kind of music did you play?DE:
It was house music -- it was a pure dance party.
AP:
Honey Dijon is a DJ that sticks out to me. I can't remember if she started DJing with us but I do remember that she seemed to do more big remixes and fashion shows in Milan and Paris after doing our parties because those people [booking her] were coming to the club and she'd be DJing in front of 2,000 people. We'd mix indie and rock music and house music. There loads of guest DJs as well. But I was really drunk so I don't remember.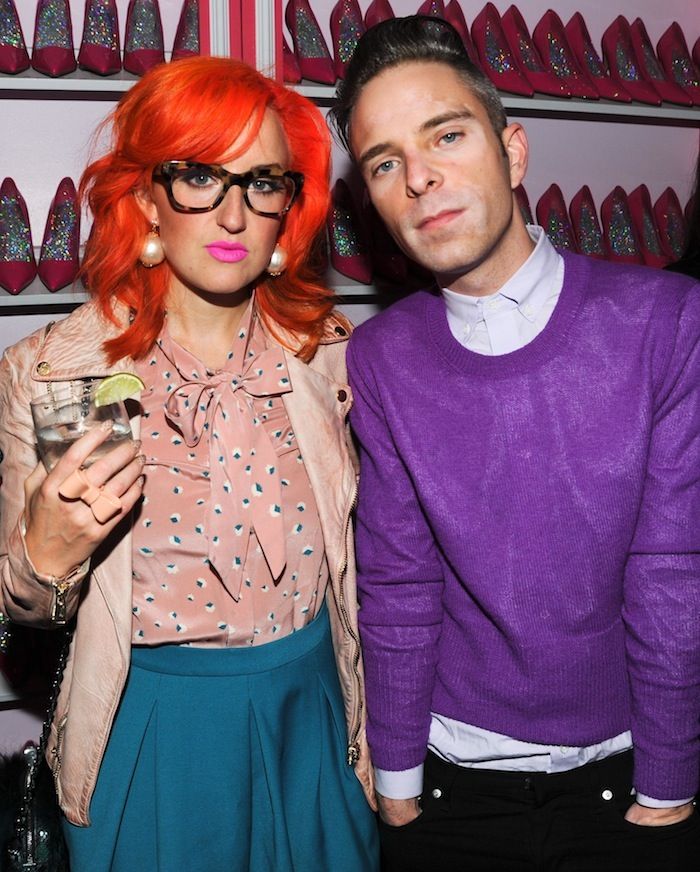 Aimee Phillips and Drew Elliott in 2012. (Photo by
Billy Farrell Agency
)
What was the crowd like?DE:
I remember there'd be lines down the block. Over 3,000 people would line up on a Sunday and [Aimee, Macky and me] would pull up looking crazy. We'd roll up late with Amanda Lepore and pull people out of line to get all the cool kids in.
AP:
Erich Conrad was always a really incredible host -- he still is. He'd always look after people so well. Often, we'd have dinner beforehand and that was when we'd find out who was in town and who would be coming that night. You'd go to dinner at 9pm and have no idea who was coming -- sometimes it would be people like Björk and Matthew Barney. I remember Alexander McQueen was there one night -- I think he slapped me in the face that night, actually!
DE:
When Lee [Alexander McQueen] came in with the whole London set adn we had a song and dance with him -- that's a moment that you remember forever. That was the caliber of people that were there. People just wanted to have fun, let loose, and have a good time. We could curate a good crowd.
AP:
It would be the East Village gays who were tattooed and had cute haircuts and were riding bikes there. The Chelsea gays were there as well. The Roxy had closed down [by then] so there wasn't any other place to dance. Also, whenever you throw a party in a hotel, you get a weird mix of curious hotel guests who are like, "What the fuck?"
DE:
We also had everyone from Lindsay Lohan to Kylie Minogue to Victoria Beckham there...I remember when we were waiting for Victoria Beckham to come and she was running a tad late, we were texting her saying, "Are you coming?" and she said, "Sorry, I was just held up by a carb."
What are some of your favorite memories from that time?AP:
Halloween was great. It was its own crazy thing -- people really went all out with costumes. I remember Drew dressed up like a Lost Boy from Peter Pan --
DE:
I used to swing on swings from the ceiling. We'd get a ladder and I'd get up there and then they'd remove the ladder so I could swing.
AP:
It's all a blur and I think that's how it should be.
RELATED: