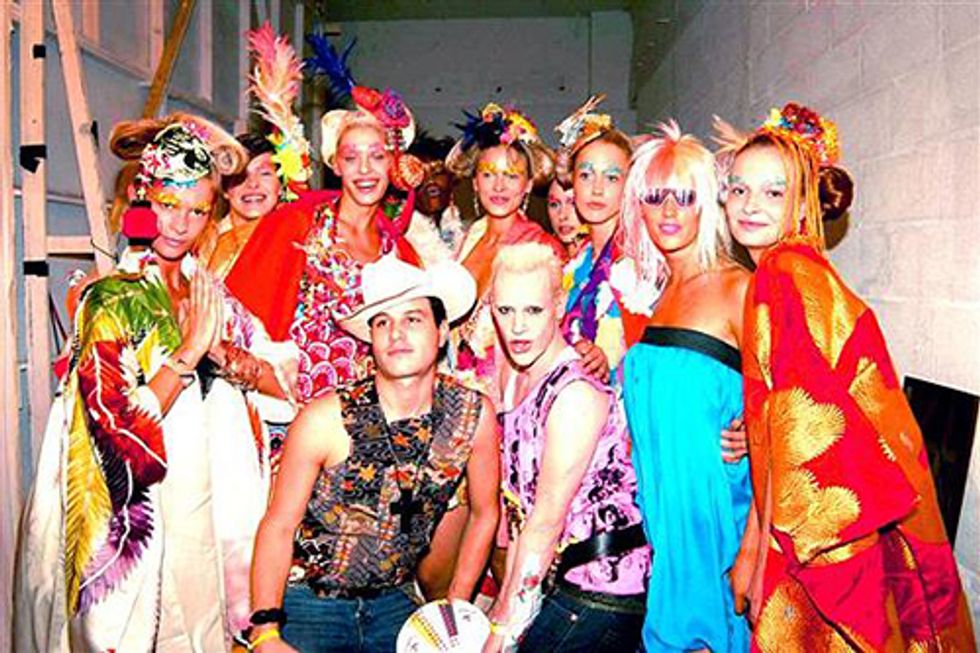 In honor of our 9th annual Nightlife Awards taking place next Thursday, October 17 -- go vote for your favorite nominees HERE! -- we're looking back at some of the folks who took home awards in past ceremonies. From now until the 17th, we'll post a new story each day that tracks down the winners' exploits, closures and rebirths so you can find out what's been going on with your favorite DJ, door person or nightclub since they last witnessed you downing tequila shots and belting out Maximo Park lyrics at 4 a.m at Luke and Leroy's.
"Heatherette was born out of the club," says Richie Rich, who along with Traver Rains turned their "club kid trash" designs into a coveted fashion label from 1999 until 2008 (they took home Best Designer with a Nightclub Influence at Paper's first annual Nightlife Awards in 2005). "I was living in the club scene with all my friends. It came purely from a place of designing what we wanted to wear -- we weren't following the fashion world."
As a club kid in the '90s and a fixture at embattled nightlife mecca Limelight, Rich created a name for himself bouncing from party to party with the likes of Michael Alig and DJ Keoki, drawing attention with his theatrical clown-punk makeup and over-the-top outfits he made on his living room floor. Rains met Rich when he was first settling into the city, teaching horseback riding at Chelsea Piers. "I had just moved from Dallas," Rains recalls. "Richie was assisting Susanne Bartsch at the time, and her son Bailey was taking riding lessons. Richie came to pick Bailey up one day in leather pants, and I was making leather t-shirt as the time, so we started talking about that."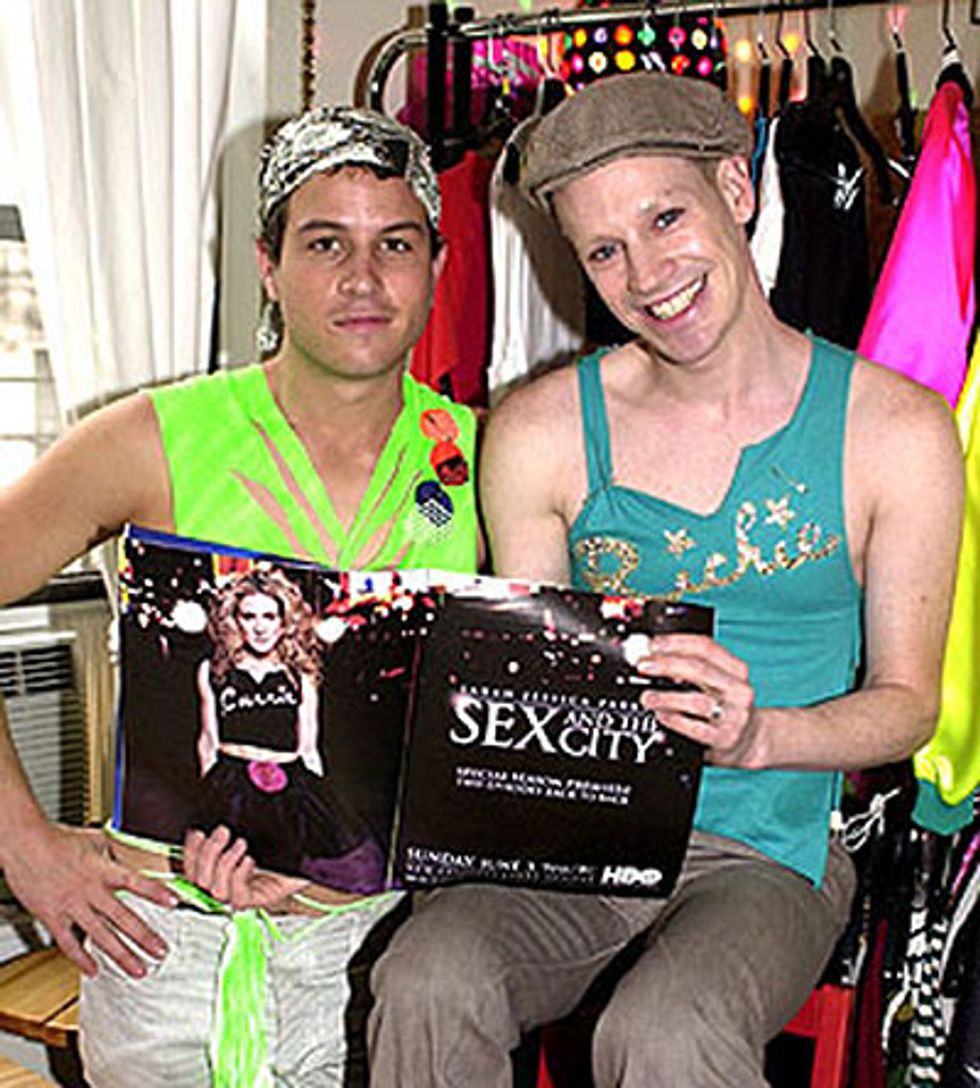 Their friendships, particularly with stylist Patricia Field and photographer David LaChapelle, and nights out with fashion world movers and shakers helped them take Heatherette from one-off club tees to a branded lifestyle. "We were in Tokyo for some crazy store opening and our group shtick that night was a fake band, so we had shirts with our names written in rhinestones and glitter. We went to dinner with Pat and she was like, 'I need that'. She put them in her store and ended up using one for Carrie's outfit in the advertising of Sex and The City's second season."
While Field put Heatherette in stores, LaChapelle put them in magazines. "I met David in the '90s," says Rich. "By the time we started working together he was established and would ask us to bring over a suitcase of clothes and our airbrush machine to his studio. I remember one time Karolina Kurkova came over and she had just been on the cover of Vogue. We made a dress for her and another dress for her and it turned into being like this 20-hour shoot. But those images ended up in Vanity Fair. David had us doing so many different shoots with like Mariah Carey and Pam Anderson. He just understood the pop cultureness of it all."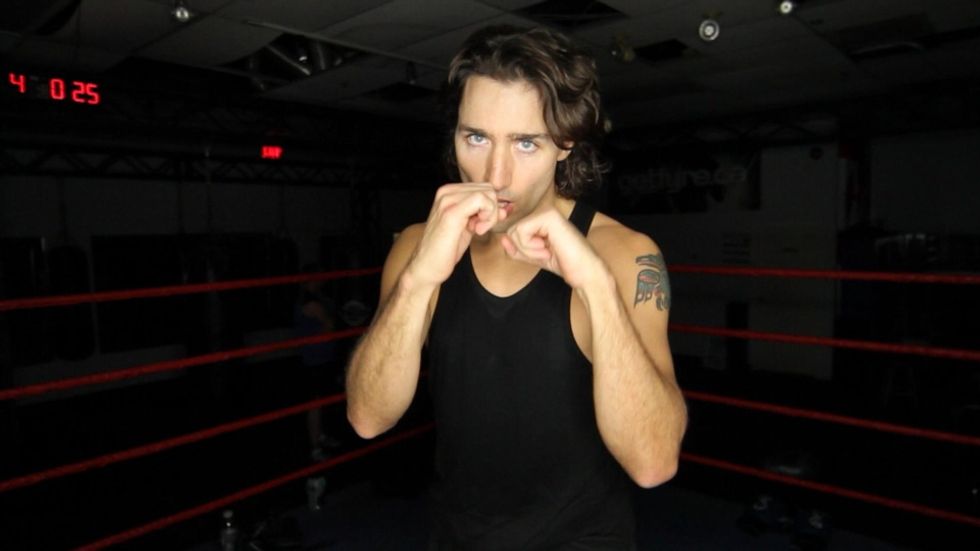 Pop culture loved Heatherette, but so did society princesses. Everyone from Paris Hilton and Lydia Hearst to the Backstreet Boys, Foxy Brown and Gwen Stefani was drawn to their taste for sparkly streetwear glam. "The clothes were attention getting and fun," Heatherette's longtime friend and muse Amanda Lepore remembers. "They had a distinct look, which at that time -- everyone wanted it. David was using it. All the celebrities wanted it. It was in demand."
As the Heatherette started to grow one bedazzled tee at time, the New York club scene began to die out. But in their East Village studio, an old ice cream shop on East 7th near LaCapelle's photography studio and Boy George's Astor Place apartment, Rich and Rains were creating their own scene.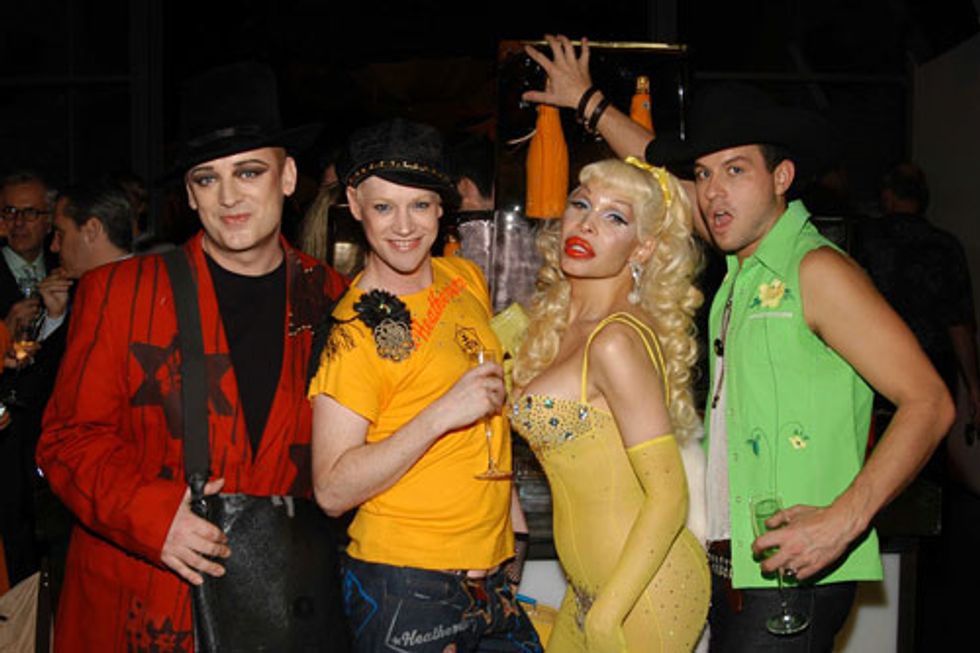 "It was like our own little community," Rains says. "George was playing around with photography and design by then so we would run over to his place, play around with what he was making then he would get in make up. We would run back to the studio where everyone would get dressed up, and if David was doing a photo shoot we would pop by. If he was shooting a celebrity he would ask us where to take them, so we'd go out and see Erich Conrad at B Bar and one thing would lead to the next, and we'd go to some little dive bar and then everyone would come back for after hours at the studio."
The Heatherette studio became a hub of action were friends drifted in and out, clothes were made and parties were had. "Kids would come, take all their clothes off and run around the studio spray-painting themselves and throwing disco balls around," Richie says of the Factory-like environment. "We would be in the corner making dresses for people, and we'd be like 'Who wants a dress?' and create as we went. People would just stop by. Kelly Osbourne came by once and she decided to buy 100 Halloween masks. We went to Niagara and had an informal masquerade party with 100 people we had invited in an hour."
Heatherette's knack for creating an atmosphere carried into their runway shows, which became a must-see during New York Fashion Week. At their first show, they started with a video, which was made for a lipstick collaboration they did with M.A.C. Cosmetics, starring Lepore and filmed by LaChapelle. In the video, a naked Lepore has a mental break while applying the bright pink lipstick and starts to cover her entire body in the shade. It closes with her running down a highway in the desert. At their show, the film came to an end and Lepore ran out on to the runway as if she was coming out of the screen. She took her seat in the front row, and her chair lit up neon pink as she sat down.
A sensational video yes, but the most infamous Heatherette moment involves none other then Naomi Campbell. "Naomi called one day, and said 'I'm sending a car to bring you to my house -- bring some dresses,'" Rich recalls. "When we arrived -- it was a very super model moment - she came down a spiral staircase with a white robe on and white towel wrapped around her head. She glamourously took it all off and said 'let's play dress up!' so we start trying dresses on. I remember whispering to her, 'If you did our fashion show in September, I would die,' and she never said a word, just kept looking in the mirror."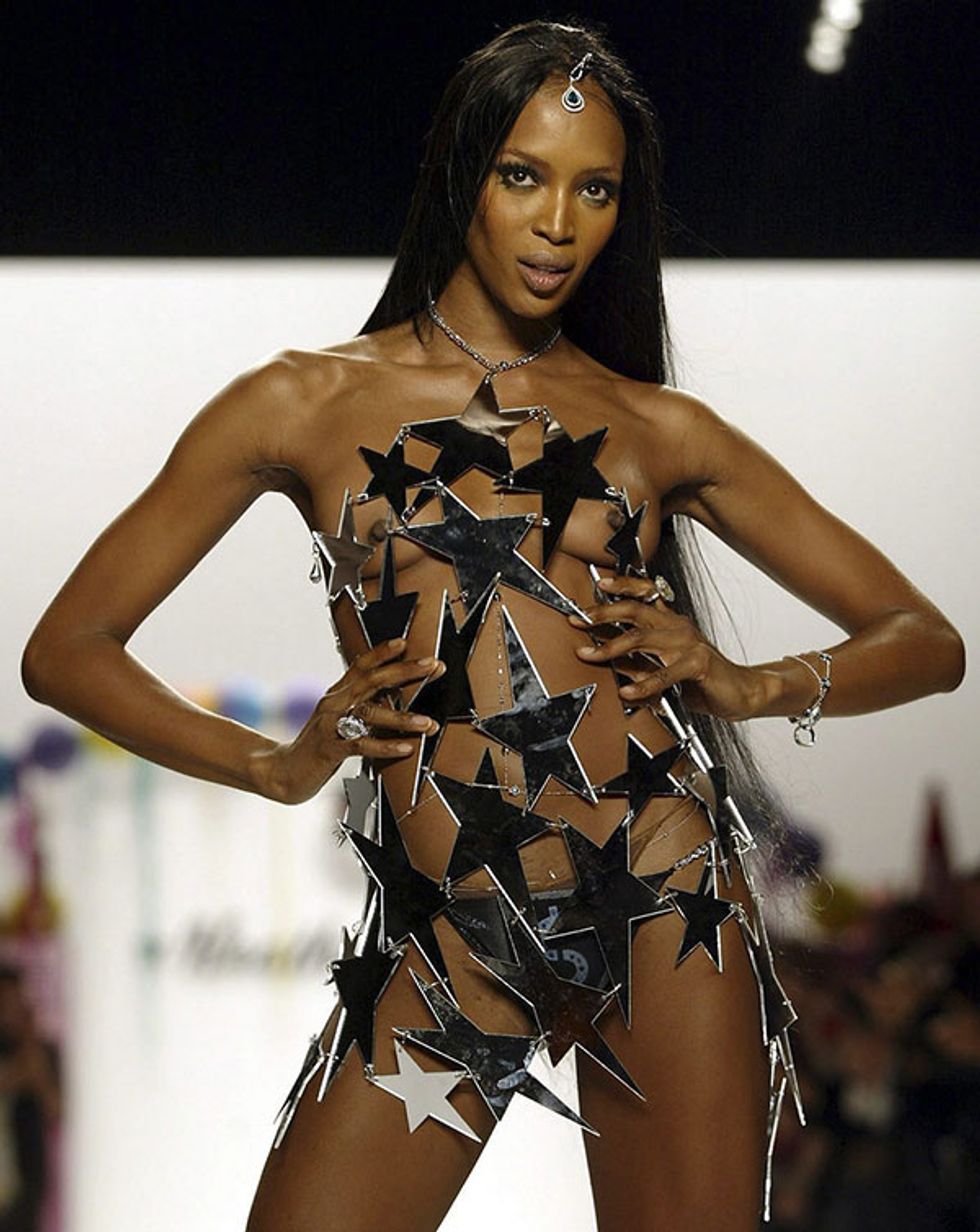 As the Heatherette show began in September, they received a text from Campbell -- she was coming to walk in the show. "She was onstage at some awards show, but kept texting saying she was on her way," Rains says. "We had to stall the show, but when Naomi got there she went from one dresser to the next, and had her hair brushed as she walked -- it was like a movie. She goes straight on the runway, poses and everyone freaked out."
"I think their shows were the most fun New York had," Lepore says. "All the big models wanted to do it. All the celebrities and everyone wanted to be apart of it. To this day I haven't seen anything like it. Whenever I go to things that are kind of like that now, it's not the same. It's always more serious. Heatherette was wild and fun. You always want a party like a Heatherette party."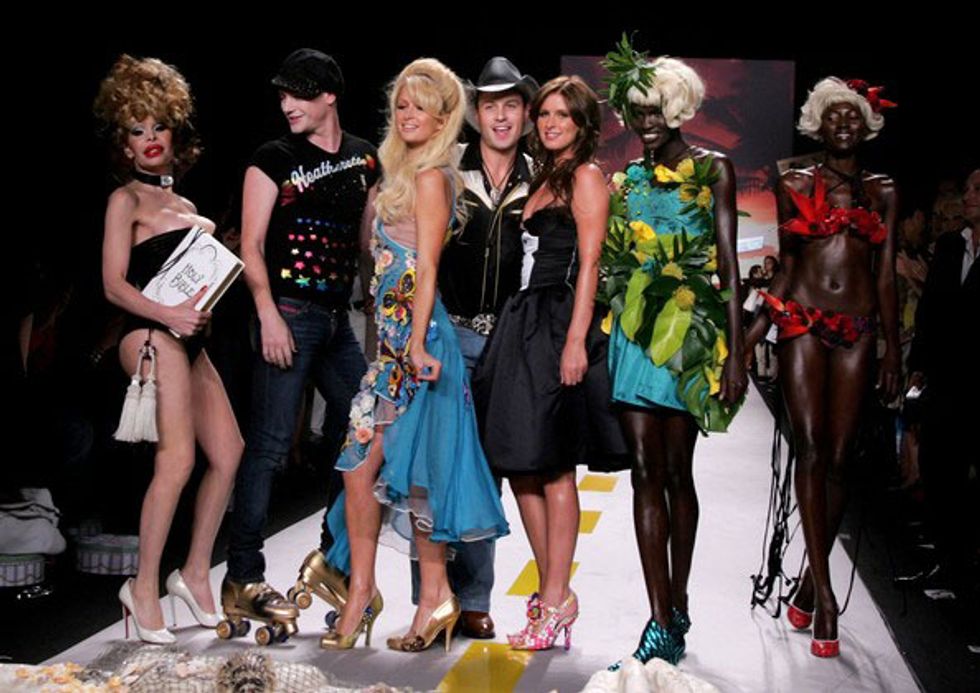 Since their last show Rains moved to LA to pursue
photography
while Rich is set to launching two fashion lines this spring: Rich & Warr, a mens line, and a womens, Chantilly Rich, with Chantilly Lace designer, Chantelle Warr. Although busy, Rich still has his eye on the club scene.
"It's been fun watching the new generation of kids. When I moved to New York I was 'the new' to the old nightlife generation," Richie says. "Now it's fun to see all the new kids coming on the block and dressing up. I feel like the style is coming back. Who knows, maybe Heatherette will too."