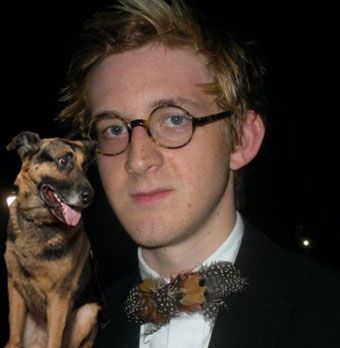 Today's papers bring tales of two fine fellows named Cassius: One, a 19-year-old Yale sophomore named
Cassius Marcellus Cornelius Clay
who has taken a leave of absence from school to become
Kanye West
's right-hand man and personal stylist. The other,
a German Shepard
who just goes by Cassius and specializes in live-find rescue. Cassius helped recover survivors after the January earthquake in Haiti, Hurricane Katrina and the 2004 tsunami in Sri Lanka.
Both do admirable work. Clay joined West's cadre after the hip-hop artiste
approached him at Barneys to compliment him on his gold-crested
Stubbs and Wootton
slippers. Cut to less than a year later, and he's now picking out women's jackets for West at
Philip Lim
and bravely guiding him away from
couple's denim looks
. But, jokes aside, the true hero here is Cassius the dog, who is one of five courageous pups receiving the American Kennel Club's Humane Fund Award for Canine Excellence on Saturday at the Javits Center. What an honor for a really great guy!
But what will Cassius wear to the awards ceremony? We think we know just the right person to help him pick out a look...