Carlie Hanson has had a meteoric rise. The 18-year-old singer, who was working at a McDonald's in Wisconsin less than a year ago, is now performing with Troye Sivan and getting endorsements from none other than reigning pop queen Taylor Swift. Her first three singles, marked by lush pop production and syncopated lyricism, have already racked up a cool 40 million streams on Spotify. It's the kind of music you'd imagine elevating a heist scene in a Sofia Coppola film.
Hanson just played her first live show last month, and seems incredulous that so many fans have showed up to her shows singing along to her lyrics. She also has normal teenage concerns — crushes on stars like Justin Bieber and a desire to spend all her time with her friends. Those desires are, of course, altered by her chosen career path. She misses her friends because she had to move to Los Angeles to work on music, and says she's excited to return to her hometown this summer and see them — only this time as an act at the summer festival they used to always try to get tickets to.
Luckily, Hanson has a great support network surrounding her as she navigates this life transition. Her mom has been supportive from the beginning, and her best friend flew out to see her first performance in May. Hanson is gearing up for a summer of touring, meeting fans, and getting comfortable on stage. PAPER caught up with the rising star to talk about her songwriting process, her pre-show rituals, and writing tracks about her friends.
How did you get started making music?
I'm not a fan of school. I've been writing songs since middle school in my notebook. Justin Bieber was the main reason why I got into music, because I was always on YouTube and I would see his videos. He was really cute, so that's why I got into him. And I also thought it was so cool that he was singing at such a young age. I learned all his songs right away. That's how I got into music.
Then I started doing sessions and I posted a cover of "Pillow Talk" by Zayn on Instagram and this dude from Canada messaged me and was like, "Yo, I have some producers who I think you would work well with." So long story short, me and my mom went to Canada and I worked with these producers, and they ended up producing "Why Did You Lie" and "Only One." And then me and my mom went to California for the first time and I met this guy Dale Anthony. He's who I wrote most of my songs with and then he introduced me to Bret who I now work with, and Bret introduced me to Danny who's now my manager, so it was just like a lot of great connections being made all from my "Pillow Talk" cover.
Related | Zayn Malik's Solo Career Is Lit
How did the person in Canada find it?
I was trying to win a contest hosted by iHeartRadio to see Zayn Malik. iHeartRadio reposted my cover on their Instagram and then that got a few more of people to see it and he found it from there. I didn't end up winning the contest, but I won in other ways.
You also just had your first show ever in LA. What was it like performing live for the first time?
It was my 18th birthday on that day and my latest single "Mood" had just come out, so I was feeling super amped up from that. It was really fun. I was super nervous beforehand. But once I got on stage, I saw my family was there. My mom, my two sisters and my best friend were all in the front row smiling, and a whole different side of me came out. It was crazy seeing the audience smiling back at me. I wasn't even focusing on my songs at that point, I was just focusing on them and trying to get them involved.
You just had a show last night, too. How was it?
There were actually real fans of mine last night at the show! It was so crazy, I did not expect that at all- they know the words to my songs. There were problems with my in-ears, so I messed up a few times. But they didn't care. I was like, "Sorry guys I fucked up!" but they didn't care. It was really sweet. Billie Eilish was there because her brother was an opener for me and she was so sweet, and Troy [Sivan] came. And I ate so much pizza.
Related | Billie Eilish Wants to Make Sure You Never Forget Her
What was it like to see all of your fans yesterday?
Oh my god, it was really wild. At the end, they were all shouting, "Encore! Encore!" And then they ran to the other side of the venue and were all lined up by my dressing room. Oh, and I got a bracelet. A fan made me a bracelet that says my name. She and her friends were wearing each one, so I guess I'm a part of the crew. I really want to live in New York at some point. Friends the show really made me want to live here.
You're performing with Troye this summer.
Yeah, that just got announced. He's been so supportive since the beginning. His boyfriend and him, Jacob, they actually shot my first artwork, so they've been supporting me since day one.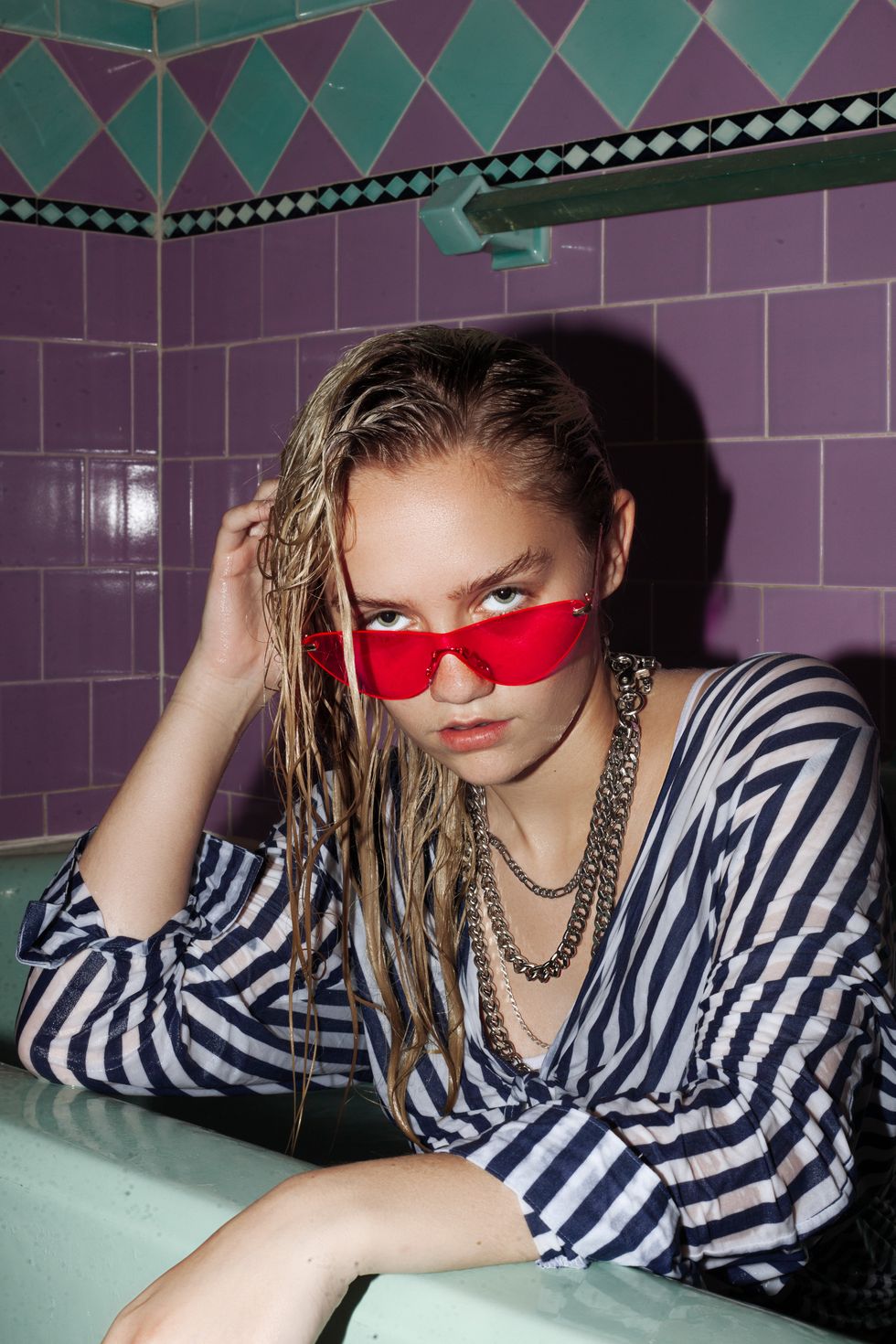 And you were included in a playlist created by Taylor Swift. How did you find out about that?
I was at lunch with my friend and Danny, my manager called me and was like, "Carlie are you sitting down? Taylor Swift..." and I was like "Nope! Nope! This is not happening!" and she was like, "Taylor Swift just put you in her favorite songs playlist!" I remember setting the phone down and just sitting there in shock because that's a huge thing and I've been following her since I was so small. It was crazy. I had to go online and see if it was real. I went home and told my mom.
And then Taylor ended up liking one of my tweets on Twitter too, so that was super, super exciting. I just saw her live too. It was really sick. The production was insane. She floats around and goes around the stadium at one point and she had these big snakes- they're huge, like unreal. It is weird to see a bad bitch side of her. It's super inspiring to see how she can just change her sound like that.
Related | Taylor, Charli, and Camila: The Feminism Behind Their 'Reputation' Tour
Your rise happened pretty quickly.
Yeah, it was just last summer that I met everyone I work with now.
Less than a year! So how does it feel?
I live in LA now. It's a weird switch just because I've been in Wisconsin all my life and I don't have my friends with me anymore. And I was always with them all the time.
Have your friends been coming to see you?
Yeah, my best friend came out for my birthday and the recent show. But I really want to fly some of my other friends out this summer. It will be cool. They'll be able to fly to California for the first time. It sucks though, because I'm so close with them. But I'll be able to bring them to shows. I'm playing Summerfest in Wisconsin this summer, and that's a huge deal because me and my friends would always try to get tickets for that and we never could, and now I'm playing it, which is really really wild.
What do your friends think of your music career?

Now that I've posted the tour with Troye, they're all just like, "What the fuck is going on?!" I feel like if I was them, I'd be the same way. They're all kind of in shock. Whenever I go home, I'll play them new music and then they'll see this really is a real thing. But they're really supportive. I miss my mom and my sister, and my four dogs, but I'm going home for Summerfest so I'll be able to see everyone.
Related | Troye Sivan's 'Bloom' Video Is a Chic Genderqueer Fantasy
And your mom sounds so supportive.
Yeah, it's actually really crazy. She took so much time off work when I first went to Canada. She was so dedicated from the beginning.
Your latest music video for "Only One" had an all female crew. Was that a conscious choice or just how it worked out?
It's just how it worked out. Danny was the one who found them and she was like, "This seems really cool. It's two girls and I think you would get along well with them." And I did. They were at my show last night, and they're really great. I hope I do my next video with them. I want to work with them for a while, they're like really dope.
How did you decide to make it a dance video?
It was kind of their idea because I definitely wouldn't have been like, "Let's make this a dance video!" because I don't dance. I dance in my room. It worked out great. The choreographer was great. It was actually really fun. I learned it in less than a day.
Do you want to incorporate more dancing in your music videos ?

I don't know, maybe. I always find myself dancing and I think Justin Bieber has a lot to do with it. Maybe when I start doing the tour. I need to get comfortable first, I think.
Would you say most of your musical influences are pop musicians?
Justin Bieber is definitely a big one, but I like rap too. This new artist Lil Skies is really cool. My friends and I would always listen to Soundcloud rappers, so that's like a lot of what influences me. And then my mom would always playing rock music in the car. Nirvana was one of my favorite bands of all time. She was always playing Tracy Chapman and Pearl Jam.
What's your songwriting process?
I always have a journal on me and I'm always writing random stuff. Half the time it doesn't even makes sense, but I'll take it into consideration and I'll talk to one of the writers. Or sometimes I'll just be by myself and ask a producer, "Is this good? Can we go from here?" Either that or I'll just come up with a melody randomly and bring it in and see what they think about it.
I don't really think too hard about it. It's all about what I'm feeling that day. And sometimes it even happens on the Uber drive there. I'll see something and there will be someone talking on the radio and I'll be like, "Okay, that's a concept right there." I really do try to relate it to my own life because I don't like singing songs I didn't write or experience. When you're on stage singing, it's not fun.
Last night, on my set list I have this song I wrote called "Hazel," which is my favorite song. It's about a friend of mine back home who got into drugs and started hanging out with the wrong people, and that's the most personal song I've ever written. It's the one I have the most fun singing on stage because it's so personal to me.
Have you played it for your friend?
No, I haven't. But I feel like she'll know it's about her when it comes out.
How do you prepare for your live performances?
Last night I had so much pizza and had to like, sneak a sip of wine to loosen up. And me and my band, we tried to meditate but I can never take it seriously because you can like hear the crowd out there and the openers going on. I'm just too amped up. I think it helps though because all my adrenaline is going and then I'm pumped to go out there.
Anything else you're excited for?
I'm just excited to start meeting all my fans and performing more and getting more comfortable on stage. I haven't had a session in a long time, and I'm just so excited to get back into writing.
Photography: Jaxon Dobbins