"If you know anything about hip-hop, you'd know that hip-hop was created from a Jamaican man — a man by the name of DJ Kool Herc," explained comedian Majah Hype at an Atlanta hotel lounge Friday afternoon. It was the day before the annual Red Bull Culture Clash, where Majah was set to perform with his crew Frequent Flyers, a collection of DJs and performers led by Jamaican dancehall artist, Kranium. The topic of conversation was the connection between trap and Caribbean music. Majah was adamant: "Hip-hop music, urban music, all come from Caribbean culture."
Very early on during this year's Culture Clash it became clear that the Caribbean sounds from Kranium and the Frequent Flyers, and the trap beats from legendary trap producer, Zaytoven and his crew, Zaytown Global, would dominate the one day music competition, which was inspired by Jamaica's legendary sound clash battles (Latin artists Fuego and Electronic musicians Mija and Kenny beats were also apart of the competition). As the breeding ground for the most legendary trap musicians, Zaytoven's appeal over the Atlanta audience seemed to stem from the unwavering appreciation for his skills as a trap pioneer, and a sense of hometown loyalty. Kranium's appeal leaned more towards the advantage of coming from the culture where sound clashes originated, and making extremely popular dancehall music inspired by the sounds produced from these clashes. These elements were extremely important, as the crowd ultimately decided who walked away victorious.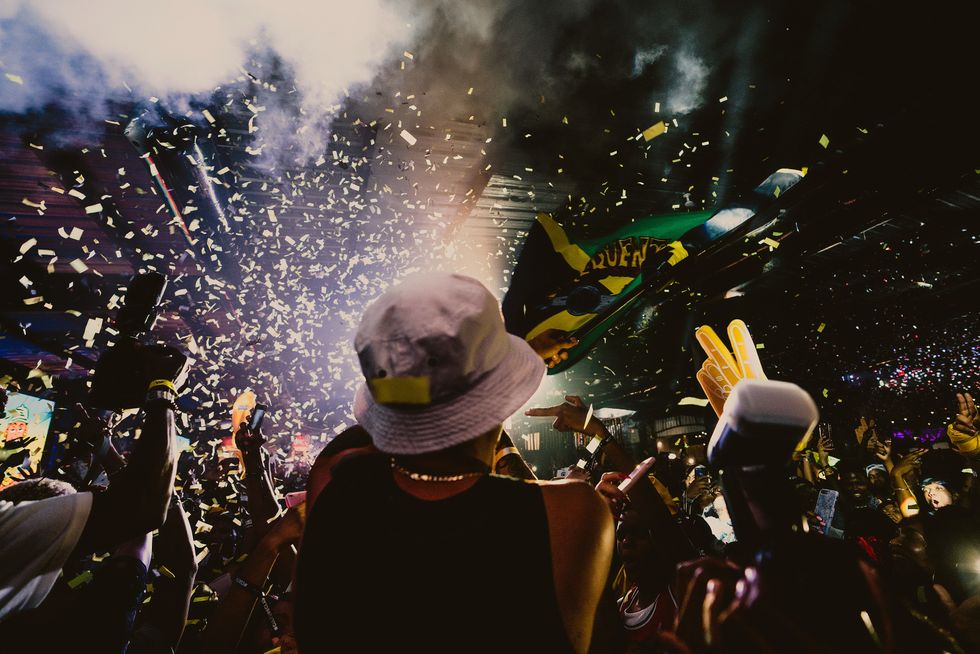 Beyond the general appeal of both sounds lies a deeper and more linked cultural connection. As explained by Majah, trap music, being a sub-genre of hip-hop, also owes its creation to the Caribbean vibes borrowed by early '70s hip-hop pioneers from the Bronx. "[DJ Kool Herc] bought that vibe from Jamaica over here," said DJ Self, a DJ at New York's Power 105.1 and member of the Frequent Flyers. "I think a lot of rappers or trappers, they want to be Jamaican-ish because it's cool." This vibe and apparent cool factor overflowed into the musical composition of early hip-hop, the DJ battles in Bronx basements, and helped shape the style, language, and dances of hip-hop culture.
"A lot of things that happened in dancehall first always becomes a part of trap or rap," said Majah. "Even down to the language. A Jamaican will say 'yo this ting turn up' and then the next thing you know you will hear someone say 'you let's turn up.' It's the same definition but they just make it theirs." The integration of Caribbean culture in hip-hop music today can be heard in popular tracks by Canadian-born musicians Drake and Tory Lanez (Tory is of West Indian descent), who both grew up in Toronto around a heavy Jamaican immigrant population, and seamlessly rhyme over dancehall beats with the same frequency and tone as they do their trap beats. In Drake's case, the rapper even goes as far as to use the language and Jamaican patois accents he adopted in Toronto, which had already been twisted and influenced by other Caribbean cultures as well as Canada's native culture.
"Hip-hop music, urban music, all come from Caribbean culture."
Now that trap music has evolved to become a global music staple, the give and take relationship between trap and Caribbean music is no longer unequal. The hardcore bass and lingering 808s are now often heard in the hook-less, extended dancehall tracks coming from the Caribbean. The combination of trap and dancehall music has even fueled a small, informal sub-genre donned "trap dancehall", which has not been fully defined for its sonic characteristics but is visible in the music of people like Jamaican-American artist, Baker Steez. DJ's and music venues around the world have even made events that combine the sounds of both genres, and successfully compelled audiences to move to both styles of music.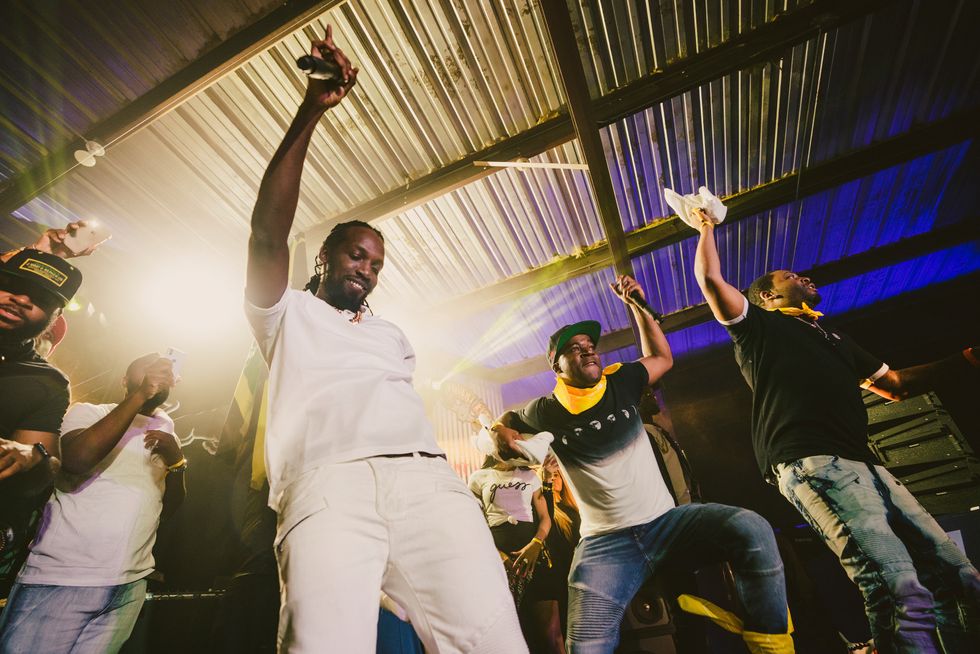 Dancehall star Kranium also admits this exchange in culture is not completely one-sided. Kranium, who moved from Jamaica to New York city as a teen, is known for his collaborations with hip-hop artist Ty Dolla $ign. The two collaborated on 2015 hit "Nobody Has to Know" and 2017 single "Can't Believe" featuring Nigerian Afropop megastar, Wizkid. "Don't get it twisted, I think there's certain things that rappers do that we adapt to our music," explained Kranium. "It's mutual." This mutual respect beamed through in his Culture Clash set, which included popular hip-hop anthems from Jay-Z and Atlanta's Crime Mob (they played the group's cult-hit Knuck If You Buck between spinning songs from Bob Marley and Mavado).
It's important to recognize that as much as Caribbean sounds influenced hip-hop music, African culture is what shaped Caribbean culture. Caribbean artists and American or European artists' African ancestry further explains the appeal that both trap and Caribbean music have over black audiences. The heavy use of percussion instruments, the call and response elements, and the improvisational characteristics of trap and Caribbean music are, like the artists, descendents of Africa, and a reflection of the continents lasting cultural impression around the world. It appears to ignite in these audiences an innate sense of movement and respect, regardless of the lyrics or the language.
Overall, Kranium believes Caribbean and trap music is "just one music and it's one vibe." However, the singer still manages to put Caribbean music above trap in a way that does not appear to downplay the latter's appeal, but rather respect the original master sound. "It's just that we are ahead of the thing and we are always still going to be ahead of the thing." On Friday night, when Kranium and his crew took home the Red Bull Culture Clash 2018 victory, he further solidified this notion of Caribbean music's superiority, while at the same time exemplifying the shift in Caribbean culture that made his set appeal to an audience of trap enthusiast, whose favorites sound were also heard through his music.
Photos courtesy of Red Bull Music Academy
Sign Up For The Morning PAPER