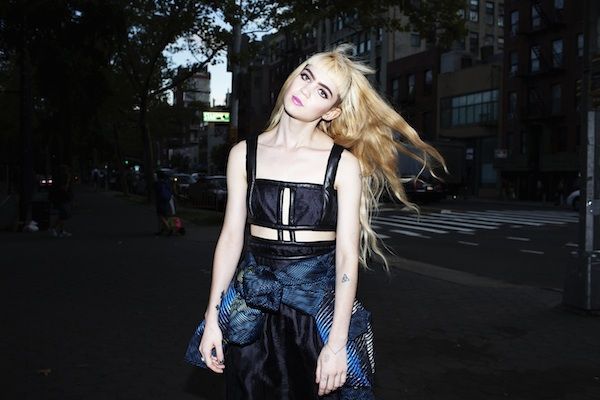 Talking to Grimes in person for the first time, you might be caught off-guard by how normal -- and how much deeper -- her voice sounds. "I do lots of vocal impressions," the 24-year-old Canadian goth-pop singer born Claire Boucher explains. Prior to launching her own music career in Montreal, the singer started out in the city's vibrant warehouse scene and "did backup vocals for people. They'd ask, 'Can you sing it higher?' and I'd do it higher until I realized I had a pretty wide range." That range, distinct as it is, becomes all the more so when looped together -- the girlish, lisping falsetto overlapping with a deeper, New Age-y sound -- on
Visions
, her third full-length record (though she thinks of it as her debut) released this past winter. It has also quickly propelled Grimes from loft shows to a headlining slot at this summer's Pitchfork Music Festival and a recent tour with Skrillex and Diplo.
"She's created a new kind of genre."
-- Scott W. Kirkhart, Creator of Grimes' Facebook Fan Page
Just as the size of her performance venues have grown, so too has fans' devotion. At each stop, more and more young women sporting Grimes-esque neon dip-dyed hair, half-shaved heads and '90s-style streetwear turn out to see the impish singer. A few days before a sold-out show in a tiny Brooklyn space, Grimes tweeted her followers asking them to submit an illustration of "a dragon fucking a car" for the chance to receive two free tickets. Many,
many
did.
"She's an original," Ryan Schreiber, the founder and CEO of Pitchfork says when asked about her popularity. "She's at the forefront of a group of emerging musicians who are drawing from an entirely new set of influences... It's futuristic."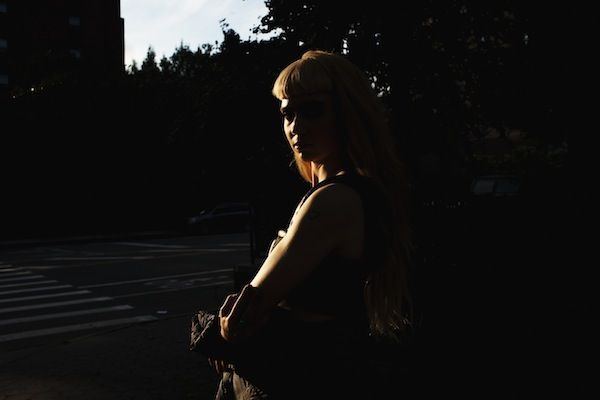 Grimes' ethereal sound complements a whole persona that deftly blends light with dark, mainstream references with the occult. Her constantly evolving look has cycled through everything from camouflage hunting jackets and headbands to elegant gowns and
Girl with the Dragon Tattoo
-style blunt bangs. For a time, her hair was dyed a shade of algae green, leading some to associate the singer with the burgeoning microscene, seapunk. Taken together, it's this singular combination of fashion, music and idiosyncratic references that makes Grimes the perfect artist for the Internet Age; images, videos and GIFs of the singer are primed for sharing, and introduce new fans to the musician with each post.
And it's also the singer's steady communication with her devotees via
Twitter
-- such as the aforementioned call-out for the dragon-car sex romp drawing -- that creates such enthusiasm. Says Brooklyn-based artist Okapi Akimbo, one such fan who submitted a drawing, "Grimes is the crust princess of the moment. I would be suspicious of anyone who didn't love her."
Stylist:
Andrew Mukamal
Makeup:
Porsche Cooper
using NARS cosmetics
Hair:
Jakob Sherwood
for Tigi Catwalk Session Series at Artists by Next
Dress by
Christopher Kane
and jacket by
Peter