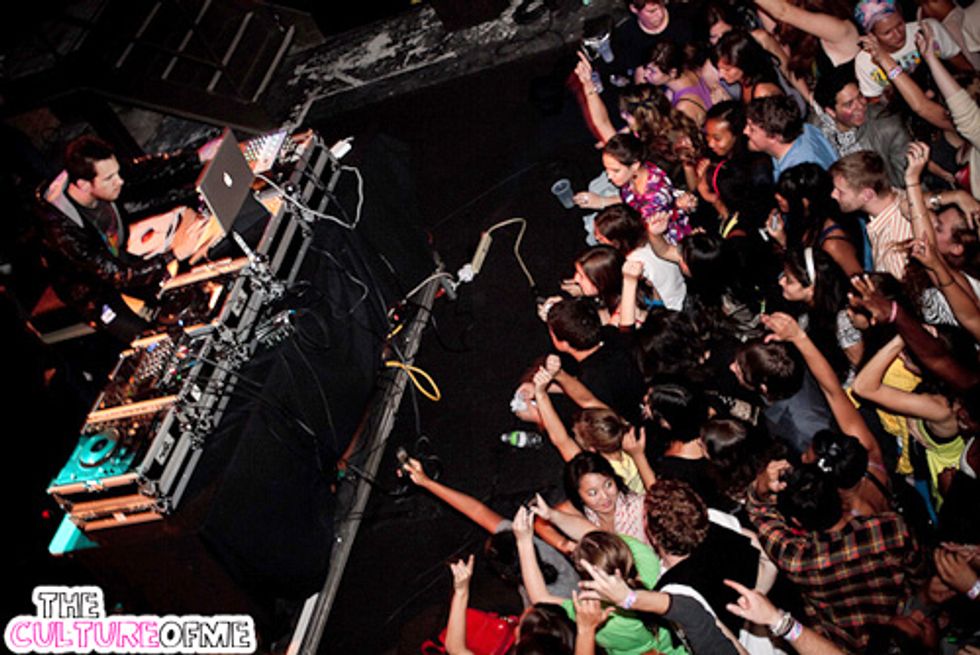 Twenty-five-year-old turntable talent Calvin Harris puddle-jumped from London last week and brought his beats straight to Brooklyn. Thursday night at the Music Hall of Williamsburg marked the first in a wham-bam mini-series of stops he would make in America, the middle layover in Chicago on Friday and the final frontier in L.A. on Saturday. All before embarking on an Asia-then-UK-then-Australia tour. Also known as audible world domination. Whew. The six-foot-five mix-master, donning a five o'clock shadow (who could blame him for that sexy stubble?), took the stage a tad after twelve and laid down numerous Calvin creations, along with a host of other artists' tracks. The towering wunderkind, dressed in blue jeans, black tee (with rainbow skull) and unzipped black hoodie, opened with a classic, "I Created Disco," plucked from his debut album, aptly titled I Created Disco (2007). This was met with ample applause. And so it went.
From here he proceeded to switch it up, ditties ranging from Phonat's "Learn to Recycle" to Tiga's "Mind Dimension," from Digitalism's "Home Zone" to a wicked booty-movin' remix of Final Edition's "I Can Do It Any Way That You Want It." All of this set to interchanging green, blue and magenta lighting, sporadically switching from solid beams to star shapes spiraling around the room. Calvin also paid homage to his collab buddy Dizzee Rascal. Instead of playing their #1 single "Dance Wiv Me," though, from Calvin's brand spankin' new record, Ready for the Weekend (digital release August 17, physical release October 6) he went with DR's own "Bonkers." There were admittedly a few titles that eluded me, particularly lyric-less stuff meant for the quintessential rave rat. Shrug. Sorry, folks.
Unlike his Webster Hall set six months ago, the MHW crowd was more manageable in both size and disposition, not to mention brimming with hipsters (think Grizzly Bear tees) and, to my surprise, prepsters. There were a few gentlemen in three-piece suits (?!?!) and a young woman sporting an oversize pearl necklace. Maybe their driver got lost? Kidding. There were also club kids, or at least club kid wannabes, flannel shirts wrapped around their heads as they danced, bare-chested, intermittently whipping their button-ups at their respective female "fans." I did peep a few glow sticks and glow necklaces, but I'm trying to put these sightings out of my mind. Perhaps most amusing were the myriad makeout sessions taking place, in perfect view from my birds'-eye perch in the balcony. One spilled onto the stage, girl bent backward whilst guy assaulted her mouth with his tongue. She didn't seem to mind. Of especial interest to me was the lip-locking and heavy petting between two dudes, one who, when he wasn't groping the other guy's naughty bits, seemed to be kissing his own bicep, arm flung over his head. Drugs may have been involved.
Back to the music. As for Calvin originals, he included a few old and a few new: he closed down the evening around 1:45 a.m. with "The Girls," wagged his pointing hand in the air and at the audience during his addictive #1 single "I'm Not Alone" and didn't fail to include one of my personal favorites from the latter album, the repetitive and pulsating but deep penetrating "You Used to Hold Me." Of particular note was his treatment of "Acceptable in the '80s"; with a simple maneuver he revealed the enthusiasm level of the entire room. Essentially, when the song arrived at the line "…the eighties…" he turned the dials down and left the vocals to us. However, he did this without warning. It was somewhat impressive the crowd didn't disappoint; we were all belting it out loud despite so obviously not being able to hear ourselves, let alone each other, had he not snuck up on us with this sudden silence. I can't say I'm surprised at our response, though, Calvin is a legend, but it was nice not to collectively drop the ball. We have all been witness to this strain of fail at a show at one time or another. Anyway, this chick got chills.
As the night approached "too late to be out on a school night," the room gradually thinned a bit (show was open to 16+ after all) but not too much. To the last, the room made their adoration known, arms waving and mouths cheering. There was a lot of love in the room and weed wafted past my nostrils more than once. Calvin exited the stage shortly after being passed a mobile phone from fellow bandmate Mark Irving with a message evidently directing him to wrap it up. This nine-to-fiver was relieved to head home, but traipsing in the rain to the L train proved bittersweet; Calvin is always something special to behold and hear. Interestingly, via his keystrokes, knob twisting and button pushing, Calvin said plenty without speaking a single word the entire evening.
Photo by THE CULTURE OF ME