Last Thursday, the alice + olivia boutique in Beverly Hills hosted a private event to benefit the Caitlyn Jenner Foundation. It was an energetic yet comfortable affair: old friends catching up over champagne, shoppers excitedly picking through racks of sequined clothes, and more canapés than anyone in the room was likely to eat. Proceeds from the night's clothing sales, as well as from sales of Jami and Klaus Heidegger's unisex skincare line Retrouvé, also on offer at the boutique, benefitted the foundation.
In a brief interview, Caitlyn Jenner explained that since starting her foundation about 18 months ago she has been able to exercise more control over the direction of her philanthropic giving, and now has greater flexibility to launch new programs of her own to support the trans youth community. Jenner stated that this flexibility means the foundation can adapt to shifting political and cultural landscapes: "Of the L, the G, the B and the T, the T is by far the most misunderstood and the most underfunded. When you have a foundation like this, there's a progression of how you help — what's the best way to help? And that constantly grows." The stated mission of the foundation includes financial support for organizations that address urgent issues affecting the transgender and gender non-conforming community, including suicide, poverty, and violence.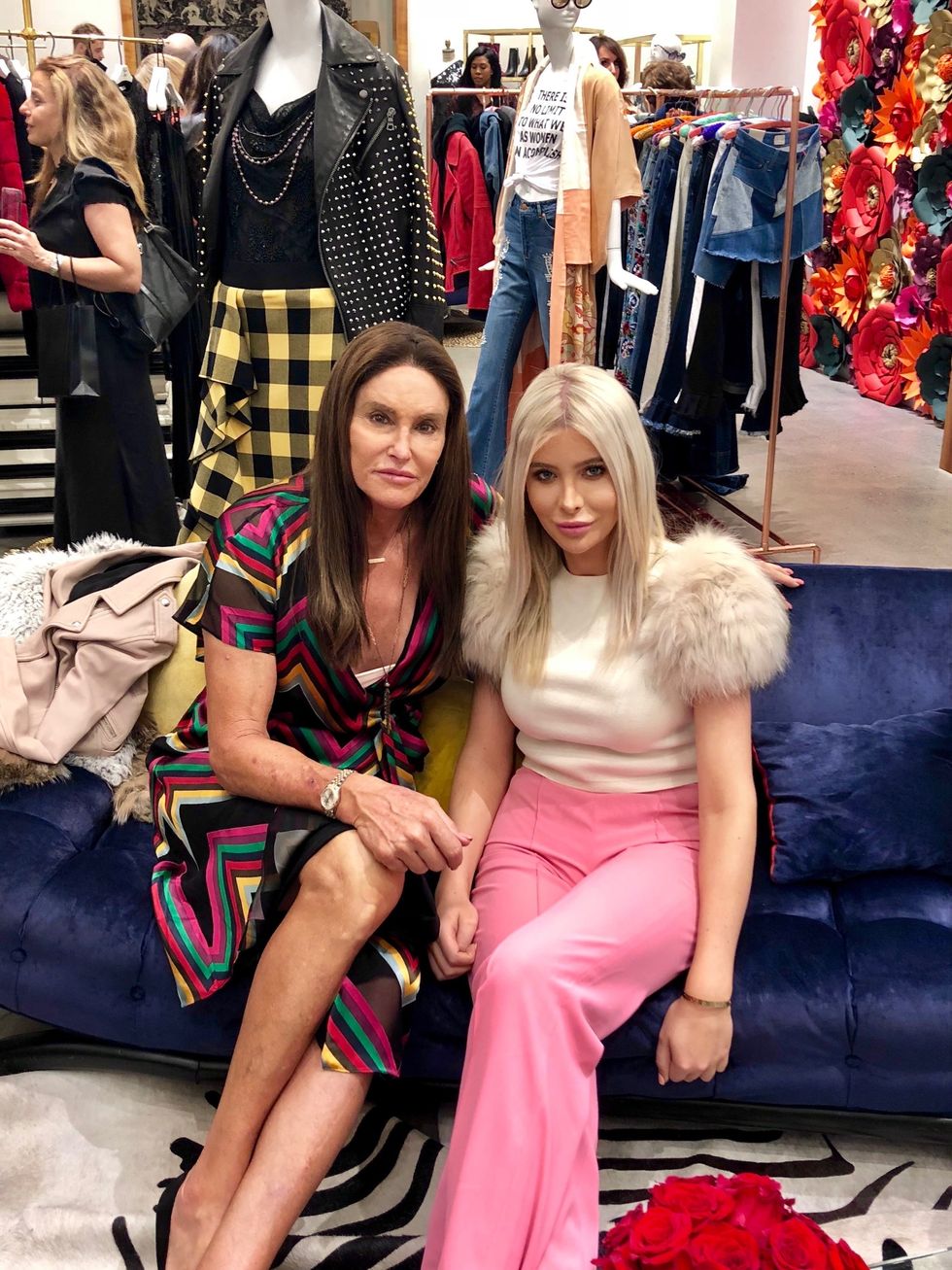 Caitlyn Jenner and Sophia Hutchins
Sophia Hutchins, the executive director of the foundation, indicated that while they would continue partnering with local and national trans advocacy organizations, such as the TransLatina Coalition and St. John's Hospital, they are interested in establishing new programs to tackle what they see as critically underaddressed issues. "Going into 2019 we have a lot of our own initiatives. Our first initiative is a scholarship fund that goes to undergraduate LGBT — especially T — students as well as graduate students," she explained. Hutchins laid out a clear strategic outcome for the scholarship program: "We want people to be able to be self-sufficient, especially in the trans community. We believe one of the best ways they can become self-sufficient is through education. If you look at the impact of education on living in poverty, when you're college educated your lifetime earnings go up X percent — 200%, 300% — beyond someone who is not college educated. So for us it is very important to break the wealth gap between the trans community and the non-trans community." Self-sufficiency, the pair stressed, leads to empowerment in the workplace and financial independence.
Beyond higher education, Hutchins explained a secondary drive to lift trans folks from cycles of unstable employment and housing through greater economic savviness: "Part two of being self-sufficient is being literate in finance — financial literacy and wealth management. We're creating a program through our foundation that will educate trans and LGBT people, especially at-risk people who are in poverty." The planned financial literacy pilot program will begin out of the Los Angeles LGBT Center, but Hutchins envisions expanding the program to other centers.
In response to a question about whether the foundation would openly take stances on particular political issues, policies or elections, Hutchins was emphatic that it is an apolitical organization, but always focused on trans equality in whatever form it might take: "We're purely philanthropic. This year, though, we did give a grant to the National Center for Transgender Equality, which is the premier law group for transgender people on the federal and state level" to defeat certain anti-trans ballot measures. On the federal level specifically, Hutchins said they have retained a lobbyist to lobby for trans inclusion in the armed services.
Jenner then expanded some of the views she expressed about the state of trans recognition and rights in her recent op-ed for the Washington Post (itself a response to a recent New York Times exposé that revealed the Trump administration's plans to legally define sex by as "a biological, immutable condition determined by genitalia at birth"). She was not shy about her disenchantment with this latest move by the Trump administration or her disenchantment with the President more generally. And yet, she explained, perseverance has not only been the trans community's most unfair burden but also its greatest strength. "We're going to work with anyone who is in Washington, and on a state level, on equality issues — Democrats, if they're in power, or Republicans," she said. On that score, Jenner expressed hope that trans community will learn from the political successes of the gay community, acknowledging the great perseverance that was required to achieve same-sex marriage legalization despite innumerable political setbacks. Jenner is hopeful the movement for trans rights and acceptance will ultimately prevail from the same type of determination.
Sign Up For The Morning PAPER