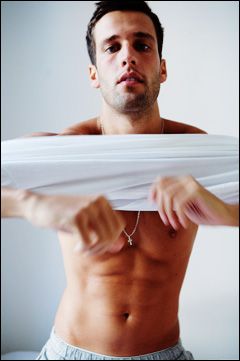 Pedro Andrade gets a variety of reactions to his segments for LX.TV, NBC's lifestyle network -- some marriage proposals, some indecent proposals -- but the simplest is also the most frequent: "You're the cab guy!" Andrade laughs. "It's not an easy crowd to satisfy." Since his around-town coverage was picked up for syndication in New York's taxi fleet, the Rio-born former model has broadcast daily to a captive audience of 2 million. This fall, the nightlife reporter turns impresario for the new reality competition On the Rocks: The Search for America's Top Bartender. "I think bartenders are a really fascinating breed," says Andrade, a behind-the-bar veteran himself. "It's an undervalued job."
On the show, he plays host and helpmeet to competing mixologists angling for a $100,000 grand prize. Although on camera he's been brushing up at some of the city's most cocktail-forward bars, off-camera he keeps it simple. "Ironically, I always end up having an Absolut and soda or a shot of Patrón." Nevertheless, "I'm as thirsty as the contestants," he continues with frank ambition, an unsurprising trait in a guy who aims to do it all, not least on his reality debut, where he'll be, in his own words, "sort of Tim Gunnish, sort of Heidi." (We need hardly counsel, "make it work.")
On the Rocks premieres November 8 on lxtv.com.