Over the past few years, there's been a marked uptick in dating apps catering to the LGBTQIA+ community. And while there's a couple of existing options for trans folx in particular, a new entry into the market is making a conscious effort to better the trans dating app experience.
Butterfly may not be the first trans dating app out there, but with its focus on safety, data privacy, and emphasis on serious relationships, the app is attempting to mitigate certain factors that contribute to the fetishization of trans people, all while facilitating community building and minimizing the likelihood of potentially dangerous online situations.
Launched in late September, Butterfly was founded by UK developer David Minns, who's been creating and running dating websites and apps since 2007. Following years of soliciting user input for his other endeavors, Minns says he found that trans daters on his other apps had a different set of concerns which weren't being accounted or accommodated for in the slightest.
So, working off the feedback he received — much of which cited higher rejection rates on cis-dominated apps, a subsequent feeling of disempowerment when it came to making the first move, as well as difficulties making real, meaningful connections — Butterfly was created for those expressing "a genuine need for something new."
Set apart from more hookup-geared apps like TG Personals, users have already pointed toward Butterfly being helpful for building genuine friendships and romantic relationships. As one 32-year-old user from Boston named G puts it, she's found that the app has also fostered a unique "sense of community," explaining that the prioritization of trans people makes it easy to meet "new friends, as well as potential dates." She also points out that this is helpful, as "communicating with other trans members is helpful, as we exchange advice and support," especially when it comes to dating-related issues.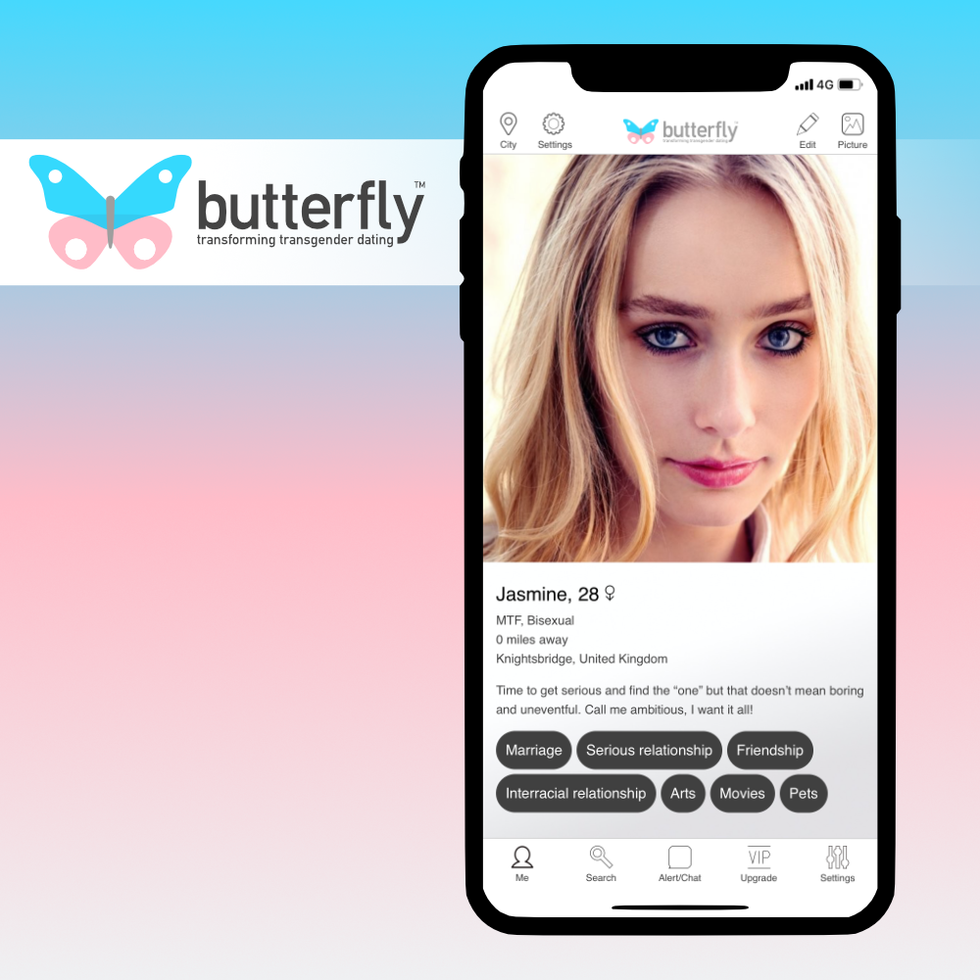 While Minns wanted to make a "high-quality" product, he also wanted it to be completely independent from investor interests. That means user feedback, particularly from trans folx, is a key component of this endeavor. Therefore, Butterfly hopes to be an app that — while open to the trans community and anyone who's interested in dating a trans person — explicitly "puts transgender people first and allows everyone to focus on connecting with people they're attracted to, with the reassurance that everyone is accepting of nonbinary genders."
But why exactly is this sort of reassurance of inclusivity important? As 27-year-old, New York-based user D says, while "most dating apps have nonbinary gender support... you're always the minority [...] Being transgender makes us 'the best of both worlds,'" they add, alluding toward feeling actually centered and catered to on the app. "Butterfly is a great mix."
On a technical level, Butterfly is currently operating in 26 different countries and offers 24 gender types and 10 sexuality options. Instead of using the popular swipe-match model, it allows people to send a "Flutter" indicating interest and empowers users to instantly message anyone that catches their fancy. That said, while these are all helpful features, the true innovation of the app comes thanks to its emphasis on privacy and security — a key component to help keep trans daters safe.
In addition to an efficient, one-button blocking function, users have the ability to choose how much personal information they want to share on their profile and many of the app's unique features help to facilitate complete anonymity. For example, right from the sign-up phase, there's no need to link other social media accounts, give out your birthdate, or even upload a profile photo (which can be used in a reverse image search) — all you need to do is give Butterfly your age and an email address, and you're ready to date.
Additionally, this emphasis on privacy also extends to the app's back-end. According to Minns, the app has an auto-purging data policy, which means "every piece of data has a life span and is automatically erased." So, any message or picture you send in a private chat is completely deleted from the servers and your device after 30 days. For full transparency, Butterfly also offers users the ability to access every piece of data stored about them "with a single button click" in the settings. Plus, unlike other dating apps, Butterfly only stores geolocation data "in an approximated format to mask true locations," according to Minns, who also explains that "location data is never sent to the app, only calculated distances."
That said, the user base is still small, though Minns says there's a sizable amount of users who log in multiple times a day — a measure that's oftentimes much more important than initial sign-up numbers. Plus, these numbers will likely go up once the Android version is launched early next year, so a larger pool of potential dates is definitely on the way.
In the meantime though, Minns says he's still soliciting a lot of user input to figure out how to make the app even better for trans folx seeking meaningful relationships of all stripes. And the way you can help? If you're interested, download Butterfly via the Apple app store, here.
Welcome to "Sex with Sandra," a column by Sandra Song about the ever-changing face of sexuality. Whether it be spotlight features on sex work activists, deep dives into hyper-niche fetishes, or overviews on current legislation and policy, "Sex with Sandra" is dedicated to examining some of the biggest sex-related discussions happening on the Internet right now.
Photos courtesy of Butterfly
Nightlife
Story by Linux / Creative direction & photography by Airik Prince / Art direction by Chris Correa