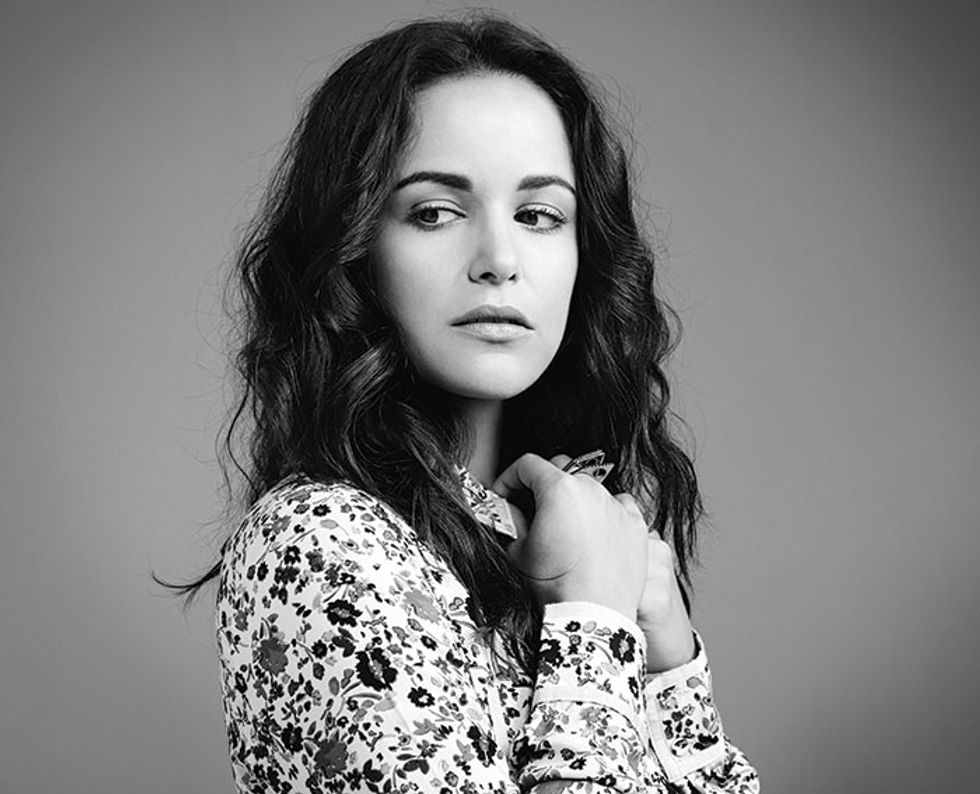 Melissa wears a top by Paul & Joe and ring by Viento.
Former
One Life to Live
star Melissa Fumero plays the perfect foil to
SNL
goofball Andy Samberg in Fox's new cop comedy
Brooklyn Nine-Nine
. As detective Amy Santiago, Fumero more than holds her own with Samberg as well as with co-stars Emmy winner Andre Braugher and cult comedian Chelsea Peretti. With squad room antics (Fire extinguisher roller-chair derby, anyone?) oddball detectives and Fred Armisen cameos,
Brooklyn Nine-Nine
, premiering this month, might be
The Office-Reno-911-Law & Order: CI
mashup we've been dreaming of.
What was your first day on the set of Brooklyn Nine-Nine like?
We all did "happy first day" dances. And everyone was a little tired because none of us could sleep the night before, we were all so excited. And there was lots of laughing.
Would you be friends with your character? Why or why not?
Amy would probably get on my nerves as a friend because she's a little Type-A and a bit high-strung. I'm more laid-back, but I'd be friends with her because she'd be fun to mess with. She'd probably be a great friend, though, someone really loyal who always shows up when you need her.
Have you given your character any trademark catchphrases, mannerisms or wardrobe choices?


Her wardrobe is very specific for me. It has to be functional. It has to be ultra-professional. But there's always one thing that gives away the fact that she cares "a little bit" about how she looks -- like a really nice button-down in a flattering color, or her hair and makeup looking just done enough.
What TV character did you have a crush on as a child?
Jordan Catalano on
My So-Called Life
.
What TV shows are you currently addicted to?
Game of Thrones, Homeland
and
The Mindy Project.


If any actor could make a cameo on your show, who would you want it to be?
I would probably totally nerd out and freeze if I ever had to stand, let alone act, in front of Will Ferrell or Bill Murray.
If you could write a one-sentence Wikipedia entry about Brooklyn Nine-Nine, what would it be?
A band of strange, but good, Brooklyn detectives get a new captain determined to whip them into shape. Hilarity ensues. Crap, that's two sentences. Fail.
What was your favorite series finale of all time?
Lost
. I talked about it for days with anyone who would talk to me about it.

Photographed by Emily Shur / Styled by Camille Yvette / Hair and Makeup by Christina Buzas