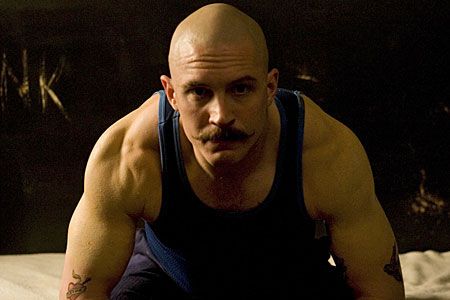 Out on DVD is one of my top 10 films of last year:
Bronson
, a savagely smart, hilariously alarming portrait of Britain's most notorious violent prisoner, Michael Peterson (
Tom Hardy
) who changed his name to Charles Bronson (coerced by a seedy fight club promoter) during one of his rare stints out of jail. Bronson is like a walking fist, always ready to attack, but with his bald, handsome, muscular face and handlebar mustache you might first mistake him for a member of a barbershop quartet. That is until you sense the psychotic tension constantly seething beneath his skin. It's an outrageous, humorous, scary performance -- you find yourself catching yourself between a gasp and a laugh as he greases his nude body into fighting off another phalanx of prison guards. Directed by the wildly talented Danish director of the brilliant
Pusher Trilogy
--
Nicolas Winding Refn
, who keeps the tone cartoonishly operatic -- it's like
Stanley Kubrick
's
A Clockwork Orange
but far more perversely barbaric. The DVD has commentary by the director and a funny interview with the scarily handsome
Tom Hardy
relating his meetings with the real
Charles Bronson
in jail.