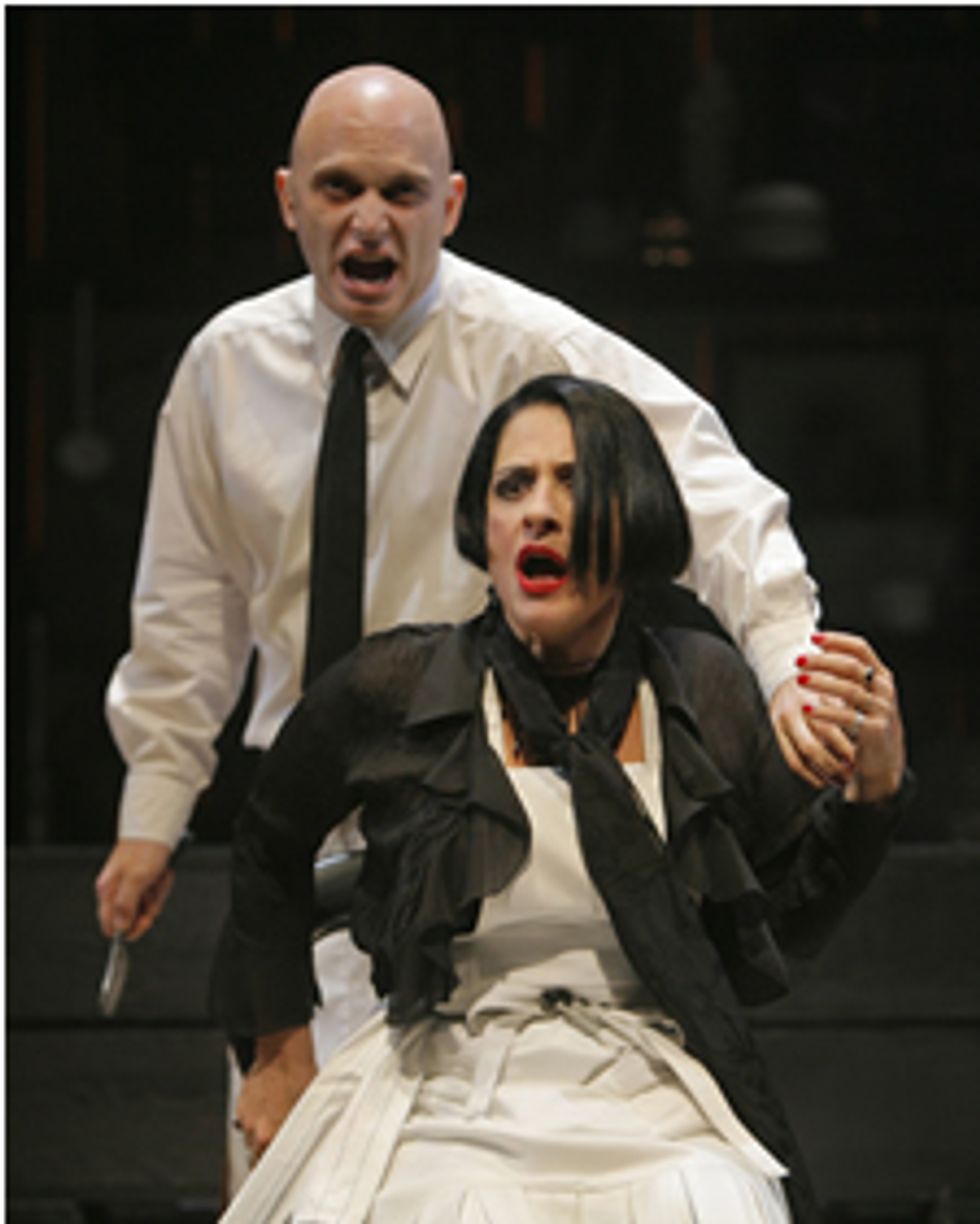 I have never considered myself to be a Sondheim fan.  I don't like "Send in the Clowns" or "No one is Alone."  I have bad memories of a horrible production of Sunday in the Park with George done in a small town in Ohio.  I have never understood why theater snobs have placed him high up on a pedestal.  Most of my fellow theatre enthusiasts including the master of this blog MM, who is a huge Sondheim fan, have told me that Sondheim is an acquired taste and that I will learn to love him.  I have always adamantly denied their premonitions until last week when I saw John Doyle's revival of Sweeney Todd,  -hey better late than never, right?  I knew I would enjoy the story ( I'm a sucker for creepiness in the theater) but it was the music I wasn't expecting to be thrilled by, but low and behold, I loved it, and have not stopped listening to the soundtrack which MM luckily had in his stash of showtunes, since seeing the show.  I had given this album a listen before, but I quickly gave it back, saying maybe it would be better live on stage. And it was.  I now crave hearing the song "Johanna" humming it in my head as I walk to work.  I sat in the Eugene O'Neill theatre with my mouth open as the marvelous Patti LuPone and Michael Cerveris sang the wonderfully witty "A Little Priest."  All of my Sondheim worshipping co -workers were right, I'm learning to love him!
     I couldn't stop wondering how my friends who are fans of Sondheim knew, I'd eventually be whistling a new tune.  I decided to go to another young theater buff, Adam Feldman, of TimeOut NewYork, who after offering to hum any Sondheim song out there, for me (I declined the offer) helped me to understand what the addictive quality is in Sondheim's scores.  "I think the reason theater snobs like it is because it's music that becomes more interesting the more you listen to it as opposed to most show music which become less interesting.  It might be a lot of fun the first time you hear it but it doesn't gain very much with repeated listening so theatre people who have the cd's and listen to them a lot find that they get bored with a lot of the stuff they initially liked and they find themselves liking more and more of the stuff they initially didn't."
    He also compared Sondheim to the more modern Tony winning hit, The Drowsy Chaperone, saying he loved it, but said, unlike a Sondheim show, there was nothing new that he had not picked up before when he saw it a second time. "There's always more to hear in a Sondheim score, the second, third and fourth times you hear it. You are always catching new things, and that's not really true of the Drowsy Chaperone, the second time you listen to it you don't really need to listen to it again."
    Well I will admit this is beginning to ring true for me, however I don't think I will be repeatedly listening to "Send in the Clowns" any time soon, but as I've learned, never say never!

Thanks to Adam for contributing to Broadway Blogger! Read his opinions of the current theatre scene here.

I've also included a pic of Michael Cerveris and Patti LuPone, in the current revival of Sweeney Todd.