There's a tone-setting moment at the start of the web series The Gay and Wondrous Life of Caleb Gallo that carries through its four episodes. The title character, played by the show's creator Brian Jordan Alvarez, is on the phone with his best friend Karen (Stephanie Koenig), explaining how he's in love with both a straight guy and a gay 21-year-old, the latter of whom he only knew for two weeks before striking up a long-distance relationship. About to head to her house to play an intentionally stereotypical gay best friend to get her one-night stand to leave, he hangs up and exclaims, "Oh my god, my car is such a fucking joke." Soon, he's cruising with his head out the window, the Four Tops' "Loco in Acapulco" blaring as he makes waves through the air with his hand.
It's a random, near three-minute vignette that's as concurrently bizarre and dynamic as the rest of the series, one of the best to debut on YouTube this year. Powered by cutting, fast-forward dialogue and a rainbow of highly specific characters, the series just debuted its fourth episode last week, and was featured in the inaugural Tribeca Digital Creators Market and Special Screenings program in April. It centers on Caleb and his complicated love life, supported by a cast spanning ginger bombshell BFF Karen to bisexually curious Lenjamin (Ken Kirby) to John Mayer-doppelganger Billy (Jon Ebeling) to the gender fluid Freckle (Jason Greene), who consistently steals the show with his fabulously sarcastic lilt and nuanced timing.
What makes Caleb Gallo so compelling, though, is its ability to go from shallow to deep at a moment's notice, occupying a surrealist vision of Los Angeles where mistakes don't necessarily have consequences and betrayals are somewhat instantly forgiven. In its first four episodes, Caleb commits to an exclusive relationship with Benicio, his Canadian pseudo-boyfriend (Antonio Marziale), only to hook up with Billy soon after. (He pauses giving him a blowjob to FaceTime with Benicio about coming to visit.) Karen also hooks up with Billy and, after learning that he and Caleb had a fling, they all come to terms with it during an '80s-inspired montage set to Eric Carmen's "Hungry Eyes."
To make sense of the show's absurdity is to undermine it, and though it may stretch beyond the limits of reality, it's actually deeply rooted in it. "Primarily, it's about relationships and different love lives," says Alvarez. "A lot of moments when I've been single, that's what my life revolves around, talking around who I'm dating and if we're getting into a real relationship and if we're going to be monogamous. I never want to be monogamous and I'm always falling into this super lovey-dovey kind of love with guys, and then they think that it's implied monogamy when in fact, the texture of my love is monogamous, but my mental and sexual desires are polyamorous. So I can get into trouble, and I wanted to make that one of the things in the show. That's how we got to Caleb Gallo."
The parallels between the 28-year-old Alvarez and his character are explicitly teased out on screen. In the fourth episode, Caleb and Benicio take a trip to a hot springs getaway where a stranger propositions them for a threesome. Caleb is down, but Benicio isn't, and the episode ends up reuniting the two on new and more open terms.
"I try to do it only based on real life," says Alvarez. "I don't really think about how I'm supposed to be representing gay people, but I know that I am one and I know a lot of them, so I do it based on my real life experience." Minute details, like Benicio greeting Caleb in one episode in a pink lace dress, go unexplained and unquestioned. They present a spectrum of gender and sexuality that is rarely represented in such a nonchalant way.
"I try to make Caleb a big mess and something I like right now is that Caleb fucks up and is fucked up in real ways that aren't really fully redeemable," Alvarez says. "I just think that sometimes he acts out of self-interest, and it's bad for other people. Then he doesn't save the day. We're all shitty people on some level."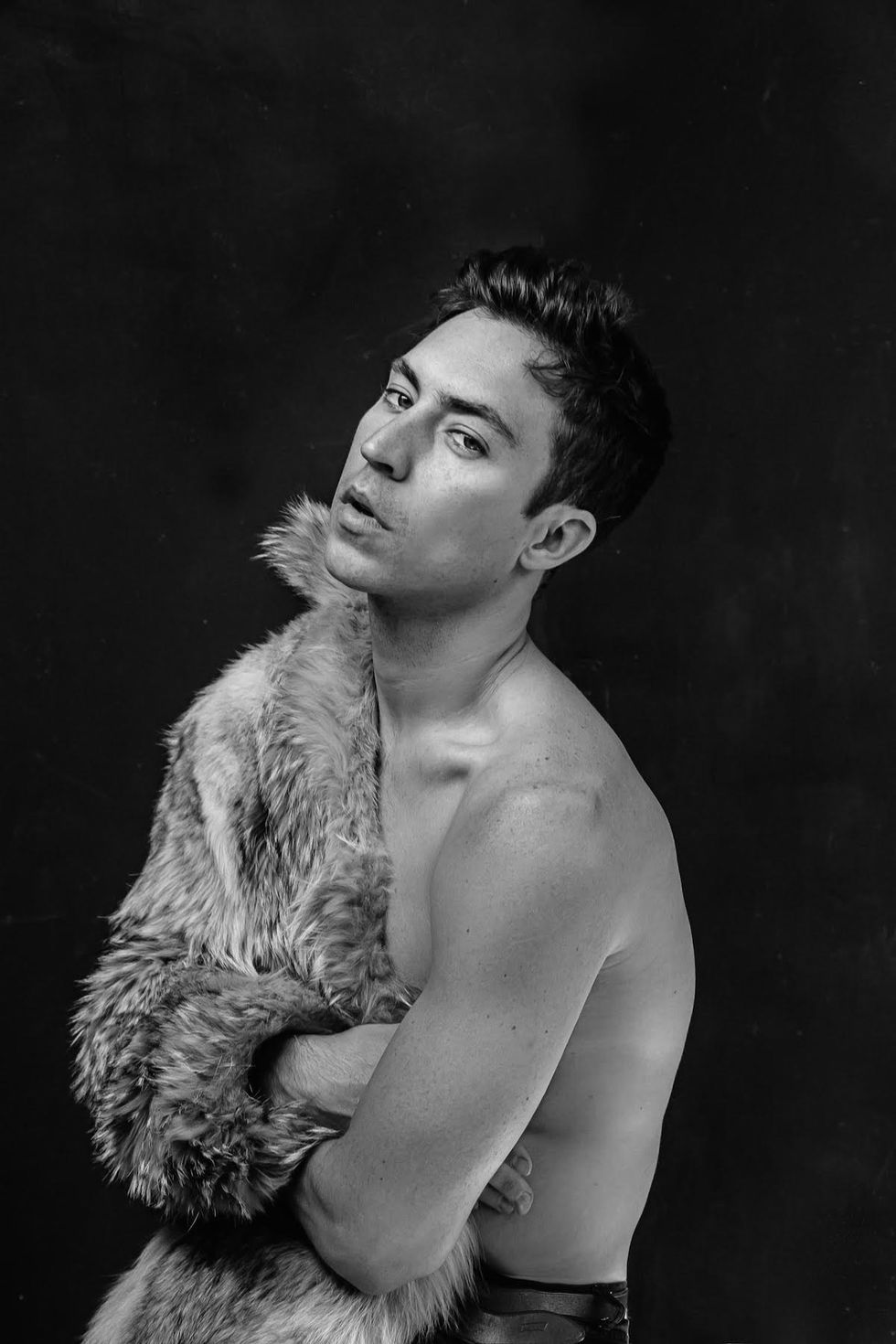 Alvarez photo by Emma Mead
In person, Alvarez is pensive and deliberate, taking more time with his sentences than the characters on the show. Born in Manhattan, he grew up in rural Tennessee—"I was called faggot a lot in middle school"—and came out in his junior year of high school, just before attending North Carolina School for the Arts, a boarding school where he met his first boyfriend. His interest in theater led him to USC, where he got a BFA in acting, and starred in plays and dabbled in timestop videos.

It was there that he first battled an addiction to Adderall and alcohol and suffered manic episodes. Coming to terms with his substance abuse issues, he returned home to Tennessee after graduation to try and control his dependence on liquor. "At some point, I was looking in the fridge and I knew I had to get sober, because my higher intelligence was saying, 'Well, I want to be a star, and this is getting in the way,'" he recalls. "So I was looking in the fridge one night and I was thinking about getting that beer and then I didn't, and then I never had a drink again for six years."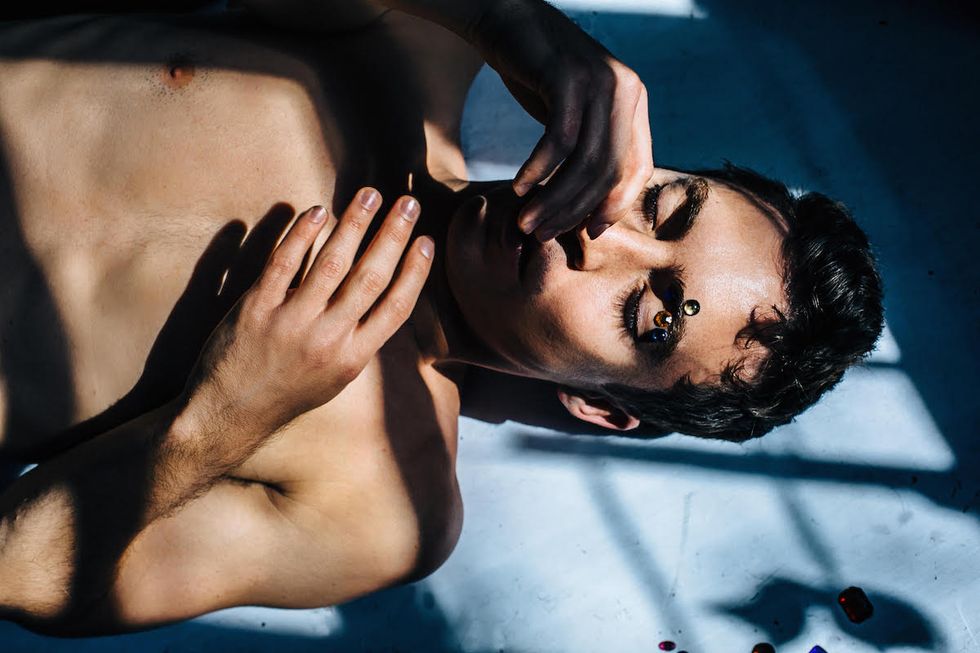 Alvarez photo by Emma Mead
Alvarez moved back to L.A. in 2010 with a boyfriend, only to break up and face "huge heartbreak"--and start auditioning around town. His first gig was a video spot on College Humor's fake PSA "Gay Men Will Marry Your Girlfriends" in opposition to Prop8, followed by appearances in student films, where he met Koenig. Casting on an MTV pilot followed, plus an audition for Saturday Night Live—neither of which panned out. But he found his niche in the online space, filming skits like his viral video, "What actually happens when gay guys see other gay guys and straight people aren't around." A guest spot on Jane the Virgin and his first online show Boy Toys followed, but it was with Caleb Gallo that he nailed his aesthetic, capturing the rough edges of being a 20-something in L.A. with a profundity that makes it relatable, even in the face of fantastical circumstance.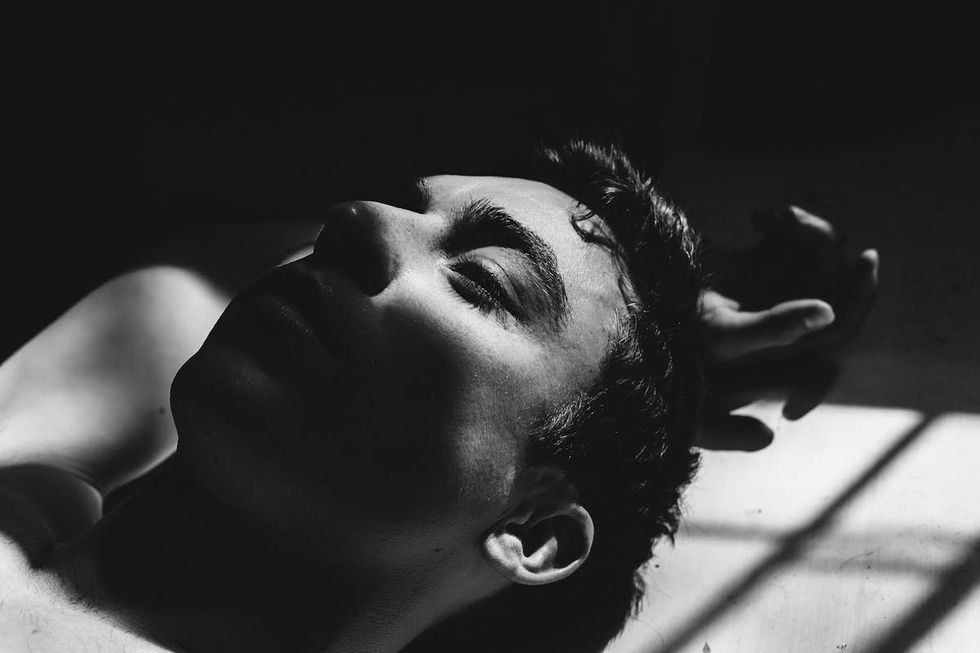 Alvarez photo by Emma Mead
Caleb Gallo has an investor who is funding the series through its fifth episode. Alvarez is currently shopping the show to networks, hoping it can live on a subscription-based streaming service, like Netflix or Amazon. Until then, he's focused on the duality that comes with being in front of the camera, and behind it. "I'm happy to act in things for other people that I really love," he says. "But I have a very innate drive to make things. I think about it and try to balance it and find what exactly I am, because sometimes, it can feel confusing to feel both, to want to really be behind the camera and in front of it."