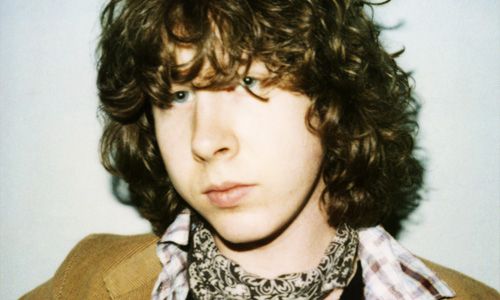 On Friday I experienced another adventure involving a last minute scramble for concert tickets. This time, there were no questionable craigslist ads or a cameo in a feature film (alas) involved, but I was ultimately lucky enough to be added to the guest list for Ben Kweller's Bowery Ballroom show only hours before it began.
The purpose of the evening was for Ben to test out some new music from his upcoming album, Changing Horses; a project that has taken Kweller nearly 13 years to complete. Horses (ATO Records), set for release in February 2009, has been called "alt-country" and "blue-grass inspired," although when I spoke with Ben the day after the show, he quickly corrected me: "I just feel like it's country." I suggest that growing up in a small town in Texas and then spending his early adult years in New York may explain the hybrid "alt-country" vibes that people are picking up on. He agrees and attributes the sound to classic country artists like Hank Williams, Josh White, and Robert Johnson.
"My new album is split into three chunks. I see it like a pie graph..." I cut Ben off to commend him on his mathematical reference. "Well, I suck at math, but I'm a creative person, so I can see graphs and charts in my head," he explains. "The first chunk of the album, the largest piece of the pie graph, is composed of classic, old-fashioned country. Think Roger Miller and Hank Williams; '50s country that's short and poppy. This is best represented in 'Fight' and 'The Things I Like To Do' [off his upcoming release]."
"And the second chunk?" I ask, eager to fill in the second piece of the pie graph puzzle. "Well, the second chunk definitely transitions into the '70s country," Ben shares, "with a bit more blues and folk. Like in the track 'Gypsy Rose.'"
Ben continues with the third, and final "chunk" of his February 2009 release, represented by early 1990s country music. "Think along the lines of Garth Brooks," he says. He mentions his first job at a skating rink in Texas and vividly recalls skating hand-in-hand with his first girlfriend to a Garth Brooks ballad, which influenced the track 'On Her Own.'
Now that our pie graph is complete, I wanted to get Ben's opinion on some other topics:
On his decision to bring up the political campaign during his performance of "This is War" at Bowery Ballroom: "You know, normally I keep my political views to myself, but at this point I just think it's 'now or never.' The Republican candidates are sell-outs and completely immoral. They preach about fiscal responsibility, but if the last eight years represents what they think of fiscal responsibility, then I don't want to be apart of it."
On what he's currently listening to: "We did a show in Des Moines, Iowa the other night and there was an early show and a late show. The late show was this intense, heavy metal, Satanist band from Sweden. Ever since then I've been really into metal and listening to Carcass. I want to pick up the new Metallica album too. I've also been listening to some classic vinyl with Dorian [Ben's two-year-old son with wife, Liz] like "Born in the USA."
On what he thinks is a good "beginners" country album: "Definitely Wilco's first album."