It's a cold October night at the Viktor Wynd Gallery in Hackney, East London, and Cody Critcheloe, Kansas City's favorite multidisciplinary performance art export, is hosting the first UK screening of his bizarro feature-length music video, BOY. Outside the gallery, a pudgy man stands stark naked, screaming in the center of a crowd of smiling spectators. I overhear an androgynous kid in a floor-length tribal robe and a large headpiece that looks sort of like a vagina ("It's supposed to look like a vagina," he tells me later) comment, "This is all part of the performance. Cody is such a genius!" while the gathered throng -- a smattering of cross-dressers, pierced-up punks and odd old men who together comprise Critcheloe's core fan base -- applauds the nude dude like mad.


Critcheloe is a 29-year-old artist and musician from Lewisport, Kentucky, a graduate of the renowned Kansas City Art Institute in nearby Missouri, and frontman and mastermind of the kinda punky, kinda poppy music outfit Ssion (pronounced " Shun"), which until only a few months ago had been operating out of his house and studio in KC. "In Kansas City, I have a very small group of friends and we all make work that is similar and it's very easy to get stuff going," he explains. In New York, where he is thinking of relocating permanently, he says, " I like that I don't have that; collaborating is more of a challenge. It feels new."


Having spent the last three years extensively touring Ssion's 2007 record Fool's Gold, opening for bands like CSS, Fischerspooner and Gossip in gigs across the world, it is Critcheloe's self-made, semi-autobiographical film BOY, soundtracked by Ssion's album, that has aided in his recent rise to notoriety in the international art scene. A collection of music videos, mockumentary interviews, sporadic dialogue and tour footage, the film is, as Critcheloe describes it, "a gay punk version of Forrest Gump with some Truth or Dare, Pee-wee's Playhouse and the The Decline of Western Civilization thrown in."


BOY first premiered in Kansas City in 2009 and, along with its premiere at the aforementioned Viktor Wynd, has since been shown at Peres Projects in L.A. and Berlin, the Smart Museum of Art in Chicago, the Mercer Union in Toronto and as one of the first-ever shows at SoHo's The Hole, the new gallery from Deitch Projects' former directors Kathy Grayson and Meghan Coleman. "Each time the movie is shown in a different city, I create an installation in the space where it's shown," says Critcheloe. At his August showing at The Hole, the white walls, floor and ceiling of the narrow Greene Street gallery looked as if they had been totally engulfed by the projectile puke of a black-and-neon acid rave nightmare, with every surface completely covered in zigzag graffiti and the cartoon goth gravestones and magic eye pyramids with which Critcheloe's work has become synonymous.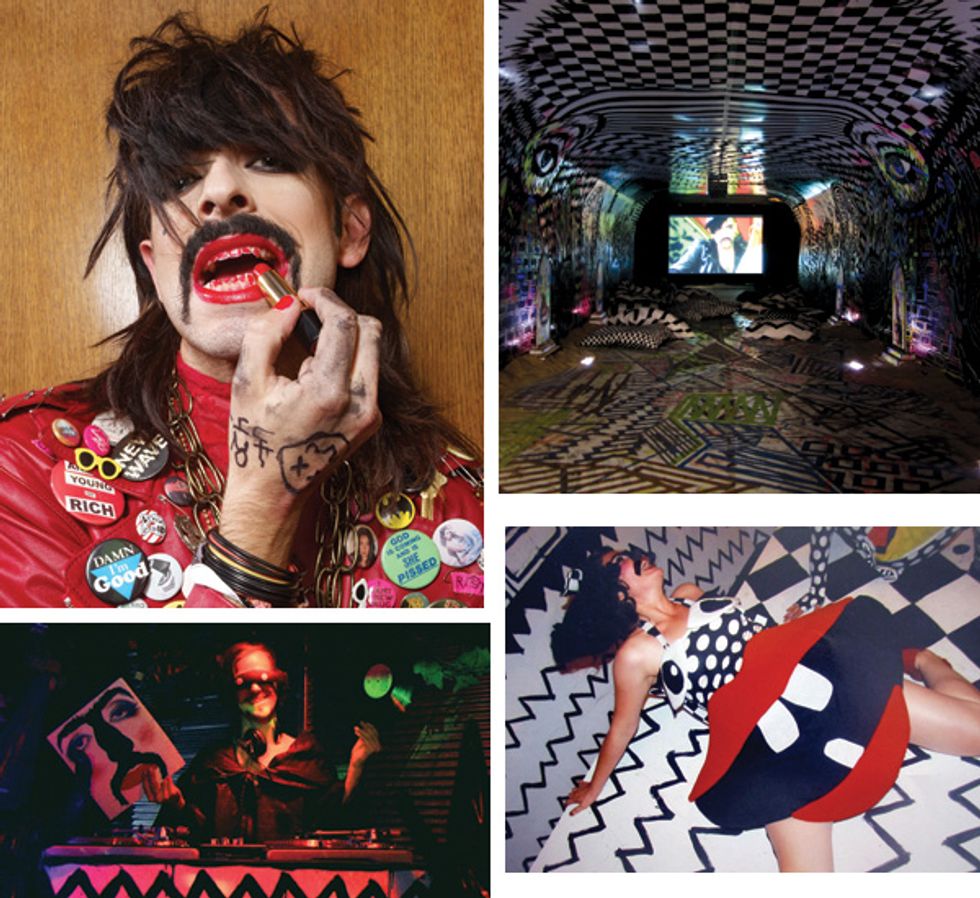 Most essential to Critcheloe's aesthetic, however, is his own striking public appearance. The true face of his brand, Critcheloe's shitty wig, black painted nose and Marilyn mole are inseparable from Ssion, whether witnessed on stage or in videos; screened onto Ssion's merch and album sleeves; deliberately replicated on each of his band members and backup dancers; or, increasingly, on the faces of his most dedicated fans at performances and openings. "Regardless of what I'm making -- not just my look or clothes -- I want it to be specific to me," says Critcheloe of his overarching style. "I don't really care about fashion. I'm just into looks and things that are wrong. And I don't feel any commitment to anything aesthetically. But I'm always gonna be attracted to certain kinds of things, and I'm always gonna draw a certain way. Still, my style is evolving. I'm growing out my nails as we speak." 

Critcheloe's visual brand has won him a high-profile circle of supporters and collaborators. Former tourmates Gossip asked him to direct the video for their most recent single, "Men in Love." Previously, he crafted videos for beloved indie acts like Liars and Tilly and the Wall, as well as the album art for Yeah Yeah Yeahs' breakthrough debut, Fever to Tell. Critcheloe hopes to spend the upcoming months perfecting Ssion's next record. "I've also been working with a lot of different musicians as producers on a lot of the new tracks --Teeth, Azari & III, Teengirl Fantasy. The art side of Ssion has sort of taken over at the moment, allowing me to make some money and travel, but making music and writing songs is the key behind everything that I do." But before he rededicates himself completely to music, Critcheloe hints that there may be a few more exciting art-oriented performances in the upcoming months. "Nothing totally confirmed yet," says Critcheloe, "but Ssion may be doing something really cool for a big museum in New York. It's gonna be insane."


Oh, and the naked guy? "I have no fucking clue who that is," Critcheloe tells me in his Kentucky twang after the opening. But I ask one of the police officers assigned with attempting to tackle the man with a blanket, and he tells me he's the son of the shop owner across the street from the gallery, gone funny after a few too many hits of something or other. "I'm not sure if he's having a bad acid trip or a good one," jokes the officer candidly. Good or bad or somewhere in between, it looks perfectly placed, all part of the performance, in the weird, wild world of Cody Critcheloe.